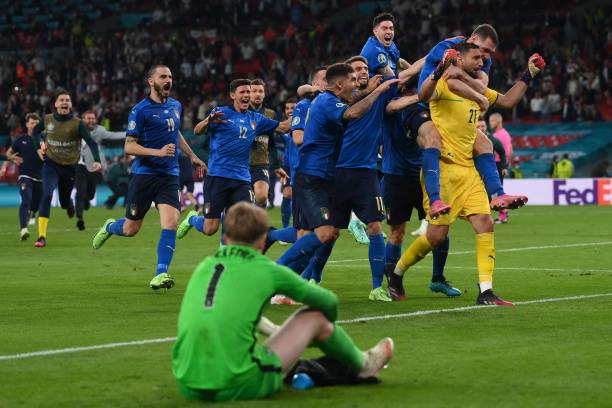 After saving two penalties to help Italy clinch Euro 2020 on Sunday, highly-rated goalkeeper Gianluigi Donnarumma is a free agent no longer: having agreed terms on a five-year deal to join Ligue 1 champions Paris Saint-Germain. Unveiled as their fifth summer acquisition yesterday, the 22-year-old made a bold but brave move likely to age well in a few years' time.
Euro 2020 winner Donnarumma departs Milan for PSG
As I reflect on a whirlwind football festival, one I was directly involved in but chose not to cover, Donnarumma's PSG move felt like one of the sport's worst-kept secrets over the past six weeks.
While he quietly went about his business, from Rome to Wembley, Munich then back to north West London for the final two games, the 22-year-old only had ten in-game saves to make.
He thwarted Álvaro Morata to help them squeeze past Spain in their shootout, before standing tall again as Jadon Sancho and Bukayo Saka both had their efforts saved by the 6ft4in wall.
How did he win Player of the Tournament then? Decisive when called upon, relatively quiet and untroubled otherwise. Dependable as ever, big saves – his captain Giorgio Chiellini says it all.
It bubbled under the surface as his Milan contract ultimately expired, after exhausting all avenues to renew their first-choice 'keeper, replacing him with Lille's Mike Maignan (£12.8m).
Say what you want about his agent Mino Raiola, PSG's unethical financial power or otherwise, this transfer is a considerable deal only intensified by his excellent displays this past month.
At best, Milan were naive to let his existing deal run down without issuing an ultimatium of sorts: sign or we'll sell you while they can still recoup some transfer value. At worst? Simply negligent.
While the intracacies of financial numbers offered (and repeatedly rebuffed) can vary from hearsay and the typical speculation to genuine truth, it's likely somewhere in the middle.
What cannot be questioned, is Donnarumma's commitment to a Milan side who gave him his debut aged 16 and how he'll always be tied to them, whether he's at PSG or elsewhere in Europe.
"I arrived at Milan when I was little more than a child, for eight years I wore this shirt with pride: we fought, suffered, won, cried, celebrated, together with my team-mates, coaches, all those who have made and are part of the club, together with our fans – an integral part of a family for many years.

Now the time has come to say goodbye, a choice that was not easy indeed, and certainly a post is not enough to explain it, or perhaps it cannot even be explained because the deepest feelings can hardly be translated into words.

What I can say is that sometimes it is right to choose to change, to face difficult challenges, to grow, complete oneself.

All the Rossoneri I met, from the first to the last day, will always remain in my heart as an important, fundamental part of the life path that made me what I am. I wish Milan all possible success and do it with my heart, for the affection that binds me to these colours, a feeling that distance and time cannot erase."

An excerpt from Donnarumma's statement, posted on social media yesterday:
another signal of PSG's intent as keylor navas under pressure
Do those sound like the words of a mercenary being poorly advised by those around him? Or an ambitious youngster, aware of the new opportunities that await him elsewhere?
As ESPN's Julien Laurens reported last week, former Real Madrid man Keylor Navas is expected to stay and remain PSG's first-choice despite Donnarumma's arrival.
---
PSG's summer acquisitions
Inter right-back Achraf Hakimi – £59.7m (after add-ons)
Porto midfielder Danilo Pereira (option to buy exercised) – £13.6m
Free
Liverpool's versatile midfielder Georginio Wijnaldum
Real Madrid's iconic centre-back Sergio Ramos
Euro 2020 Player of the Tournament Donnarumma
---
Having agreed a new contract extension at the end of April himself, the Costa Rica international was naturally unhappy upon hearing he'd be competing for minutes next season and beyond.
He wasn't included in Costa Rica's ongoing Gold Cup campaign after failing to recover from a shoulder injury, but is expected to return before PSG's Ligue 1 campaign begins on August 8.
Despite conceding just 18 goals in 29 league games last season, as well as harbouring a close relationship with manager Mauricio Pochettino, the 34-year-old was heavily criticised for a weak display during their Champions League semi-final defeat (4-1 on aggregate) by Manchester City.
Donnarumma has previously made clear his ambitions to play among Europe's elite at club level, which is why tournaments like the European Championships – where more exposure and larger audiences are involved, help increase player stock while often inflating transfer fees too.
Donnarumma's breakdown so far
251 AC Milan appearances, 88 clean sheets (all competitions)
215 Serie A games, 75 clean sheets — 22 Europa League (seven)
33 Italy caps, including seven Euro 2020 appearances
Surpasses David Alaba as most valuable free transfer in history, per Transfermarkt
PSG were beaten Champions League finalists two seasons ago and lost in the semis last term, but have already done significant summer business as they look to finally get over the hump in Europe. It's not a popular destination, but Donnarumma won't mind if it means he has success.
Picture source: Getty Images