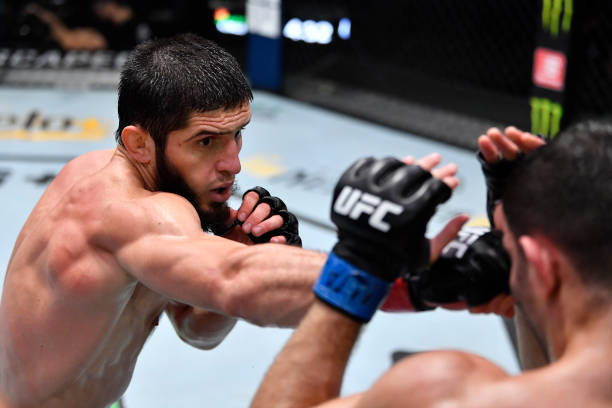 Makhachev Mania? Khabib Nurmagomedov's protege Islam thrived in his first main event against Thiago Moises, earning a fourth-round submission. Elsewhere, there were big wins for Billy Quarantillo and Mateusz Gamrot before returning former women's bantamweight champion Miesha Tate sent Marion Reneau into retirement with a R3 TKO finish in the co-main.

Makhachev seizes main event shine in dominant fashion
R4, 2:38 – Islam Makhachev (#9) beats Thiago Moises (#14) via sub (rear-naked choke)
Michael Chiesa (#5 welterweight) said Makhachev shone under the bright lights, hinting this was perhaps now the start of Makhachev Mania. One-time title challenger Michael Chandler (#4 lightweight) said he doesn't need a moniker after a dominant statement display like that here.
Those comments were made immediately afterwards on ESPN's post-fight show, but it was easy to see how Makhachev could've crumbled under the pressure that came with his first main event matchup – more expectation and a bigger audience too, not least given the company he keeps.
After all, this is undefeated former lightweight champion Khabib's main man. Childhood friends, teammates and now his coach, their dynamic has shifted but the now-retired star graciously wants the best for those around him, so much so that this felt destined to be an occasion.
It may have started off all measured and slow-burning early in round one as the pair sussed each other out, but certainly lived up to what many had been expecting – a Makhachev masterpiece.
He was 3-of-6 on takedown attempts, landed an eyewatering 148 total strikes (76% of 194) and only absorbed 18-of-51 by comparison. Moises, a very good grappler in his own right, was growing increasingly demoralised after being significantly outworked in the first two rounds.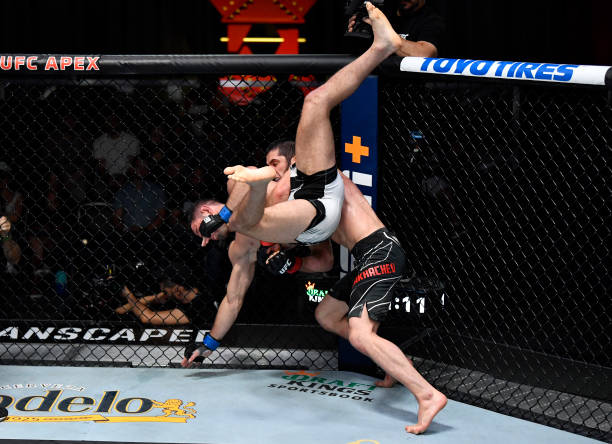 You could tell by the way he continued trying to drag Makhachev into a scrap on the ground with triangle choke submission manoevures, but each time, the position would quickly get reversed.
Islam, who has been criticised for a perceived lack of confidence in his stand-up game, had no issues landing multiple strikes from various positions – at distance, in the clinch and on top.
"This was my first fourth round [main event rounds]. A good experience for me, I tried to finish him but he's very strong. I wanted to slam him but he gave me a triangle choke, I control it all the time, that's no problem for me."

Makhachev during his post-fight Octagon interview
Moises was largely successful with kicks but little else, absorbing hard knees and failing to have an adequate answer for Makhachev's forward pressure. At the end of R2, Moises was saved by the horn just as a late armbar attempt was being threatened. Things would only get worse.
In round three, Moises was on the defensive for large periods before Islam again secured a takedown. In the fourth, he set up his ground game with stinging stand-up skills. As Moises tried another reversal, he was slammed on his back: the Russian saw an opening and got the RNC.
Statistic: Makhachev is the sixth fighter in UFC lightweight history to win eight or more consecutive fights. Only new champion Charles Oliveira (9) has currently won more in a row.
In-case they weren't already, the top-ranked contenders in the lightweight division are certainly on notice. But put yourself in some of their shoes right now: would you want to fight him?
---
1,700 days retired? tate is Back like she never left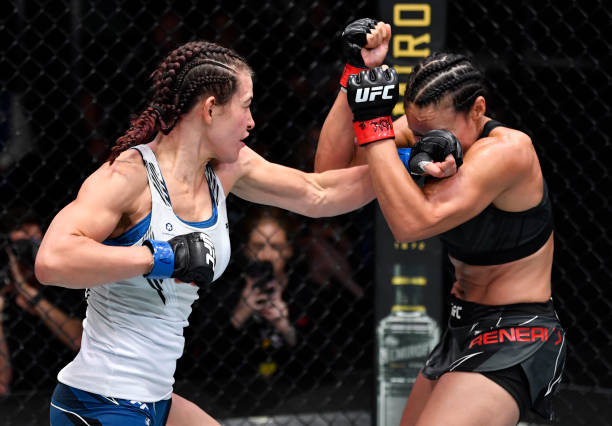 R3, 1:53 – Miesha Tate defeats Marion Reneau (#12) via TKO (punches)
There were some questions to be answered, but Tate's impressive display and stoppage win over the retiring Reneau on this occasion has only served to pose yet more hypotheticals in a women's bantamweight division that will be rejuvenated by a former champion's return.
She said she had worked on improving her stand-up skills and showcased precisely those developments in the early exchanges, looking sharp while utilising her reach advantage well.
Reneau landed heavy leg kicks but was being countered by the early aggressor, as Tate wobbled her momentarily with crisp combinations while eventually fighting her way into a single-leg takedown late in round one after initial attempts were well defended by the 44-year-old.
Reneau connected with a few nice right-hands early in round two, before being warned for a rather blatant fence grab as Tate, unperturbed, worked her way into securing a big takedown.
Smothering the Belize Bruiser with ground strikes and top pressure, she still needed to be mindful of any submission reversal manoevures from the bottom but landed enough elbows and hammer fists to keep Reneau increasingly stifled as blood ran down her nose.
"I'm glad I went out the way I did, fight a phenom like Miesha, I'm a fan and have never stopped being one [of hers]. I gave it all I had and that's it, that's what's left for me. I'm going to cheer everybody else on in this division."

Reneau during her post-fight retirement interview in the Octagon
That pressure continued into the final round, Tate earning success behind her jab and staying composed to reverse position on the ground in a scramble, returning into top control where she let fly with more relentless ground and pound strikes. Before long, it was all over.
Aspen Ladd (#3) returns to action next week against Macy Chiasson (#9), while Irene Aldana (#4) just blasted Yana Kunitskaya (#6) into oblivion inside a round last weekend at UFC 264.
Julianna Pena (#5) will face two-weight champion Amanda Nunes at UFC 265 next month, despite being 2-2 in her last four fights (which dates back to January 2017!) and suffered a third-round submission defeat by former featherweight titlist Germaine de Randamie last October.
ALSO READ: Ask and you may receive – Pena's boldness earns her a dubious title shot
It'll be interesting to see where she's in the rankings when they update next week, but those pre-fight comments already look promising as far as her hopes of striving for gold is concerned.
---
Contrasting submission victories for Gamrot, Vieira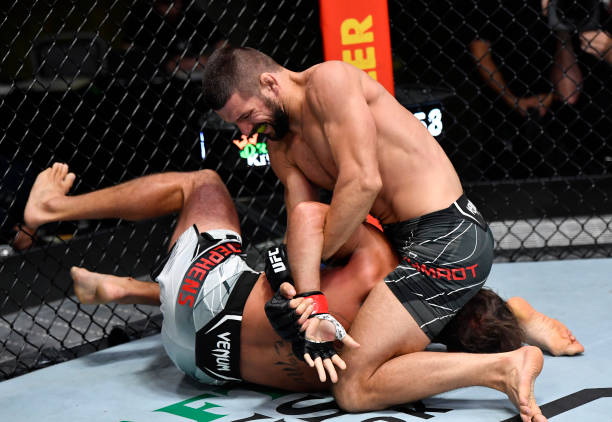 R1, 1:05 – Mateusz Gamrot beats Jeremy Stephens via submission (kimura) 
This was over almost as quickly as it began, as Polish lightweight Gamrot (19-1, 1 NC) continued his surge in the 155lb division with another bonus – this time Performance of the Night honours, needing just 65 seconds and a position reversal to inflict the fastest defeat of Stephens' career.
Gamrot went for a takedown and as Stephens reached for a kimura attempt of his own, the 30-year-old used that manoevure as an opportunity to move into north-south position while holding onto the arm. He pulled it loose and just moments later, Lil Heathen simply had to tap.
It'll be interesting to see where, or what, the promotion decides is next for Stephens – who is winless in his last six appearances, dating back to a Performance of the Night victory vs. Josh Emmett three-and-a-half years ago. Now 35, it feels like he's a gatekeeper at feather/lightweight.
Even without being ranked, that's not a position anyone wants to be in, especially someone of his pedigree and with as many fights (48) during a 16-year professional career to date.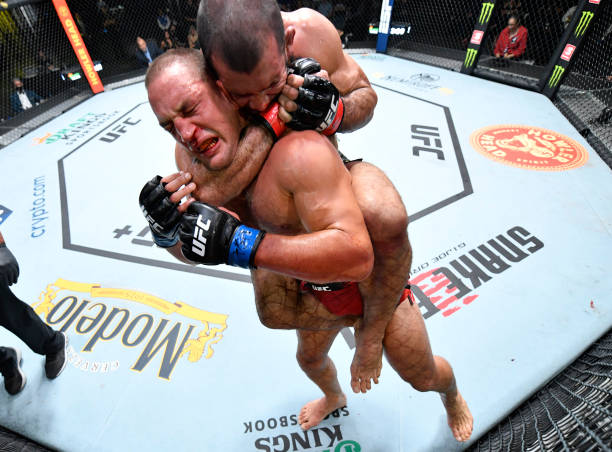 R3, 1:54 – Rodolfo Vieira defeats Dustin Stoltzfus via submission (rear-naked choke)
After landing persistent jabs over the first two rounds which saw the American's face turn cherry red, Brazilian middleweight Vieira wasted no time seizing Stoltzfus' back when the opportuntiy presented itself, securing a third-round submission win over the Contender Series signee.
Stoltzfus is now 0-2 in the promotion, after suffering a decision defeat by Kyle Daukaus at UFC 255 last November. As for Vieira, the BJJ expert returns to winning ways and is now 8-1 in his career to date after being choked out by Anthony Hernandez at UFC 258 back in February.
---
Quarantillo passes latest acid test, back to winning ways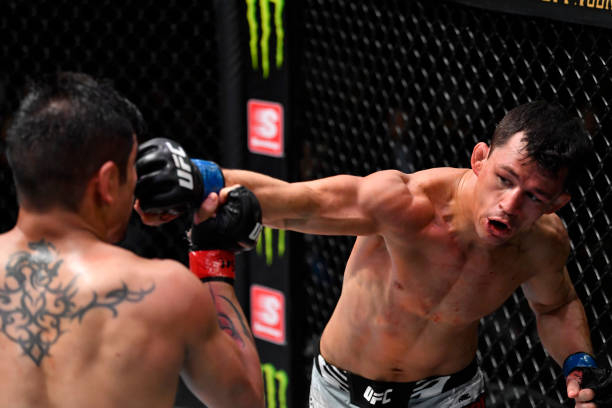 R3, 3:40 – Billy Quarantillo beat Gabriel Benitez via TKO (punches from back control)
Contender Series featherweight signee Quarantillo improved to 16-3 and recorded his fourth UFC win against a gamely Benitez, but was made to work for it during the main card opener.
After being dropped by a big right-hand in round one, the Mexican had to draw on his 14 years' experience to survive a spirited Quarantillo striking onslaught as the action developed.
He had to defend multiple takedowns and rear-naked choke attempts as Quarantillo applied more forward pressure during the second round, but there was always a hint that Moggly could still earn a comeback win – such was Billy Q's visible insistence on securing a finish here.
It's perhaps why his corner stressed the importance of staying focus and not getting sloppy before the final round, because this happened right on cue to start the final five minutes:
Dropped after absorbing a one-two punch combination, he had to weather the Benitez storm as a big left hand connected and suddenly the tide had turned.
Not for long though, as they grappled on the ground for a while – giving him ample time to recover and compose himself. From there, he took Benitez's back and unloaded with punches.
Considering the Mexican's left eye was closing and the doctor Octagonside had already assessed him twice, referee Mark Smith wasn't about to watch him receive more unnecessary punishment after Quarantillo had already recorded a new personal-high for significant strikes in a UFC fight.
A much-needed return to winning ways, after falling short and losing comfortably via decision (30-27 x 3) against Dan Ige's conqueror Gavin Tucker at UFC 256 last December.
In case you didn't know… Cancelled fights on this card included the initial main event between Max Holloway and Yair Rodriguez, while an eagerly-anticipated bantamweight duel featuring Miles Johns and Anderson dos Santos was pulled hours before the card began (COVID-19 positive test).
---
Prelim results, including fast ko wins for Rodriguez and Lemos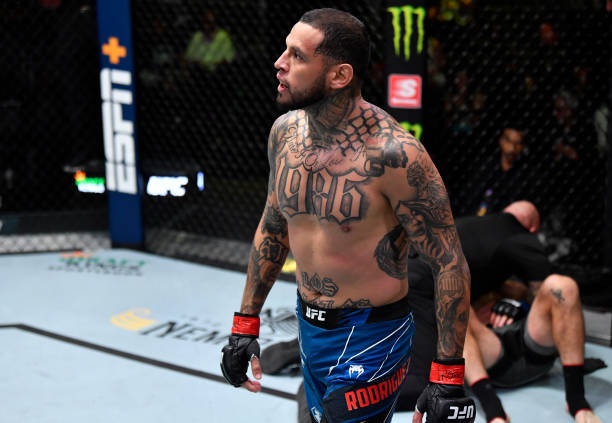 Up against a short-notice opponent in UFC debutant Preston Parsons, rising welterweight Daniel Rodriguez (15-2, 8 KOs) responded well, importantly taking care of business in style.
After absorbing a handful of early leg kicks and a few jabs too, the 34-year-old charged forward and applied pressure aplenty against Parsons, who winced as he ate punches to the face.
There was one in particular to his eye which saw him cower away, essentially trying to survive desperately with unsuccessful takedown attempts that Rodriguez saw coming. He could smell blood and D-Rod seized the moment, landing combos before the fight was ended (R1, 3:47).
Since earning a Performance of the Night bonus ($50,000) on his debut last February with a second-round submission win over Tim Means, he's now 5-1 in the UFC. It'll be interesting to see how he's matched up next, after impressively outstriking Mike Perry three months ago.
---
Lemos eyeing top strawweights after rapid win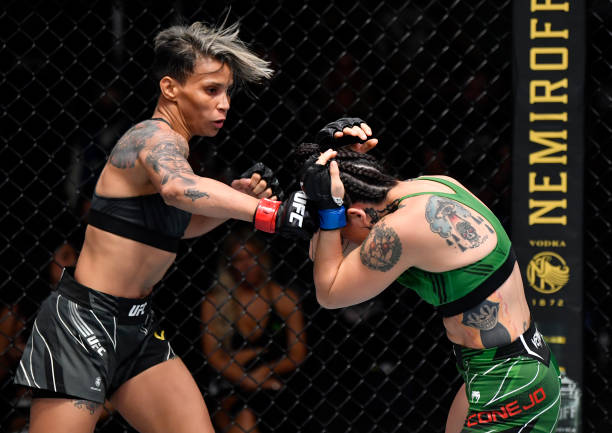 Her manager Wallid Ismail did his best Paul Heyman impression, and who can blame him?
After watching Amanda Lemos flatten Montserrat Ruiz in just 35 seconds, the strawweight's power and counterstriking were immediately on display as the #14 ranked 115lb contender said post-fight that she wants to fight again during their Dubai Fight Island set of events in October.
Nina Nunes (#7), Claudia Gadelha (#8), Michelle Waterson (#9), Amanda Ribas (#11) aren't booked but all lost their last fights while Virna Jandiroba (#13) wants to fight up the rankings.
Tecia Torres (#10) is scheduled to rematch #12 ranked Angela Hill at UFC 265 on August 7.
At bantamweight, Sergey Morozov started purposefully and ultimately eased to a decision win over slight favourite Khalid Taha (30-27 x 3) – inflicting the German's second straight defeat.
Taha lost a Fight of the Night matchup vs. Raoni Barcelos last November. It's the Kazakhstani's first UFC victory, having suffered a second-round submission defeat on his debut in January.
In the night's flyweight action, Malcolm Gordon returned to winning ways and earned his first decision win since August 2015 – when he was under the Warrior Xtreme Cagefighting banner.
Francisco Figueiredo won a round on two judges' scorecards, but ultimately lost to the 31-year-old (30-27, 29-28 x 2).
Meanwhile in the heavyweight division, Rodrigo Nascimento kicked off the ESPN card with a second-round TKO win over Alan Baudot – landing a flurry of punch combinations which had Baudot backed up against the fence and unable to stop a furious finish.
Picture source: Getty Images — all post-fight quotes via ESPN broadcast