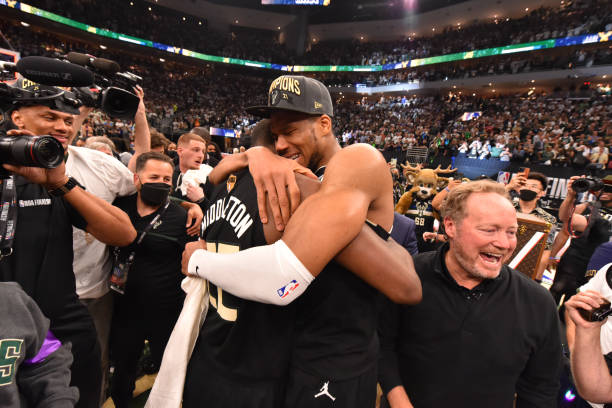 Two-time league MVP Giannis Antetokounmpo had 50 points, 14 rebounds and five blocks, as the Milwaukee Bucks rallied from a seven-point deficit early after half-time to surge back ahead of a spirited but inefficient Phoenix Suns effort. Clinching their first NBA title for 50 years with a raucous Game 6 home atmosphere to savour, Mike Budenholzer's men did it the hard way.

Giannis' monster effort sees off slow-starting Suns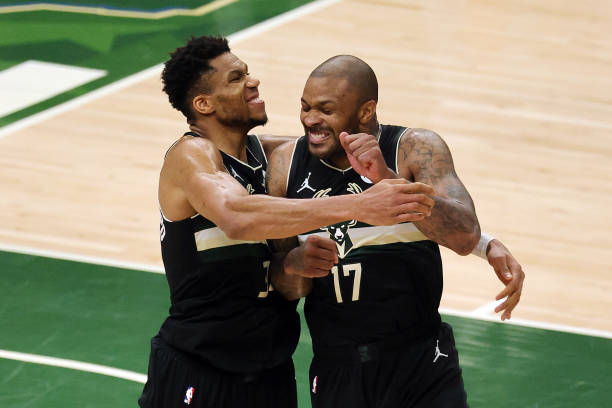 Giannis Antetokounmpo finishes series averaging 35.2 PPG, 13.2 REBS and 5 AST on 61.8% shooting, first player in Finals history to reach those numbers
Bucks become only the fifth team to win NBA Finals after trailing 2-0, first to do it by winning four in a row since Miami Heat toppled the Dallas Mavericks in 2006
Giannis speaks of his pride to have achieved first championship after eight years in the league, but also says he was happier to hear coach Bud say they have to do it again
Suns' first postseason run since 2010 ends on a memorable high despite loss, but star guard Devin Booker shoots just 8-of-22 and was also scoreless in seven attempts from three
It was a nervy start by both teams, littered with sloppy turnovers and ugly possessions galore in the opening exchanges as they tried shaking off the pressure that came with such a high-stakes game – a career-defining game. But none of that matters in the end, provided you finish strong.
Having already surprised most by recovering from a scary-looking knee injury to feature in this series, then produce two decisive plays in consecutive games, Giannis felt like perhaps the sole anomaly to the previous paragraph. Started quickly, was aggressive throughout and energetic.
Milwaukee needed their two-time MVP's influence to help stabilise them, but no-one expected it would be so pronounced after the first quarter. He was everywhere, making the right play, rebounding, blocking shots and importantly sinking free-throws – a well-known weakness of his.
The subtle but clear progression in his decision-making was on show as he easily left Suns' center Deandre Ayton in his wake charging towards the basket, before hitting a difficult shot.
Third-year big man Ayton, who began this series with 22 points and 19 rebounds on efficient shooting splits during their double-digit Game 1 win, struggled to match those heights since.
He seemed too preoccupied barking teammate instructions to truly challenge Giannis and was beaten on numerous occasions, with repeated drives and spin moves as his suspect lateral movement was thoroughly exploited in-and-around the paint. A rough night to say the least.
As the Bucks' lead grew, so did their willingness to take tough shots – Devin Booker style – given they were dominant in the rebounding stakes. Reserve guard Cameron Payne was a useful spark plug for Phoenix, keeping things competitive as most were failing to find their shooting rhythm.
So while Milwaukee were being energised by Giannis' emphatic blocks, they failed to seize full advantage of the Suns' sluggish start. Was a role reversal from Game 5 on the cards? Certainly.
Phoenix outscored their hosts 31-13 in the second quarter, powered by Chris Paul's deadly mid-range game and a newfound sense of urgency, as they held a five-point lead into the interval.
A nod to the under-appreciated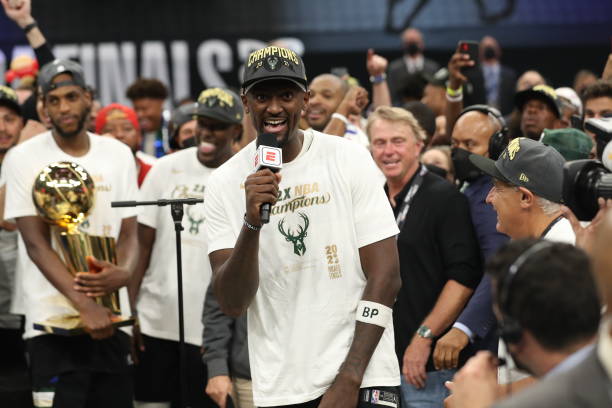 Jrue Holiday's shot just wasn't falling, but just like earlier in the series, crucially found ways to be effective elsewhere. Bobby Portis' infectious energy was unmistakable off the bench, with multiple hustle plays and another aggressive big man who regularly chipped in with baskets.
It felt fitting that during the championship ceremony, Jrue acknowledged the 26-year-old and gave him his moment, having rejected the Knicks' extension offer for Milwaukee last summer.
"I was really depressed, really down, not being invited to the bubble with my team. I worked out for months and found peace in my life. Coming here was the best thing that ever happened to me, man."

Portis addressing the Bucks crowd during the post-game celebrations
Early in the third, you could sense Giannis just wasn't going to allow his team to lose this game with the crowd in one hand and destiny in the other.
His shot-making abilities were, frankly ridiculous, while the aforementioned Holiday played some brilliant defence to stifle Booker – who grew increasingly frustrated by the physical nature of this affair, one which saw him cool off completely.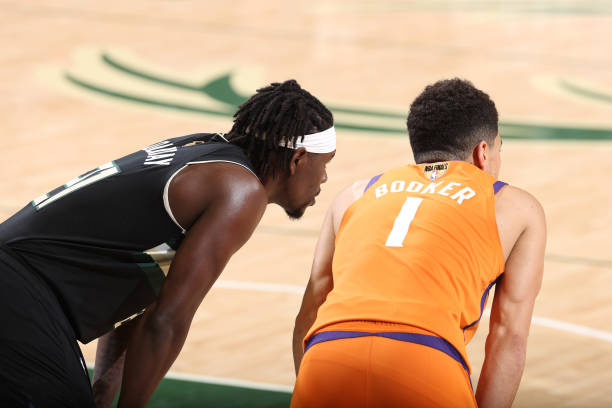 That helped the Bucks regain the lead and while it's one thing to say Phoenix needed to do a better job defending Giannis, it's another to do it with consistency given his length and ability to effortlessly get to his preferred spots.
Ayton was too reactive, Mikal Bridges and Jae Crowder did their best but both are smaller in comparison while the latter was flirting with foul trouble.
Giannis continued making the right reads and while the commentators gushed about his laser-like FT shooting on the night, you couldn't help but think: it's amazing what can happen when a star doesn't have the crowd counting you down, or you're not in your own head at the foul line.
These small margins (17-of-19 from FT) were key to a complete performance, especially considering the inconsistent numbers recorded there from him for the rest of the series.
Reserve big man Frank Kaminsky was impactful in 11 minutes' off the bench and quietly produced important defensive plays, while being unafraid in attack too (6 pts, 2 rebs, 1 ast and steal). Phoenix weren't ever going to fade away quickly, as evidenced by Paul's tough jumpers:
But alas, Giannis' herculean effort (not for the first time this year…) proved too much for them to handle on a night where his two best teammates combined for 29 points on 10-of-32 shooting.
Paul, by comparison, had 26 and was the Suns' leading scorer. Holiday's pesky defensive approach rendered Booker a non-factor, on a night where they needed his hot hand the most.
---
What's next for both ball clubs?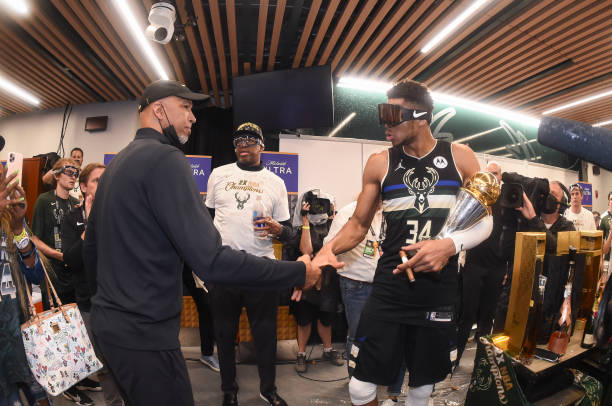 After losing four straight from a 2-0 lead – including a pair of games going down to the wire – it's easy to forget that the Phoenix Suns weren't supposed to be here anyway. Nowhere near.
Injuries, fortune and some shrewd roster building all went their way but by the end, no-one could begrudge them the position they found themselves in. Two wins away from an NBA title no-one would've predicted, not even after going unbeaten in last year's Orlando bubble.
Phoenix have a young core, most of whom were embarking on their first postseason campaign this term, so naturally there's plenty from this surprise run that they can learn and build upon in future seasons – irrespective of whether Paul decides to run it back or departs for pastures new.
After all, they fared well without him (sidelined due to COVID-19 protocols) and were 2-0 up in the Clippers WCF series before his return. Finding the right successor for him though, is key.
"There's just a pain that goes with your season being over, but I've never dealt with this and so I'm grateful but I know this is going to hurt for a while."

Monty Williams' comments after the Suns' Game 6 defeat
As for Milwaukee, they were already engaged in an enthralling seven-game series against the Brooklyn Nets en route to this Finals run. Without Giannis though, this is a different fortnight.
Considering how they've faltered in previous seasons, it'd be disingenuous to suggest this expensive roster was safe from major changes this offseason had they not won it all. That all starts with coach Budenholzer, who even last month wasn't safe from being fired, per reports.
After blowing a 2-0 lead to Kawhi Leonard and the Raptors (2019), Miami defied the odds at their expense last year, so things seemed ominous for this Bucks core. They were grateful to eventually squeeze past Brooklyn, with All-Star pair Kyrie Irving and James Harden not at 100%.
But, you make your own luck. Giannis inking a multi-year extension last summer, when he could've easily delayed his decision a year or asked to leave instead, provided the front office confidence to go all-in with Jrue Holiday seen as the missing piece (and PJ Tucker later on).
As he embraced Middleton post-game and spoke glowingly of how they've pushed one another over the arduous eight-year stretch that saw them reach the sport's pinnacle, it reinforced the notion that perhaps you don't have to team up with multiple All-Stars to prevail after all.
Both are the only men still standing from their 15-67 team from 2013-14, Giannis' rookie year
Middleton played in the NBA's D-League during his rookie year the previous season (Detroit)
Giannis hasn't even reached his full form yet, which is both exciting and a warning to the rest of the league going forward. Their core, while admittedly older (Middleton 30 in Aug, Holiday 31), are tied down for multiple years and it's easy to forget other players are still developing too.
Among them are starting guard Donte DiVincenzo (foot) and Pat Connaughton, the latter deserves an apology from those who overlooked him while the former should be motivated to shine after having his season cut cruelly short midway through their Heat first-round series win.
It'll be interesting to see how the other Eastern Conference contenders strengthen in the aftermath, like Boston and Toronto – who were both quickly out of the proverbial race – as well as Joel Embiid's Philadelphia 76ers, assuming Ben Simmons is no longer there next season.
However, the Bucks can still improve. They won't retain all their role players, but as long as they don't overthink the process like the Malcolm Brogdon loss, the next few years should be fun.
Picture source: Getty Images