On a night packed with comeback wins, former two-time UFC bantamweight champion TJ Dillashaw returned from a two-year drug suspension while gritting through a knee injury and gruesome cut above his eye to eventually outlast #2 contender Cory Sandhagen – winning via split decision (47-48, 48-47, 48-47) on the scorecards after a tense, thrilling main event matchup.

Dillashaw back with a bang, sandhagen left feeling aggrieved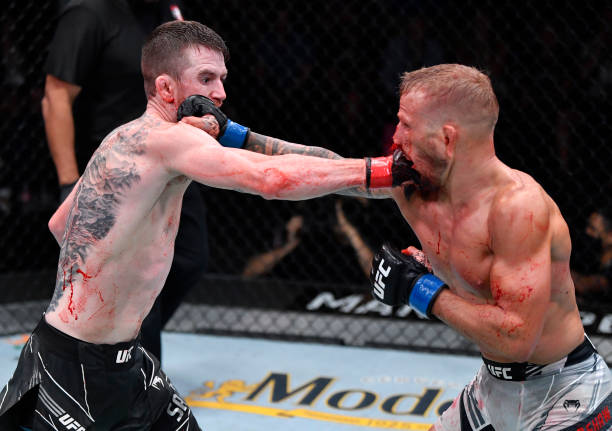 47-48, 48-47, 48-47: TJ Dillashaw beats Cory Sandhagen (#2) via split decision
Sandhagen's disbelief and frustration was immediately obvious as his eyes widened and he circled around the Octagon, after Daniel Cormier signalled for him to wait for a brief post-fight interview of his own. He'd just suffered a tough decision loss to a returning former champion.
"I didn't take any serious damage, they [Dillashaw's leg kicks] weren't compromising me at all, I don't know man… I didn't think he'd take a shot like he did, they knock people out, but I should've been better and won."

Sandhagen's post-fight Octagon interview, feeling hard done by
But not just anyone, though. A former training partner, who he actively wanted a five-round matchup against, with intimate knowledge on him – and vice versa – while the backdrop of a drug suspension hung over this headliner like an uneasy moral dilemma given the coverage.
However on it went as planned without a hitch, after a night packed with surprises from top-to-bottom, and didn't disappoint from the first horn. Sandhagen stumbled Dillashaw early, then landed a flying knee before quickly transitioning it into a tightly-held reverse triangle choke.
TJ escaped but did so with some help through illegal means: pulling on Sandhagen's shorts, as referee Herb Dean was quick to admonish him. From there, it was the 35-year-old returnee who connected on the round's more impactful shots, while repeatedly threatening the takedown.
His left knee was visibly compromised limping to the corner, but thanks to purposeful ground-and-pound strikes on top, had clearly won round one despite Sandhagen's early success.
Sandhagen had significantly more success in round two, centred around his jab as neither wanted to exchange strikes in the pocket.
While Dillashaw was visibly testing out his knee and trying to stay elusive, Sandhagen remained patient and you could sense he'd grow in confidence as he found his striking range.
The commentator's curse came back to bite Cormier, having waxed lyrical about Dillashaw's ability to close the distance while keeping his hands so low. Just seconds later, the former champ needed to find his bearings after being knocked down hard as Sandhagen was on top.
Clearly struggling with a big cut bleeding everywhere, referee Dean spotted this and paused the action momentarily while calling for a doctor inspection – a brief observation cleared him to continue – in what he later described as a weak spot previously sustained during fight camp.
Dillashaw's lazy striking defence was duly punished, as Sandhagen landed the more powerful punch combos. That allowed him the confidence to try spinning attacks, which looked good but ultimately backfired down the stretch on a night where accurate judging felt hard to come by.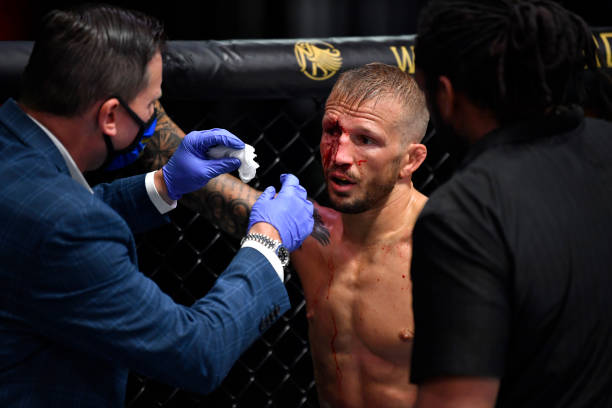 Dillashaw was content pouncing on his mistakes, whether it was through timely wrestling or persistent clinching, while making a conscious effort protecting his right eye.
That only served to attract more attention instead, though his senses were heightened and allowed him some timely takedown defence as Sandhagen tried matching him on the ground.
Dillashaw's continous stream of leg kicks, while establishing Octagon control in the clinch, was a clear tactic as he chopped the bigger man down to size while nullifying Sandman's momentum.
Despite being wobbled with a spinning backfist in R4, TJ laughed it off like he wasn't troubled: precisely the bullish bravado that appeared to sway this matchup his way on the judges' cards.
"I love Cory, I believed in him before he believed in himself, great opponent and a great fight… but I pushed the pace, got the win and guess what? Daddy's home, bitches. [It was the] same cut that opened up twice before the last camp [and caused a withdrawal], was vulnerable and he hit me with a good shot.

Popped my knee, got lazy and I couldn't throw my hooks in, so that sucked… that obviously went out of the window. Took me a while to get warm, he's a tall dude and doesn't have these tree trunks, chop the legs and it worked.

Daddy's getting that belt, easy. Title fight next of course, as long as Sterling-Yan is soon, otherwise I'll fight someone else in the top-5. I'm here to fight."

TJ Dillashaw's post-fight interview, discussing his injury and what's next
Statistic: This victory means Dillashaw is now tied-most for wins in UFC/WEC bantamweight history (13), alongside fellow former 135-lb champion Dominick Cruz.
---
Paiva prevails in memorable co-main event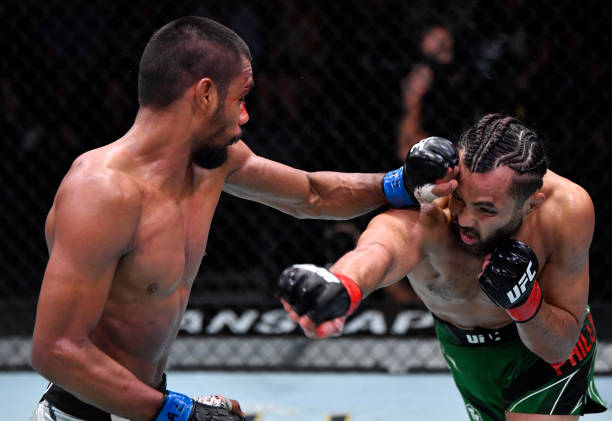 29-28, 29-28, 28-28: Raulian Paiva defeats Kyler Phillips (#14) via majority decision
Moving up a weight class from flyweight, Paiva weathered a furious first-round storm before proving successful against #14 ranked bantamweight Phillips, during a Fight of the Night clash.
Paiva immediately caught the eye with two early counterstriking punches that stumbled Phillips backwards, before the 26-year-old negated that fleeting success after scoring a knockdown.
Despite possessing a clear speed advantage, Kyler's eagerness to land spinning attacks hurt him – just like Sandhagen – as an audacious backfist and looping right hand wizzed past the Brazilian.
With Hall of Famer Urijah Faber in his corner, the relatively new addition to Team Alpha Male made his coaches proud here but it wasn't without a few nervy moments as Phillips charged towards the finish line at the end of a back-and-forth first round and almost got a stoppage win.
Some nasty elbows, as well as ground-and-pound hammer fists, landed flush for the #14 ranked bantamweight – who appeared not to respect Paiva's power. That would prove telling down the stretch, despite doing more than enough to log a 10-8 round to begin his evening's action.
Although he briefly looked exhausted as he took time to recover between rounds, Paiva's confidence was building after surviving that flurry. He scored a knockdown of his own, before Phillips produced a timely takedown to halt the momentum going too far against him.
Both were visibly fatigued, switching positions on the ground before connecting with overhand rights in quick succession – going tit-for-tat on significant strikes as this encounter intensified.
Paiva's takedown defence was sharp to start R3, while Phillips threw more acrobatic kicks. Paiva took control on the ground, almost perfectly placed with his cornermen in his ear up against the fence, landing infrequent strikes but not truly dominant on the ground from top position. #
The question was, whether that control would be enough to edge a decision win on the scorecards and to the surprise of many, it eventually was after a frantic finish to a fun co-main.
14 of 16 media journalists had it a draw (via MMADecisions.com), centred around a 10-8 first round in Phillips' favour, who could've had an early night if referee Keith Peterson stepped in.
Instead he didn't, Paiva somehow managed to recover and win the final two rounds, but they were competitive and not exactly comparable with the dominance The Matrix displayed in R1.
"He knew in his heart that he was going to find a way to win… didn't come to America to play games, works all day and came to work with our team."

Faber, with help from a translator, interpretating Paiva's post-fight comments
---
Elkins embraces adversity to earn excellent recovery win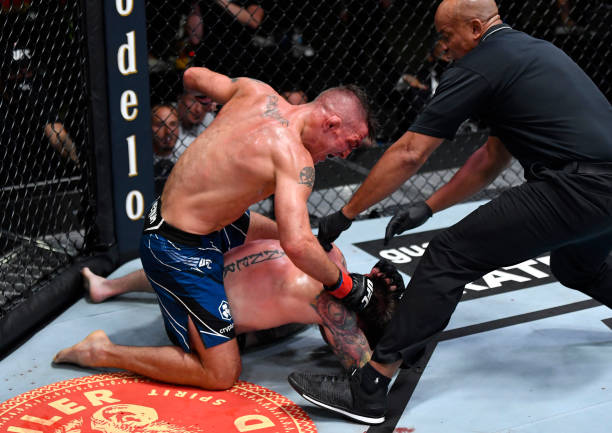 R2, 3:48 – Darren Elkins defeats Darrick Minner via TKO (punches)
Having lost four straight, including to current champion Alexander Volkanovski, Elkins earned another comeback win here and was rewarded with his first Performance of the Night bonus ($50,000) for three-and-a-half years after a submission-heavy matchup against Minner.
The pair exchanged choke submissions early on, with Minner believing he was close to a finish and unloading vicious hammer fists. However on commentary, Cruz questioned whether he had expended too much energy already and that proved precisely the veteran's downfall.
Elkins managed to weather the storm after a fruitless guillotine choke attempt allowed him an opportunity to earn the crucifix position. Minner was clearly exhausted and suffering an adrenaline dump, as Elkins continued to pound him (110 ground strikes to 20 at one point).
After absorbing more damage, referee Mark Smith stopped the fight… so Elkins has the second-most wins in UFC featherweight history (15), behind former champion Max Holloway (17).
Afterwards, he thanked his family's support while revealing he wants to fight again at some stage in October but importantly has no preference for specific opponents at this stage in his career – fun matchups are more desirable – especially after a tough period where he pondered retiring.
---
in battle of prospects, Barber records unjust split decision win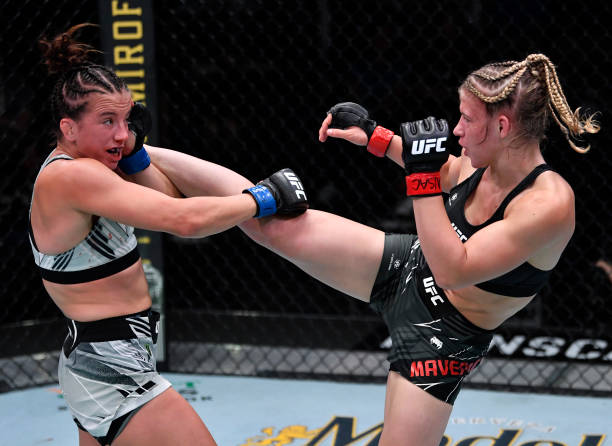 28-29, 29-28, 29-28: Maycee Barber (#14) beats Miranda Maverick (#13) via split decision
In the women's flyweight division, two young top-15 prospects collided and this bout produced the night's worst judging decision as Barber squeezed past Maverick on two of three scorecards.
Despite a tentative start, Maverick was the clear aggressor: more comfortable as she controlled centre ring while landing multiple kicks and seizing the advantage against a risk-averse Barber.
Barber made noise while throwing shots but didn't connect on many punches, in what felt like a repeat of the Alexa Grasso defeat all over again. Failing to close the distance or effectively counterstrike, meant she was quickly behind as an ominous graphic flashed across the screen.
Maverick had recorded three times as many significant strikes early in R2, as they engaged in clinch positions and Barber earned a brief trip into a takedown. Maverick matched her with one of her own, before climbing on the 23-year-old's back as she edged a more competitive round.
Barber could sense she was losing by the way her coaches spoke in the corner and that urgency was evident in the final round: prematurely chasing an early trip, rushing her work a little.
In fairness, the offensive output was higher as they briefly exchanged power punches in the pocket before Barber secured a much-needed takedown as Maverick began to slow down.
Blitz attacks were Barber's modus operandi at this stage once they returned to their stand-up exchanges, with a spinning elbow on the break from another clinch position her most significant strike. But where was this forward pressure from minute one, rather than the final few?
Even still, she shouldn't have been rewarded for finishing strong. Per MMADecisions.com, all 23 media journalists scored the fight 29-28 in Maverick's favour and for what it's worth, I did too.
"I wanna win over the fans and judges, knew I had to go for something big and it [the spinning elbow] paid off.

I knew we would be faster, more athletic and elusive, don't know if I displayed that as much as I wanted to but yeah. Jessica Eye is #8, I want her next…"

Barber reflecting on a dubious decision win, who she wants next
---
Yanez kicks off main card with an impressive comeback win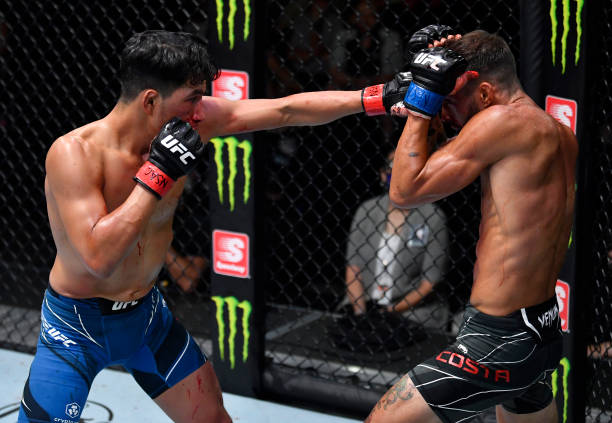 R2, 2:33 – Adrian Yanez defeats Randy Costa via TKO (punches)
In a much-anticipated bantamweight battle between a pair of 27-year-old prospects, Yanez and Costa didn't disappoint during a frantic stand-up duel to open the night's main card action.
During the pre-fight fighter meetings, Yanez said Costa would start quickly but ultimately pay the price for fading away and his comments proved prophetic, en route to a Performance of the Night bonus ($50,000). You wouldn't have known that given the first few minutes of action though.
Costa started furiously with a flurry of accurate kicks, predominantly to the head and body, while establishing his jab as Yanez patiently tried to find his range. In doing so, he was absorbing damage aplenty and certainly on the back foot with limited head movement hurting him.
Costa's jab continued landing, as did his one-two punch combinations, as he closed the distance with intent and was energised by seeing Yanez struggle to counterstrike effectively, eating more left-hand jabs for good measure.
Although he was standing in the pocket too long and wasn't sharp enough to unload his offensive weapons first, that would soon change for Yanez – rallying well to finish round one strong, despite clearly being second best during it.
Known for his first-round finishes, Costa was taken into new waters as Yanez survived his early onslaught. It proved pivotal, both because punch output slowed and he visibly tired, while Yanez was starting to finally hit his own stride.
String together combinations, applying more measured patience and precision than the early going, the tide had unmistakably turned. Multiple body punches connected, before a right uppercut split the guard and Yanez saw the finish line, dropping Costa to his knees.
Referee Chris Tognoni waved it off to seal a gritty recovery win for the more seasoned fighter.
"My last two fights I came out flawless but started way too slow [here], he came out fast and I wasn't ready for it. It should've been way cleaner, outclassed me with that jab, I got to reassess that because I'm not happy."

Yanez's honest post-fight interview
---
Prelim results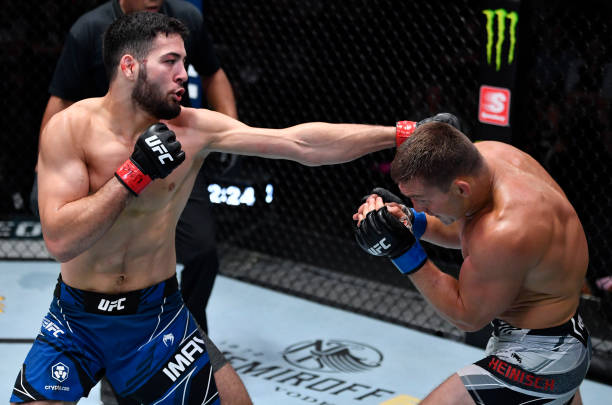 On a six-fight prelim card, there were four finishes – including returns to victory for Dagestani middleweight Nassourdine Imavov and a long-overdue Mickey Gall win at welterweight.
Imavov earned a second-round TKO win over Ian Heinisch, after Gall ended a 13-month layoff with his sixth UFC victory, but only second since submitting George Sullivan three years ago.
After successive decision defeats against Ketlen Vieira (UFC 253) and Pannie Kianzad (UFC Vegas 17) finished 2020 on a low note for Sijara Eubanks, the 36-year-old returned to winning ways with her first TKO win for five years – quickly ending newcomer Elise Reed's night (R1, 3:49).
Middleweight Brendan Allen earned a decision win over Punahele Soriano (30-27 x 2, 29-28), after bantamweight Julio Arce's second-round TKO win over Andre Ewell. In the night's opener, Diana Belbita eased past Hannah Goldy (30-27 x 3) to earn her first UFC win at the third attempt,
Picture source: Getty Images