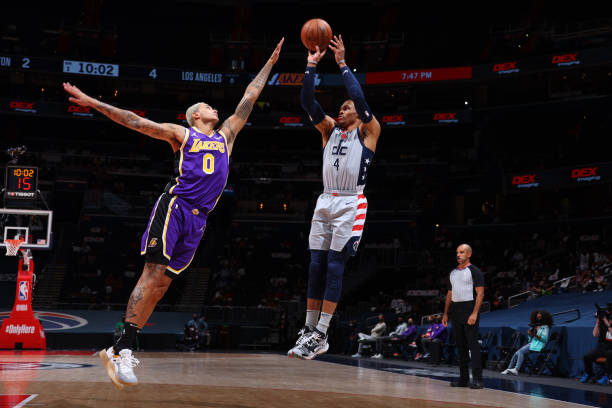 After a disappointing playoff campaign, the Lakers have again been bold as they try to return top of the NBA food chain once more with this trade. But amid questions over the perennial All-Star guard's fit in Southern California, is Russell Westbrook the answer to their problems?
another year, another team – Westbrook is la-bound: The details
News of Westbrook's desire to leave broke on Thursday night hours before draft began
Lakers were in talks with Sacramento over possible Buddy Hield trade, deal shelved
Wizards now keen to bolster roster around All-Star guard Bradley Beal, who still remains
LA Lakers get: Russell Westbrook, 2024 and 2028 second-round draft picks
Washington Wizards get: Kyle Kuzma, Montrezl Harrell, Kentavious Caldwell-Pope and No. 22 draft pick in today's draft
After inking an eyewatering five-year, $206.7m max contract extension with the Oklahoma City Thunder which began in 2018-19, many critics said Westbrook's deal wouldn't age well and that he'd struggle to find any teams with genuine interest should things go sour in Oklahoma.
Well, 2021-22 will be his age-32 season and he'll begin training camp at the end of September with a fourth team in four years. The Houston experiment crashed and burned rather rapidly, despite reuniting alongside fellow MVP and another perennial All-Star guard in James Harden.
Washington has had its fair share of ups and downs, though that venture into the Eastern Conference felt like one where the front office wanted to appease Beal rather than much else, even if they were unfortunate with injuries and inconsistency during a shortened regular season.
Westbrook averaged a triple-double in a season once more this past year and while scepticism over his shooting efficiency is fair, no-one can question the playmaking abilities he possesses. Per ESPN, the Lakers ranked 18th in PPG created off assists last season.
On a personal level, Westbrook led the NBA in that category three of the past four seasons, with the only exception being the year alongside Harden – another ball-dominant guard – in Houston.
His acquisition, while likely to be contentious among rival fans and critics, lessens the creative impetus on LeBron James and an injury-prone Anthony Davis, two stars in their own right.
As I wrote earlier this month, Dennis Schroder's decision to decline the Lakers' maximum extension offer during the regular season may have backfired for the Germany international.
After two seasons as a sixth man in OKC he was their starting PG last term, but inconsistency and a desire to bet on himself have combined to see him actively pursue a more lucrative free agent deal this summer. Whether he gets more than he received earlier this year, remains to be seen.
Beal is entering the last year of his existing deal in Washington and, as things stand, is set to be a free agent next offseason. Per ESPN's Adrian Wojnarowski, the Wizards making this move creates some future salary-cap flexibility as they want to add talent around him.
Whether that's enough to convince him into staying long-term, again, is a mystery.
Although they have their flaws, Kyle Kuzma and Kentavious Caldwell-Pope depart Los Angeles as NBA champions and both played important roles in clinching that title last October.
Kuzma seems like a victim of his own early-career success, having shone as a late first-round draft pick (#27) averaging 17.3 PPG on 45.3% shooting in his first two seasons (147 games).
His scoring production has tailed off as others have come to the fore, but importantly so has a sense of continuity within his game with less minutes in the rotation (41 starts from 2019-21).
Montrezl Harrell, who won the league's Sixth Man of the Year award with the Clippers in 2019-20, saw a decrease in his minutes despite an uptick as far as his overall efficiency was concerned.
So while Westbrook is a flashy new acquisition right now, it's unsurprising that some serious questions remain unanswered when breaking down a roster with their bullish title aspirations.
Picture source: Getty Images – trade specific information via ESPN