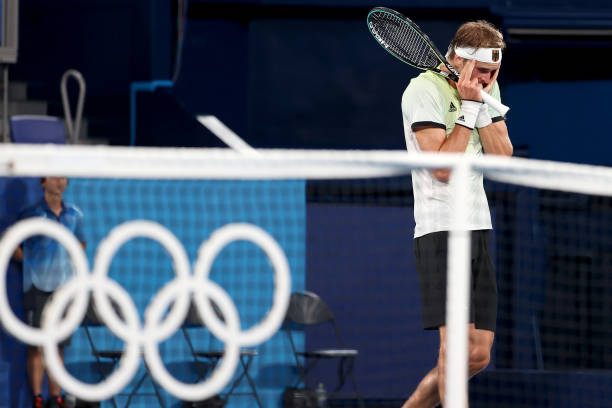 He was a set and a break down, looking downbeat and furious with himself as a competitive affair was slipping out of his grasp with poor execution. Then, Alexander Zverev stepped up his level, like we know he can, winning eight consecutive games before eventually knocking out world number one Novak Djokovic 1-6, 6-3, 6-1 in their Olympic semi-final matchup on Friday.
Zverev ends Djokovic's Olympic dream in semi-finals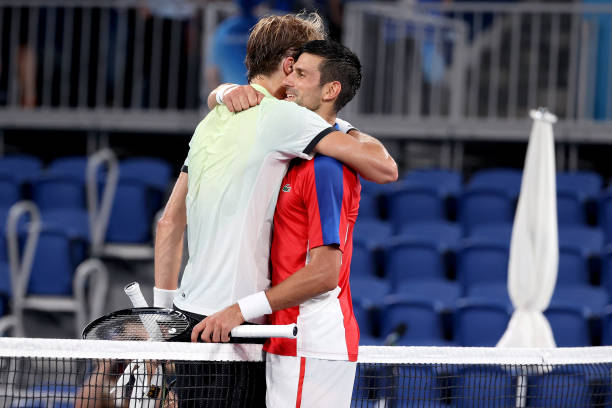 Zverev recovers from 6-1, 3-2 down to snap Djokovic's 22-match winning streak
World no. 1's bid at Golden Slam ended after uncharacteristic loss with serving issues
Zverev to face Russia's Karen Khachanov on Sunday in gold medal match
To describe Djokovic's Friday as forgettable would be an understatement of the highest order.
Less than 24 hours ago, the Serbian was three games away from a first Olympic singles final, yet faces another quick turnaround against Spain's Pablo Carreno Busta (estimated start time: 0700am BST) in the bronze medal encounter, looking to save face after a sad exit against Zverev.
"I feel so terrible right now, can't be positive right now. I don't know I feel terrible, in every sense, but tomorrow hopefully, a fresh start. I can recover and at least win one medal for my country."

Djokovic's assessment on a heartbreaking defeat
A brief glance at the commanding scoreline would've suggested all was well, up 6-1 and 3-2 midway through set two for the world number one – winner of the last three Grand Slams, now in pursuit of the elusive Olympic gold. But, in a best-of-three sets format, anything can happen.
This duel was much more competitive than the stats initially showed, which was a large reason for Zverev's fury. Whether it was racquet abuse, firing balls into the stand or just being angry with his play, the 24-year-old knew this match was there for the taking. He just needed to seize it.
Zverev produces super serving as Djokovic's deserts him
His execution was lacking at times where he needed to create doubt in Djokovic's mind, but as I stressed pre-match, the German's serving had to be excellent here. It certainly was, albeit after a sketchy start in set one where he won just 54% of points behind his first serve (7/13).
Tale of two serves
set one: Djokovic – three aces, 76% 1st serve, 65% points won — Zverev one ace, 81% 1st serve, 54% points won
set two: ND – 0 aces, 65% 1st serve, 40% points won — AZ one ace, 71% 1st serve, 75% points won
set three: ND – 1 ace, 50% 1st serve, 55% points won — AZ five aces, 71% 1st serve, 70% points won
There are numbers and percentages galore that can be used to illustrate Djokovic's drop-off, but the Serbian's improved serve is the base on which to build upon. It drastically deserted him.
It's why these very same serving struggles, amplified in the latter rounds at SW19, returned here precisely at the moment when he needed them to stay away as Zverev had a second wind.
Even as Zverev started to soar ahead, he still created half-chances for himself: largely centred on the grit and defiance that got him so far in moments where he should've already lost the point.
But, after a tense start to the deciding set which saw him broken in the first game, then Zverev saved four break-back points in the very next game, it was an uphill climb too steep to claw back.
To make matters worse, his shot at mixed doubles gold with Nina Stojanovic was also ended by the Russian pair of Aslan Karatsev and Elena Vesnina: losing 7-6, 7-5 two hours later.
It means today is busy for the world number one, who hopes to secure bronze in two disciplines: Carreno Busta first, nine months after their Roland Garros quarter-final matchup. Then, Australian duo John Peers and two-time Major champion Ashleigh Barty in the mixed.
Picture source: Getty Images