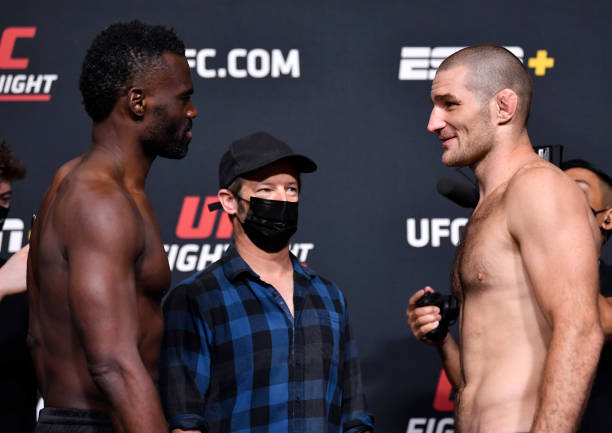 On a rare weekend overshadowed by Bellator's featherweight title main event, this is far from a sexy main event on paper but Uriah Hall (#9) vs Sean Strickland (#11) feels like a middleweight matchup with implications aplenty for both – especially considering the latter has won four straight and will be targeting the top guns should he pass this latest acid test at 185lbs. Will he?
Hall-Strickland an important middleweight matchup for both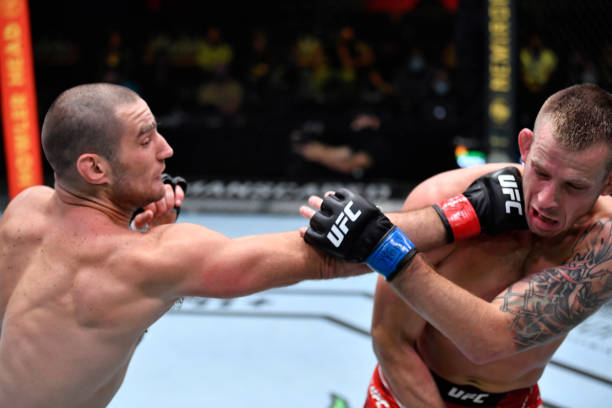 They say you have to be sadistic, or at least a little crazy, to be successful in a sport as unforgiving as mixed martial arts. Strickland's nonchalant, straight-talking style has ruffled some feathers but ahead of his first main event, doesn't care much about the additional attention.
Having hired a mental coach to help him take some of the pressure off his high-stakes career, the 30-year-old has embraced defeat in a way that allows him perspective about what's important.
"It'll be special if I win. If I get knocked out, I'm going to look back like, 'fuck, this sucked.' You're only special when you're winning. If I lose, I'm going to wake up Sunday and you guys aren't going to give a fuck about me.

I like Uriah, but here's the difference: I'll spar you and say, you're probably going to bleed, I'm going to try to fuck you up and take your soul. He'll say 'hey best friend, let's go watch anime after this. We're really good fucking friends.

Next think you know, spinning back fucking heel kick to the face. Me and him are a little different. Uriah's the hidden psychopath.

He's a gatekeeper, and I don't want to undersell Uriah to say [it], but he's damn good. He's a guy you beat and it propels you one or two away from a title shot. It's a very interesting thing to think that it's within your grasp."
Hall, who turns 37 today, certainly made an impression on Strickland during the time they shared together training. While much has been said about Uriah historically failing to reach his potential, he's clearly among the most talented and unpredictable strikers in the promotion.
"I am looking forward to the champ [Israel Adesanya], man.

I got nothing bad to say, not here to start any BS but I'm excited because, he came into the platform and has an exciting style. I think my style is perfectly matched up for his, but you got to play the game.

There's a few dudes ahead of me, so I've got to take them out and get to him. But he's the motivation because I like and understand that style. He got to where he had to get to, played his role and I just want a crack at it. That's it."
Both are on four-fight win streaks, albeit in vastly different ways. Chris Weidman's gruesome leg break at UFC 261 meant their rematch, 11 years in the making, ended rather prematurely in late April – but it means Uriah's enjoying his best run of form since turning professional in 2005.
After ending a two-year layoff with another win on the Hall-Silva card, Strickland backed that up with a second-round TKO vs. Brendan Allen before cruising past Poland's Krzysztof Jotko at the start of May. Their timelines match up well, even if it's not a true main event on paper.
---
Other UFC headlines, news and fight updates
Justin Gaethje's year-long absence will end on November 6, if reports from ESPN's Brett Okamoto overnight are proven true. The highly-reputable journalist tweeted an update: Gaethje has verbally agreed to an intriguing fight, pitting him up against a former Bellator titlist…
The #1 ranked lightweight, who suffered a second-round submission loss against since-retired undefeated 155lb champion Khabib Nurmagomedov in Abu Dhabi last October, is expected to defend his ranking vs. fellow one-time title challenger Michael Chandler at UFC 268.
After testing positive for COVID-19, two-division champion Amanda Nunes' bantamweight title defence vs. Julianna Pena – scheduled for UFC 265 next weekend – has been shelved for now.
The promotion's chief business officer, Hunter Campbell, told ESPN they'll rebook it when Nunes is healthy enough to return but there's no timeline on when that actually is.
Are you excited yet for the UFC 266 PPV card on September 25, headlined by a long-awaited featherweight title fight between defending champion Alexander Volkanovski and Brian Ortega (#2)? Perhaps this teaser ESPN interview, courtesy of UFC, will pique your interest…
Two-time welterweight title challenger Jorge Masvidal (#7) revealed December is when he wants to return, albeit against someone who gets him closer to another title shot as a priority.
Given the history between the pair and current 170lb landscape, Leon Edwards (#3) responded by saying he's ready in either November or the year's final month, before Gamebred fired back:
Meanwhile, I wrote earlier this month fellow former title challenger Gilbert Burns is aware of that situation and is prepared to fight someone else at 170lbs besides those two: Nate Diaz.
On social media overnight, the Brazilian offered a monetary wager for the fan-favourite southpaw, who almost stunned the MMA world on his return vs. Edwards at UFC 263.
#3 ranked Aspen Ladd's bantamweight return vs. Macy Chiasson has been tentatively booked for October 2, after the latter withdrew before their weigh-ins with a stress fracture in her foot.
Picture source: Getty Images — quotes via MMAJunkie unless linked