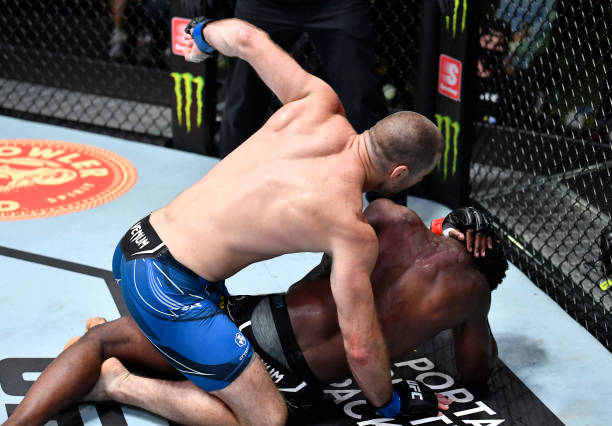 Although he was understandably critical of his display in the post-fight presser, Sean Strickland broke a record for most significant strikes in a UFC middleweight fight (186) en route to a dominant decision main event win (50-44, 50-45, 49-46) over former training partner Uriah Hall.
Strickland's streak continues, seals his fifth straight at 185lbs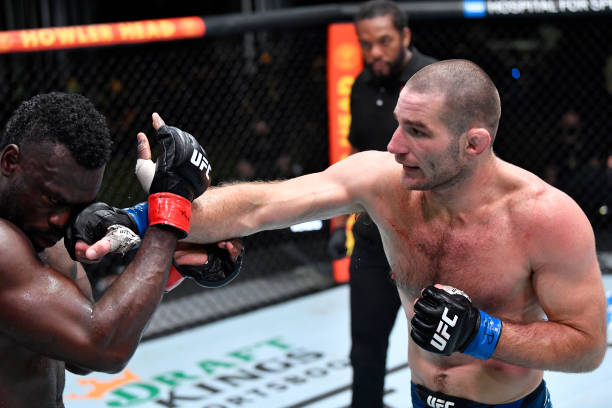 Strickland did precisely what he set out to do, even if it was messy at times and less clinical than he would've envisaged against a middleweight gatekeeper – his pre-fight words, not mine.
As such, he rises into the divisional rankings' top-10 when they update this coming week, in an intriguing position packed with contenders aplenty believing they have what it takes to break the Israel Adesanya code. Just like Hall (#8) did, until falling short against a familiar foe here.
His five-fight winning streak is tied with Brendan Allen for the division's second-longest active run of form, behind Adesanya (10), albeit against a higher quality of opposition. He also had a second-round TKO win over the 25-year-old last November in a catchweight bout (195lbs).
"Fighting in the UFC gives me purpose and so I thank those [involved] for that, without them I'd probably be cooking meth in a prison cell somewhere…"

Strickland's brief post-fight interview Octagonside with Paul Felder
During a night overshadowed by AJ McKee's star-making display at Patricio Pitbull's expense from Bellator 263 an hour later in their long-awaited Featherweight World Grand Prix Final matchup, Strickland went the distance in his first headliner – but truthfully really didn't have to.
Instead, he zigged when he should've zagged. On multiple occasions in different rounds, his jab accuracy and swinging punches had Hall rocked and seemingly on his way out of the fight.
But rather than go in for the kill, he persisted with efforts shooting for untimely takedowns: allowing the savvy veteran an opportunity for extended recovery time as the shock subsided.
"I need to learn how to hit harder, I kind of hit like a pansy, kind of sucked. They're like, you won the middleweight striking record. That means I can't hit that hard."

Strickland's assessment of a record-breaking statistic that doesn't impress him
On the contrary, his sheer punch output and aggressive activity had Michael Bisping excited on commentary duty during the first few rounds. Hall, whose face was swollen and badly bruised by the final horn, did well to keep things fairly competitive despite clearly being outworked.
"It is what it is, I've been training for so long – there's always going to be another killer. I'll fight somebody again in the next few moments, might win or get knocked out but just like making money.

I know like two fighters in the division. Brad Tavares, because we train together, and Adesanya. I don't really watch fights, just like to do it."

Strickland on what's next, not having a preference for future matchups
As for Hall, it's back to the drawing board after a tough loss which effectively ended his hopes of a late surge into title contention. This matchup proved not a great birthday present, after all.
Bisping spoke highly of his ground game and it'd be interesting to see how he would fare vs. Jack Hermansson (#6) – recently back to winning ways after the Marvin Vettori loss in Dec. Alternatively, the Jared Cannonier vs. Kelvin Gastelum (August 21) loser also makes sense.
More analysis from this event to follow soon.
Picture source: Getty Images