Best career title so far? Certainly. Alexander Zverev dropped just four games and held his nerve under pressure before ultimately making German Olympic history over the weekend: blasting past Russia's Karen Khachanov to clinch gold with a 6-3, 6-1 victory in this year's Tokyo final.

Zverev slots himself into the history books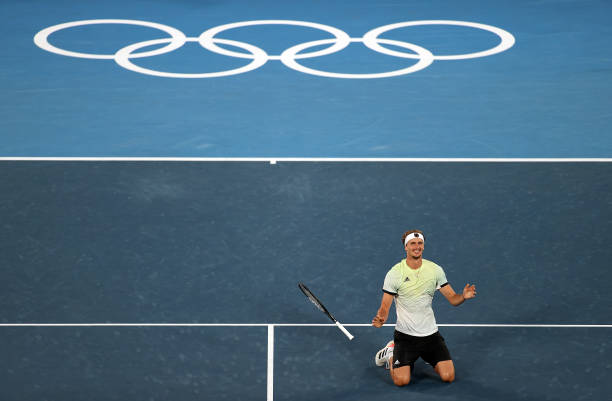 Zverev becomes first German man to win Olympic gold in tennis
… and first German since Steffi Graf in 1988 to clinch Olympic singles gold
24-year-old says there's nothing bigger than winning Olympic Games
2021's final Grand Slam – US Open – begins August 31: he was a beaten finalist last year
Six aces, 84% first serve points won (26/31) and 27 winners were among the numbers Zverev tallied in just over 80 minutes' play at the Ariake Tennis Park on Sunday evening local time.
Khachanov, who beat eventual bronze medallist Pablo Carreno Busta in the semis, saw his impressive tournament run fizzle out with little more than a whimper on the biggest stage.
His furious reaction caught the attention of many watching on, who shared clips of the Russian's fury on social media before debating whether that lack of etiquette is justifiably normalised.
Unlike against Novak Djokovic in his semi-final recovery, Zverev started purposefully and, centred around an early break at 2-1, held serve before fending off a sticky situation to go 4-2 up.
Just like during his three-set win over the world number one, he soared ahead by winning multiple games consecutively. Before you knew it, a 4-3 first set turned into a 4-0 second set lead as Zverev was closing in on gold and rather rapidly before Khachanov could adjust.
"I just won the Olympic Games, I think there's nothing bigger.

A gold medal at the Olympics, for me, the value is incredible because you're not only playing for yourself, your whole country [too]. He played, I think, an outstanding match and was just better today, all credit to him."

Zverev on his Olympic triumph, PCB don't draw me pls
Khachanov avoided the embarrassment of a bagel set (6-0), but the German's serving consistency and power had increased by this stage. He wasn't about to suffer any hiccups.
A career-altering title? Perhaps he likes the sound of that.
Picture source: Getty Images