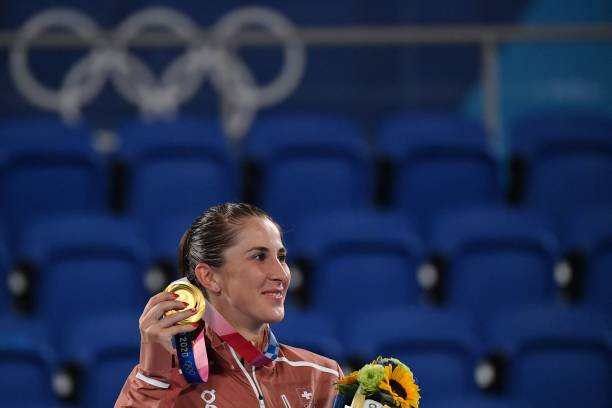 After earning a 7-5, 2-6, 6-3 win over 2019 Roland Garros finalist Marketa Vondrousova, Belinda Bencic is an Olympic gold medallist. Having also clinched silver in the doubles alongside Viktorija Golubic, the 24-year-old must believe this memorable moment is the first of many in a career that has already promised much but delivered infrequently in Grand Slam competition.
Bencic shines in tokyo, but can she use that to push for more?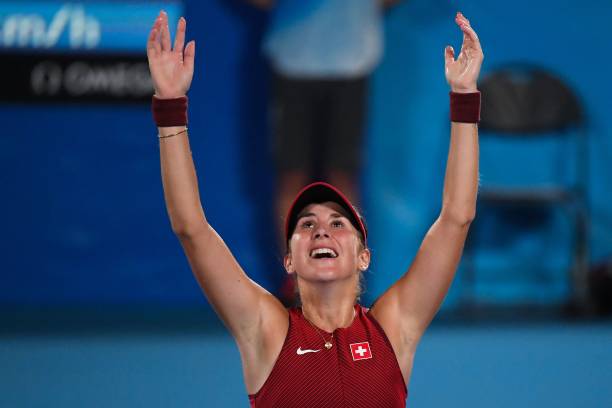 Bencic progressed past this year's French Open winner Barbora Krejcikova and beaten finalist Anastasia Pavlyuchenkova en route to Olympic Final, but no ranking points on offer
Swiss star is world no #11 but has only reached one Grand Slam semi-final in her career
US Open starts on August 30, where she reached the last four two years ago
"This tournament, it's the freaking Olympic Games. For me, this is the biggest thing ever for an athlete, so I cannot believe I have two medals.

I don't know what to say, it's amazing. I just don't get it yet, don't know whether to laugh or to cry. I didn't think it would be possible, was fighting for my life and it worked out. I cannot believe it did."

Bencic's on-court interview after beating Vondrousova in the singles' final
With those quotes – even in the heat of the moment – in mind, how can I ask the question whether Bencic will use this unforgettable achievement to push herself onto greater heights?
Bencic's Olympic run:
Jessica Pegula, world no. 28: 6-3, 6-3
Misaki Doi (#93): 6-2, 6-4
Barbora Krejcikova (#11): 1-6, 6-2, 6-3
Anastasia Pavlyuchenkova (#18): 6-0, 3-6, 6-3
Elena Rybakina (#20): 7-6, 4-6, 6-3
Marketa Vondrousova (#42): 7-5, 2-6, 6-3
Rewind seven years and allow me to tell a brief story. Among a talented crop of WTA teenagers breaking through, Bencic (and Croatia's Ana Konjuh) were among those who caught my eye.
It was particularly striking because, both are a year older than me (1997-born), play an exciting style of tennis that I really liked to watch, and were compelling enough to follow their progress.
Konjuh has been ridiculously unlucky with injuries since 2016 but is quietly grinding away as she inches back towards the world's top 100 again. Bencic meanwhile, also struggled to build on her 2014-15 heights – that was up until the 2019 US Open, becoming a first-time Slam semi-finalist.
There, she lost to eventual champion Bianca Andreescu – 19 at the time – with nothing to lose and plenty to gain as she charged through the field with poise which belied her years. There will always be younger, hungry challengers looking to usurp you: regardless of sport or discipline.
American teenager Coco Gauff, French Open champion Iga Swiatek and other fresh faces besides have quickly proven that in recent seasons. There will be more where that came from.
But the fact Bencic, an nine-year pro with five career titles, only has a semi and quarter-final finish to her name in 24 Grand Slam entries, feels underwhelming for someone of her ability.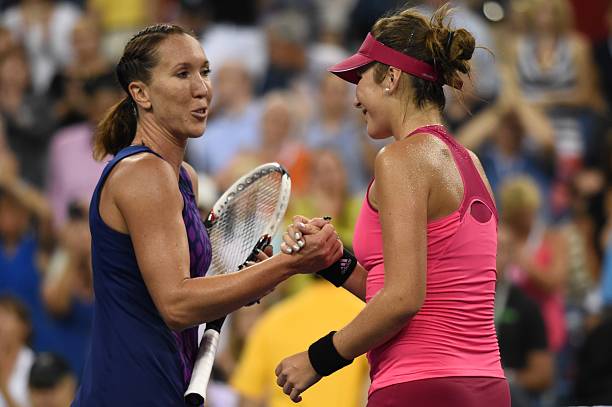 Especially when you consider (US Open QF, 2014) the first happened when she was still only 17, the youngest to do so since compatriot Martina Hingis in her birth year…
Just like Konjuh, the Swiss suffered injuries which saw her miss four Majors. COVID-19 precautions meant not featuring in Paris or Flushing Meadows last year either, making six.
However, the 24-year-old should be back in the US before the end of the month, as she sets about defending those points won pre-pandemic two years ago during that run to the semis.
She can't afford to wilt like has been the case at all three Majors this year. Belgium's Elise Mertens lost just three games against her in round three of the Australian Open, while Russia's Daria Kasatkina eased past her in the second-round at Roland Garros with a 6-2, 6-2 victory.
Wimbledon was the worst of them all: a first-round defeat by Slovenia's rising prospect Kaja Juvan (20), which is partly why this Olympic success took many critics by surprise.
Wimbledon titlist Ashleigh Barty and Aryna Sabalenka (#3) were among those in her section but suffered surprising early defeats, so she avoided top guns and still had to get the job done.
Achieving consistent Grand Slam success is easier said than done. However, Bencic cannot afford to rest on her laurels if she's to fufill her full potential in an increasingly loaded field with contenders aplenty and an ever-growing list of Major champions with a chip on their shoulder.
4: Naomi Osaka
3: Angelique Kerber
2: Victoria Azarenka, Garbine Muguruza, Simona Halep
1: Sofia Kenin, Iga Swiatek, Bianca Andreescu, Barbora Krejcikova
Picture source: Getty Images — quotes via tennishead.net