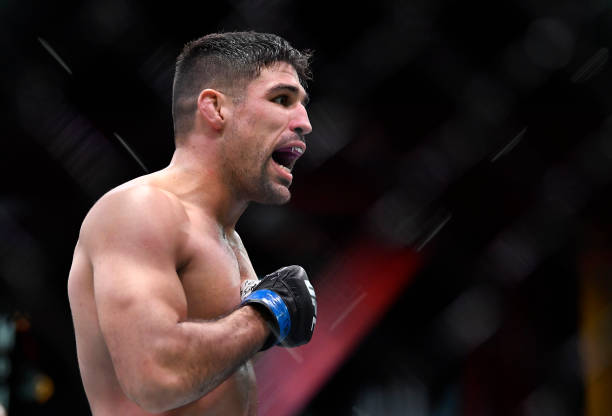 Placed right in the centre of the UFC 265 PPV main card this weekend, two top-six welterweight contenders clash when former lightweight Michael Chiesa (#5) ends a seven-month layoff against Vicente Luque (#6) on Saturday night – both hoping to improve their winning streaks.

Luque eyeing top guns at 170lbs, but first must surpass Chiesa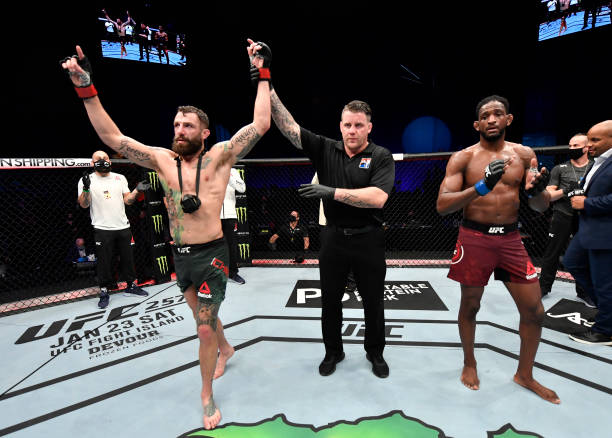 Luque (20-7-1, #6) faces Chiesa (17-4, #5) at Houston's Toyota Center in a sensible matchup which may do a lot to decide if either fights for the 170lb strap in the not-too-distant future.
After an exciting first-round finish over former welterweight titlist Tyron Woodley at UFC 260 in March, Luque feels his time is now. However, losing a Fight of the Night encounter vs. two-time title challenger Stephen Thompson at UFC 244 means he has less leverage than the Maverick.
Chiesa remains unbeaten since moving up in weight, with three successive decision victories over Diego Sanchez, Rafael dos Anjos and most recently dominating Neil Magny on Fight Island after a second-round submission win over Carlos Condit almost three years ago now.
As such, the Brazilian knows what's at stake against Chiesa, a motivated man currently enjoying his best winning streak since a 9-0 start to the 33-year-old's professional career (2008-13).
As quoted by MMA Junkie, Luque said:
"I'm on a great streak, won nine out of my last 10 fights and most have been by knockout or submission. I've been making my way up the rankings, carving my name in the weight class. This next bout is important to determine which of us could get into the top three, get an eventual title shot.

This is a super important fight for me, highly focused. I expect I'll need at least one more [win after this] to get a shot … I'm looking forward to an impressive win to boost me up the rankings even more.

Chiesa is a great opponent, hard to beat and his ground game is his forte – jiu-jitsu and wrestling, while also a complete striker. This may turn out to be a striker vs. grappler matchup, it's a great challenge for me but I'm ready."
Assessing divisional contenders to Usman's throne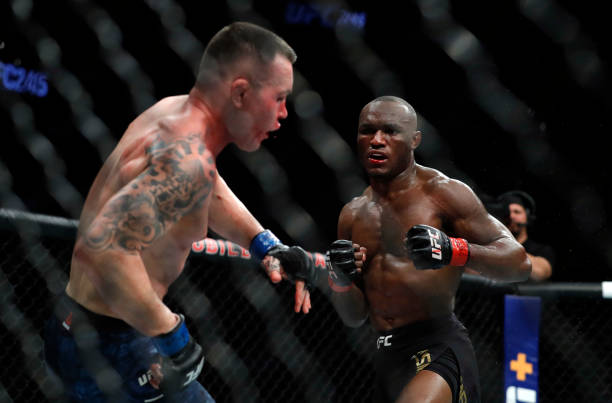 Chiesa, who was linked to a possible title fight against defending champion Kamaru Usman at UFC 263, is keenly aware he won't reach the next level unless he continues where he left off in Abu Dhabi – albeit against someone with much more pop and venom in their punches in Luque.
Chiesa called out #1 contender Colby Covington during his post-fight interview Octagonside, but reports claim Colby gets a second chance at Usman's 170lb strap at UFC 268 on November 6.
Both Chiesa and Luque know the business they're in, so it'll be interesting to see how both handle the occasion considering what's at stake for both winner and loser in this instance.
Wonderboy (#4) finds himself in a rough position now after Gilbert Burns manhandled him last month, while Jorge Masvidal (#7) and Leon Edwards (#3) don't have an opponent pencilled in.
Even still, Luque believes that a fresh divisional matchup would do wonders for the champion – assuming he emerges victorious against Covington in three months' time.
During the pre-fight news conference, he was quoted as saying:
"Chiesa is coming off great wins, I'm [doing the same too].

If Kamaru keeps the title, it's possible that we could be a challenger if we have a great win on Saturday night – and have the fans back. I know that I have the style that excites them, everybody will be cheering while we're fighting."
Chiesa meanwhile, refused to look that far ahead with this weekend's matchup in mind.
"I've got a super tough opponent in front of me. I know a lot of people are going to start [formulating] questions about what comes next, who could possibly be next for Usman.

I touched on it prior to the fight being signed, and early in camp, I'm not looking that far ahead. It would be a mistake for me to start talking about what comes next, I have a tough-ass fight ahead of me."
Picture source: Getty Images — quotes via MMAJunkie