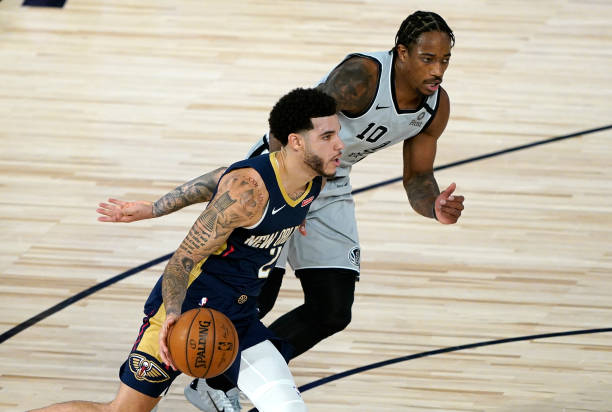 A young playmaking point guard continuing to quietly improve his three-point shot, an under-appreciated spark plug from the bench in Los Angeles and a four-time All-Star shooting guard who is routinely disrespected despite his leaguewide pedigree. How much have these three acquisitions raised Chicago's ceiling in an Eastern Conference with two clear frontrunners?
Bulls bolster their backcourt depth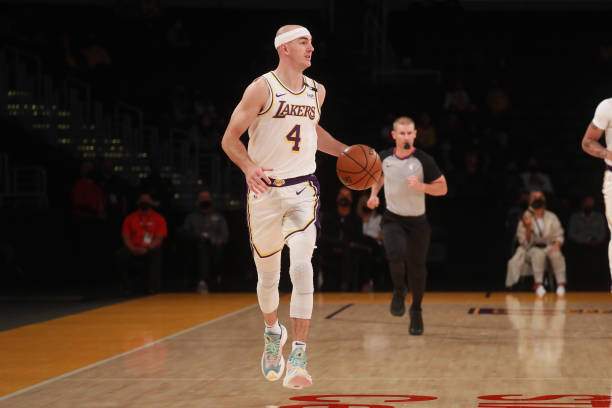 As I previously reported, the New Orleans Pelicans weren't truly keen to keep Lonzo Ball given the monetary figures he'd likely be commanding this summer as a restricted free agent.
Within the first few hours on day one of free agency, the 23-year-old agreed a four-year, $85m deal with Chicago and after two productive seasons in Louisiana, ventures East to a new conference where he'll likely mesh well alongside All-Star duo Zach LaVine and Nikola Vucevic.
All-Star forward Zion Williamson, the Pelicans' top draft pick two years ago and their franchise centrepiece, was among those who revealed his desire for them to keep Lonzo.
"Me, Brandon [Ingram] and Zo, the three of us have a great relationship. I really want Zo to come back, he knows that. But you know, like I said, the reality of the situation is Zo is a grown man, so he'll make the decision that's best for him. The only thing I can say is, I hope he stays."

Zion's comments in May, agreeing with Lonzo saying he'd be happy to stay
It'll be interesting to see what direction NOLA goes in now, after what many critics believe to be a backwards step as far as their team chemistry and overall roster strength is concerned, despite replacing Ball with Charlotte Hornets' guard Devonte' Graham on a four-year, $47m deal.
After all, they failed in attempts to woo Chris Paul and Kyle Lowry. The latter has now joined Miami, while CP3 stayed put in Phoenix after all – both guards agreeing mega multi-year deals.
Although there's still another year until Zion is eligible for the rookie max contract extension, the organisation are already under pressure to deliver a more competitive environment around him.
Caruso, who spent his first four seasons in Los Angeles and played a key part in their title win last October, has an opportunity to take another leap elsewhere after the Lakers' luxury-tax penalty worries meant they were unwilling to spend more than $7m-a-year on the 27-year-old.
Caruso's new contract: four-year, $37m ($9.25m-a-year)
His minutes have been staggered (18.9 MPG average, started just 19 of 184 regular season games) and despite some inconsistent moments has acquitted himself fairly well, recording highs in eFG% (52.6) while showing a capability to space the floor as a dependable reserve guard.
DeRozan's surprise arrival and the effect it'll have on LaVine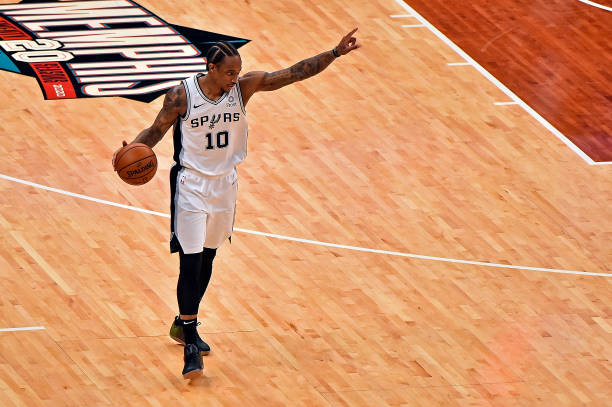 While those two moves appear shrewd, serious question marks arrive on the topic of DeMar DeRozan. Signing him (three-year, $85m) means they've acquired two of the top six lucrative contracts handed out to shooting guards and already have an All-Star in that role on their roster.
LaVine has asserted himself as a top player in the league, though questions over his defensive capabilities have remained – fairly – a notion he appears keen to shake.
Despite his flaws, DeRozan has averaged 20 or more points in each of his last eight NBA seasons across two teams (Toronto, San Antonio), while Ball and Caruso are both good defenders.
Reducing the scoring impetus off LaVine's shoulders makes sense, both in the short-term and going forward, for a team who narrowly missed out on the play-in tournament last season.
On a personal level, he should be itching for the opportunity to emulate Team USA teammate Devin Booker – another highly-rated SG eager for playoff basketball but didn't get it, largely because his team wasn't good nor consistent enough to reach those heights.
Then, just last month, he found himself just two wins away from clinching it all. Chicago still has a lot of work to do if they're to get there, but after the Vucevic trade earlier this year, their offseason moves so far represent another calculated risk – one they needed to keep improving.
Picture source: Getty Images