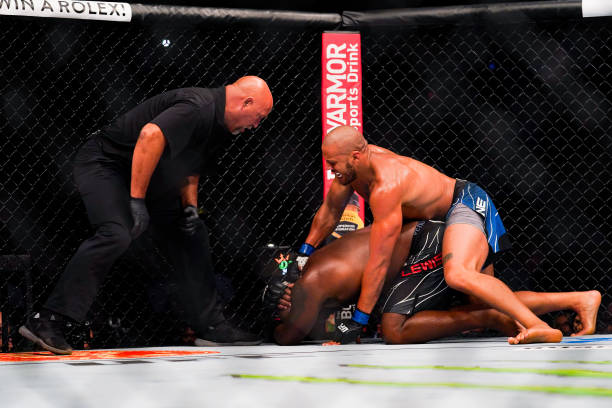 Ciryl Gane (#3) improved to 10-0 after another impressive win – this time in enemy territory from Houston's Toyota Center – blasting Derrick Lewis (#2) with a third-round TKO finish to seize the UFC's interim heavyweight title. Beforehand, there were impressive victories for a determined bantamweight contender in Jose Aldo as well as welterweight title hopeful Vicente Luque.

Gane's streak continues as current champion Ngannou awaits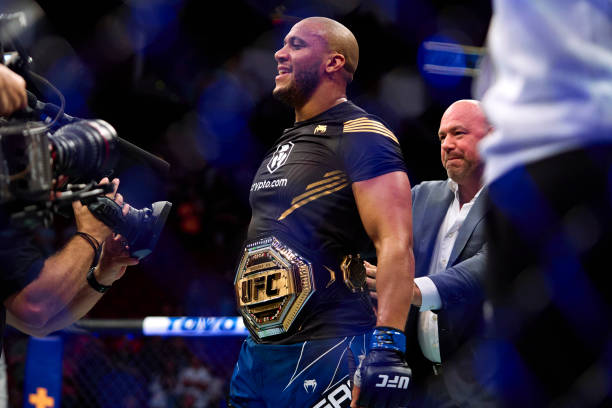 R3, 4:11 – Ciryl Gane beats Derrick Lewis via TKO (punches), is new interim HW champion
16,604 spectators watched on from the arena, but the Houston crowd were stunned into silence just as quickly as their brief moment of hope had faded. Gane's dominant showing, under the brightest lights, saw their hometown favourite miss out on gold for a second time in three years.
Daniel Cormier's second-round submission win that night at UFC 230, ensured the Black Beast's short-notice gamble fail to pay off. Here, it was Bon Gamin taking the fight without any respite between fight camps, having just eased past a durable Alexander Volkov six weeks prior.
Although Gane was favoured to win and said all the right things throughout fight week, you just couldn't discount Lewis' devastating punch power. Cormier said as much on commentary, but the Frenchman kept this matchup on his terms while fighting smartly and largely at range.
It quickly became clear that – barring a Curtis Blaydes-shaped mistake – Gane would likely ease his way to a decision win. Instead, he then stepped things up and showed a nasty ruthlessness many had accused him of lacking during previous UFC fights to furiously finish.
After Lewis threw an acrobatic head kick and fell to the mat in the first few seconds, he immediately set about pinning the 36-year-old to a corner and loaded up on low leg kicks.
Gane's elusive tactics worked a treat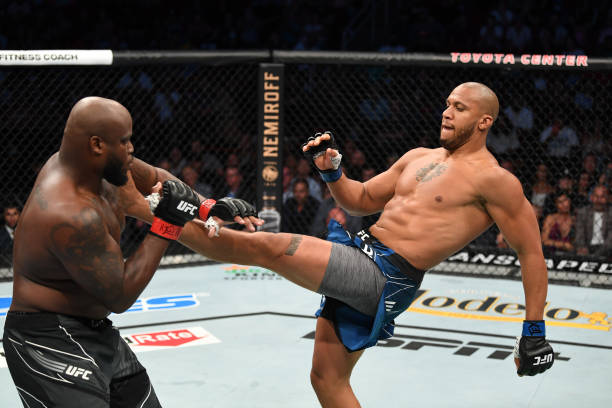 Too quick for Lewis' blitz attack attempts, he exercised evasive action whenever they got too close for his liking, much to the frustration of a crowd eager to see them brawl.
Anyone who'd watched him recently could tell you that was simply never going to happen. Lewis didn't land a single significant strike in the first three minutes and his struggles only worsened with time, as Gane grew in confidence and more punches were landing with perfect precision.
A vicious left-handed jab, good strikes in the clinch and more persistent unchecked kicks that continued to add up, Lewis' chances of a stirring comeback were fading with worrying ease.
His corner tried telling him the same between rounds, but Gane proved too strong for everything he threw his way – explosive scrambles and more. A bruising uppercut was one in a string of 12 unanswered punches backing Lewis up against the fence, as the end was near in round three.
Gane knocked him down with a clean right hook, then landed a big knee for good measure before referee Dan Miragliotta called time briefly to retrieve Lewis' mouthpiece from the mat.
Importantly, Ciryl put his foot on the proverbial pedal as they exchanged big punches in the pocket when the action resumed moments later – a fleeting moment of danger, averted.
The accumulation of strikes absorbed and relentless forward pressure saw Lewis go down again, this time Gane unloaded with more hammer fists in top position to finish emphatically.
He unsurprisingly exercised restraint and showed awareness of his surroundings during the post-fight Octagon interview with Cormier, once more proving he prefers to let his fights talk for him.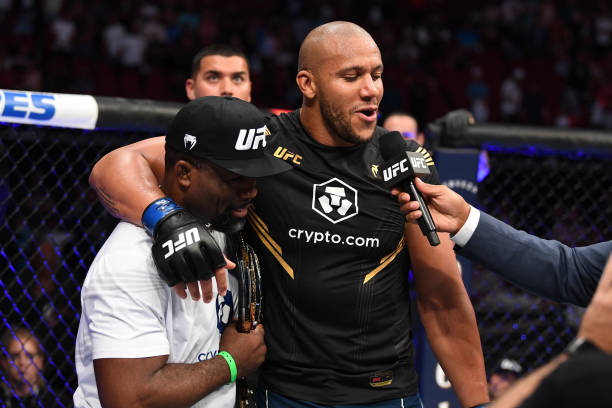 "Wow, this is a little bit strange. I'm happy but feel a little bit bad for my man [Lewis] in-front of his fans, big love for him but I'm proud. Everyone knows what my gameplan is already, I like to move, there's no secret.

*Walks over, gives the belt to coach Fernand Lopez* This is my feeling, it's not just for me… it's for everyone: my team, my family, my country. I have no message for him [Ngannou], the fight is going [to happen], so let's go."
---
two in a row: jose Aldo does it again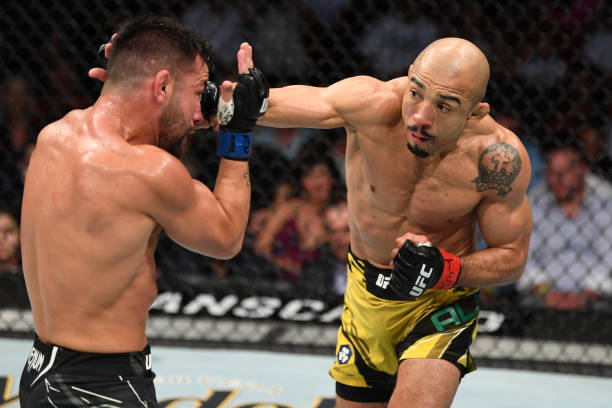 30-27, 30-27, 30-27: Jose Aldo (#5) defeats Pedro Munhoz (#9) via unanimous decision
A pair of 34-year-old Brazilians battled in the night's co-main event, with former featherweight champion Aldo comfortably prevailing against a gamely but equally a frustrating Munhoz effort.
"I've been working a lot, want to be a champion in this division, been dedicating myself a lot in Brazil and this is why I'm here tonight.

Pedro is a really nice guy, but I'm training really hard and you can bet the next [opponents I face] will see an even more aggressive [version]."

Aldo's warning to the top-ranked bantamweights after successive victories
Munhoz provoked the commentators' ire, wasting energy aplenty with multiple spinning attacks, while Aldo checked his leg kicks while looking assured in their stand-up exchanges. R1 felt a tough round to score but Aldo landed the more impactful strikes and that continued with time.
Aldo's jab was clean and frequent as he unloaded with furious flurries to start R3, showcasing his fast hands much to the delight of the crowd. Munhoz lacked urgency and the power to truly trouble him, despite standing firm when big combinations connected flush on his face.
He'd land an overhand right of his own or a good jab, but didn't double or triple up on his punch output whenever the half-chance presented itself. Aldo dropped him with a low leg kick before setting a new personal-best for significant strikes (114) as he finished with more beautiful boxing.
---
Luque stakes his claim for Usman's crown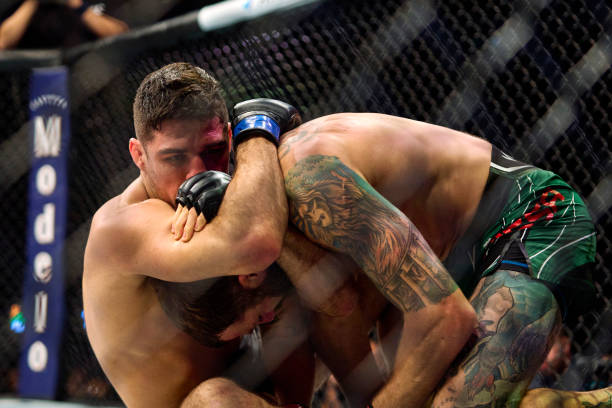 R1, 3:25 – Vicente Luque (#6) defeats Michael Chiesa (#5) via submission, D'arce choke
Four straight wins, including two by first-round submission after flirting with genuine danger. Luque is a genuine contender at 170lbs and cemented that notion vs. Chiesa, who was unbeaten at the weight class before they jostled for position (and submission attempts) on the ground.
Chiesa circled a lot early on, much to the crowd's discontent, waiting patiently for the right moment to pounce. He connected on a beautiful one-two punch combo before Luque landed a right hand that briefly startled him to the mat. It was as if someone had lit the touch paper.
Chiesa charged forward with a takedown slam, then got into top position and repeatedly tried securing a rear-naked choke on Luque's back. It was a tight squeeze, but Luque defended it well before smoothly reversing the position as the Maverick got to his knees and left himself open.
---
who's next? torres eases past hill, CALLS FOR TOP-5 OPPOSITION
30-27, 30-27, 29-28: Tecia Torres (#10) beats Angela Hill (#12) via unanimous decision
Any simmering tension between Torres and former foe Hill are now firmly behind the former. The 31-year-old strawweight is now 2-0 against Overkill and justified her Tiny Tornado nickname by recording a new personal-high 144 significant strikes en route to an impressive decision victory.
"It's in my rear-view mirror twice, so it feels really good.

I'm super satisfied, the first one she said was the most boring, tonight we put on a show for you guys, I'm an elite striker in this division. I want a top-5 fight, working my way to the top and that's what I deserve next."

Torres on ending the Hill series and what should be next
She began landing strikes, but was suddenly backpedalling with her back against the cage when Hill caught one of her leg kicks before a foot sweep to the ground. Hill tried for a takedown, clinching while trying to slow the Puerto Rican-American down with some success in doing so.
Despite this, Hill's limited head movement was uneasy to watch as she didn't feint and was just being reactive with her activity – continuing to absorb damage and being thoroughly outworked.
Despite some improved grappling, the skill difference was clear as far as their stand-up skills were concerned, with Torres not wasting any energy in her movement and content allowing Hill to expend energy on actions she couldn't finish, like a body lock or takedown attempts.
Torres' numerous blitz attacks did enough to thwart Hill's enthusiastic third round, despite Angie continued walking through the proverbial fire to play her part during a competitive final round.
---
much improved: SONG YADONG BACK ON WINNING TRAIL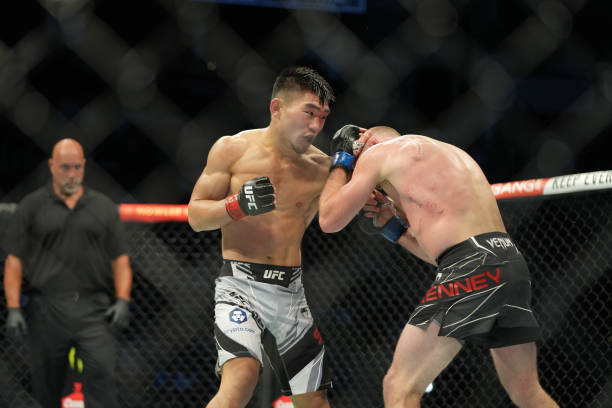 28-29, 29-28, 30-27: Song Yadong beats Casey Kenney via split decision
Dominick Cruz confidently declared one of the pair was getting knocked out on commentary and within the opening exchanges, it wasn't difficult to see why he said so.
Having fought (and beat) Casey Kenney himself just five months prior, the former two-time bantamweight champion was best placed to give his expert analysis.
Moving well and mixing up his striking beautifully, Song Yadong was noticeably improved following his underwhelming showing against Kyler Phillips at UFC 259 during that same event and said as much through a translator post-fight.
"Last time wasn't the real me, so happy that I did much better – he has really good body kicks so I gave him a taste of his own medicine." 
Kenney was buzzed by a good combo early in round one, before the crowd erupted as he countered a Yadong head kick with a body punch that sat him down, quickly trying for a guillotine choke that was soon stuffed.
Yadong made sure he was first to strike, investing to the body and legs while not just head hunting with his punch flurries. Contrastingly, Kenney was visibly loading up on his strikes while having three takedown attempts denied – which wouldn't have looked good for the judges.
The 23-year-old's confidence was brewing as Kenney looked demoralised by his defence and timing, responding with three or four thudding strikes whenever Casey landed a big shot.
He finished strong with a double-leg takedown (1/5 on attempts) but it wasn't enough to steal a split decision victory on the scorecards, despite his best efforts and bemusement afterwards.
---
Other prelim results, early prelims featuring rafael fiziev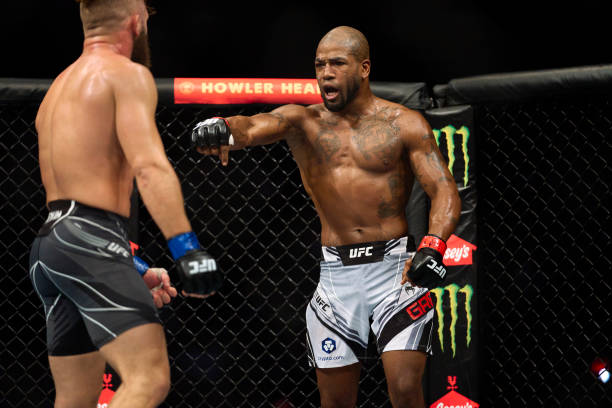 It was the featured prelim for a reason, as lightweight prospect Rafael Fiziev faced his toughest test yet against a seasoned veteran in Bobby Green and importantly came through via unanimous decision (30-27, 29-28, 29-28) – also winning Fight of the Night honours ($50,000).
"Big pressure, big respect for this guy… you see my face? I eat jab, too many punches, it wasn't an easy fight."
The Kyrgyzstani striker showcased his slick boxing while throwing body and head kicks aplenty, as he eventually got into his groove against Green – who was happy to trade with the 28-year-old, even if his punch output wasn't as high nor accurate over 15 minutes.
That didn't matter, especially with the Houston crowd on his side firing him up, as he started round three like a man on a mission and outstruck the favourite to finish well.
Fiziev visibly slowed by the midway point in R3, while Green knew he had taken the bigger strikes and was able to roll with them. However impressive his final round was, it felt like he needed a knockdown or stoppage to prevail. So it proved, once Bruce Buffer announced the scorecards.
In the bantamweight division, Vince Morales snapped a two-fight losing streak with a UD win (30-27, 29-28 x 2) over Contender Series signee Drako Rodriguez. Light-heavyweight Alonzo Menifield now has two wins in 2021 after easing past veteran Ed Herman via decision (30-27 x 3).
Speaking of 2021 momentum, women's strawweight Jessica Penne also has two wins this year after playing spoiler in Karolina Kowalkiewicz's return with a first-round armbar submission.
It feels typical of Manel Kape's brief UFC career to date that his first win, at the third attempt, is marred by the fact he missed weight (129lbs) for this flyweight matchup against Ode' Osbourne.
As such, he was ineligible for a post-fight bonus despite a beautiful first-round knockout in this eventful catchweight bout to finish the early prelim slate. Watch it for yourself:
Bantamweight prospect and Contender Series graduate Miles Johns earned himself a second successive bonus though, after scoring a third-round knockout win over Anderson dos Santos.
In the women's flyweight division, Brazil's Melissa Gatto recorded a R2 TKO (doctor stoppage) against Victoria Leonardo on her long-awaited UFC debut. The 25-year-old had waited more than two years to make her debut after injuries and COVID-19 related travel restriction issues.
In the show's opener, 28-year-old bantamweight Johnny Munoz Jr rebounded from his first professional loss in style: a second-round submission win (via RNC) vs. Jamey Simmons.
Next UFC event: Fight Night card, Cannonier (#3) vs Gastelum (#9) main event on Aug. 21
Picture source: Getty Images