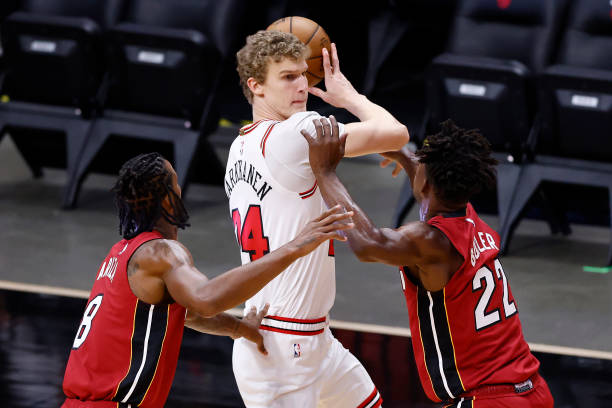 Lauri Markkanen was tipped to be a future All-Star after an impressive first two NBA seasons. If that's still to be the case, the Finnish power forward will do it away from Illinois as multiple teams – Boston and Dallas among them – are keeping a close eye on his deteriorating situation.
Interested suitors exploring trade scenarios with other teams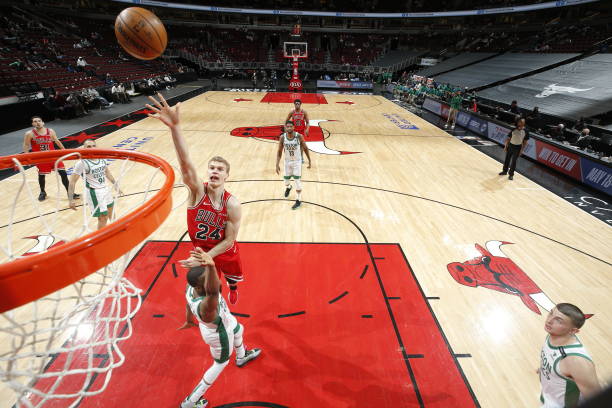 Per a piece from Bleacher Report's Jake Fischer today, Markkanen is in no rush to return from Finland back into Chicago as he wants a fresh start elsewhere ahead of the new NBA season.
Entering year five in a promising career packed with ups and downs, the 24-year-old's stance couldn't be questioned when recently speaking to Finnish media.
"We have offers from several different teams, I want a fresh start to my NBA career somewhere else. Hopefully things will be sorted out quickly with the Bulls, and a new direction for my career."
Admittedly, it reads harshly given he started 195 of 221 NBA games and was welcomed with open arms as a high lottery pick (#7 in 2017) traded from the Minnesota Timberwolves. Ironically, they are among the reported suitors vying for his services this offseason in an exhaustive list.
As mentioned earlier, Boston and Dallas are the two most high-profile franchises keeping an eye on his situation. New Orleans, Minnesota and Charlotte have too been named as destinations.
Chicago's bullish asking price in return for any Markkanen trade deal is proving a stumbling block as it would need a third team given their demands, as Fischer astutely broke down.
"The Bulls are seeking a first-round pick in exchange for helping facilitate the transaction, while requiring his new team to find a third trade partner to take on the outgoing salary needed to create space for Markkanen's contract.

This hypothetical front office would also ask for draft-pick compensation, so any team that wants him would have to send a first-round pick [to CHI] and likely another first, or two second-rounders elsewhere. It's a clear roadblock they seem to have intentionally created.

Many league personnel believe Markkanen will ultimately be forced to accept a one-year qualifying offer [$9m], reaching unrestricted free agency next summer just like All-Star guard Zach LaVine. Yet, there's also a strong sense Markkanen has no intent to return to Chicago on that structure."
As one team capologist said, Chicago's decision to dangle Markkanen for suitors in this manner boosts their contract management but also risks hurting player relationships now and in future.
While Trae Young and Luka Doncic have recently agreed multi-year lucrative contract extensions with their respective franchises, LaVine hasn't agreed terms on a big-money deal of his own yet.
The Ringer's Wosny Lambre suggested Chicago's offseason backcourt moves are a contingency plan, should LaVine push too hard for a max extension (or more than they're willing to pay) and while the guard is starting to enter the prime years of his career, stranger things have happened.
Digging their heels in over Markkanen's situation could also prove detrimental as far as their status as an attractive free agency destination is concerned against other franchises.
So while LaVine was pleased with their early offseason business, it doesn't take much for things to quickly escalate the other way if a player (or teammate, in this case), departs on bad terms.
Picture source: Getty Images