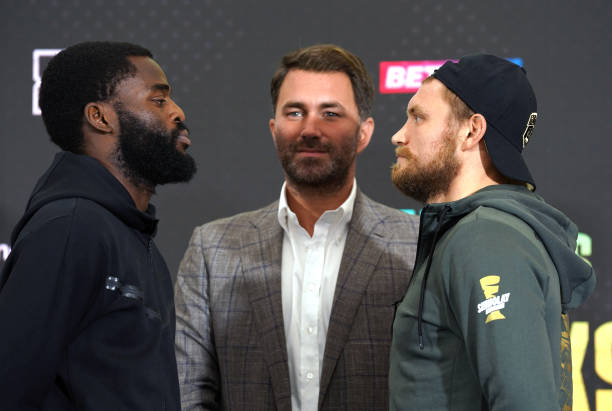 Ricards Bolotniks (18-5-1, 8 KOs) faces Joshua Buatsi (14-0, 12 KOs) in the main event of this weekend's final Matchroom Fight Camp show, a pivotal bout between two of the world's top-15 light-heavyweights with a big promotion push awaiting the winner. Bolotniks is more experienced and has vowed to make this weekend a hard one for the Olympic bronze medallist.

Bolotniks bullish about his chances against Buatsi
After an unspectacular start to his professional career, Bolotniks has turned a corner since suffering a sixth-round TKO defeat by South Africa's Thabiso Mchunu in June 2018.
Mchunu (#1 WBC, #2 IBO), is currently ranked as the world's fourth-best active cruiserweight so that defeat hasn't aged poorly for the 31-year-old – having won seven straight fights since then.
He won MTK Global's Golden Contract light-heavyweight tournament, blasting past two Brits en route before a late stoppage win in the Final vs. Germany's Serge Michel on December 2.
After his most recent victory, the powerful-punching Latvian called for an opportunity to face Anthony Yarde (20-2, 19 KOs) at some stage this year. For various reasons, that hasn't happened.
meanwhile, Buatsi gets a much-needed step up in competition
Instead, he'll face one of Yarde's domestic rivals in Buatsi, whose world title ambitions remain in the balance and quite simply, needs matchups like these to get him closer towards that shot.
Buatsi said his team wanted him to have three fights in 2021, including his vicious fourth-round KO win over France's previously unbeaten Daniel dos Santos and one in the winter.
ALSO READ: Progress – Buatsi excited to showcase his USA-based improvements
Per a piece with worldboxingnews published today, Buatsi is relishing the task ahead:
"People have been asking for me to step up and here we are, I know what I have got to do, if it gets tough, I still know. I've covered all bases in camp, so I'm ready, tune in and you'll see.

Looking forward to it a lot, been a while since I've boxed with fans so that's going to be great, the main event against a good opponent, both ranked highly, both got winning streaks and believe we'll win. I'll be there for every round and if I sense any vulnerability from Bolotniks, it's game over – I'll take him out."

Buatsi full of belief, rightly so
Bolotniks isn't too convinced by that notion if recent interviews are anything to go by, given the ever-growing confidence he's built from specifically preparing for Buatsi over the last six months.
"I've wanted this fight for a long time, always thought we would fight so all my training [over the last six months] has been for this man. It's going to be a hard, long fight but I've done the 12 rounds before and he hasn't yet…

I think I can beat him over the full distance but want it to be a street fight, a boxing match, show everything that I have got so I can go back to the dressing room afterwards and say 'yes, we did it', I want that feeling.

I've had three fights cancelled in 2021, then boom, here comes the Buatsi fight. It's a massive one for me, I hope that after I win, there will be more. Every fighter gets better the more fights they have, he's improved but so have I."
Buatsi and Bolotniks sit alongside one another at #1 and #2 in the WBA rankings for Dmitry Bivol's light-heavyweight crown, while elsewhere in contention for the other four belts at 175lbs.
Making the seventh defence of his WBA International light-heavyweight title, which he won vs. one of Bolotniks' compatriots in Andrejs Pokumeiko, Buatsi has a big chance to cement his standing as a genuine divisional threat – as many critics feel the hype remains overexaggerated.
Will he sink or swim in his toughest bout to date? We'll find out on Saturday night, with the ringwalks expected sometime after 10pm BST. Stay tuned, as I'll be covering the main event.
Picture source: Boxing Social, Getty Images, WBO