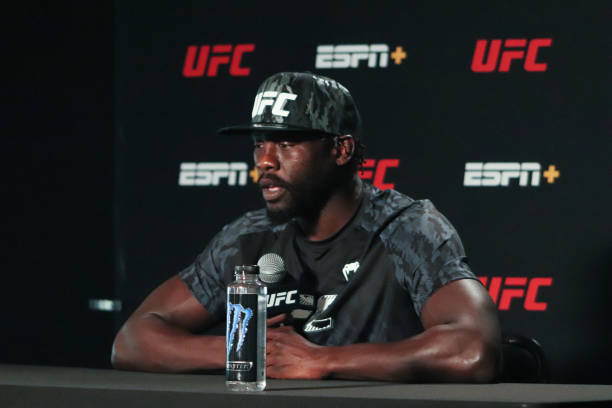 Although his title-chasing momentum was convincingly halted by former champion Robert Whittaker last October, middleweight contender Jared Cannonier (#3) looks to pick up where he left off this weekend against Kelvin Gastelum (#9) in the UFC Vegas 34 main event. Both fighters find themselves in contrasting situations as far as their promotional stock is concerned too…
after broken arm, cannonier says he's better for Whittaker loss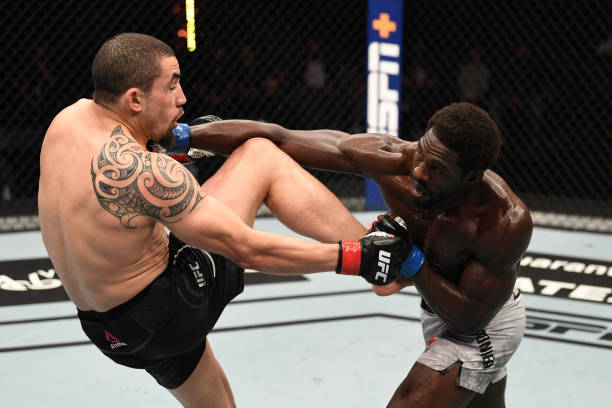 During Wednesday's media day at the UFC Apex, Cannonier spoke about a variety of topics: learning from the UFC 254 defeat, extended time off after bones weren't properly healing from his broken arm, the threat Gastelum poses and more. Importantly, he wants a winning return.
"As far as my energy goes, I'm picking up right where I left off. You know, I'm a better fighter than I was back then. Even going through the injuries, I've gotten better and no, I didn't take any steps back. Losing that fight to Robert the way I did, can't nobody take anything away from me with that.

The first attempt, surgery didn't take. We had to do [it] again with some added medical wizardry, magic stuff, and did a bone graft, gave me a bone stimulator to help. Focusing on recovery, not getting too out of shape, physical therapists' help, implementing a strength-and-conditioning regimen at the same time as recovering the arm. It was great and fun, another step in the journey."
Cannonier, a ten-year professional with seven of those as a UFC fighter, isn't exactly a spring chicken at 37. Naturally, the former heavyweight was concerned about the initial diagnosis.
"It wasn't fun to go, see the X-rays and see the bone wasn't quite healing as fast as I thought. I trusted my doctors, my surgeons showed a little concern but had to do his job to keep me from flipping out and doing anything crazy, so he didn't sit on it too long. Usually they wait six months until they make that declaration, but he knew I didn't want to take that chance. We did it, and it took this [second] time. The arm feels great and I'm ready to get back to work.
However, he must beware a gamely Gastelum who needs to win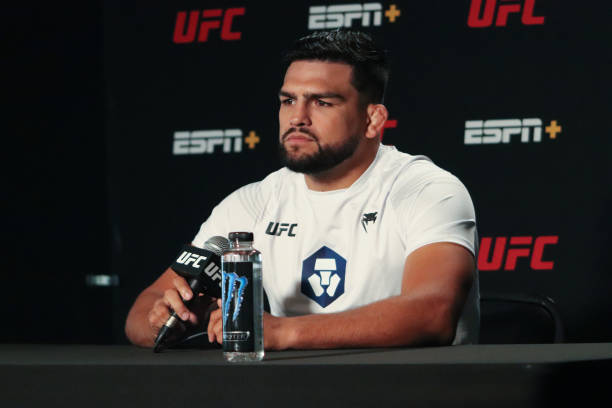 Gastelum (#9) is in a tough spot after losing four of his last five bouts – dating back to a Fight of the Night thriller against champion Israel Adesanya for the then-interim middleweight belt.
That was at UFC 236 in April 2019. Israel has since won the belt and defended it thrice, while Gastelum's stock has continued to dwindle in a division without many credible contenders.
Also read: UFC 258 – Gastelum's lone win since May 2018, a UD victory past Ian Heinisch
After one-time title challenger Paulo Costa (#2) withdrew from this bout, scheduled to headline this same weekend, Gastelum is stepping into the breach again, like he did vs. Whittaker in April.
That night, his durability and defiance helped him hear the final horn in another FOTN but he was handily beaten by the former champion during a matchup three years in the making.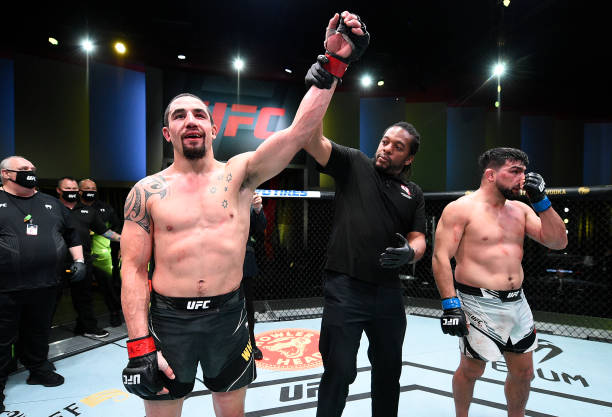 At the time, I wrote:
Gastelum believed he'd grown a lot and experienced somewhat of a career restart after his most recent win at Ian Heinisch's expense in February, but despite the forward-thinking approach, he was firmly second best during a stylistic matchup he had confidence in beforehand.

Sure Kelvin's durability was admirable, but Whittaker was far superior by contrast and produced an even better all-round display than against Darren Till and Jared Cannonier last year.
After gaining some handy tips from retired two-division champion Henry Cejudo, the 29-year-old's still adopting the same forward-thinking approach for this headliner.
"My team and myself, we still believe we belong at the top and can take these fights, win them. That's why we're here. This is by far one of the best camps I've had in – I don't know if I want to say my career or a few years, but it feels great. He's a very strong-willed fighter but I've been fighting for a long time. We believe we have answers for everything he [Cannonier] may bring."
It's probably part of the reason why Cannonier would've preferred a higher-ranked opponent on his return, considering what's also at stake for Gastelum in this matchup.
"Kelvin isn't ideal, given the position I want to continue to fight – for the title.

But I respect him a lot, understand who he is, what he's done, capable of and know the sport. We know how fights go, so I see what he brought in his last fights, and I'm well aware of the danger he presents in there."
After retaining his title against Costa last October, Adesanya namechecked Cannonier as a prospective next challenger – provided he beat Whittaker. He didn't, but a return to the win column this weekend would boost his chances of a possible final eliminator vs. Costa/Vettori…
Picture source: Getty Images — quotes via MMAJunkie