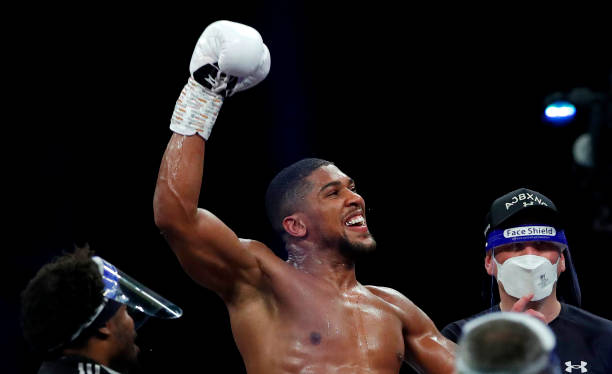 Ahead of his mandatory title defence vs. Oleksandr Usyk this time next month, WBA, IBF, WBO and IBO heavyweight champion Anthony Joshua has stressed the importance of keeping his weight trim as he prepares to face a bullish "12-round fighter" in the Ukrainian, whose excellent movement and tactical prowess has helped him remain perfect as a pro at 18-0 with 13 KOs.

Usyk's boxing ability, movement makes him a tricky customer
Joshua reveals he's not training for a knockout, prepared to go a full 12 rounds
Critics say Usyk – former undisputed cruiserweight champion – is his toughest test
Sept. 25 date, with undercard featuring Lawrence Okolie's first world title defence
With only a few weeks left of training camp, Joshua wants every possible marginal gain to give himself an edge come fight night against Usyk – which includes a leaner frame in a month's time.
Before his ninth-round knockout win over Bulgarian mandatory Kubrat Pulev last December, Joshua weighed in at 240.8lbs – his second lightest number in ten total world title weigh-ins.
The lightest was the Andy Ruiz Jr rematch (237lbs), where he outmanoevured a noticeably heavier Mexican-American champion and regained his titles via decision two years ago.
6'6 and into his physical prime at 31, it wouldn't be surprising to see him weigh somewhere in the 230s given Usyk's likely gameplan and the champion's recent comments.
READ: Joshua-Usyk title fight date set for Sept. 25, but don't overlook the Ukrainian
During an interview with Sky Sports, the two-time world champion said:
"100 percent, he will be [a very difficult opponent].

Movement means you are never stationery to get hit, it's important. You have to make sure your brain works, that can be mentally fatiguing so I am sharpening the mind so I can concentrate for the 12 rounds.

I'm looking trim for this fight, fighting a guy who is a 12-round fighter so it'd be silly of me to go in there bulky with my muscles screaming for oxygen.

I've been training like a 15-round fighter in this camp, will be well-conditioned to fight, that's key. I tailor my training, getting a lot of experience, have been fighting good fighters for a long time, studied them and learned about their training camps. I've learned how to condition my body for specific fights."
Joshua wants to be quick with his punch output, while maintaining the stamina to truly last the full distance without needlessly giving away rounds. It's why he said he's practicing the ability to string together four-punch combinations, rather than just loading up for one shot at a time.
"Concentrate. It's a fight for the brain. Knowing what you've got in front of you and knowing how to deal with it. You can either be aggressive, corner [him], throw everything at it. Or take your time, be clever, then knock [him] out."
ALSO READ: How did Usyk fare in his most recent matchup?
---
AJ-Usyk undercard, is as follows
WBO Cruiserweight world championship: Lawrence Okolie (c) vs. Dilan Prasovic
Light-heavyweight bout: Callum Smith vs Lenin Castillo
Lightweight: Campbell Hatton vs Izan Dura
IBF International welterweight title: Florian Marku vs Maxim Prodan
WBA Intercontinental middleweight title: Christopher Ousley vs Khasan Baysangurov
Picture source: Getty Images