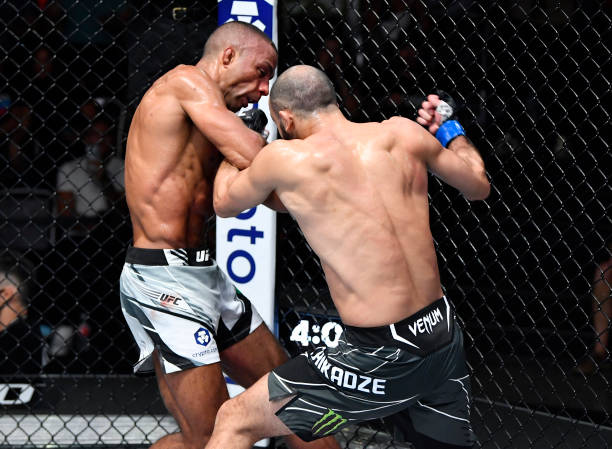 Giga Chikadze earned another key victory, knocking out perennial contender Edson Barboza in three rounds to reaffirm his standing among the promotion's best featherweights – before calling out former champion Max Holloway afterwards. Prior, two TUF winners were crowned while Daniel Rodriguez gave Kevin Lee a rude welcome back to the UFC in a new weight class.

another challenge conquered: chikadze wins again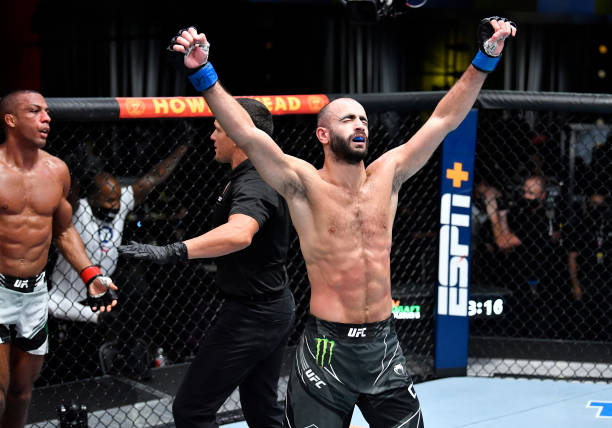 R3, 1:44 – Giga Chikadze (#10) defeats Edson Barboza (#9) via TKO (punches)
Chikadze outstrikes Barboza 70-33 before earning third-round TKO finish in first main event
33-year-old Georgian is now 7-0 in the UFC. Calls out Max Holloway (#1) and reveals readiness to act as back-up fighter for Alex Volkanovski's second featherweight title defence on Sept. 25
Chikadze took control after a tense start by both, featuring checked leg kicks and acrobatic movements aplenty. His speed advantage was obvious, throwing a variety of strikes Barboza's way – spinning back-kicks, flying knees which narrowly missed, or other kick-centric attacks.
R2 was a better round for Barboza, who landed a pair of calf kicks that appeared to hurt the Georgian, while being more competitive during their stand-up exchanges. Just as Chikadze seemed to be slowing, would the Brazilian start to take over like he did against Shane Burgos?
In-between rounds, head trainer Rafael Cordeiro was loving Giga's work and stressed the importance of sticking to the double jab – which worked wonders in an eventful third round.
His crisp boxing and patience helped stun Barboza, multiple times, and could smell blood in the water as the Brazilian was on wobbly legs and frantically trying to evade more punishment.
He landed a big right, then punch combinations and more right-hands connected clean as his urgency increased. Barboza tried to recover with a foot sweep, but was delaying the inevitable.
As I said in my preview piece earlier this week, the Georgian has continued to rack up wins and will feel like top-5 opposition is next on the agenda after beating more esteemed competition in the form of Barboza – whose title ambitions feel all but over after this latest loss.
Unsurprisingly, he had some words for former champion Holloway afterwards and revealed a willingness to be the back-up fighter ahead of next month's Volkanovski-Ortega title fight:
---
TUF Middleweight, bantamweight finals as battle, turcios win big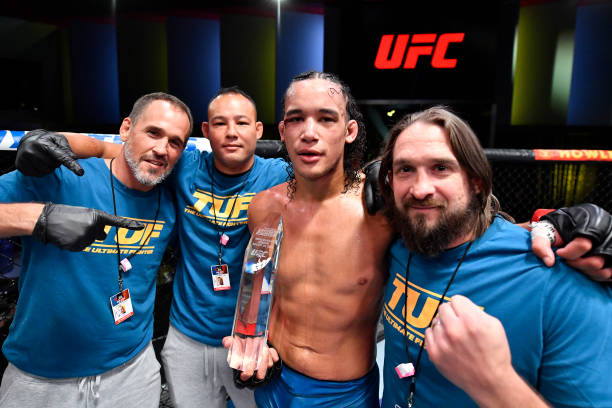 R2, 2:15: Bryan Battle beats Gilbert Urbina via submission (rear-naked choke), is TUF 29 middleweight winner
Despite Spokane's own Michael Chiesa in the corner and Julianna Pena Octagonside, there was no fairytale story in the other TUF Final. Instead, Battle seized his chance during the night's co-main event, absorbing a fiery start to swarm Gilbert Urbina into deep waters and emerge in style.
Urbina, upgraded to TUF finalist as a lucky loser after Tresean Gore's recent meniscus injury, had his dad accept this opportunity on his behalf in short-notice circumstances. It's perhaps why he came out all guns blazing, rocking Battle early and completing a slam takedown to overwhelm.
He saw his name in lights, understandably so, hoping to do what his brothers couldn't, by being crowned the Ultimate Fighter. Unloading with hammer fists up against the cage, he grabbed Battle's neck from the takedown and was in top position looking for a furious first-round finish.
The caveat with adopting this strategy, of course, is having to deal with the drastic adrenaline dump in-between rounds if Battle was resilient enough to absorb this early frenzy. He certainly was, responding with some beautiful boxing combinations to finish the round well enough.
Unsurprisingly given his short-notice callup, Urbina was exhausted after expending all that energy from round one. Battle didn't need a second invitation to seize the opportunity, wearing on him physically and reversing the roles in top position: securing a rear-naked choke of his own.
"It's crazy, not a dream anymore – been thinking about this for a long time, I told everyone I would be the Ultimate Fighter at 185lbs, let's go! They [my coaches] believed in me, so now others are believing in us."
---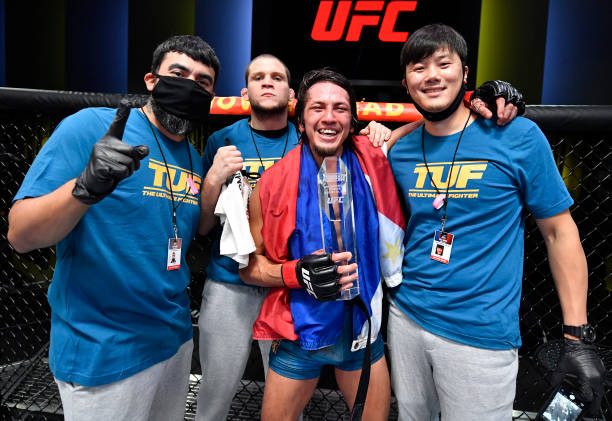 29-28, 28-29, 29-28: Ricky Turcios defeats Brady Hiestand, is TUF 29 bantamweight winner
It was a back-and-forth, exciting, bantamweight encounter on display as Brady Hiestand and Ricky Turcios gave their all – but the latter ultimately emerged and proved a deserving winner.
Hiestand completed six of his 11 attempted takedowns (55%) and as far as raw numbers were concerned, the opening round felt the most competitive. Turcios (2/4 takedowns) took pleasure in outworking the 22-year-old despite his repeated efforts to keep this fight on the ground.
Despite being taken down twice in the final round, he had almost triple Brady's total strikes (87-31) in that period alone – while dropping him with a left-right combo that could've been the end:
Hiestand instinctively shot for a takedown, as shown in the end of that clip, scrambling frantically while staying competitive enough as referee Mark Smith allowed them to continue exchanging.
However, Turcios was the more experienced fighter (11-2) and that advantage was clearly used to good effect. Having suffered his first professional defeat on Dana White's Contender Series four years ago, the 28-year-old has now achieved a sense of long-awaited redemption:
---
On two weeks' notice, Rodriguez gets it done as promised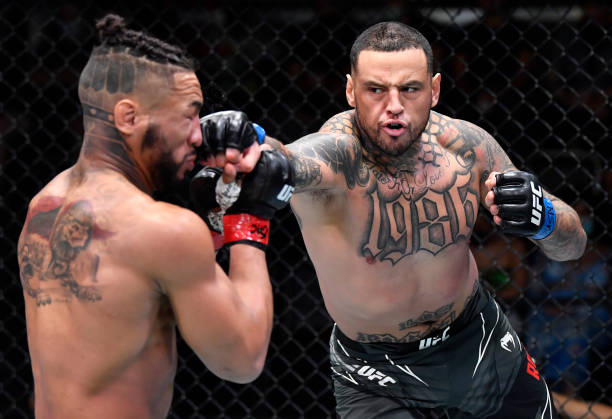 29-28, 29-28, 29-28: Daniel Rodriguez defeats Kevin Lee (#11 LW) via unanimous decision
After double knee surgery, Kevin Lee's long-awaited return didn't go as planned. Instead, it ended with an all-too familiar tinge of regret as Daniel Rodriguez responded well to a tough opening round and almost knocked the #11 lightweight contender out for his troubles.
Showcasing the same slick boxing skills that has seen him take the promotion by storm since making his debut in February last year, the 34-year-old was unfazed against Lee's gameplan.
Lee, making his debut at 170lbs here, has never lacked confidence or self-belief – going as far as to namecheck champion Kamaru Usman as a future foe during his pre-fight interview showreel.
On this showing, he's got a long road ahead before he can even start to ponder championship credentials. We've heard his limitless potential for a while, but are yet to see it blossom.
After throwing multiple leg kicks early and generally being active with his punch output, Lee secured a well-executed takedown on the second attempt to wrestle Rodriguez to the mat.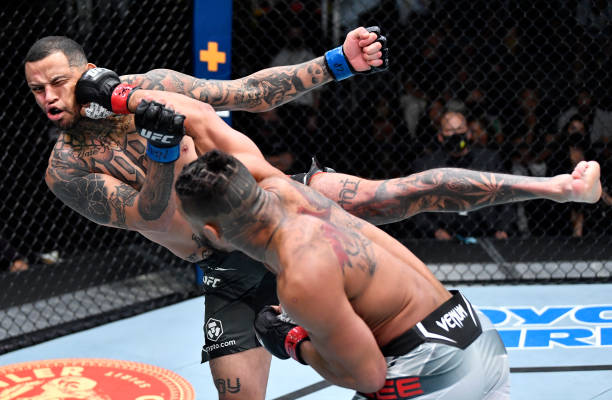 Michael Bisping questioned D-Rod's wrestling credentials on commentary and in fairness to him, refused to panic under pressure – even if uncomfortable in certain spots defending chokes.
Rodriguez spoke of his takedown defence beforehand and was able to showcase it here, peppering leg kicks while being alert whenever Lee tried to scramble.
Lee's corner were content with his patience in R1 and asked for more of the same, but Rodriguez picked up his intensity before reversing the position once the wrestling scenario arose.
He absorbed Lee's best jabs and continued walking forward, connecting on a trio of nice looping hook punches himself while circling enough to keep distance. Lee was severely wobbled by a wicked left hand landing flush before the round ended and suddenly, the tables had turned.
Rodriguez began R3 stronger again, loading up on more leg kicks while shrugging off Lee's wrestling attacks with his heavy hands.
Despite being wobbled by a leg kick, he again responded well as Lee earned his third takedown of the fight (3/7, 43% success) but was unable to do anything meaningful with the position.
29-28 scores from all three judges for D-Rod, improving to 6-1 in the UFC and made sure to call for a top-15 ranking next to his name post-fight once the next update comes out on Tuesday.
---
Rest of the main card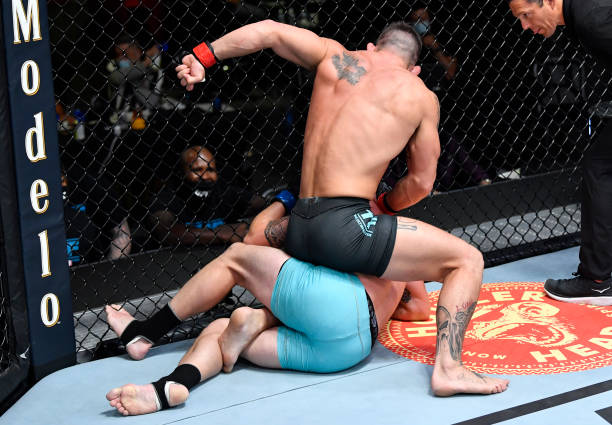 It wasn't pretty at times, but Andre Petroski had a UFC debut to savour and returned to winning ways with a third-round TKO win over Micheal Gillmore in a battle of middleweight prospects.
With the scores seemingly poised at one round apiece heading into the final five minutes, Petroski picked up the pace and overwhelmed Gillmore with his ground and pound.
Having already logged three takedowns in the previous two rounds, the 30-year-old certainly took note of the warning issued by his cornermen between rounds and left no doubt as to who was winning this matchup: outlanding him 47-1 (17 significant strikes) to finish with a flourish.
In the main card's opener, middleweight Gerald Meerschaert responded well after being outworked during their first-round standup exchanges and rallied to stun heavy pre-fight favourite Makhmud Muradov with a second-round submission win (rear-naked choke, 1:49).
Muradov's last loss was in December 2016 – a 14-fight win streak emphatically halted here – and Meerschaert gladly took advantage as the 31-year-old's activity visibly wilted between rounds.
Meerschaert, who suffered first-round knockout defeats by Ian Heinisch and Khamzat Chimaev in just 17 seconds post-lockdown last year, has now won consecutive fights for the first time since July 2018 and revealed afterwards that he's hoping for another before 2021 ends.
Statistic: After this latest victory, Meerschaert is now tied-fourth for most finishes in UFC middleweight history (8) and increased his lead for most divisional submission wins too (7).
---
Prelim results, featuring furious finishes and point deductions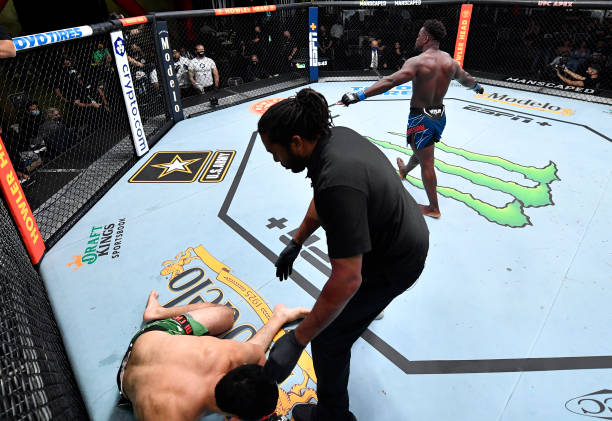 In the night's featured prelim, middleweight Abdul Razak Alhassan ended his three-fight losing skid in style: needing just 17 seconds to end Alessio Di Chirico's night with a nasty head kick which sent the Italian crashing to the canvas after swaying forward from a defensive position.
Brazilian middleweight Wellington Turman could have no complaints after having two points deducted in the final round for repeated eyepokes – having been repeatedly warned by referee Chris Tognoni – and still managed to win a split decision against Sam Alvey (27-28, 28-27 x 2).
Alvey, known for his Smile'n nickname and bubbly personality, was furious at the judges' decision afterwards but could have no-one but himself to blame after deviating back to the same back-against-the-fence strategy that saw him submitted by Julian Marquez in April.
In the light-heavyweight division, Contender Series graduate Dustin Jacoby improved his UFC run to 3-0-1 with a R1 standing TKO finish, unloading on punches vs. a gutsy Darren Stewart effort as the Englishman frantically tried returning fire despite clearly being compromised:
In the women's flyweight division, Vanessa Demopoulos was a late call-up from Invicta and despite showing undeniable toughness during their stand-up exchanges, seemed outmatched against JJ Aldrich, who eased to a comfortable 30-27 UD victory on all three judges' scorecards.
Pat Sabatini said he was unhappy with his overall performance post-fight, but didn't need to be: importantly recovering from a sluggish start before submitting Jamall Emmers via heel hook (R1, 1:53). The featherweight is now 15-3 and 2-0 in the UFC, having won his debut in April.
In a catchweight bout at 140lbs, Contender Series alum Mana Martinez – who missed weight on Friday – earned a split decision win (29-28, 28-29, 29-28) over Guido Cannetti on his UFC debut.
Picture source: Getty Images