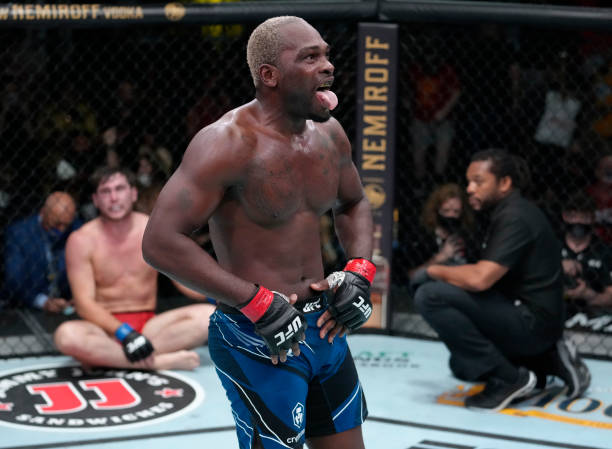 Armed with welterweight champion Kamaru Usman among his circles, confidence brewing on a five-fight win streak and a maiden UFC middleweight title shot in the offing, Derek Brunson has plenty to be happy about after earning a third-round submission win over Darren Till overnight.

in third straight main event, brunson earns 4th career sub win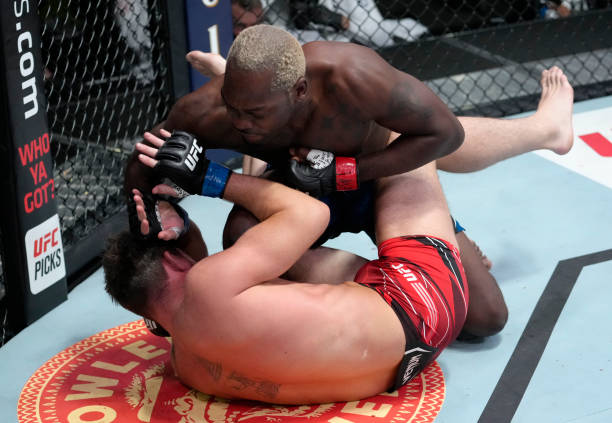 R3, 2:13 – Derek Brunson (#5) defeats Darren Till (#7) via submission (rear-naked choke)
Again the betting underdog in a main event showcase that was billed as Till's long-awaited splash on a 185lb division he has yet to truly announce himself on after moving up in 2019,  hungry veteran Brunson delivered perfectly in an all-too-familiar role of spoiler over the Scouser.
38 in January, the perennial contender wants an Israel Adesanya rematch and after battling through a rib injury sustained in camp to prevail here, it's hard to argue against him being next in-line for a title shot in 2022 after the Adesanya vs Robert Whittaker II date is finalised.
Despite a competitive fight against Whittaker, Till is now 1-4 since moving up while Jared Cannonier (#3) and the others alongside Brunson have all lost more recently by comparison.
"I'm tired of these guys not mentioning my name, Izzy mention my name, you [said] Till and Cannonier, I've been busting my butt for years after my loss to get back to this point, I'm ready to contend.

I was injured all camp, not as sharp as I'd like to be in the stand-up but my team got me ready. Haven't got a submission lately in the UFC but nonetheless, I'm really good on the ground and wanna showcase it.

I'm not broke, I'll sit and wait. I know Izzy and Whittaker got a fight coming up, that'll give me 5-6 months to get my body right, prepare for this long title push."
---
other main card results: a heavyweight warning and debut win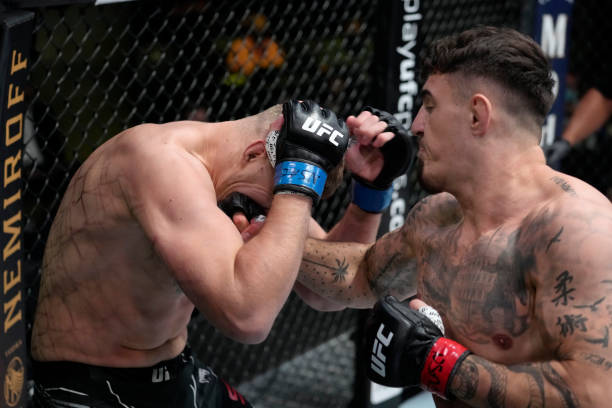 Tom Aspinall closed the distance from the first horn, was patiently stalking his prey while taking his time and showcasing those fast hands again to repeatedly sting Sergey Spivac en route to a brilliant first-round TKO finish (elbow and punches).
The Moldovan, also riding a three-fight UFC win streak before this one, didn't feel comfortable absorbing more damage and tried wrestling the Mancunian to the ground.
He was wise to the attempt, showing good strength and spatial awareness to effortlessly shrug him off before landing a knee and right elbow on the break which saw a delayed reaction as the 26-year-old fell to the ground. He rained down with punches and before long, it was all over.
"I'm extremely happy, I'm scared to death when I come [during fight week] but that's how I express myself, let it build and use that to my advantage. I just want to fight someone ranked above me, if I'm #13, give me #12."
After losing to Jairzinho Rozenstruik in early June, Augusto Sakai (#9) seems like a better acid test next, considering the rest of the top-eight besides former champion Stipe Miocic and two-time title challenger Derrick Lewis are currently booked over the next two months.
Despite a competitive battle as far as the strike statistics were concerned (96-91 over 15 mins), welterweight Alex Morono stepped up on short-notice and produced the cleaner work to earn his second win in four months, this time a unanimous decision (30-27 x 3) over David Zawada.
In the light-heavyweight division came a battle of two 205ers on losing streaks. Khalil Rountree Jr produced a fiery start, armed with power punch combos which stunned Modestas Bukauskas into a reactive stance, trying to quickly circle and evade his way from danger.
Although his counter-striking had mixed results, a bloodied nose was the least of his problems as the 27-year-old was stung by a three-punch combination just before the first-round horn.
Things got worse in R2, as his upper left leg was bleeding from kicks as Rountree comfortably controlled the fight pace. Rountree landed a side kick that bent Bukauskas' thigh muscle (and knee) the wrong way, he screamed in pain and referee Herb Dean quickly waved the fight off.
Rountree earns his first victory since April 2019, albeit not the way he wanted to (TKO, leg kick), but spoke about how important it was that he got the job done, saying his goal was to throw the kick as a counter when Bukauskas approached him with jabs.
Highly-rated lightweight Paddy Pimblett didn't have it all his own way on an eventful UFC debut, but succeeded with a first-round finish promise against Luigi Vendramini after enduring some early adversity – being rocked to the ground and punished for having his chin up in the air.
Although he rallied from a dangerous position on the ground defending hammer fists, Pimblett's decision to keep his hands low and try outboxing Vendramini at range was almost catastrophic.
It ultimately wasn't as he recovered well, stumbling the Italian back against the cage with a right hook and immediately pouncing by unloading 18 unanswered strikes – including a high knee – in quick succession before referee Mark Smith promptly stepped in to stop the furious attack.
---
Prelim results as molly mccann gets back to winning ways
In the women's flyweight division, Molly McCann snapped a two-fight losing streak and won Fight of the Night honours too during the night's featured prelim against a stern test in the form of Ji Yeon Kim – finishing strongest after suffering what looked like a round one knockdown.
Described as a young Georges St-Pierre by Michael Bisping on commentary, Welsh bantamweight Jack Shore improved to 15-0 with a dominant decision win over Liudvik Sholinian – landing 104 strikes (62% success) and also completing two of eight takedowns.
In a catchweight bout at 150lbs, Julian Erosa returned to winning ways with a third-round submission win (D'arce choke) over Charles Jourdain on short-notice. It was a competitive bout, as evidenced by the judges' scorecards before R3: 19-19 on all three.
During the night's opener, middleweight Marc-Andre Barriault earned a second straight UFC win against Dalcha Lungiambula. After starting his promotional career 0-3, with one no contest, the 31-year-old Canadian has begun 2021 promisingly after a 6-month USADA drugs suspension.
Picture source: Getty Images