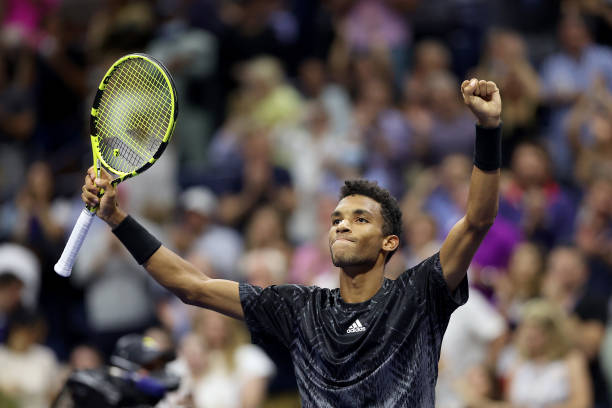 On an day full of twists and turns where two teenagers booked their place in maiden Grand Slam quarter-finals, Felix Auger-Aliassime recovered from a set down, taking Frances Tiafoe's best punches and silenced the raucous Arthur Ashe crowd to break a 12-year piece of history.
Auger-Aliassime recovers from nervous start in style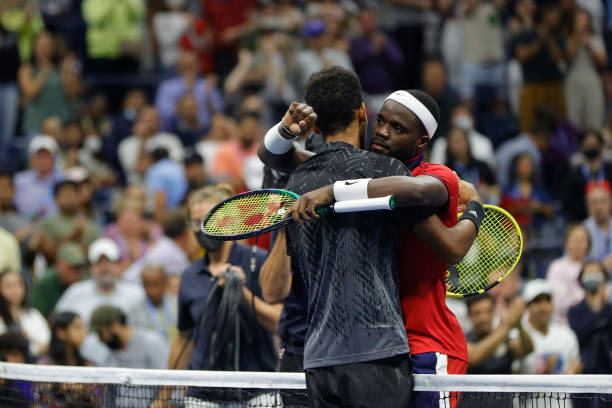 Auger-Aliassime (#12) bt. Tiafoe 4-6, 6-2, 7-6, 6-4
Recovers from set down to win, saved set point in third set tiebreak after starting match 0-8 on break point chances
Auger-Aliassime is youngest man to reach successive Grand Slam quarter-finals since Juan Martin del Potro in 2009
Will play Carlos Alcaraz on Tuesday in QFs, the Spaniard is youngest at this stage since Thomaz Koch in 1963
It wasn't easy, but Felix Auger-Aliassime absorbed some of Frances Tiafoe's best shots and remained even-keeled despite understandable frustration – at potentially pivotal moments – to book a second successive Grand Slam quarter-final.
There was plenty, from going down an early break of serve in the very first game, to almost being docked a point after having a ball drop from his pocket mid-point – twice – and more instances.
The crowd were unmistakably behind Tiafoe and they had reason to be: their man started brilliantly, just like Jack Sock against Alexander Zverev yesterday, but there was a different sense of inevitability about how proceedings would unfold, the longer this matchup went.
While Sock's lack of match sharpness against top players and physical conditioning meant he faded as his body let him down, Tiafoe's tendencies appear more mental.
He might start fast and not sustain that level, or finish strong but leave the audience wondering what if he had began said match in that same vein of shot-making form and steely composure.
The 23-year-old did well to save eight break point opportunities but made it harder for himself during those service games, almost always down 30-0 on serve and fighting to keep Felix at bay, rather than impose his will on a slow-starting Canadian with the crowd firmly behind him.
In set two, Auger-Aliassime's level increased and he duly responded with more brilliant winners.
Importantly, he seized those missed break points and made a competitive match even closer, as the tide began turning. Tiafoe saved two set points down 5-4 on serve and, bettering Novak Djokovic's speeds yesterday, produced some gutsy serves in response: 139mph anyone?
Even still, Felix really did have the set on his strings but fired two makeable forehands into the net as they were suddenly engaged in a tense tiebreak.
That was because Tiafoe's delicate drop shot volley winner saved another set point. But alas, excellent shots like his ridiculous return shot, low to the ground, at 4-4 in the tiebreak reaffirmed the impression that Felix was firmly into his stride.
Auger-Aliassime saved a set point himself, then eventually secured set three on his fourth attempt in a 69-minute set that could've gone either way, even if Tiafoe felt like he was reliant on his serving percentages at times.
After being broken at the start of set four, Tiafoe looked to break straight back. Felix responded by saving three break points and that felt pivotal, establishing a good hold of serve despite struggling with his first serve accuracy (1/7 first serves made in game 2, set four).
Tiafoe's level started to noticeably drop as his head did the same, allowing Auger-Aliassime to eventually clinch the final set 6-4 without much trouble after that sequence of events.
It was a fantastic encounter that swung one way, then the next, but also highlighted why there's a 35-odd place gap between the pair in the ATP rankings at present.
Tiafoe's historically struggled to back up his big wins and unfortunately, this serves as another example that he'll wish he could've executed better after earning that initial advantage.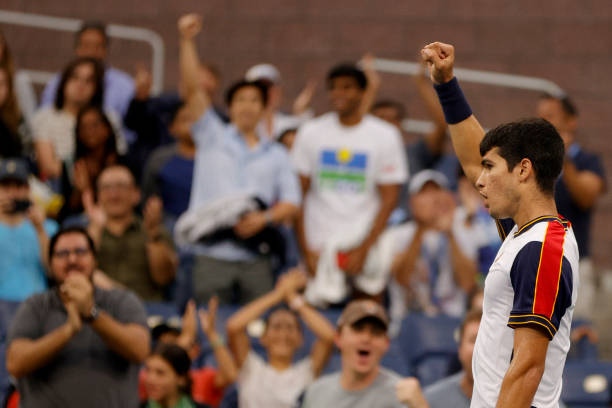 As for Auger-Aliassime, he plays Stefanos Tsitsipas' conqueror Carlos Alcaraz after the 18-year-old recovered from a set down and was nursing some niggling discomfort before outlasting German qualifier Peter Gojowczyk 5-7, 6-1, 5-7, 6-2, 6-0.
"You guys are the best, amazing. I understand supporting your fellow American, he [Frances] deserves to be applauded, an amazing effort, we're good friends and have worked hard to be here.

I hope it inspires kids all over the world. It was a tough start for me, a lot of nerves – credit to you – after I recovered, played a great second set, the third was a coin toss, he raised his level again… I'm really happy to be through.

"I didn't know [he won his match] actually, so thanks for letting me know. He's a great player, at some point age is just a number, he already feels established and is playing some amazing tennis – we'll see a lot of him and us [me and Frances] in the future. Hopefully we'll play a good match on Tuesday."

Auger-Aliassime's on-court interview, discussing Tiafoe and Alcaraz
---
Youthful exuberance: Fernandez fires past Kerber in three sets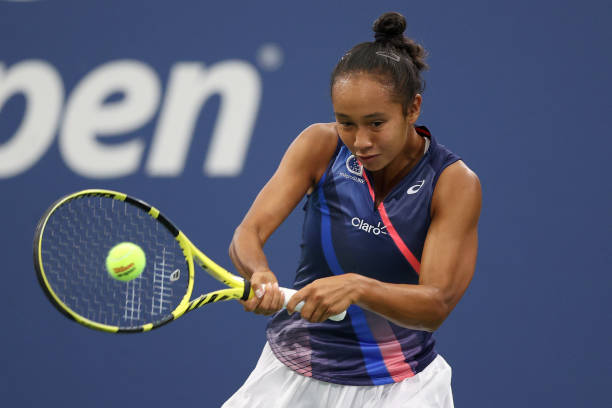 Fernandez bt. Kerber (#16) 4-6, 7-6, 6-2
It certainly wasn't easy, but Leylah Fernandez – who celebrates her 19th birthday today – backed up her shock turnaround victory over Naomi Osaka by doing the same against another multiple-time Grand Slam champion, this time a savvy veteran in Germany's Angelique Kerber.
She hit 31 of her 45 winners in sets two and three, won more points behind her first serve and utilised good court coverage to wear on Kerber, which created opportunities to capitalise upon.
Afterwards, she thanked doubles partner Erin Routliffe for bringing her down to earth after the Osaka win, knowing they had a second-round match to play (and they won) yesterday.
"My whole team help, told me to calm down, you still have Angie – another champion, a fighter – so come out here and have fun. The crowd were amazing, they cheered and fought for me, was just trying to focus, point-by-point.

A very tough match, great player, another fighter who returns a lot of balls, offensive and aggressive, just gonna have fun and hopefully you guys will all be there cheering me on, we'll see how it goes."

Fernandez on her mindset post-Osaka, while looking ahead to Tuesday
She plays Elina Svitolina (#5) next, after the Ukrainian continued her impressive run with a 6-3, 6-3 win over the returning Simona Halep, despite recording eight less winners and struggling to seize break point opportunities (3/9 converted) when the match got tight down the stretch.
Sabalenka vs Krejcikova after contrasting wins
Elsewhere among the women, Aryna Sabalenka beat her doubles partner Elise Mertens 6-4, 6-1 to advance to new heights at Flushing Meadows – her first ever QF after six entries in New York.
"She's a great player, always tough matches against her, I'm really happy with this win and found a way to get this, thanks [to the fans] for your amazing support. I worked so hard to get these wins, hopefully I can get to the end."
The second seed will now play French Open champion Barbora Krejcikova (#8) for a semi-final berth, after the Czech Republic international knocked out Garbine Muguruza (#9) 6-4, 7-6 in week one's final action overnight – although there were some sour scenes in the final stages…
The Spaniard fumed unprofessionalism during their cold handshake afterwards, clearly suggesting Krejcikova had deployed stall tactics to swing the match back in her favour.
Down 6-5 on serve, the 25-year-old had a medical timeout off-court after experiencing some physical discomfort around her stomach and was visibly having breathing difficulties.
She returned, took the match to a second set tiebreak and won it 7-4, but took her time between points – which angered Muguruza whenever ready to serve.
That shouldn't have thrown Muguruza – a two-time Slam champion – off kilter, but when you add in a 10-minute delay at a crucial moment as she began to rally from behind, it's not surprising.
Even still, her coach Conchita Martinez was seen making signals and gestures within the players' box, yet there was no mention of a coaching violation or warning. She lost seven straight games and missed three set point chances at 5-5 to take it into a decider, so only has herself to blame.
Picture source: Getty Images