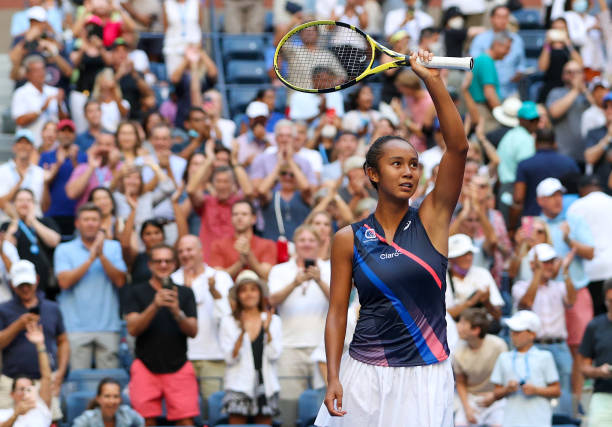 Although an unspectacular semi-final and contrasting injuries saw the night session finish within a flash on Day 9, three new Grand Slam semi-finalists were sealed – two for the first time – as 19-year-old Leylah Fernandez's dizzying tournament continued with a dramatic win over Elina Svitolina, before compatriot Felix Auger-Aliassime fended off Carlos Alcaraz overnight.

Medvedev ends Van De Zandschulp's big fortnight in four sets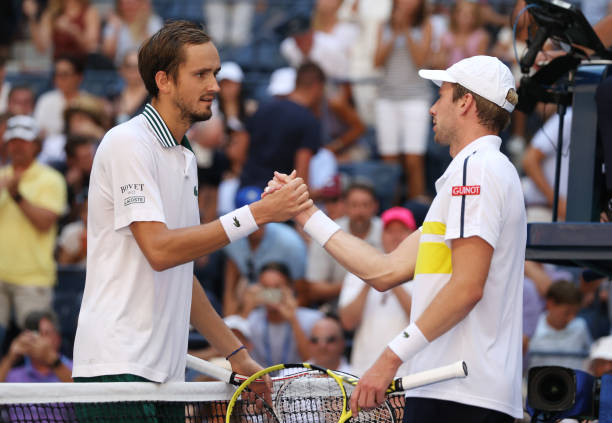 Medvedev (#2) bt. van de Zandschulp 6-3, 6-0, 4-6, 7-5
There were a few nervy moments, but world no. 2 Daniil Medvedev booked his place in a fourth Grand Slam semi-final with a four-set victory against Dutch qualifier Botic van de Zandschulp.
The 25-year-old will rise to a new career-high ranking of 62 in Monday's updated standings after producing an unforgettable fortnight where he came through three qualifying rounds before beating the likes of Casper Ruud (#8) and Diego Schwartzman (#11) from an open section.
He was immediately put on the backfoot by Medvedev here, being broken twice in his first three service games before being bagelled (6-0) in a 23-minute second set. Things seemed ominous after an hour's play, even while acknowledging this was a true mismatch on paper.
However, that didn't seem to faze him at the start of the third and VDZ was eventually rewarded despite losing the opening game – the match's longest – missing three break point openings.
His first serve percentages were volatile throughout, but he won 82% of points behind his first serve in set three (14/17) and recorded just six unforced errors after 19 in the first two sets.
Medvedev refocused at the start of set four after being pegged back, responding exactly how you'd expect: higher serve percentages, considerably less unforced errors (2 UE, 24 total).
Despite seeing a match point opportunity flash beyond him at 5-5, the Russian then held his nerve to break the Dutchman afterwards, avoiding what would've been a high-pressure tiebreak.
Van de Zandschulp was never supposed to get this far, but as I've said already this year, qualifiers like him, Aslan Karatsev and Germany's Peter Gojowczyk prove the quality is there…
---
leylah fernandez knocks out Svitolina in deciding set tiebreak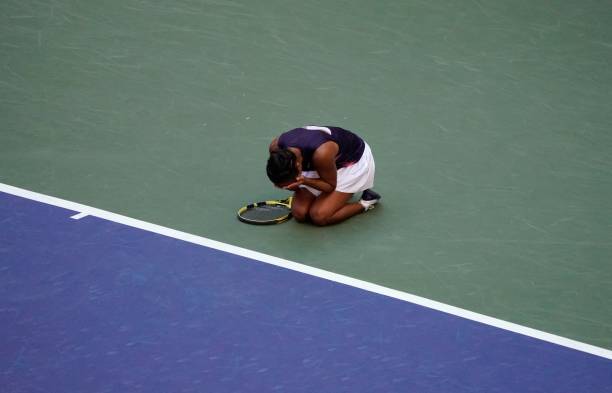 Fernandez bt. Svitolina (#5) 6-3, 3-6, 7-6
First to beat two former WTA no.1s en route to QFs since 1975, when rankings were introduced
Youngest to beat two top-5 opposition at the same Major since 1999 (Serena Williams)
Leylah Fernandez is a Slam semi-finalist and had to do it the hard way against Elina Svitolina, edging past the Ukrainian – who reached the semis two years ago – in a deciding set tiebreak.
This one had twists and turns, just like her three-set battle against Angelique Kerber in the previous round. But with the crowd behind her at an electric Arthur Ashe Stadium, she displayed great resiliency after being broken twice in set two to relinquish her early set advantage.
3-1 up in the final set turned into 5-5 and suddenly the momentum shifted Svitolina's way again, as she cranked up the pressure while their match statistics looked razor-thin. A tiebreak was needed to separate them and, again, Fernandez had to avoid dwelling on missed opportunities.
In theory, no-one should lose a tiebreak from 4-1 up when it's essentially a race to seven. Jannik Sinner found himself in that situation yesterday against Alexander Zverev and ended up losing, but Fernandez rallied well with the scores finely poised at 5-5, winning it dramatically.
She drilled a passing shot beyond Svitolina, taking advantage of a lacklustre volley at the net before forcing an overhit forehand on serve to secure another remarkable three-set win.
"I was so nervous, trying to do what my coach [her father] told me to do, thanks to you guys, fighting for me and cheering me on, I was able to push through. My dad told me to go out there, have fun, fight for every ball, it's your first quarter-final but don't make it your last match here, fight for your dream.

Svitolina is a great player, fought for everything and runs for everything, I'm honoured to have a fight with her… told myself to trust my shots, even if I lose, go for it, and I'm glad I did."

Fernandez on dealing with nerves, praising Svitolina and her tiebreak mindset
---
Sabalenka eases past fatigued Krejcikova
Up next? It doesn't get any easier with a determined Aryna Sabalenka (#2) in Thursday's semi-final, after winning 6-1, 6-4 against an admittedly flat and fatigued Barbora Krejcikova.
It's her first semi-final at Flushing Meadows, second successive Grand Slam tournament where she's reached the last-four after doing so in south London two months ago. Despite some questions over her serving today, the Belarusian did well enough to comfortably win.
"It means a lot, I really love to be in New York, this is one of my favourite Slams, I'm enjoying every second and the atmosphere was amazing so thank you guys for the support. 

I can't explain it, there's more people and really enjoyable. I watched her matches, saw she's playing really well, this year really consistent, tried to focus on myself and put as much balls back as I can, it worked really well today.

She's playing and moving well, the crowd are here for her, [she has] nothing to lose and it'll be interesting, really looking forward to this one."

Sabalenka thanking the crowd, her gameplan and Leylah on the agenda
She wasn't particularly pleased with the way she served either and considering it's such a big weapon of hers, the big question remains: can she handle that pressure as the favourite now?
---
Alcaraz's admirable run ends with injury retirement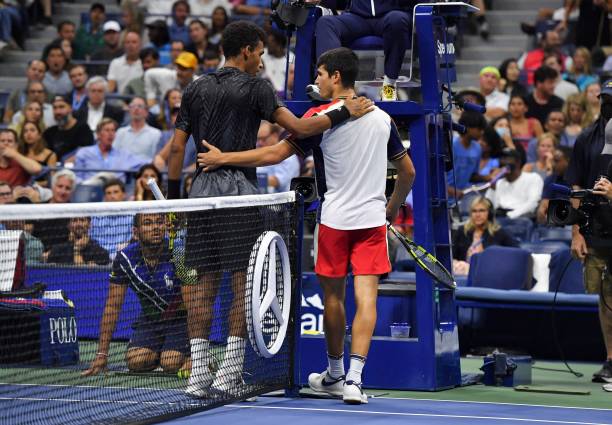 Auger-Aliassime (#12) bt. Alcaraz 6-3, 3-1 ret.
Felix Auger-Aliassime is into his first Grand Slam semi-final, but it wasn't the way he would've liked to finish as Spanish teenager Carlos Alcaraz – one of the tournament's big stories – abruptly retired with an adductor injury midway through set two of their quarter-final matchup.
He whipped a devastating forehand up the line to present himself two break points at 3-2 in the opening set and despite Carlos doing well to save three in that very same game, more untimely errors flew off his racquet – it wasn't enough as it was first blood to the 22-year-old Canadian.
Despite some teething problems on serve to consolidate his break and again with set points nearing, Felix then saved three break points himself and took advantage of Alcaraz's deep starting position behind the baseline – winning five straight points to secure a tough hold.
Alcaraz was punished for not being aggressive enough at certain moments, then being too passive in others, as Auger-Aliassime was comfortable dictating rallies.
Even if his rising double-fault count prompted some hushed whispers within the crowd, Felix's 14mph differential in average serve speed meant he controlled the bulk of points the way he wanted to, while Alcaraz was largely playing catch-up and couldn't beat him enough with power.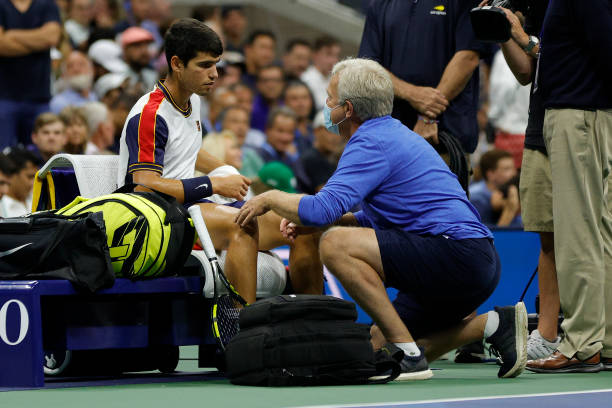 Alcaraz received a medical assessment at the changeover, down 2-1, as the camera showed he had taping on his upper left leg. He stood rooted to the spot as Felix blasted a serve to seal a 3-1 advantage, before suddenly, Carlitos took the executive decision to avoid further damage.
Felix had plenty to say during his on-court interview after the match lasted just 68 minutes:
"Until he [Alcaraz] called the physio, I didn't know he was injured or see it coming. I've been serving good all week, was just trying to take it a point at a time and it was a really important game to finish strong [at 5-3].

[First Grand Slam semi-final, thoughts?] It's an amazing milestone, fantastic tournament for me, a weird ending today but I'm through and have a chance to play on Friday against one of the world's best, try to win the next one…

He [Toni Nadal] is a great person, great coach, it's great he's here, we actually speak in French, communication is great, results are coming so I'm happy.

Alongside Zverev and Novak, he [Medvedev] is the most solid player on hard courts. I have to play my best tennis, mix things up, come in a lot, try disturb him, we practice together so hopefully we put on a good show."
Now he gets some timely rest before the biggest match of his career to date, against a determined Medvedev who has quietly swept aside his section and been playing very well.
Picture source: Getty Images