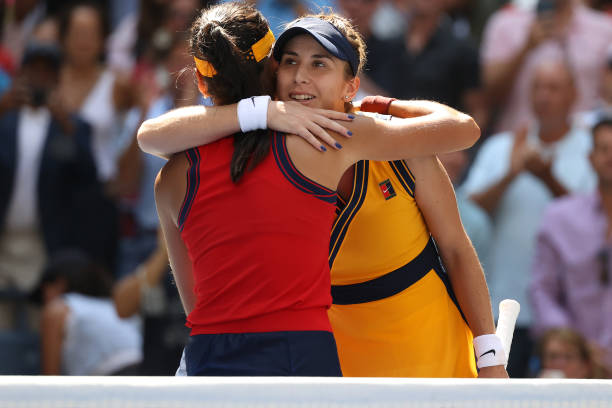 Emma Raducanu's remarkable run continues, as she recovered from 3-1 down to stifle Olympic champion Belinda Bencic. Maria Sakkari is next, following an impressive win over Wimbledon finalist Karolina Pliskova later on. Speaking of the Olympics, Friday sees a rematch of the Tokyo semis as gold medallist Alexander Zverev looks to snap Novak Djokovic's hopes of the Golden Slam. Judging by the way the Serb played vs. Matteo Berrettini, expect fireworks this weekend.

semis, here we come: Raducanu's refreshing rise continues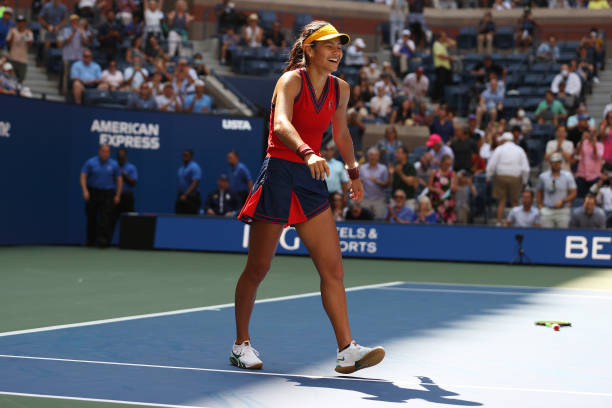 Raducanu bt. Bencic (#11) 6-3, 6-4
Raducanu is new world no. 51, passes 29-year-old Heather Watson as Britain's new no. 1
Raducanu becomes the first qualifier, male or female, to reach the US Open semi-finals
Now the fifth player in Open Era to make semi-finals on her debut at a Major
Less than 24 hours removed from Leylah Fernandez's thrilling three-set win over Elina Svitolina, British qualifier Emma Raducanu surpassed the Canadian as the youngest US Open semi-finalist since five-time Grand Slam champion Maria Sharapova managed the feat in 2005.
Although on separate sides of this year's draw, they are now the first 2002-born players to reach a Grand Slam semi-final. While Fernandez plays Aryna Sabalenka (#2) tomorrow, 18-year-old Raducanu will face a similarly determined Maria Sakkari (#17) in Thursday's night session.
Just like she did against Shelby Rogers, the Brit showed spirit to again recover from an early break down to rapidly stifle Olympic champion Belinda Bencic in the day's first quarter-final.
She beat the Swiss at her own strengths, dominating longer rallies and utilising aggression well to deliver winners aplenty. Just like in the last-16, this wasn't plain sailing for the Toronto-born teenager, broken in the opening game and down 2-0 early despite Bencic's first serve struggles.
Those early moments foreshadowed the implosion to come later on from the 24-year-old, a semi-finalist at Flushing Meadows two years ago and enjoying good form of late.
READ: Olympics – After seizing gold for Swiss, can Bencic build on this where it matters?
Clearly the favourite to prevail after a battle-hardening win over Iga Swiatek, she was punished for a lack of conviction during big points and Raducanu pounced.
Firing a down-the-line forehand – one of many – Raducanu broke back at 3-3, after extracting an error in the match's longest rally. Despite shanking a forehand long on the first break point chance, a double-fault and limp backhand into the net saw the scores finely poised once more.
From there, Raducanu raced ahead to take set one with relative comfort but it wasn't exactly straightforward.
Two unforced errors gave Bencic breathing space on the Raducanu serve to break straight back in the next game, but surprisingly, she returned the favour after misfiring on deep second serves.
A crosscourt backhand winner and backhand error ensured Emma earned an important hold.
Another beautiful forehand winner and timely double fault saw Bencic under pressure on serve next, so while she saved one break point, there was a look of inevitability as Raducanu reeled off two more winners – a down-the-line strike to finish a 20-shot rally, before a passing shot too.
As has become synonymous with her play over this fortnight, she was now firing on all cylinders as Bencic looked ruefully, losing five consecutive games to finish a set which started so well.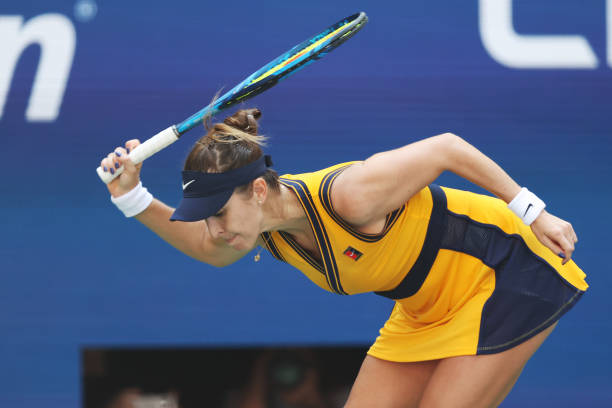 Bencic's serving struggles continued to start set two, so much so that despite an eventual important hold in the opening game, Raducanu made it near impossible to impose her will.
Having been overpowered in the first few games, the tables had turned and it was the 11th seed needing to change tactics, throwing her off-rhythm. By this stage, it was too late to be effective.
She incorporated a few high balls mid-rally, tried mixing things up with looping shots but only served to invite more forward pressure down the other end by Raducanu, whose confidence grew as she was being rewarded for her bravery with shot selection.
Bencic had three break point opportunities, but again failed to seize the initiative as she fumed with the match quickly fading away from her.
That much was obvious at 2-2 on serve for the Swiss, unable to keep Raducanu honest during their rallies and instead allowed the teenager to showcase her movement and low centre of gravity, blasting balls back with interest – including a return ace which gave her two break points.
A fourth double-fault arrived, right on cue, as the Olympic gold medallist looked bemused.
Bencic's unforced error count continued to rise while Raducanu's stayed perfect at 0, before understandably getting tight with the finish line in sight.
She served two doubles in her final two service games and was down 30-0 on serve at one stage, but Bencic's forehand continued to fail her and this match became increasingly hard to watch.
Although Belinda eventually held to ask the serve it out question, Raducanu held her nerve to get the match wrapped up without prolonging a second set that could've been over much sooner.
---
Zverev avoids banana skin in familiar foe, comfortably through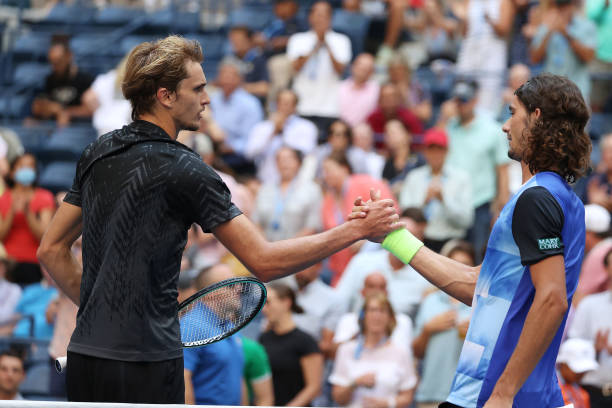 Zverev (#4) bt. Harris 7-6, 6-3, 6-4
The first set was dicey and he needed to save a set point during the ensuing tiebreak, but Olympic champion Alexander Zverev eventually came through with minimal fuss afterwards beyond the spirited challenge of South Africa's rising star in Lloyd Harris.
Having recovered from 5-3 down in set one, including brief controversy at 6-5 down, the German raced to a 4-1 lead in the two subsequent sets as Harris couldn't sustain his high level. By the time he kept things competitive, Zverev had a break to defend and duly cranked up the pressure.
The 24-year-old has served 83 aces through five rounds and while genuine questions over his five-set mettle remain against the very best players at Slams, earning multiple free points on serve helps him race through games with more efficiency and less hassle than in previous years.
He's 0-10 vs. top-10 opposition at Majors and that will have to change if he's to continue his 17-match winning run, with none other than Djokovic – who he beat in Tokyo – up next. The caveat there is, his recovery to win that match was in best-of-three set format, rather than best-of-five.
Harris meanwhile, rises 15 places to world no. 31 after reaching his first Slam quarter-final, but it's not particularly surprising he lost in straight-sets here given previous meetings with Zverev.
He fought hard but lost in three-sets during their Cologne QF last October, before losing another first set tiebreak at the Cincinnati Masters last month. Harris should be seeded come next year's Australian Open and it'll mean less difficult matchups, at least on paper, in the opening rounds.
He had to recover from 2-1 down to beat Russia's Karen Khachanov (#25) in round one here, while also toppling Denis Shapovalov (#10) and Reilly Opelka (#22) to get this far.
At 24, he's one of the younger players to emerge in the top-50 and will want to back these results up at other tournaments to come.
---
Sakkari sublime en route to first US Open semi-final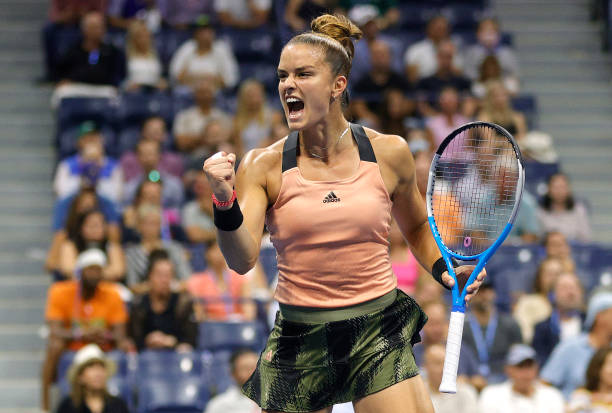 Sakkari (#17) bt. Pliskova (#4) 6-4, 6-4
Roland Garros semi-finalist Maria Sakkari admitted post-match that she was aware of a need to produce a serving masterclass to keep up with Wimbledon finalist Karolina Pliskova here and did precisely that, winning 22 straight points on serve (23/25, 92% first serve pts won).
That consistency proved the catalyst for what proved a hard-fought but nonetheless deserving victory, the result creating another piece of history at this tournament.
Did you know? Pliskova's defeat means this is the first time since 2014 that no one player on the WTA tour was able to reach more than one Grand Slam final in a calendar year, with eight different finalists at the four Majors. Before that year, this last happened in 1977.
There were some murmurs of hesitancy within the crowd as Pliskova saved two match points, down 5-4 in the second set. After all, Sakkari had a match point but lost 9-7 in the deciding set during her maiden Slam semi-final against eventual champion Barbora Krejcikova in June.
But, as the commentators insisted throughout this match, the 26-year-old has since made adjustments to her game, becoming more varied with her offensive weapons.
12 unforced errors her lowest number of this fortnight to date, 22 winners and plenty of them were either deadly forehands or delicately placed drop shots, pick your poision.
"It's great for our sport to see Emma, Leylah, Coco [Gauff] and the rest doing well but I trust myself and my game, I'll see you tomorrow night."

Sakkari praised the young crop, but feels she's maturing at the right time
---
after exciting start, Dialled in Djokovic swats Berrettini aside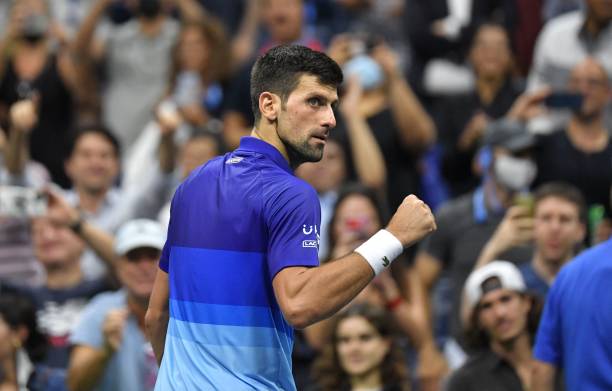 Djokovic (#1) bt. Berrettini (#6) 5-7, 6-2, 6-2, 6-3
Novak Djokovic is into yet another Grand Slam semi-final and it felt fitting that Matteo Berrettini – who he's now played thrice in three months – brought the best out of the Serbian.
"I was dialled in from the beginning of the second set, put my tennis to a different level, the best three sets I've played in the tournament for sure."
After failing to execute big points cleanly and losing a tightly-contested first set, the world no. 1 was predictably dialled in to start set two. It's difficult to argue against that assessment.
Next? The aforementioned Zverev, who recovered from a set and break down in Tokyo to extinguish the 34-year-old's Olympic aspirations last month during their semi-final matchup.
"He's in tremendous form, winning a lot and hasn't lost since Wimbledon, gold in Olympics, won Cincinnati and into the semi-finals here.

I know his game well, he turned it around [in our last match], every match [between us] is close, one of the world's best. I'm pumped, the bigger the challenge, the more glory in overcoming it."

Djokovic previewing an in-form Zverev afterwards
As we've become accustomed to, Djokovic played his way into form here. He recorded six unforced errors and two double-faults in the opening game, but an ominous statistic was read out on commentary: Berrettini had only broken him thrice in three previous H2H meetings.
Djokovic kept him guessing with his shot selection, but the Italian was initially racking up free points on his own serve too – frequently blasting numbers upwards of 120mph with ease, despite the Serb doing well to return these balls half the time, as that approach set the tone early on.
Much has been said about Berrettini's backhand weakness but it was holding up well during rallies early on, though his volleys and net approach play remained unconvincing as Djokovic made him work to secure countless holds of serve.
The same could be said on break point opportunities too, as the Wimbledon finalist certainly had more openings to take the lead. Whether it was a timely ace or remarkable shot defence, Djokovic – even with his error-prone start – refused to hand games away.
Berrettini had to beat him. The first set could've gone either way, such was the tug-of-war between the pair, though Djokovic found himself punished for missing makeable forehands as his ball-striking wasn't incisive enough, not yet at least.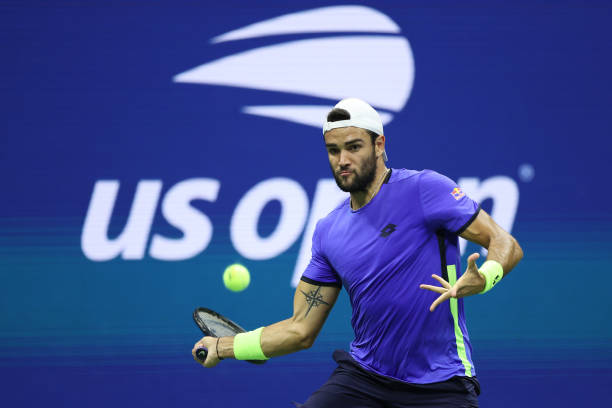 A passing forehand winner gave Berrettini the break and despite saving three set points, Djokovic's 17th unforced error of the set sealed a 7-5 first set in the Italian's favour.
The turning point here was a big return, at 2-1 in set two, as Djokovic found the early break he was missing an hour prior. A rapid service hold consolidated that break and you couldn't help wonder where this urgency was before he found himself a set down.
Berrettini's errors started to become more pronounced on serve as the momentum shifted, he saved five break points in one of many tightly contested games but, unfazed, the world number one responded by taking charge and breaking him next time around.
17 unforced errors in set one? Three apiece in the next two, as Djokovic took over and Berrettini's shoulders, understandably, were slumped. Why wouldn't they be, with shots like these?
Berrettini's backhand, while low enough to cause problems, was no longer firing as consistently and his first serve percentages continued waning enough for Djokovic to fire aggressive, deep shots back in his direction.
Even still, the 25-year-old refused to give up hope. He would've been left angry by his inability to better execute on a rare break point opportunity in the third set, as a backhand slice hit the net before the world number one held firm to serve his way out of trouble.
Firing a 121mph serve and big forehand winner followed, before consolidating it with more excellent hitting on Berrettini's serve for another 6-2 set in the bank.
As the clock passed the three-hour mark, Djokovic broke Berrettini again in the fourth with a forehand passing winner – the same shot he absorbed to be broken in the first set.
Despite being increasingly agitated by crowd disturbance during his service motions, the 20-time Slam champion raced to the finish line and reflected on a great match courtside:
"It was a great match, a lot of energy on and off court. Matteo is a terrific player, every time we play it's a close battle and it wasn't any different tonight. When I lost the first set, forgot about it and [had to] move on.

In sport we talk about the zone, it's very easy to go out from there and get distracted, most difficult to stay in.

Tennis is an individual sport and you have to deal with things by yourself, it gives us a lot of wonderful life lessons, mental strength. Every match I play in this amazing stadium is an additional lesson for me, possibility to improve.

I don't want to lose the first set, I want to start well and thought I did but there's a reason why they call him the hammer, next to Juan Martin Del Potro, he's got the best serve and forehand. I had to be focused throughout and think it was a great performance overall."
Picture source: Getty Images