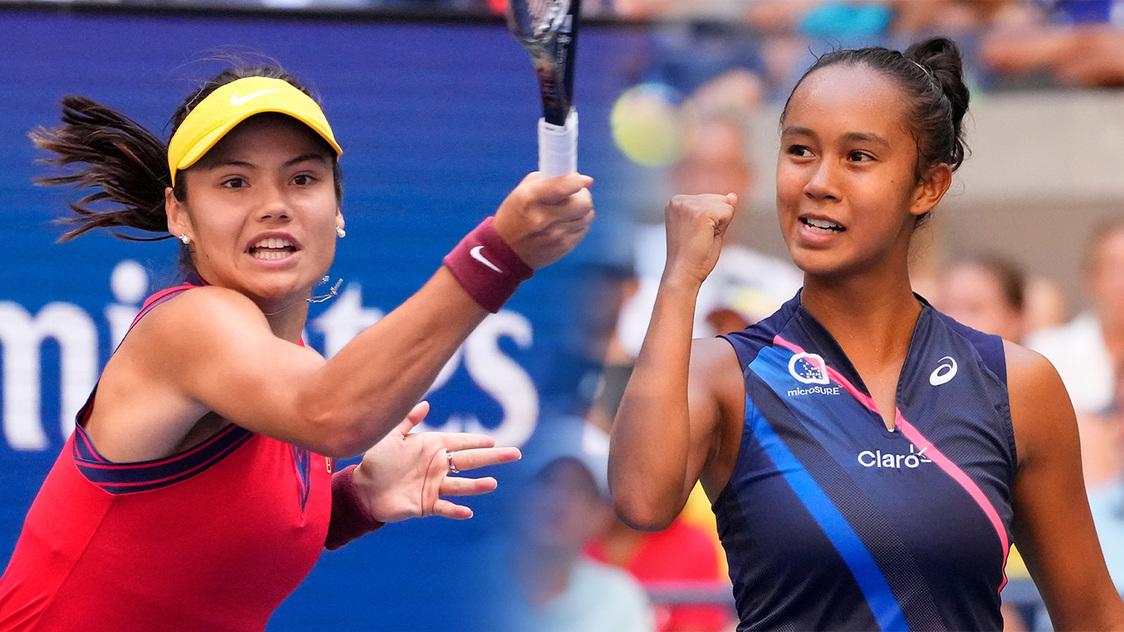 Another day, more history made at this year's US Open. Two teenagers will contest Saturday's Grand Slam Final, on their main draw debuts no less, when Canada's Leylah Fernandez and British qualifier Emma Raducanu duel this weekend. The latter dropped just five games vs. Maria Sakkari (#17), after Fernandez outlasted Aryna Sabalenka (#2) in a three-set battle.
after powerful start, sabalenka stutters as fernandez prevails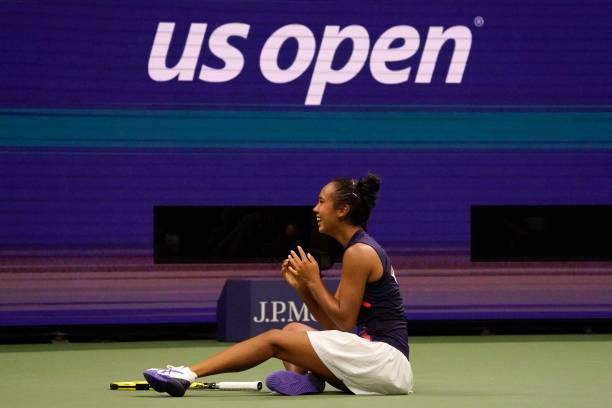 Fernandez bt. Sabalenka (#2) 7-6, 4-6, 6-4
A tenacious teenage lefty, the 19-year-old had to go through two multiple-time Grand Slam champions and three of the world's top-15 players in her section of the draw just to get here.
The size of her immense task over this fortnight hasn't fazed her, instead serving as extra motivation breaking barriers down. While the innocence of youth angle feels a cliched statement, Fernandez's run to this point has been fuelled by perserverance and playing without pressure.
Handling this weekend will be interesting as she will arrive the preemptive favourite, more seasoned than Raducanu with a series of more difficult opponents and scenarios to boot.
More on that dynamic later.
Although Sabalenka got off to a flawless start, predicated on fiery forehand winners and brilliant serving, Leylah never lost hope – even when down 4-1 early on. The New York crowd roared her forward, as she continued showing the sort of steely resilience you need to overcome adversity.
Perhaps a little naive on my part, I expected Bencic to start with this sort of power and purpose against Raducanu on Thursday. Sabalenka overpowered Fernandez, whether it was 114mph body serves or 118mph out wide, winning long rallies and net approach shots. It wouldn't last.
A double-fault and shanked forehand gave Fernandez an opening at 30-0 on the 23-year-old's serve, so despite doing well to save two break points, another misfiring serve shook Sabalenka out of her hot zone as the teenager remained composed and gladly snatched the break back.
Sabalenka briefly responded well after losing serve by applying forward pressure and making her presence felt. While Fernandez extended their shot rally length, the Belarusian powered through to lead 5-4 and shift the pressure back onto the youngster.
After exchanging tense service holds, a first set tiebreak was needed to separate them and you couldn't help feel whoever edged this sequence would win, such was a frenzied opening set.
Sabalenka had played the better tennis but those errors, particularly on the bigger points, came back to haunt her against someone with nothing to lose – remember that 4-1 deficit? Well, there was a sense of inevitability given Fernandez's 4-0 tiebreak record at this tournament beforehand.
But even still, you couldn't have foreseen Sabalenka self-destructing at such a delicate time – 3-3 in the tiebreak – relinquishing a set she had stormed ahead in. It would get worse later on, mind.
What makes Sabalenka's collapse more stark, even with the crowd never truly behind her, is how she began set two. Up an early break again after a quick start, she needed to sustain that level but then a double-fault and another shanked forehand saw her advantage evaporate once more.
She was warned by the umpire for racquet abuse at the changeover, down 3-2, after Fernandez mishit a forehand which just caught the line while she overhit a return back the opposite way.
That rather summed up her match to that point and was undoubtedly feeling like all was against her. The contest remained finely poised at 4-4 and after a handful of abrupt unforced errors by the Canadian, she broke again to this time serve for the set.
Just like Fernandez in the tiebreak, she had three set points but only needed one to level things again at a set apiece. It felt fitting that this match would go the distance and yet, Fernandez felt comfortable enough to start firing excellent winners and forcing errors like these with her play:
Despite saving a break point after excellent Fernandez shot defence, another error gave the Canadian a lead – having recorded successive return aces to apply pressure on the world no. 2.
Sabalenka got the break straight back, but more dicey games in tense moments from both meant the Wimbledon semi-finalist was serving to extend the match, down 4-5. She imploded, serving two double-faults and two unforced errors, as Fernandez fired her way into the Final.
---
Raducanu races ahead, leaves slow-starting sakkari behind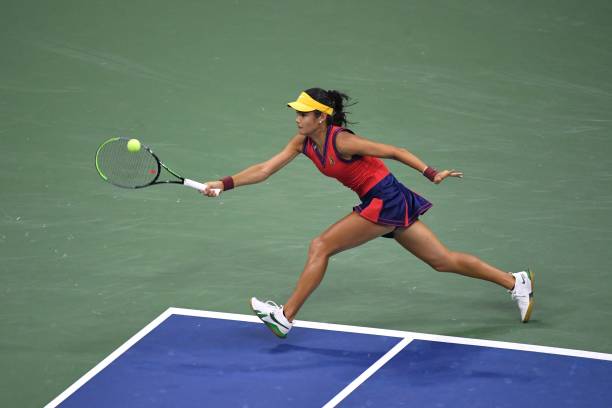 Raducanu (Q) bt. Sakkari (#17) 6-1, 6-4
On women's semi-finals day, records were broken and history had been repeatedly rewritten throughout the night. Fernandez outlasted Sabalenka in an enthralling three-set contest that could've swung either way, even with the Belarusian tightening up when it mattered most.
The inverse should be said about Emma Raducanu, whose inspiring journey from ambitious qualifier to Slam finalist was realised against Maria Sakkari (#17) in considerably less time and with more of the devastating efficiency that has seen her breeze past opponents this fortnight.
She saved three break points in the opening game, earned an early break of serve herself before saving four more opportunities as Sakkari looked increasingly anxious down 3-0.
Even though she had chances to shift momentum in her favour, the Greek was being outplayed and outfoxed during rallies with shots like these:
Having produced a brilliant serving display to advance past Karolina Pliskova in the previous round, Sakkari appeared to have left her high serve percentages in the quarter-finals.
Another double fault – four in set one alone – had her rattled even further, before Raducanu hit a winner leaving the 26-year-old bemused by the close line call.
At one stage it looked like she would be bagelled, such was her poor first serve percentages (43%, 57% in set two). Raducanu gladly seized the initiative and made her pay where possible.
When your biggest weapons are neutralised quite easily, you're repeatedly missing first serves and can't string together any conviction nor consistency behind shots, Sakkari was in a predicament. She knew, as well as those watching, that her dreams were quickly slipping away.
So she managed to pump herself and keep the second set competitive but stepping up her level at that stage felt futile, producing the requisite tennis to stifle Raducanu an hour too late.
Saving five break points to hold serve, she was now winning more of the pulsating rallies and forcing the Brit into great shot defence. But alas, the damage was already done.
Raducanu finished strong and when asked the serve it out question, didn't fold under pressure to book her place in an all-teenage final this weekend.
Picture source: Getty Images