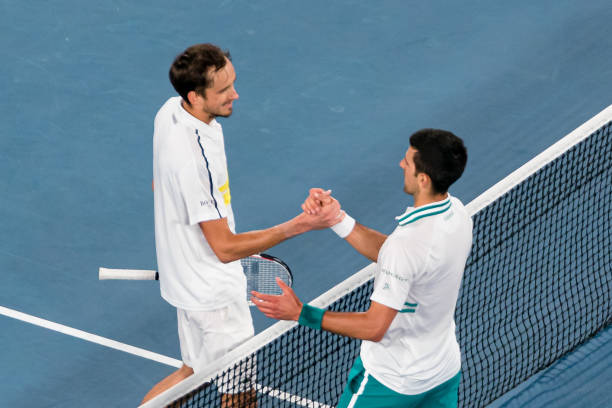 Novak Djokovic came back from a set down, then fended off a spirited Alexander Zverev fightback, to book his place in a ninth US Open Final after 3 hours 34 minutes with an electrifying five-set victory over the German. Beforehand, Daniil Medvedev showed why he's world no. 2 by beating Felix Auger-Aliassime (#12) in straight sets without playing his best. Now, the pair will square off once again on Sunday, seven months after their Australian Open Final.

Medvedev applies pressure, frustrating felix wilts under it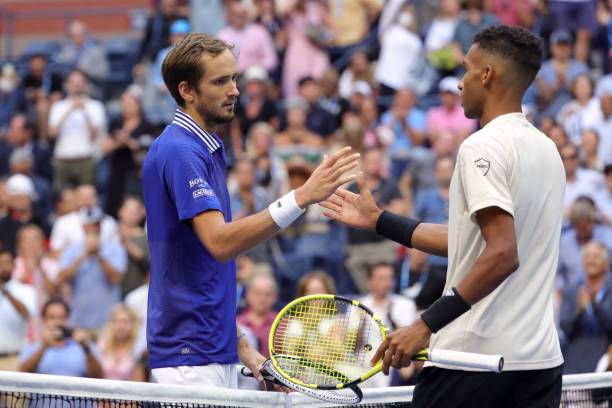 Medvedev (#2) bt. Auger-Aliassime (#12) 6-4, 7-5, 6-2
Daniil Medvedev was happy to have earned a third Slam final in straight-sets without playing his best – especially having saved two set points at 5-3 in the second – and watched as Felix Auger-Aliassime's fantastic fortnight ended with a regrettable whimper in the day session on Day 12.
The manner of this latest victory amplifies the Russian's standing as the world's second best player, a cut above the rest of this generation's chasing pack – Stefanos Tsitsipas, Andrey Rublev, Matteo Berrettini, Auger-Aliassime and Zverev among others. More on the latter later.
Although he was heavily favoured pre-match, the ambitious Canadian opposite him was immediately under pressure from the opening game here. A ten-point game to hold serve?
Nervy feels like an understatement, if you watched the way Frances Tiafoe seized the initiative from minute one to establish an early break at his expense during their last-16 match last week.
Medvedev by contrast, raced through his service games. Felix praised the 25-year-old's serving afterwards while saying he didn't play his best for long enough stretches to make a sizeable dent.
There were moments and after a competitive first set, the 21-year-old should have won set two.
He broke midway through, was 5-3 up and had two set points on his racquet with the Arthur Ashe crowd expecting this would go long – at least – much to their delight for more tennis on show given the efforts of his compatriot Leylah Fernandez merely 24 hours earlier.
Medvedev mustered up the courage to play a beautiful backhand which caught the line and produced an FAA error. Despite subsequently winning a pulsating rally to earn a second look at levelling the match again, Felix advanced towards the net and hit an awkward volley into the net.
The crowd couldn't believe it, and that proved the last chance he'd have in a match that flashed past him rather startingly afterwards. He was expecting to sit down, rejuvenated by his play and the scoreline, but instead looked ruefully at his players' box knowing a pivotal chance had gone.
Medvedev took this from him but the optics were far from flattering. Having been praised for making adjustments to better deal with the Russian's game, the energy had been zapped rather quickly as three unforced errors and a double-fault gave Medvedev a 6-5 second set advantage.
Daniil skipped to the chair before cruising his way to a comfortable victory, earning an early double break to start set three and continuing to execute the important points far better to boot. Auger-Aliassime recorded 10 double-faults and 39 unforced errors – simply not good enough.
It means his career-best Grand Slam finish ends on a lowpoint, but like he said in his post-match presser, matches like these show he's got plenty of improving still to do – serving consistency, shot selection on big points and handling those high-pressure moments better against the best.
Speaking of…
---
Djokovic does it again, outlasts zverev in five-set epic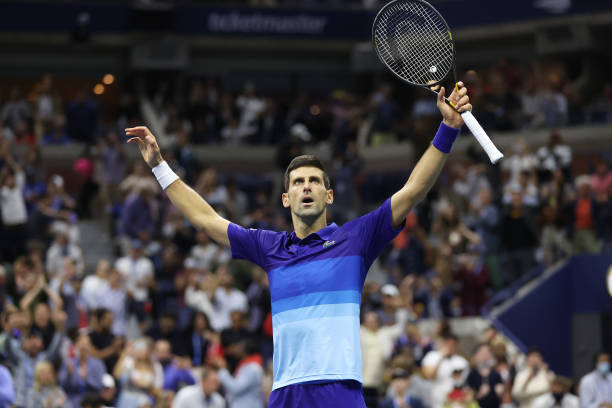 Djokovic (#1) bt. Zverev (#4) 4-6, 6-2, 6-4, 4-6, 6-2
He did it the hard way, almost as if there was no other possible outcome, but Novak Djokovic is into his 31st Grand Slam Final after outlasting Alexander Zverev in five sets, coping with the German's peaks and troughs while playing his part in some of the best rallies you'll ever see.
That's not your typical hyperbole nor raw writer emotion, musing as the sun rises, either.
Jim Courier, the youngest man to reach the finals of all four Slam tournaments (22y, 11m) and a four-time Slam champion before his Hall of Fame induction in 2005, said it best on commentary.
5-4 Djokovic in the third set, might have been the best game of tennis ever played. So if you will, please show some pity for those among us who don't enjoy watching this sport. Remarkable.
"The atmosphere was amazing, best of the tournament so far, these are the moments we live for, thank you for making it so special. He's one of my best friends, we train together and see each other a lot: I knew it'd be a great battle, hope we brought energy and a show for you.

I'm going for my fourth US Open title, there's not really much to say about that… All-in, let's do it, going to treat the next match like it's the last of my career."

Djokovic during his post-match interview, on Zverev and Medvedev next
Both began with assuring holds of serve, Djokovic incorporating the serve-and-volley tactic to good use after falling behind 30-0 as Zverev turned defence into attack with a forehand crosscourt winner, and you could tell quite early on that this had the potential to be a classic.
Zverev recovered from 0-30 down and edged a fantastic 24-shot rally to earn the first break point of the match, with many more where that came from, even if he didn't know it at the time.
Tense rallies were constant in a match between two close friends, one looking to win at all costs and another determined to finally banish the ominous top-10 stat hanging over his shoulder.
Zverev's forehand continued firing as he had two more break point opportunities. Djokovic, whose serving remains vulnerable, hit a double-fault right on cue as last year's finalist took set one after watching the world no. 1 shank a forehand into the sky on his third set point chance.
Djokovic's inevitable response after losing set one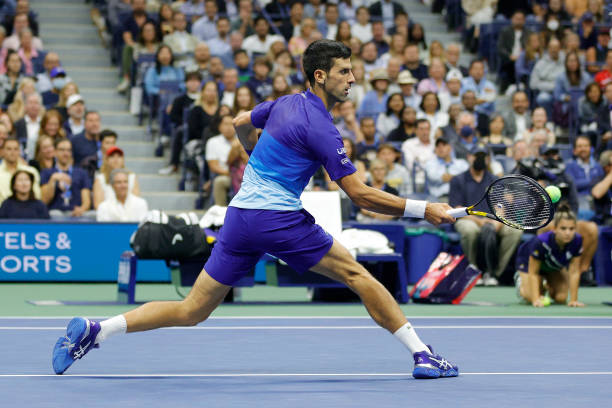 Predictably, Djokovic responded well to start the second – especially after being down 15-30 in the opening game. Zverev's first serve percentages started to tail off, naturally, having served brilliantly in the opening exchanges but Djokovic's choice of shot was questionable to say the least. Importantly though, he hung in the rallies long enough for the German to make errors.
He fluffed a wide open forehand shot mid-rally, then a double-fault suddenly gifted Djokovic some breathing space as he consolidated the early break and eventually won set two 6-2.
If set two restored nomality, the third was precisely the level change Zverev needed to reassert himself. Somehow, he lost that set too. Djokovic saved three break points and that proved the catalyst to turn this match on its head, even if it wasn't the last time the pendulum would swing.
A big serve and beautiful volley at deuce helped him avoid an early break to start the set, while the Serb remained imperious at the net with a delicate drop volley winner the pick of his shots.
Zverev provided some rather gutsy second serves as those first serve percentages were again in the 50s, though both continued exchanging service holds.
Djokovic wasn't playing his best tennis and the unforced error count told the story: 13, his highest for a set in this match, scooping a lot of his shots, shanking a few and overly aggressive at times where he would've won the point with a little less pace on his return.
Importantly, his lateral defensive movement and ability to frequently change up the groundstrokes Zverev faced – sometimes to his own detriment – was certainly testing Zverev.
He flicked his wrist and exploited Novak's serve-and-volley trick with a passing backhand winner to present two more break points. Just as quickly as that opening appeared, it was gone.
Djokovic fired a big 121mph ace, before Zverev looked up to his box and then the sky in disbelief as he was left bamboozled after missing a return as the ball bounced awkwardly towards him.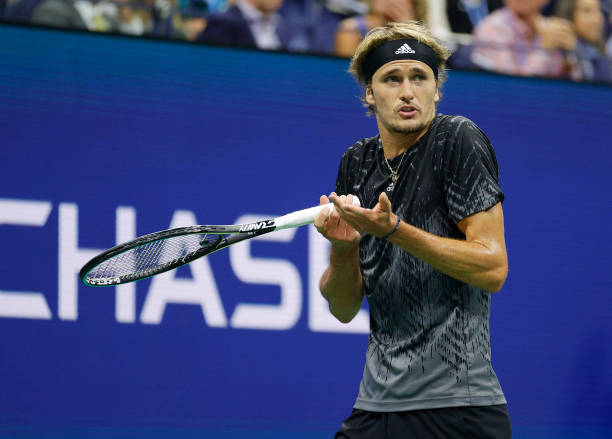 More gruelling rallies, frustration on both sides, aggressive tennis and jaw-dropping shots arrived before Djokovic had three set points.
After winning the first (a 21-shot rally), Zverev also had the last say during a truly epic 53-shot rally to save the second. Yet after all that work, he couldn't cover enough ground in time to thwart Novak's overhead smash – a 6-4 set that looked increasingly destined for a tiebreak.
Zverev storms back, takes it into a decider
The big question was, having lost a set that could've gone either way, would Zverev be able to regroup in time? Or would this prove a procession? Certainly the former, as the 24-year-old fought back during rallies and the tables had turned once more.
He blasted a forehand winner up the line to go up an early break in set four as the momentum shifted back into the world no. 4's favour. It was a gutsy showing indeed, not least because he was still under pressure and responded with a 134mph second serve. How's that for timing?
Then, after sealing a 6-4 set of his own to level the scoring again at two-apiece, we were into a final set shootout.
Djokovic started well on serve, while Zverev's first serve struggles returned once more. Novak could smell blood, stepping intently at 15-30 on the German's serve, and then pounced as he pondered why now? Why him? Had he not already gone through this rollercoaster enough before?
Not to be left out, Djokovic's own first serve briefly deserted him too after winning a 30-shot rally to go up an early break. Then, a pair of aces gave him a comfortable three-game cushion.
More ridiculous shot defence was on display as Djokovic had points for a double break, Zverev narrowly missed a volley and the scoreline said all you needed to know. 4-0 to the world number one, this tense decider had escalated rather quickly.
But wait, there was more: Zverev managed to hang in on Djokovic's next service game, earning a break at the fifth attempt, and suddenly it was 5-2.
Would we see a calamitous collapse? Not quite. The best returner in the game lived up to one of his many descriptions, forcing Zverev into another period of uncertainty with shots like these:
Finally, he got the job done. He knows there's still one more to go though, and fittingly it's the toughest of them all in an ever-improving Medvedev next.
Picture source: Getty Images