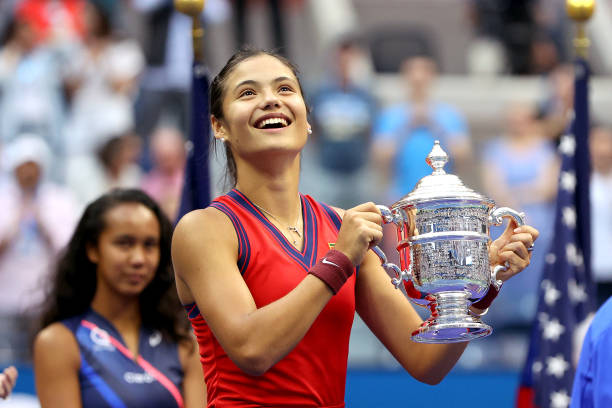 It wasn't without some dicey moments and two championship points saved, but British teenage qualifier Emma Raducanu held firm despite some ever-growing second set tension to beat Canada's Leylah Fernandez 6-3, 6-4 and clinch this year's US Open title on her main draw debut.
Raducanu rises once more, is now a us open winner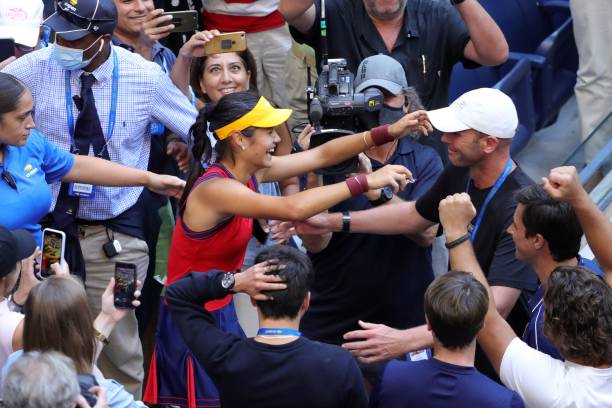 Raducanu is first British woman since Virginia Wade in 1977 to win a Grand Slam
Ten matches, three in qualifying, all won without dropping a set throughout
18-year-old will rise to world no. 23 on Monday with latest victory
Raducanu (Q) bt. Fernandez 6-3, 6-4
From the early exchanges, it was obvious that these two would fight for every point to try assert their early dominance and take hold of a Grand Slam final debut no-one expected either would be anywhere near two weeks ago.
Unsurprisingly, the tension showed in how they both served to start. A first serve percentage in the 50s, untimely double faults and 29 unforced errors in set one rather told half the story.
Raducanu outlasted Fernandez in a ten-minute game to earn an early break, having seen five previous opportunities come and go without reward. Then, she had to save four break points in the very next game but Fernandez – keeping in tune with the rest of her tournament – fired back.
34 points were contested between the pair through three games in 23 minutes, emphasising an intense start that would likely go one way as Raducanu continued securing important service holds and chipped away at the Canadian's resolve with shots like these:
A defiant return ace set up two set points and, after an initial struggle, the British teen earned a 6-4 first set on her fourth opportunity.
Keeping in theme with the razor-thin margins of error, Raducanu could've easily been 3-0 up to start set two. Instead she was down 2-1 and an early break, allowing Fernandez to be the aggressor a bit too much for comfort as the crowd roared her on. They wanted more tennis.
Emma didn't. She showed great mental strength to reset well after that disappointment, breaking back immediately, before showing the same poise and precision that saw her storm through Flushing Meadows. This forehand up-the-line winner felt like the final body blow:
Then, Fernandez did well to save two championship points on serve with some defiant shot defence as pressure returned to Raducanu's racquet. Would she hold her nerve, or get tight? After all, Naomi Osaka served for the match and still lost in three sets to this gutsy Canadian…
A few nervy ball tosses aside, she kept calm – even after going down 15-0, to respond with more beautiful hitting. Then, an interesting subplot as the tension continued to build.
Raducanu, facing break point on serve at 5-3, had an abrupt medical timeout after sliding down low to retrieve a ball and scraping her knee across the surface, as blood streamed down her leg.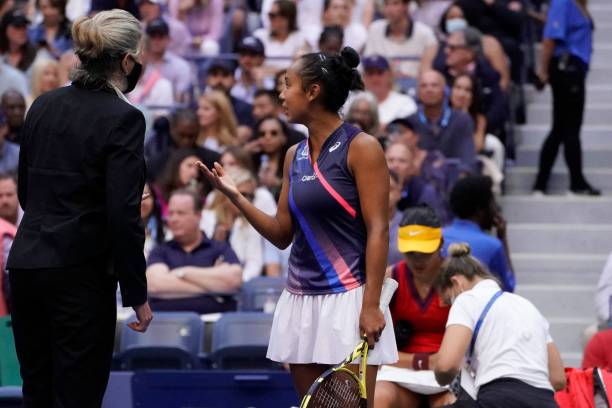 With Raducanu in earshot behind her, Fernandez fumed about the timing of the break – midway through a pivotal game – and you could sympathise with her as the rhythm was suddenly gone.
That being said, it's a rule and one that Raducanu had no say over, so getting increasingly worked up over something that couldn't be changed felt needless in the grand scheme of things.
After a five-minute interval or so, they returned to play and five points later, the evening was over but not without Raducanu saving another break point. On her third championship point, Emma produced a third ace of the match, serving 108mph out wide to etch her name in tennis history.
---
analysis on what's next for both, and others besides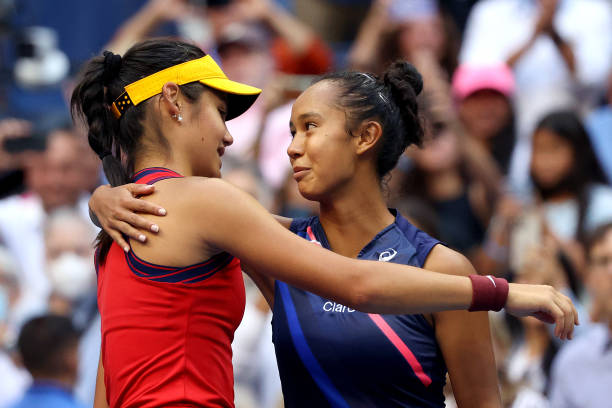 There's plenty of positives to take from this tournament, for both players, as their unprecedented attainment over the past fortnight has earned top-30 status in the WTA rankings.
Raducanu was ranked world no. 150 before this Grand Slam, #333 when her Wimbledon wildcard came through and joked after winning one of those early-round matches that she hadn't packed enough match kit, understandably expecting an early departure at SW19.
When there's no pressure on you to perform, nothing to lose, you can play without fear or expectation regardless of who is standing opposite you on court. That dynamic will shift – fairly or otherwise – after storming to win a maiden Grand Slam tournament on her second attempt.
Putting that achievement in perspective, Wimbledon finalist Karolina Pliskova (world no.3) and Elina Svitolina (world no. 4) have been on tour for over a decade without achieving that.
Now, the younger generation will feel empowered to emulate the successes of Raducanu and Fernandez – who beat Svitolina in the quarter-finals – because they've shown it can be done if you believe and execute. There's no rigours of best-of-five tennis, like we see on the men's tour.
"The most important thing is not to get satisfied and to always look for ways to improve. That's where Roger, Rafa and Novak have been so incredible over the last 15-20 years. Even after everything they've achieved, their tennis now is completely different to the beginning.

It's important she digests this, has one more round of huge celebrations and then get back to the practice courts and think, what do I have to do to get the next Slam and get to world no. 1? For me, there is no question it's where she should arrive."

– Daniela Hantuchova, former world no.5 on Amazon Prime
Maria Sakkari (#17) said she and others didn't play their best vs. Raducanu, and it'll be interesting to see that dynamic shift too: this level of exposure means more players are aware of your strengths and weaknesses, so her play won't come as much of a surprise any longer.
Although she didn't win in decisive fashion compared with her British opponent, Fernandez felt like the preemptive favourite given the considerable challenges she'd faced to reach the final.
Just like against Kerber and Sabalenka this week, she was broken early but showed great mental strength to respond well during some tricky moments early on. The New York crowd were unmistakably behind the Canadian, willing her forward, with an animated player box to boot.
So much so that after being broken at 4-5 with a forehand up-the-line winner, then responding by saving three break points and seizing her third opportunity to eventually lead 2-1 in set two, you could be forgiven for thinking another of her comebacks was on the cards.
Just as a defiant return ace opened the door for Raducanu at 5-4 on Fernandez's serve, another helped her break back in that next game. Despite a late flurry, she couldn't recover and showed her age when emotions spilled out as her fellow teenager was receiving medical treatment.
https://twitter.com/andyroddick/status/1436836038211776514
So yeah, perhaps you could say the ever-growing pressure – having repeatedly chased a lead – got to her in a match she felt confident enough in her abilities to win. The forehand failed her, serving was rather suspect and five double-faults (58% 1st serve percentage) speaks volumes.
After a wild few rounds packed with thrilling three-set matches, especially against Svitolina and Aryna Sabalenka (#2), this felt bound to happen at some stage. You can't outlast them all.
Bencic (#12) and Elise Mertens (#16) are among those top-50 players set to do battle next week in Luxembourg's WTA 250 event, while there are three WTA 500s left this year (Ostrava, Chicago, Kremlin), alongside Indian Wells at the start of October and the WTA Finals in November.
Both players now have an opportunity to break new ground elsewhere before 2021 is over, after what has proven an unforgettable few weeks' tennis. So sure, celebrate your achievements now and savour the moment but neither can afford to rest on their laurels. This is just the start.
Picture source: Getty Images