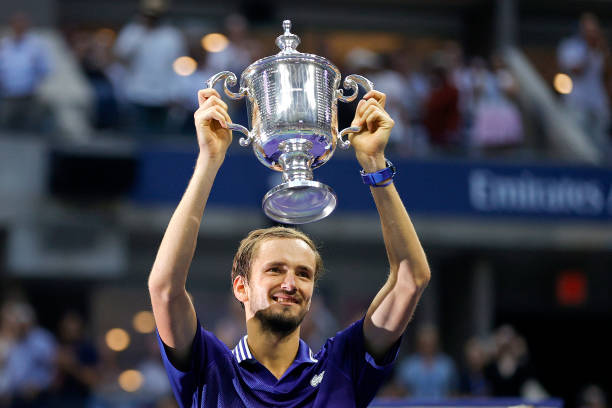 In his third Grand Slam final appearance, world no. 2 Daniil Medvedev produced a fantastic serving display and inpenetrable shot defence en route to blasting beyond a fatigued Novak Djokovic – clinching a maiden Grand Slam title, winning 6-4, 6-4, 6-4 in two hours 15 minutes.

Masterful Medvedev ends Djokovic's Golden Slam hopes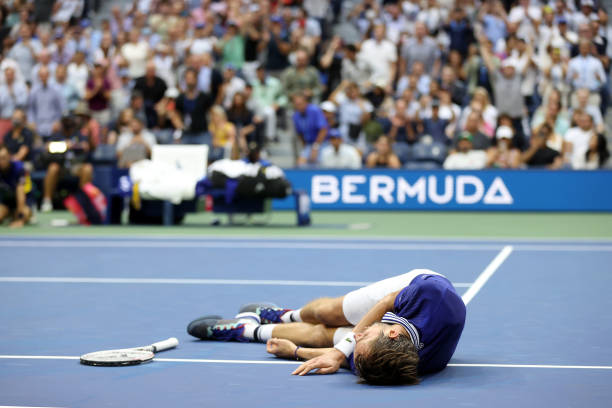 Medvedev (#2) bt. Djokovic (#1) 6-4, 6-4, 6-4
Medvedev becomes just the second men's player born in the 1990s to win a major title, after Dominic Thiem won last year's US Open
With this victory, now the third Russian to win a Grand Slam after Yevgeny Kafelnikov and Marat Safin
After 23 straight Grand Slam victories, Daniil ends Djokovic's pursuit of the year-ending Golden Slam as Rod Laver – the last man to achieve it in 1969 – watches on 
Nerves were undeniable, considering the magnitude of what Novak Djokovic was trying to achieve. Yet his Achilles heel has often been serving consistency in recent months, especially over this fortnight and those struggles began without warning, immediately on this occasion.
He needed a good second serve in the match's first point, fired a double-fault in the next one, and after a tetchy game, he was broken early – despite being 40-15 up at one stage.
By contrast, Daniil Medvedev's serving was simply sublime. He blasted a pair of aces and eventually secured a comfortable hold of serve to consolidate said break.
Going big on his second serves, the Russian had a lead to protect and did precisely that as Djokovic was punished for targeting lines more than he needed to. Couple that with more double-faults to boot, Medvedev gladly gobbled up free points in what felt like a set already lost.
Djokovic couldn't handle Medvedev's serving, as they exchanged short rallies for the most part – suiting the world no. 2 perfectly. So while Novak incorporated the serve-and-volley tactic to shorten points further with expertly-placed volleys at the net, he was fighting a losing battle.
Medvedev served for the set and took it, up 6-4 in just 36 minutes. Set two had more drama and tension, but followed a similar pattern. The pair both had to save break points – Medvedev three in his opening game – and Djokovic was made to rue a missed slice backhand mid-rally.
Although he lost the bulk of their longer shot rallies here, Djokovic was doing well enough to stay competitive. An errant forehand presented another break point opportunity and just as it looked like he'd get breathing space, something out of his control threw him off his rhythm.
The umpire called a let after music suddenly blared from the AV system speakers mid-rally, giving Medvedev another chance at a first serve and the Serbian inevitably exploded with a racquet smash after another error off his strings in a high-pressure moment he should've won.
It was an eight-minute hold for the Russian and an important one, as he then went on to break Djokovic in the very next game after another backhand slice met the net. Up a set and a break at 3-2, how could he relinquish that lead while continuing to power off shots like these?
The commentators were microanalysing Djokovic's movement, his demeanour, how he looked physically spent after 17 hours on court and the mental toll that chasing this unprecedented achievement had on him – especially after Alexander Zverev took him to the brink on Friday.
But even with all that in mind, the comparative time differences between their matches and the undeniable pressure on his shoulders, Medvedev absorbed the best (and worst) of the world number one and continued charging forward. It wasn't easy, especially as the crowd got rowdy.
Djokovic asked him the serve it out question and with a two-break cushion, Medvedev could technically afford to falter – even if he didn't want to.
He served five of his nine double-faults in set three alone and more errors were creeping into his play as the crowd screamed, shrieked, shouted and were doing their utmost to unsettle him.
Considering the price of tickets for admission, they wanted more tennis. The unsavoury scenes weren't exactly controlled well by umpire Damien Dumusois but there wasn't much he could do than repeatedly ask for quiet – not that they were intent on listening to the Frenchman's pleas.
Djokovic, saluting the energetic crowd and emotional at the final changeover, couldn't do any more as routine errors continued plaguing his play. On the third championship point, Daniil put everyone out of their misery to avenge a painful Australian Open final loss back in February.
---
contrasting emotions: Analysis on what's next for both
Like I said at the time last November, Medvedev's success – and regular high-level consistency – put him atop the small crop of those who've been tasked with ending the Big Three dominance.
It wasn't exactly a massive surprise that #1 and #2 met in the final, even if one spent five-and-a-half hours less time on court during the build-up. Djokovic's matches this past fortnight have been a long slog, a complete contrast to his Wimbledon triumph, without playing his best.
The route to this Final was much tougher, but still, the Serb wouldn't want it any other way.
Medvedev only dropped one set throughout the tournament and managed tricky situations well, against the likes of a plucky Felix Auger-Aliassime effort and Dutch qualifier Botic van de Zandschulp – who could've easily taken their matchup to five sets in the quarter-finals.
Djokovic lost six sets, the most conceded en route to any of his record-equalling 31 Grand Slam finals. Add that to his time on-court and something had to give, he's not young at 34 after all.
In a field with Roland Garros finalist Stefanos Tsitsipas, Olympic champ Alexander Zverev and more besides who burst onto the scene as teenagers, Medvedev is a late bloomer but more well-rounded than world no. 7 Matteo Berrettini, while just two months older than the Italian.
This victory and the manner in which he blasted through the competition, should provide him with renewed confidence that he'll indeed be the man succeeding Djokovic as the world's best.
When that is, who truly knows? Djokovic tried his best to play it coy in regards to achieving the Golden Slam but just like the Olympics, it felt like juggling everything would prove impossible.
He almost did it, avenging the Zverev loss – albeit in a best-of-five format – but didn't have enough in the tank left for an even tougher challenge against a motivated Medvedev, who has grown from his Finals losses and is a deserved champion. Now, it's time to build on that success.
Picture source: Getty Images