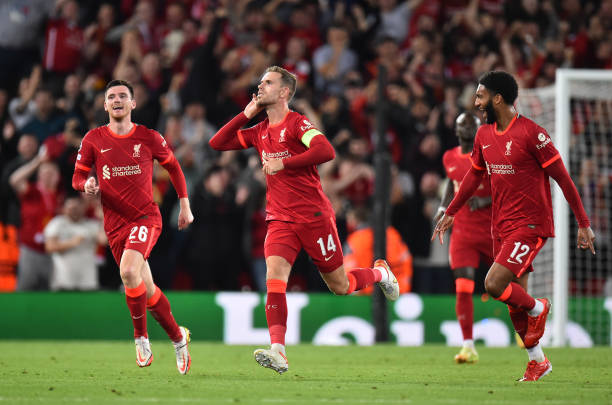 It wasn't perfect, but Liverpool got their Group B campaign underway with a narrow victory. Goals from Mohamed Salah and Jordan Henderson's thunderous half-volley helped the Reds recover from an abrupt 2-1 half-time deficit, squeezing past Milan's best efforts as the Italians acquitted themselves well on their Champions League return after a seven-year absence.

Robertson, Alexander-Arnold typify hosts' blistering start
After earning their third Premier League clean sheet of the season at Elland Road this past  weekend, this was always going to be a much different test for Jurgen Klopp's men against a familiar foe in Milan, even without talismanic forward Zlatan Ibrahimovic with an Achilles injury.
This was very much still a transitional Rossonieri side with a few key players missing. Defensive midfielder Tiemoue Bakayoko (ankle) remains sidelined until October, while playmaker Hakan Calhanoglu – who scored nine goals and created 11 assists last term – joined rivals Inter in July.
Unsurprisingly, it was the Liverpool fullback pairing who did much of the hosts' heavy lifting early on, as Andy Robertson could've easily had two assists to his name in the first five minutes.
He fizzed a dangerous cross into the area, latched onto by Divock Origi, though the Belgian couldn't direct it goalwards and watched the ball flash beyond Mike Maignan's far post.
Then, the Scotland international was again flying down the left flank and this time fed Diogo Jota, who shot goalwards and was thwarted by a big sliding block from an alert Fikayo Tomori.
Milan's tetchy start continued, as Theo Hernandez was effortlessly dispossessed by Origi and Simon Kjaer intervened to clear the ball out for a corner, from which Joel Matip's leaping header was caught by their £12.8m summer signing.
The French goalkeeper, a Ligue 1 winner with Lille last term, produced saves aplenty but was helpless to stop the deadlock being broken after just nine minutes as their onslaught continued.
Trent Alexander-Arnold played a one-two with Mohamed Salah, ghosted past Rafael Leao into the area and shot across goal, as Maignan watched the ball loop over him after an untimely deflection from another Tomori block.
Milan's slow start goes from bad to worse, momentarily…
The visitors were struggling and as cameras showed multiple players arguing in the aftermath, their situation would soon get worse. Tomori was ever-present defensively and denied Salah's surging run forward as Liverpool racked up the early corner count searching for more goals.
A minute later, the Liverpool fans erupted into ironic cheers as Polish referee Szymon Marciniak quickly pointed to the penalty spot for a handball – deciding Ismael Bennacer's outstretched arm which blocked Robertson's effort was made in an unnatural position.
It was abrupt and felt harsh, the former Arsenal man couldn't believe the decision and was booked for his troubles too – before a piece of justice was served as Maignan produced an excellent double save, first to deny Salah and then Jota's header on the rebound.
READ: Who is Bennacer? Forgotten Arsenal talent, Algeria hero now set for AC Milan move
Salah had scored 17 successive penalties prior to that save, dating back to Niger's Kassaly Daouda saving two in an African Cup of Nations qualification game three years ago this month.
Tomori felt like the only Milan defender committed to playing with conviction and without fear, as he frequently evaded opposition pressure while showing his strength in moments like these:
Salah came close again with a half-volley after some initial good tracking back by defensive midfielder Franck Kessie, before the Reds were stunned twice in transition before half-time.
First, a well-worked move saw Brahim Diaz, Alexis Saelemaekers and Kessie combine before threading through an unmarked Ante Rebic to the Ivorian's left in acres of space. He confidently drilled his effort beyond Alisson into the far corner, exploiting a disorganised backline.
Then, another incisive move saw Stefano Pioli's men burst ahead. Leao benefited from some fortune as he passed the ball through Matip's legs on the break. Rebic's cutback to Hernandez was almost denied by Robertson's goalline block, but Diaz reacted quickest to toe-poke home.
With just one minute 48 seconds between Milan's two goals, you couldn't help but wonder how their influential centre-back Virgil van Dijk was feeling as he watched it unfold from the bench.
Matip was caught ball-watching and out of position for the first, before they quite literally targeted him in the second instance. As well-executed as the goals were, the ease at which they came about was worrying to say the least from a team who've repeatedly struggled defensively.
Reds regain their lead after early second-half scare
In the first minute after half-time, Kjaer thought he'd doubled the lead against his boyhood club but thankfully for the Kop, it was ruled offside.
Two minutes later, Salah restored parity – even if he grimaced thinking he was too offside. Origi's deft flick over-the-top of Milan's defence left Salah in a one-on-one situation with Maignan.
Struggling with a leg injury sustained late in the first-half, the goalkeeper's hesitancy to come out and claim the danger in its tracks saw him punished from close-range.
Milan again struggled to establish a foothold in what had proven a volatile affair, with Liverpool looking to regain their slender lead. Both made many substitutes, as the game's tempo slowed, but Maignan was left with no chance to deny Henderson's fantastic winner from distance.
Alexander-Arnold's delivery dropped to the captain, on the edge of the area, and he struck the ball beautifully on the half-volley as it nestled into the bottom corner.
More changes came for both, with Sandro Tonali's corner and a hopeful Diaz effort from distance the only two half-chances left in the visitors. Klopp could breathe a sigh of relief, but Liverpool survived a shaky opening group game and will be hoping for much more comfortable outings.
---
Post-match comments as players, managers in reflexive mood
Klopp admitted his side got carried away by their own football, saying Milan nearly changed the tie in a 10-minute spell that surprised many considering what was a blistering start.
Robertson echoed Klopp's notion they made it harder for Fabinho to do his job effectively as the spaces in midfield got bigger before half-time and stressed how they need to learn from this.
"There wasn't much to solve [at half-time]. It was the last 10 minutes, the midfield gaps got too big, they found spaces between us, which is always dangerous, especially when the wingers start to go inside. As soon as we closed the gaps, there was no room to play.

When you play in this tournament it is against good teams, we need to be smarter. Really tough but we managed to come out second-half, play our football and enjoy it again."
Liverpool play Crystal Palace, Norwich (EFL Cup) and Brentford before an away trip to the Estadio do Dragao awaits them as Sergio Conceicao's Porto side are next on MD2 (Sept. 28).
Speaking of furious starts, Milan fullback Davide Calabria – captain with Alessio Romagnoli on the bench – admitted the two sides are accustomed to a different tempo, which was obvious early.
During an interview with Sky Sport Italia, the 24-year-old said:
"Liverpool started really strong, you can see they are accustomed to a different tempo and are one of the world's best teams, formidable players in every area. It was a difficult match, almost like several games in one.

We didn't feel afraid, were just struggling to get a grip on the situation. We did and turned the game around, but made mistakes and should've been more concentrated to avoid conceding those two goals.

It was the dream of every child, especially for me, to lead the team out in this theatre of football. It's a pity about the result, but we hope to have more chances to prove ourselves this season."
Milan play Massimiliano Allegri's Juventus on Sunday evening, hoping to continue their 100% record to start the new Serie A campaign alongside Napoli and Jose Mourinho's Roma.
His teammate, Real Madrid loanee Brahim Diaz, was left angry with their inability to manage their slender lead better after half-time. As such, they are rooted bottom of Group B to start their first Champions League campaign since 2013-14, after Atletico Madrid's goalless draw with Porto.
"We didn't start in the best way, they were very aggressive and strong. Then we brought out more of our quality, intensity to turn it around. It's hard to take the lead but I'm angry because I feel like we could've won here, so it's a pity."
Their manager Pioli meanwhile, revealed there is plenty that he and his players must learn after overseeing key differences between their Europa League last-16 finish last term and the step-up in opposition quality they find themselves competing against this season.
"This was a valuable lesson that will help us going forward, the team was motivated, we expected Liverpool to start strong, but were a bit too static and couldn't get past their first press.

When you don't have the ball, you run into danger. I leave Anfield aware this team can grow more and we still need that extra step up in terms of details, because those are what make the difference in the Champions League.

What disappoints me and we must work on is that we can do better, because we allowed Liverpool some give-and-go situations that we usually defend better against – could've created a lot more problems for their forwards and made it more difficult for them."
Picture source: Getty Images — quotes via Football Italia