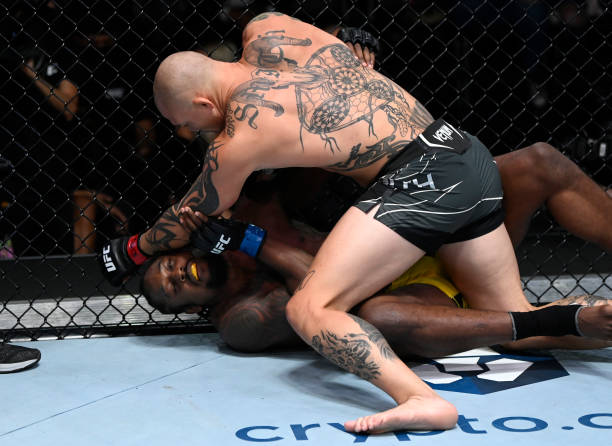 Former light-heavyweight title challenger Anthony Smith earned another R1 win, as he stormed Ryan Spann (#11). Immediately post-fight, the 33-year-old agreed a December rematch with Aleksandar Rakic (#3) as he plots a return to the top table at 205lbs. Elsewhere, there were big finishes for lightweight contender Arman Tsarukyan, middleweight Joaquin Buckley and others.
Smith speeds to another emphatic victory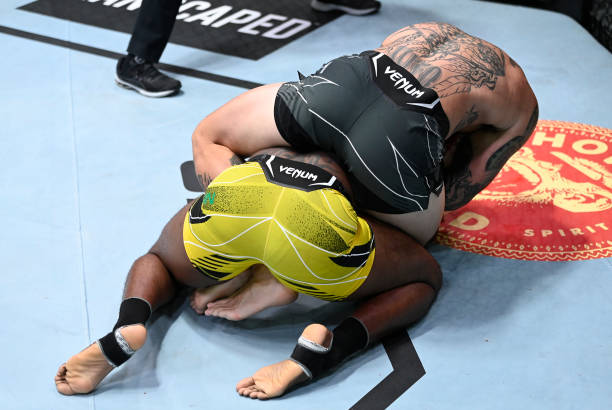 R1, 3:47 – Anthony Smith (#6) beats Ryan Spann (#11) via submission (rear-naked choke)
"Man, I'm just so fucking sick of being shit on over here, all the time. Anthony Smith sucks, he only beats old guys, now they're not ranked high enough, fuck you guys, I'm out here beating whoever they put in-front of me, I don't make those fucking decisions.

I want Aleksandar Rakic. He's just sitting around, not next for the title, either I get that fight or I'm going to skip him. That's what I want, someone ahead of me and I earned that. He made the right decisions, I was just a step ahead."

Smith's emotionally charged post-fight interview with Michael Bisping
They say, ask and you shall receive. Smith – who suffered dominant main event defeats by upcoming title challenger Glover Teixeira and Rakic last year after the COVID-enforced lockdown – may have a golden chance to level the score with the latter and finish 2021 on a high.
You don't get paid for overtime, which is why Smith only needed 18 strikes to score two knockdowns and earn a submission opportunity he wouldn't relinquish against Spann.
Rakic (#3) is aware of the awkward position he currently finds himself in, with Dominick Reyes' latest conqueror Jiri Prochazka (#2) next in-line to face the Blachowicz-Teixeira winner and himself having beat Thiago Santos during an underwhelming bout at UFC 259 in March.
It's why a rematch with Smith – who he cruised past 13 months ago – makes the most sense in terms of activity, rather than waiting for a future title shot that might bypass him if he's not careful. Santos (#4) is booked (vs. Johnny Walker), Reyes (#5) unlikely to feature for a while.
There were moments where Smith, just like Spann, was on wobbly legs and is why many continue to disrespect the former title challenger – he absorbs too much damage for comfort, isn't the best boxer and could've finished this matchup even sooner than he eventually did.
However, he's doing the dirty work by wiping out lower-ranked contenders who frequently call his name, so you can understand the frustration. Whether he's learned the lessons from recent defeats to rectify them though against that level of opposition, is a question only he can answer.
---
Cutelaba crumbles Clark, adds credible 15 minutes to the tank
After two first-round knockout defeats and a split draw, Moldovan light-heavyweight Ion Cutelaba is finally back in the win column and had to do it the hard way against Devin Clark – despite dominating a co-main event that looked likely to end on multiple occasions early on.
Cutelaba started purposefully (53-18 R1 total strikes), scored a knockdown and three takedowns as you could hear Clark's father David audibly shouting for his son to recover, then respond.
Clark, who expended plenty of energy on his way to the Octagon, then had to step on the pedal as Cutelaba's output understandably slowed. After being on the receiving end of a 10-8 first round, he was taken down twice more in the second stanza as Ion continued to wear on him.
R3 featured more gruelling action for Clark to endure. Having suffered submission defeats against both main event fighters, the 31-year-old could've easily been put to sleep as Cutelaba tried but couldn't secure his neck in a choke and the takedowns (8) continued increasing.
Clark produced a powerful finish as they broke from the mat for the final few seconds, but his late efforts were futile against a dominant Cutelaba display – happy to have gone the distance.
"The Hulk is back! The next fight, against [someone] in the top."
---
improved lipski inflicts first loss for bohm on German's debut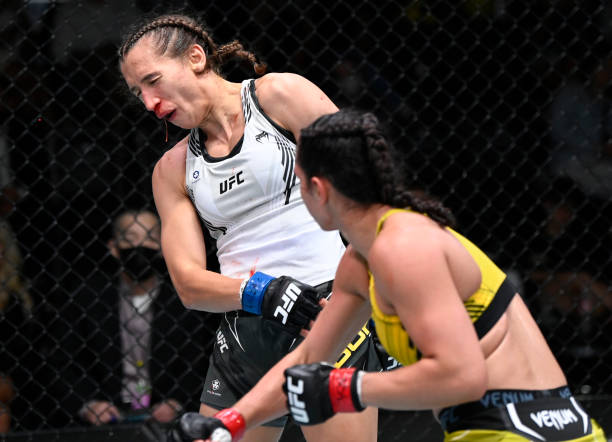 It's difficult to confidently say how much Ariane Lipski has improved on this display, considering she suffered successive second-round TKO defeats by Antonina Shevchenko and Montana De La Rosa, but the Brazilian simply proved too much for Mandy Bohm to handle on her UFC debut.
Heading into this matchup, Lipski had the same amount of losses as Bohn had MMA victories, so it wasn't exactly surprising to see the experience difference play out in the Octagon.
The contrast in their intensity felt like a sparring session. Bohn was thoroughly outworked across 15 minutes (116-47 total strikes), knocked down once in the final two rounds and did well to reach the final horn during an underwhelming showing considering she came highly esteemed.
---
Tsarukyan makes statement against gamely Giagos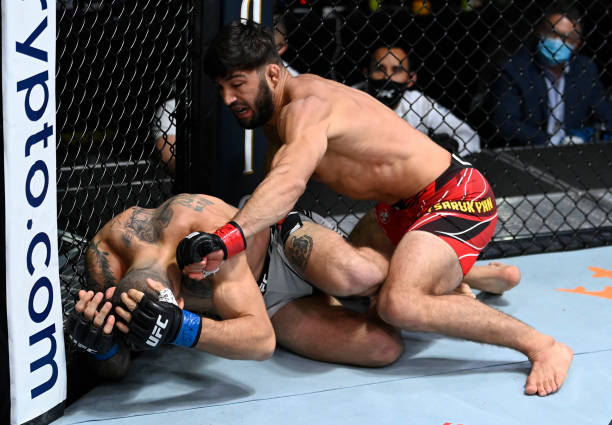 Christos Giagos had the unenviable task of facing a ranked lightweight in Arman Tsarukyan (#14) many are content to avoid, and he found out why within two minutes of their bout here.
Despite a promising start, which saw him absorb damage early and find himself in top position on the ground after scrambling from a failed Tsarukyan takedown attempt, once they returned to their feet, he was second best in the clinch.
He threw a kick which Tsarukyan partially caught, then was stunned hard backwards by a left hook. That proved the beginning of the end, as the 24-year-old unleashed 20 unanswered strikes before referee Herb Dean called a stop to a contest which was just starting to get interesting.
Afterwards, the 155lb prospect stressed how important earning a finish was, and had an intriguing callout in mind too – one that has been brewing on social media of late.
"The last four fights I had, all decision, [UFC matchmaker] Sean Shelby said 'you have to finish if you want to grow up', and now I did it. Now, I think I can fight top 5-10 guys, let's go, I'm ready! I want to beat [Dan] Hooker, I heard he has problems [with getting his fight] next week, if UFC want, I can change him."
---
Maness recovers from troubling r1 knockdown in style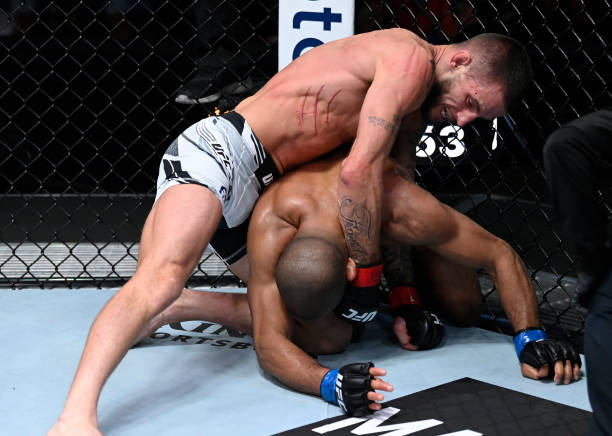 Nate Maness lived up to his Mayhem nickname, earning a comeback victory over Contender Series graduate Tony Gravely in a back-and-forth bantamweight bout ending with a TKO finish.
In R1, Maness outworked Gravely (45-32 total strikes) but referee Keith Peterson almost stopped it after the 30-year-old was stung to the canvas with a right hand just before the horn sounded.
Importantly, he used that minute of rest to recover and get his wits about him – ignoring the corner's advice to kick his legs back into gear, almost as if he knew they were about to witness a remarkable turnaround. Gravely applied forward pressure sensing Maness was still vulnerable.
While understandable, his defence left a lot to be desired and Maness' counterstriking during their boxing exchanges led to this punch flurry that ended his evening midway through R2:
---
Buckley kicks off main card with gritty R3 KO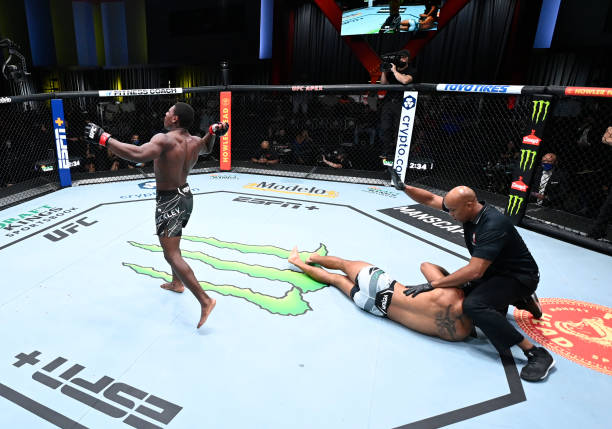 After the Joaquin Buckley hype train was abruptly stalled by an Alessio Di Chirico head kick in mid-January, it was always interesting to see how the 27-year-old would respond – not least against a Brazilian fighter in Antonio Arroyo quite literally battling for his job in this matchup.
The 32-year-old has been unlucky with scheduled bouts falling through but had suffered unanimous decision losses to Andre Muniz and most recently Deron Winn since earning a UFC contract at the second time of asking after winning on the Contender Series two summers ago.
That was no excuse for his risk-averse approach against another tough test in Buckley, as the pair exchanged kicks aplenty through the first two rounds – to the head, body and legs.
While Arroyo had success at times with this kickboxing approach, it was more fleeting than sustained and Buckley rode his best strikes well after identifying his tactic to target head kicks.
That happened just before the finishing sequence too, as Arroyo threw a knee to the body and was meant with a looping right hand on exit. A sharp uppercut sent him on his way down to the canvas, before Buckley rained down more hammer fists and referee Mark Smith stepped in.
"That was a beautiful fight for me and Antonio, I know he was fighting for his job. UFC, keep this man, keep him."

Buckley during his interview, saying he would've likely lost a decision
---
Prelim card results as history made, big debuts and more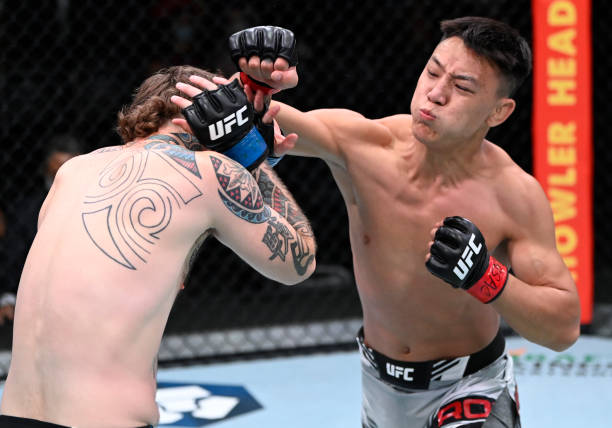 In the evening's featured prelim, Contender Series graduate Tafon Nchukwi returned to winning ways against Mike Rodriguez during a scrappy light-heavyweight bout. Rodriguez was busier in round two, but Nchukwi's forward pressure ultimately proved too much for him to handle.
As for the women's bantamweights, Raquel Pennington responded well after losing the first round to earn a hard-fought decision win over Pannie Kianzad (#12) and the former title challenger will return to the divisional top-15 rankings in next week's update.
In a catchweight bout (158lbs), Rong Zhu made history by becoming the first fighter born in the 2000s to win inside the Octagon with a late third-round TKO win over Brandon Jenkins. The only blemish was missing weight for an original lightweight bout, scheduled vs. Dakota Bush.
Jenkins, a short-notice replacement after Bush's positive COVID-19 test during fight week, performed admirably given the circumstances but couldn't handle the Chinese' aggression as he bounced back after suffering a unanimous decision defeat by Rodrigo Vargas at UFC 261.
At bantamweight, Montel Jackson earned his second win of 2021 with a commanding decision victory over JP Buys (30-27 x 3). He completed four of his five takedown attempts and recorded a whopping four knockdowns too – two in R2 and R3 – so will be disappointed he couldn't finish.
After successive Performance of the Night bonuses last year on the Invicta scene, 22-year-old women's flyweight prospect Erin Blanchfield produced a dominant UFC debut showing against Sarah Alpar – winning 30-25, 30-25, 30-26 on the scorecards. She would've loved a finish though.
His debut at 170lbs was certainly impressive earlier this year but Impa Kasanganay's welterweight run was halted, at least for now, as Carlston Harris earned a first-round TKO win over the promising 27-year-old, who was another of the Contender Series graduates on this card.
Heili Alateng will be ruing his decision to repeatedly grab the cage against Gustavo Lopez, as the Chinese 29-year-old was punished with a costly point deduction during their bantamweight bout – meaning a 29-28 win across all three judges scorecards turned into a UD draw instead.
In the night's opener, women's flyweight Hannah Goldy stepped in on short notice after Welsh youngster Cory McKenna withdrew (undisclosed reasons) and shone with a first-round victory after securing an armbar against Emily Whitmire – the latter's third straight submission defeat.
Goldy, another Contender Series graduate, ended a two-fight losing streak after unanimous decision defeats by Miranda Granger in Aug. 2019 and Diana Belbita back in late July.
Picture source: Getty Images