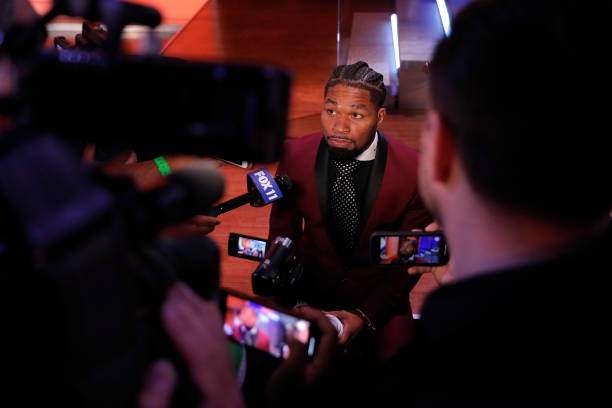 Ahead of his latest world title attempt on November 20, two-time welterweight champion Shawn Porter (31-3-1, 17 KOs) described Terence Crawford as the pinnacle of opposition. Can he end a run of close yet losing decisions against the division's elite, or will it be more of the same?
Porter's push for greatness awaits
Kell Brook (2014), Keith Thurman (2016) and current WBC, IBF champion Errol Spence Jr (2019) – a trio of competitive but closely-fought losses that Porter has endured at world level.
At the Mandalay Bay in Las Vegas on November 20, Porter will be hoping that trend shifts his way against arguably the best of them all: WBO welterweight titlist Terence Crawford. Back in 2019, he was engrossed in a Fight of the Year showdown with Spence but lost via split decision.
At the time, I wrote:
"Champion-vs-champion, this bout certainly lived up to the billing and then some. Precisely the breathless, frantic, unpredictable battle justifying months of waiting in the build-up, it's special matches like these which boxing fans worldwide long for on a more regular basis.

It'll be interesting to see where Porter goes from here, having toppled Garcia himself for the WBC title last September. Showtime turns 32 next month and should be encouraged by his display here, despite suffering a third career-defeat – especially having coming in as a heavy underdog."
In truth, not much has changed since then.
Partly because of the COVID-19 pandemic, taking over the world six months later and still lingers today, but also there isn't much incentive for him to fight down with the Dillian Whyte-level risks involved in losing any potential mandatory position by being bullish and wanting activity.
After all, Vergil Ortiz Jr's win over former title challenger Egidijus Kavaliauskas on August 14 reaffirmed his position as the #1 WBO mandatory. Thankfully for Porter, they had already ordered this bout weeks beforehand – not least after Pacquiao-Crawford fell through.
Also read: Crawford excited to silence his doubters vs. Porter in two months time
In the interim, Porter has been honing his commentary skills with analysis in 2021.
He's developed an entertaining podcast with three close friends, recorded over five million views on two channels and his humble personality continues to shine through with every episode.
The last paragraph may read like the start of one, but this article isn't part of the Porter fanclub – instead an observation that he's certainly adapted well with the unprecedented times and ensured he'll be a hot commodity among rival TV networks once the day comes to retire.
After a disheartening defeat by Yordenis Ugas last month, eight-division world champion Manny Pacquiao opted to do just that on Monday. As Porter insisted two months ago, and reasserted more recently, there's still plenty of life in him yet. Will that be enough though?
As quoted by BoxingRec, he said this in a recent interview:
"The best thing about me is I'm constantly fighting, beating the top guys in the division. My mindset is to stay healthy, continue getting into the ring with the world's best guys and putting on the best performances.

Right now, in terms of calibre of opponent and timing, Crawford is the pinnacle. It doesn't get any better than that. When it comes to resiliency and staying power, there is no-one in the division better than I am.

My whole thing has always been that 'until I'm done with this, I'm going to get the most out of it. My saying is to ride until the wheels fall off', I don't feel they're anywhere close to falling off."
He cited Spence's injuries as a key reason why he's not viewing his former foe as #1, but that could all change again in a matter of months given how quickly boxing can change at the top.
One thing is key though: these comments show he can't afford to rest on his laurels, whether that's toughness or staying power, because it hasn't boded particularly well for him in the past.
Picture source: Getty Images