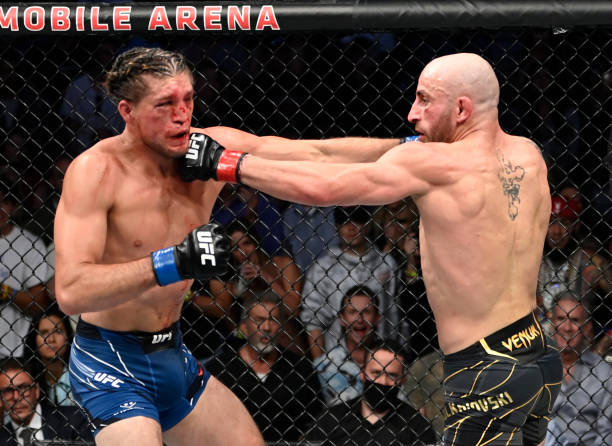 Alexander Volkanovski survived a R3 frenzy, where he was knocked down with a bullet left-hand and recovered from two tight submission manoevures before outlasting Brian Ortega (#2) via UD to retain his featherweight title: 49-46, 50-45, 50-44. Valentina Shevchenko made the sixth defence of her flyweight crown against Lauren Murphy, while there were other big winners too.

Volkanovski outclasses Ortega, despite dangerous moments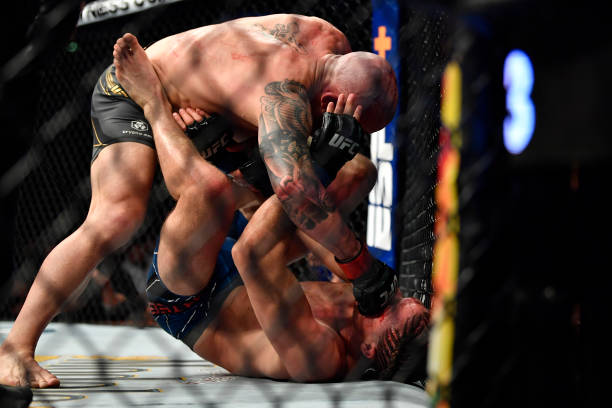 49-46, 50-45, 50-44: Volkanovski beats Ortega, second defence of UFC featherweight title
Brian Ortega and his team made their way to the Octagon with fluorescent Purge masks, the franchise's theme song booming in the background and the whole entrance scene felt ominous – this was his second title fight opportunity and he wanted to Purge the champ into submission.
Alexander Volkanovski, armed with a 19-fight win streak, had other ideas. Already this week, the confident Australian said Ortega wasn't worthy of being the featherweight titleholder.
He still had to back up his bullish beliefs and did precisely that, though Ortega suddenly made it hard for him midway through round three as both showcased remarkable toughness to grit their way through dangerous moments where the fight could've easily been finished on either side.
"The preparation, I told ya, I'm a normal human being, it's just hard work that got me to where I am. Sky is the limit for any of you, to all those doubters, I'm gonna prove you wrong every time – bring it!

Some of the submissions were pretty tight, for some reason I stayed on the ground. [Is now finally the time for some respect on your name?] About fucking time, keep doubting me, I'll be the underdog until the day I die."

Volkanovski relishing proving his doubters wrong
Volkanovski, armed with his Australian-themed walkout, gave the vibe that he was on a US business trip and produced a workmanlike showing early on.
He began with a kick-heavy approach, feinted plenty to try and suss out Ortega's tells, and continued closing striking distance effortlessly as the pair exchanged solid jabs in the pocket.
Ortega showed fast hands to counter well, staying patient and was catching most of the champion's body kicks as you could feel this matchup starting to heat up through five minutes.
Volkanovski responded with more punch-perfect right hand punches, capitalising on Ortega's limited head movement. A huge elbow, a nice one-two combo and more sharp strikes stung the challenger as he was being punished for essentially reactive boxing.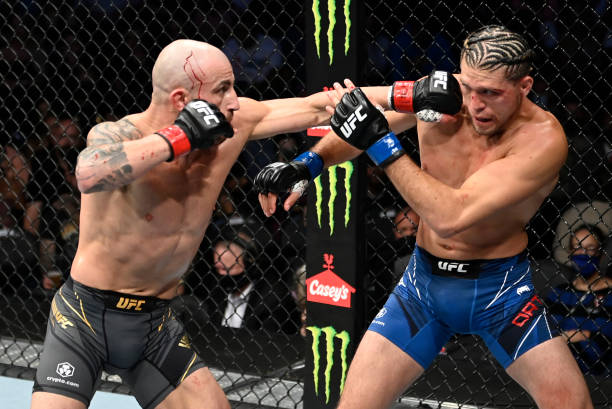 His corner pulled no punches before round three: "we need to change, he's [out] pointing you," was the verdict and they weren't wrong.
Ortega needed to let his offense flow and quickly, but that proved easier said than done. The champion landed a beautifully-timed big right hand as the leg kicks continued and an accidental head clash caught both.
They exchanged combinations in the pocket, before the fight was drastically turned on its head within seconds.
Ortega rapidly rocked Volkanovski with a sharp left hand, then almost instantly rolled on the mat to secure a tightly-held guillotine choke. Just like that, the complexion of this clash had been flipped on its head without warning.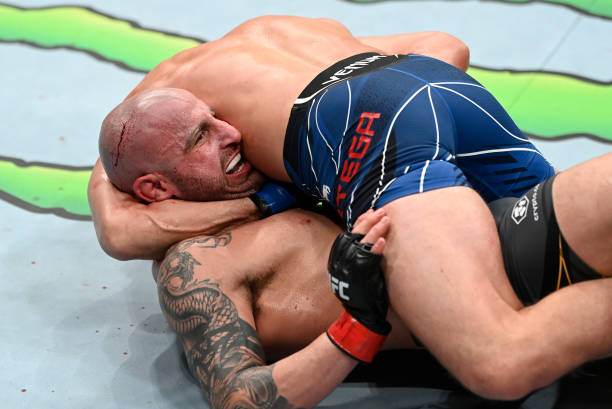 Somehow, Volk fought off the squeeze and responded angrily with hammer fists in top position against the fence. Ortega responded with another submission, this time a triangle choke, taking advantage as the champion was again pulled into deep water on the mat.
Another tight squeeze and Volkanovski responded once more by almost finishing the fight with ground-and-pound as referee Herb Dean watched things unfold in a truly remarkable round.
"I thought it [the fight] was done, that's what we train for, that little bastard is tough as hell, I heard him gargling but he slipped out [of my submissions].

Nothing but love for him, we talked our shit but thanks to you fans, it's time to go back, climb the ladder, I'm evolving, even though we came up short, we're not defined by how we lose, it's how we come back."

Ortega's post-fight interview in the Octagon, reflecting on a back-and-forth duel
After a long doctor assessment, Ortega was medically cleared to continue and naturally, the champion could smell blood in the water. His forward pressure returned to the fore, though Ortega went back to the one weapon creating all his success at this stage: unpredictable chokes.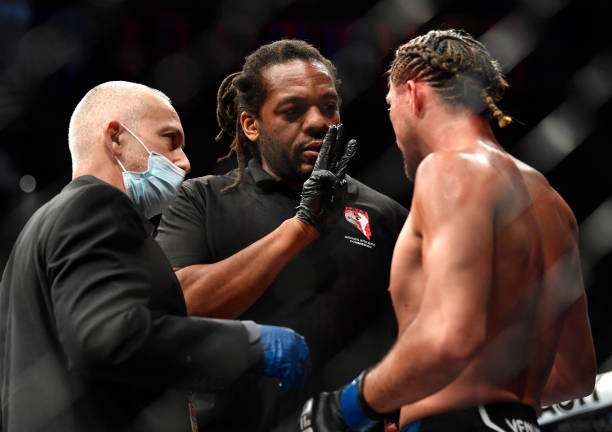 This one didn't last as long and just like in R3, Volkanovski's gruelling ground-and-pound resumed. Punishing elbows, nasty punches, chopping rights and lefts, big shots all raining down to hit the challenger clean – somehow he still survived that barrage.
It was a tale of two corners before the final round, with Volkanovski looking fresh and Ortega anything but. His corner stressed the need for a finish but their man had already emptied his tank with multiple choke attempts. How would he manage to create another one?
Volkanovski was fighting sensibly but didn't exactly shy away from trading shots, almost inviting punishment despite being comfortably ahead on the scorecards.
They exchanged big shots in the pocket, suddenly Ortega had a second wind and connected on a few fast punch flurries as time ticked down. Last chance saloon…
It was rather unsettling to see Volkanovski happily beckoning the challenger towards him, as Ortega narrowly missed with a flying knee before landing another punch combo to finish strong.
Volkanovski showed his championship mettle while Ortega – buoyed on by the partisan crowd – gave his all to try shifting this matchup his way, when it looked inevitable he would be outpointed. It eventually happened, but not without some big moments through 25 minutes.
---
Shevchenko in cruise control en route to sixth title defence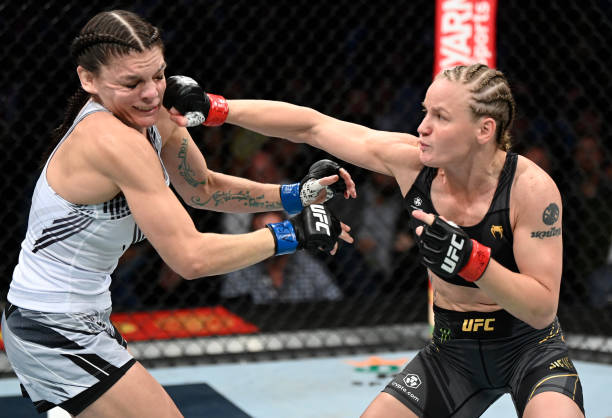 R4, 4:00 – Shevchenko beats Murphy via TKO (punches, elbows), retains flyweight title
On a night where Valentina Shevchenko overtook former bantamweight champion Ronda Rousey to log the second-most title fight wins in women's UFC history (7), the 33-year-old reduced Lauren Murphy to little more than a gun-shy adversary from the opening exchanges.
Two-division champion Amanda Nunes (9) leads the way and could add a tenth before the year is over, after her rescheduled bantamweight title defence vs. Julianna Pena was booked for UFC 269 on December 11. Simply put, nights like these are why fans want a trilogy between the pair.
Murphy's relative inactivity left the 19,029 in attendance at the T-Mobile Arena feeling underwhelmed for large periods, as the #3 ranked 125lb contender felt content just to be in there with the champion, rather than testing her with regular strikes or any real sense of urgency.
Even with her huge underdog tag, the ridiculous betting numbers and all, Murphy – durability aside – needed to do something to gain the champion's respect.
Through five minutes, Murphy was being blasted by persistent right hand punches. One almost closed her left eye four minutes in, others were repeatedly stumbling the challenger back.
Biting on most of Shevchenko's feints, taken down with 20 seconds left in R1, the ending felt like it would arrive whenever the former Muay-Thai fighter wanted it to.
Murphy tried hard for a takedown in R2 but Valentina defended it well, then wrestled her to the ground rather effortlessly with two minutes left in the round. It typified the disparity between them, as one was doing as she pleased while the other looked lost trying to stay competitive.
That feeling was accentuated by her corner, who praised the 38-year-old for being able to stay in there and not be blown away – but that was disingenous analysis at best.
Murphy didn't want to close the striking distance because she was quite literally walking through fire and being picked apart at will whenever they exchanged in the pocket.
Her left quad was cherry red from Shevchenko's persistent kicks, while a whisker away from icing the #3 contender cold with head kicks on a few occasions.
Murphy was clearly overthinking her offense and it was jarring to watch, as R4 was more of the same. Shevchenko had continued to catch her clean with check right hooks and the accumulation caught up to her, staggering as she was knocked down.
Despite surviving on the ground briefly and trying to delay the inevitable, Murphy couldn't stop Shevchenko shifting into a better position to land hammer fists, elbows and the like before referee Keith Peterson finally waved this onslaught off.
"It feels amazing, the best feeling [to win like this], martial arts is everything.

When you feel this is the moment you can get your finish, I saw the position, just started to elbow, elbow, elbow and knew it was coming soon! I'm ready for anyone, no matter weight class, I'm here and I'm the champion."
---
Rest of the main card, packed with contrasting victories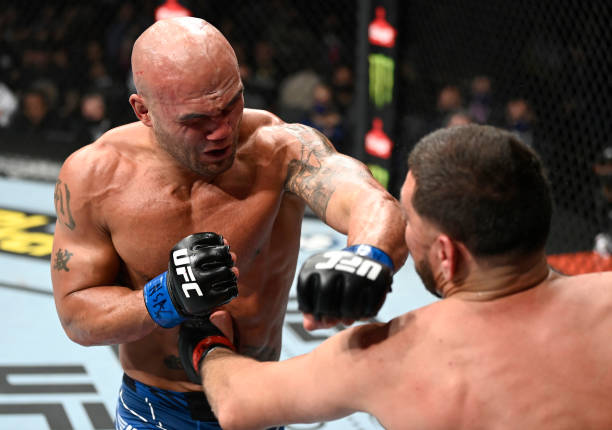 Relentless Robbie ruins Diaz's return
Nick Diaz's long-awaited return started slowly, ignited with heavy output and ended abruptly with a third-round TKO but he and former foe Robbie Lawler engaged in a strike-heavy boxing battle lasting longer than most would've expected after watching the opening minute unfold.
This was, after all, a rematch 17 years in the making and Diaz – who hadn't fought since January 2015 – was an unknown quantity given his inactivity and fight shape. Rumours claimed he sustained a concussion during training camp, hence why he insisted this take place at 185lbs.
Diaz threw more than 220 strikes in the first seven minutes, most of them peppering punch combinations after absorbing damage aplenty from Lawler's purposeful start.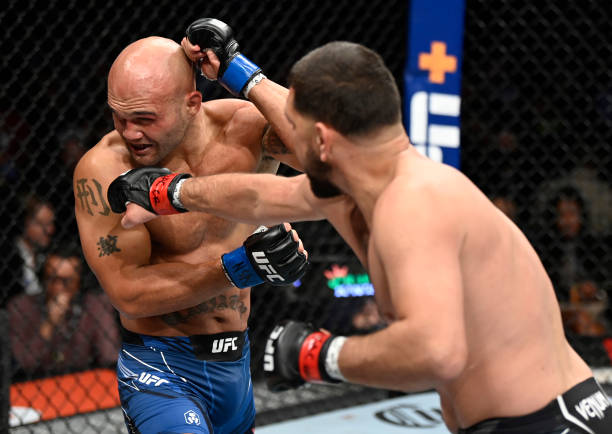 He was hurt early in R2 by liver shots and Lawler could sense it, so maintained forward pressure despite being lit up by those same boxing combos – although his punches were more impactful.
Damage accumulation saw Diaz knocked down and despite Lawler waving him back up to continue, the 38-year-old refused to return standing as referee Jason Herzog deemed his sheepish response on the ground a verbal retirement.
Blaydes back to his bullish ways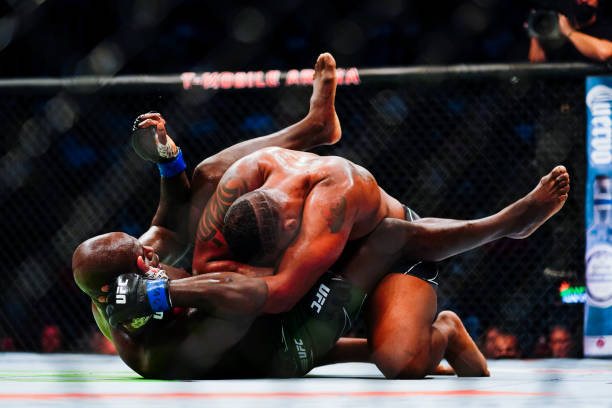 After being blasted in an upset loss against Derrick Lewis earlier this year, Curtis Blaydes (#4) returned to winning ways with a workmanlike showing against Jairzinho Rozenstruik (#6), but the heavyweight fought for a round with a shut eye in a matchup that didn't exactly electrify fans.
The 30-year-old became the 12th fighter in promotional history with 60+ takedowns after a leg sweep against the fence early in R1, sticking to Bigi Boy like glue on the ground and landing multiple strikes – hammer fists and body shots.
Rozenstruik eventually got to his feet and fired an elbow on the break, though was being outboxed to finish the opening stanza. Blaydes evaded most of his big power shots, boxing smart with a chorus of boos reverberating around the T-Mobile Arena given the pair's relative inactivity.
Rozenstruik committed to a risky big jumping knee, which caught Blaydes and the NJCAA All-American responded with a timely takedown to finish R2 strong under duress.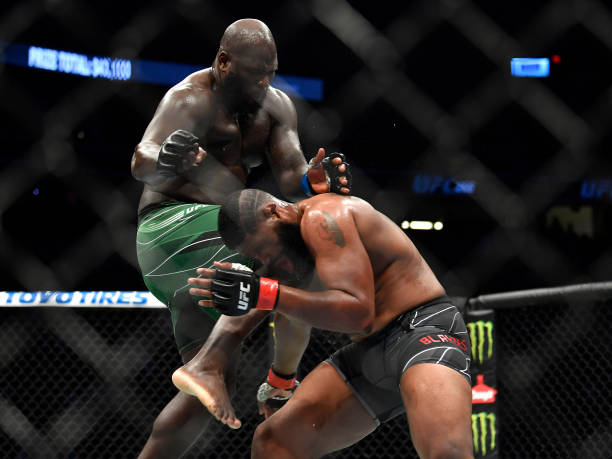 He was needlessly attracting danger by charging forward for takedown attempts with his eyes closed, but Rozenstruik didn't take advantage of those vulnerabilities as he bided time waiting for a moment to press – frustratingly not letting his jab go.
Blaydes blasted a takedown, did well to secure it after they scrambled on the mat and continued wearing on Rozenstruik who wilted in underwhelming fashion.
"The third round, it was hard to see and I had to play it safe – not the fight fans wanted, but had to get grimy. I want the winner or loser of Ngannou vs. Gane, Stipe [Miocic] or Jon [Jones]."

Blaydes' verdict afterwards and an insight into possible future opponents
Andrade accelerates past Calvillo with historic win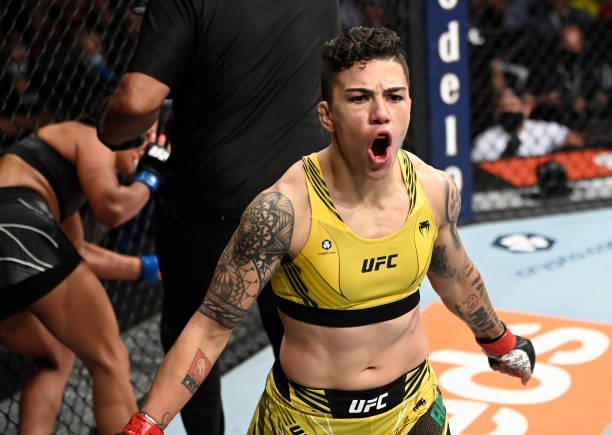 Jessica Andrade retained her #1 spot in the women's flyweight division with a commanding first-round TKO victory (punches) against a gamely challenger in Cynthia Calvillo (#5), reinforcing the notion that there are truly levels to the fight game with relative ease.
This was the Brazilian's 20th UFC fight, on her 30th birthday and the former strawweight champion immediately went to work stalking her prey taking centre ring, forcing Calvillo backwards toward the fence.
You could see the power disparity between them: Calvillo recoiling back whenever she was hit on the chin, while Andrade loaded up on kicks, jabs and swarming attacks.
Just before the horn, Calvillo was flattened by another of Andrade's powerful punch flurries and despite moving well, the 29-year-old was punished for being overtly defensive from the off, failing to create separation or earn much respect with her punches.
Andrade becomes the first woman to stop Calvillo, bouncing back from a dominant second-round TKO defeat by Shevchenko at UFC 261 in late April.
She called for a trilogy fight against current strawweight champion Rose Namajunas or rematch vs. Zhang Weili, with the pair set to duel for gold once more at UFC 268 on November 6.
Statistic: Andrade has the second-most wins in women's UFC history (13) and second-most finishes (7), both behind compatriot and reigning double-champion Nunes (14, 10 respectively).
---
Prelims as Hooker returns, Dvalishvili and Daukaus' big wins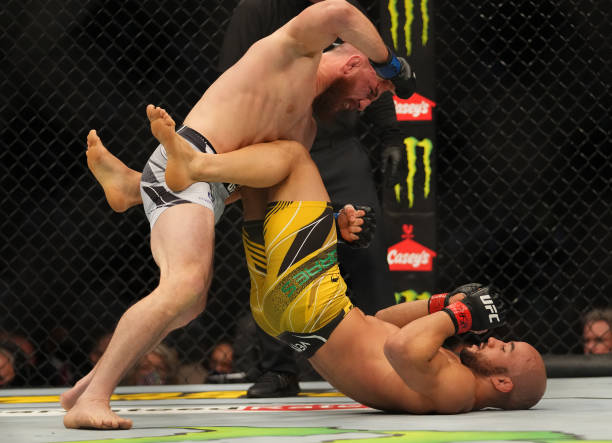 In the night's featured prelim, top-10 bantamweights collided as highly-rated Georgian prospect Merab Dvalishvili (#10) overcame a furious start by former title challenger Marlon Moraes (#6) to overwhelm the Brazilian and swarm him into submission late in R2 of a back-and-forth clash.
If R3 of Volkanovski-Ortega was a round of the year contender, then R1 of this matchup belonged in exactly the same breath as Dvalishvili had to retreat after being badly stung by Moraes' blistering hand speed and combos – biding his time with the Brazilian emptying his gas tank:
If Dvalishvili wasn't feared in the division before, that's changed. This is the same man who started his UFC career 0-2 and has won seven straight but recorded no stoppage wins since a R1 spinning backfist win vs. Bellator's highly-rated Raufeon Stots (#2 BW) four years ago. Until now.
Both fighters had travel problems and multiple issues in the build-up to this contest, but lightweight contender Dan Hooker (#8) snapped a two-fight losing skid in impressive fashion – including some wrestling in R3 – outclassing Germany's Nasrat Haqparast over 15 minutes.
Chris Daukaus' inspiring heavyweight surge continued with an emphatic second-round TKO finish (punches and elbows) against a returning Shamil Abdurakhimov, as the Philadelphia police officer earned a fourth straight win since signing with the promotion last year.
After needing less than a round to beat Parker Porter, Rodrigo Nascimento and Aleksei Oleinik in a six-month span, the 32-year-old earned another POTN bonus ($50,000).
Crucially here, the birthday boy and was taken into a second round for the first time since his last loss, a TKO (punches) by Azunna Anyanwa for the Cage Fury heavyweight strap in March 2019.
He scored a knockdown late in the first round and Abdurakhimov, making his first appearance since Blaydes blasted him two years ago this month, had no answer for his punching power:
After a competitive first round, Brazilian flyweight Talia Santos was comfortable and commanding en route to a third straight UD win – this time against veteran Roxanne Modafferi.
Having beaten Molly McCann and Gillian Robertson post-lockdown last year, the 28-year-old (#12) should rise into the top-10 in next week's rankings update.
Elsewhere, lightweight Jalin Turner needed just over four minutes to snap Uros Medic's unbeaten 7-0 MMA streak with a rear-naked choke – his second straight submission victory.
Contender Series graduate Nick Maximov's unblemish streak remained though, as he did enough to outlast Cody Brundage after 15 minutes with three 29-28 scorecards.
Matthew Semelsberger joins former light-heavyweight contender Anthony Johnson – now at Bellator – as the only fighter with two knockout wins in under 20 seconds across UFC history, after landing a punch-perfect counter right hook to send Martin Sano Jr. out in 15 seconds.
In the night's opener, Jonathan Pearce earned a second-round submission win (via rear-naked choke) against Omar Morales, as the Contender Series graduate earned a second successive victory – having earned a second-round TKO victory over Kai Kamaka III last November.
Picture source: Getty Images