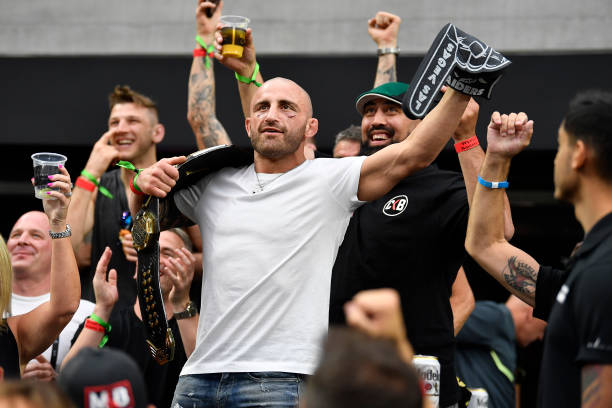 After more than 400 days out of the Octagon, Alexander Volkanovski successfully defended his UFC featherweight title with a UD win over Brian Ortega in a memorable thriller over the weekend. The 32-year-old is eager to return soon – and didn't rule out the possibility of a move to 155lbs, with former champ Max Holloway (#1) vs. Yair Rodriguez (#3) set for mid-November.
Volkanovski happy to have entertained in back-and-forth clash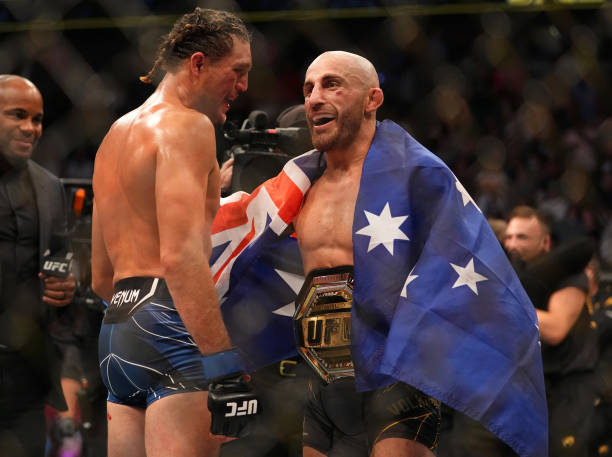 10 UFC wins, a 20-fight winning streak – dating back eight years – Alexander Volkanovski certainly won fans with his resilient effort against Brian Ortega (#2) on Saturday night, while cementing an ever-growing reputation as one of the world's pound-for-pound best in the sport.
Whether you agree or dispute the split decision result favouring Volk during last summer's highly-anticipated rematch against former champion Max Holloway, one thing is clear.
Between them, they are a level above the rest of their divisional peers at 145lbs – like Volkanovski's CKB teammate Israel Adesanya and former champ Robert Whittaker at 185.
During the post-fight news conference, Volkanovski reflected on an eventful main event. This was his first Fight of the Night award since earning a second-round TKO win over Chad Mendes at UFC 232 three years ago, which also happens to be his most recent finish.
"I talked about getting the finish, wanted to, but at least it was a war and entertainment. Straight after, I was like fuck, I didn't get the finish, but then you come out and everyone's just absolutely buzzin."
On being able to survive Ortega's rapid guillotine choke attempt in R3:
"It was deep, it was oh fuck I'm about to lose the belt deep, as deep as it could get. I remember I was making fucking weird noises."
Praising the challenger's durability:
"I thought I was going to break him, I thought he was after the third round, but the ref [Herb Dean] decided to give him a minute to ask him questions.

He wasn't answering them right, I was looking… he couldn't even see where he was going. I was like, that's it, it's over. I go in there, start putting pressure, and he's firing back just like nothing happened. He's tough, durable, credit to him."
---
So, what's next for the champ? assessing logjam at 145 and 155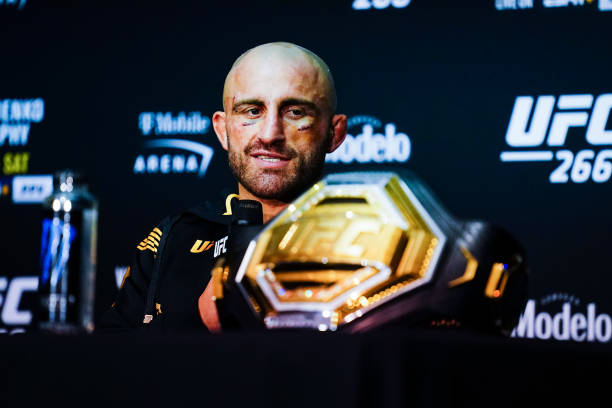 Although the current champion would prefer not to, a trilogy (and possibly more) feels inevitable between him and Holloway at some stage in future after the way their second fight ended.
After an undisclosed injury saw the Holloway vs Yair Rodriguez scheduled matchup postponed until November, Volkanovski isn't in a mood to wait for the winner – especially considering the current landscape as far as the 32-year-old's travel situation is concerned.
"We're gonna talk to the family, the team, and see what's our best move. Maybe we ride it out here, just smash some fights out, everyone just build everything up and kick some ass."

Volkanovski remains undecided about his immediate future, considering the COVID-19 lockdowns and visas proving problematic for his family and team
Volkanovski's CKB teammate Dan Hooker called out Beneil Dariush (#3) after his win over Nasrat Haqparast and as far as lightweights are concerned, most of the top few are booked.
Hypothetically speaking…
Featherweight
Holloway (#1) vs Rodriguez (#3) on November 13
Chan Sung Jung (#4) beat Dan Ige on June 20
Calvin Kattar (#5) hasn't been seen since January loss
Arnold Allen (#6) riding an eight-fight UFC win streak, beat Sodiq Yusuff on April 10
Lightweight
Charles Oliveira (C) vs Dustin Poirier (#1), UFC 269
Justin Gaethje (#2) vs Michael Chandler (#4), UFC 268
Beneil Dariush (#3), Tony Ferguson (#6) unbooked
Islam Makhachev (#5) vs. TBC, UFC 267
With the above situation in mind, it appears Volkanovski's current opponent options are limited across both divisions but we'll see if the matchmakers sort things out – if he's truly eager to fight again before 2021 is out, that shouldn't be a problem and will likely be another title defence.
Picture source: Getty Images — quotes via MMAJunkie