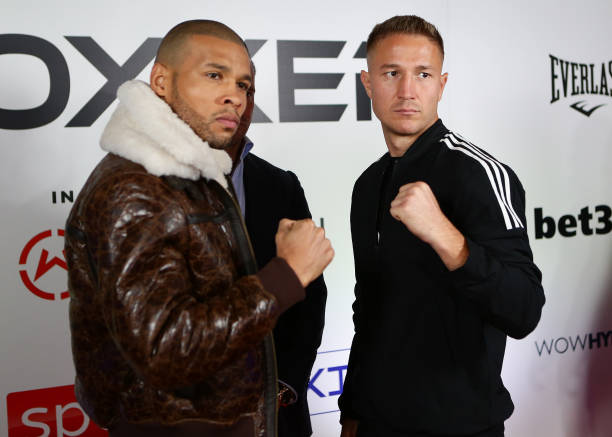 Having ended his 16-month layoff with a comfy but uninspiring unanimous decision win over compatriot Marcus Morrison on May 1, middleweight contender Chris Eubank Jr (#1 WBA) feels he could have three fights by the year's end if all goes to plan vs. Anatoli Muratov this weekend.
World title or a big name: Eubank Jr eyes big December bout
The world title fight at middleweight he's always wanted, could be finally within reach. First though, Chris Eubank Jr must get past Anatoli Muratov (#7 WBA) on Saturday without issue.
The 32-year-old was twice an IBO super-middleweight titlist, beating Australia's Renold Quinlan (February 2017) and bullish compatriot James DeGale two years later the same month.
Original opponent Sven Elbir withdrew after testing positive for COVID-19 and Muratov, his fellow German, will look to provide a shock on short-notice at Wembley Arena this weekend.
READ: Eubank Jr's latest promotional deal an opportunity to finally prove himself
Eubank has revealed plans are in the offing for a big December fight, assuming he emerges unscathed against the 33-year-old. 2021 has been a difficult year for Chris, having suffered from COVID himself as well as a family tragedy when younger brother Sebastian died in Dubai in July.
"Some people might say why not take a big fight now? I had some family, personal issues recently, got Covid very bad, got sick after I got rid of Covid.

You don't go into a huge fight after the things I have been going through the last few months. This is a good fight to get me back into the swing of things, then I will be ready to go in December.

Eubank Jr's mindset heading into this weekend's bout
Williams or his conqueror Andrade? Saunders rematch? 
British two-weight champion Liam Williams, who fought valiantly but ultimately fell short against Demetrius Andrade for the WBO strap back in April, is among the names rumoured.
Billy Joe Saunders, who lost his WBO belt to Canelo Álvarez in May, has been tirelessly linked with a rematch vs. Eubank Jr seven years after winning their first bout via split decision.
He again fanned the flames earlier this month by revealing he'd be open to a rematch, if the money was right – a notion Eubank Jr swiftly laughed at, considering his £5m demands.
ALSO READ: History revisited: Groves beats Eubank Jr on points after a thrilling finish
After having his WBA interim title replaced by a number one spot in the governing body's rankings in August, a unification bout between WBA champ Ryota Murata and IBF, IBO titlist Gennady Golovkin on Dec. 28 means whatever Chris has planned won't involve either this year.
He's not bothered, so long as he gets a chance at gold sooner rather than later.
"The list is so long, so many big fights and names. I don't know how strict they [WBA] are going to be on that [mandatories for superior titles], I hope very so they force these fights to happen."
Either way, he must produce an impressive win while emerging injury-free this weekend if he wants a quick turnaround. We've seen the best-laid plans fall dramatically already this month.
Picture source: Getty Images — quotes via BoxRec