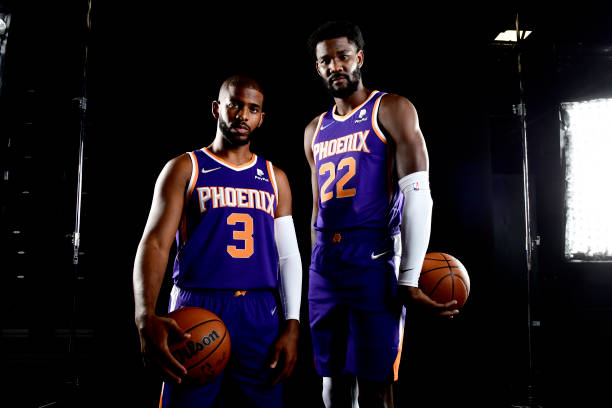 All-Star guard Devin Booker had the uneviable task of travelling with two newly-crowned NBA champions en route to the Tokyo Olympics, his head coach Monty Williams was in reflective mood after watching the Bucks blast back from 2-0 down while star PG Chris Paul shunned other offers to agree an expensive extension in the desert. So, what's next for the Suns?
Suns stay upbeat, despite the circumstances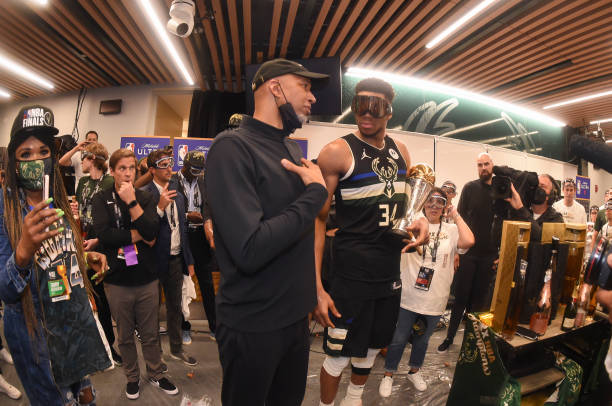 Milwaukee had just recovered from 2-0 down, winning four straight, powered by their two-time MVP Giannis Antetokounmpo. After the emotional scenes of celebration on-court had dissipated, something else caught the eye shortly afterwards as the party continued backstage.
One of the most memorable pictures, across the image search gallery, was of Monty Williams greeting the series clincher before saying a few words in the Milwaukee Bucks locker room.
Giannis has the Finals MVP trophy cradled in his left arm, uses his right to shake hands with Monty, and you can almost sense an apologetic vibe from player to coach as all eyes in the room turn to this unexpected visitor. He'll certainly use that as fire to fuel him within this coming year.
"Man, I got to be in the Finals.

We didn't win, but I got to be in that position, get to work with our players, it's a huge blessing. I kind of lost sight of that because we lost."
Williams threw a two-week pity party after losing the NBA Finals in July with menial activities at home in Texas: working in the yard, feeding the deer, fishing in his pond and cutting the grass.
But, as evidenced by the quote above, he soon realised life wasn't too bad after all as the pain of losing with the championship just two wins away subsided.
Phoenix returned to preseason camp this past Monday, without Booker (COVID-19 protocols), just 70 days after their six-game series loss was sealed. It's still fresh in the mind of players and coaching staff, but they're using it as a motivational tool rather than something evoking sadness.
Mikal Bridges, who made another under-the-radar leap in Phoenix last season, said:
"This is our job – you have fun playing basketball every single day. You don't think that it's dreadful, an eight-month thing. You get to play what you love every single day, there can be wear and tear on your body, but we're doing what we love. We get paid a good amount of money to do it and enjoy."
The All-Star backcourt of Booker and Paul remains, despite questions about how quickly the latter will decline after some well-documented struggles against Milwaukee.
"This is close to my family [in Los Angeles] and became my family last year. Not only was being here fun basketball-wise, it was fun as far as life.

Those who work, anytime you go to work and don't feel like you're at work, you enjoy – it's always a nice feeling."
Alongside the aforementioned Bridges, Cameron Payne, Jae Crowder and Cam Johnson are all valuable players in their own right with shooting, defence and added tenacity.
After enjoying a leap of his own, fourth-year center Deandre Ayton will feel like he's got unfinished business in the postseason, having started well and earned invaluable experience – more than most – guarding the likes of MVP Nikola Jokic en route to an unlikely NBA Finals berth.
They've added some solid pieces too, in sharpshooting guard Landry Shamet from a trade as well as PG Elfrid Payton and veteran big man JaVale McGee.
Although they're not expected to replicate last year's success, they certainly would – with better execution and composure during high-pressure games, especially now that most opponents will have a specific tactic to stop them.
Picture source: Getty Images