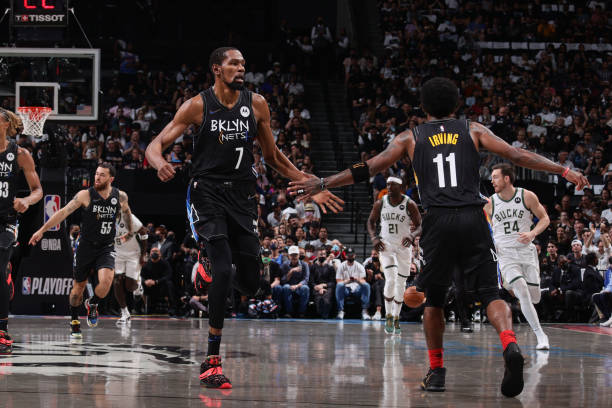 Kyrie Irving's public anti-vaccination stance has caused tension aplenty, especially as the New York laws require him to get a shot if he wants to participate in home practices or games this season. Kevin Durant admitted his visualisations of his All-Star teammate may be naive, but they represent a belief echoed by many with the new campaign less than two weeks away now.

Irving's COVID-vaccine stance lingering to the forefront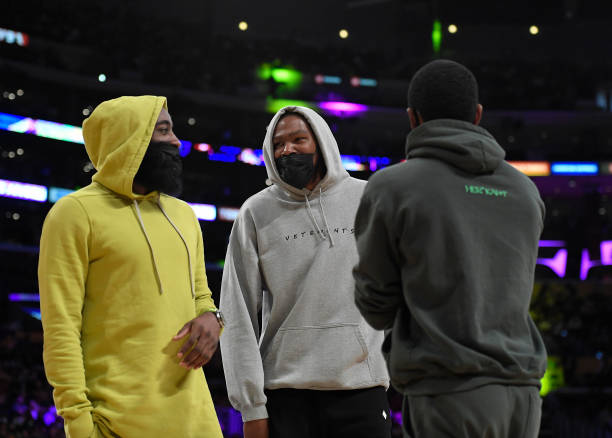 "I'm envisioning Kyrie being a part of our team, maybe I'm just naive, but that's just how I feel. But everybody here has that confidence in themselves and our group, that if we keep doing it, we can do something special."
Earlier this week, Golden State Warriors' Andrew Wiggins explained how he felt forced to get the COVID-19 vaccine to continue his playing career. Considering the various restrictions in place across most markets across the league, including San Francisco, he begrudgingly did so.
Irving's availability, or lack thereof, has become the story in Brooklyn as the 29-year-old guard missed practice again on Tuesday after featuring alongside them in San Diego last week. He couldn't attend, as the protocols only allow players with at least one vaccination shot to play.
The Nets haven't decided whether they'll accomodate him as a part-time player this season – featuring strictly away from home, in markets where his unvaccinated status is permitted.
Irving could lose approximately $383,000 for every home game missed due to protocols, but NBPA union president Michele Roberts spoke about fighting the league on witholding pay.
"We'll see about that, they've reported that we've agreed if a player unable to play because of his non-vaccination status, they could be docked [pay]. We did not agree, the league's position is that they can, we'll see."
Nets head coach Steve Nash has remained coy on the situation when asked in press, as you'd expect, but sources told ESPN that hope Irving will get vaccinated continues to wane.
"He's a special player so it is going to be hard to duplicate what he brings, but professional sports are about the next man up mentality so we are looking forward to guys stepping up and filling in that role as best as they can."

Durant on Kyrie and how Brooklyn need to adapt without him
---
Stepping up: a look at Other guards in Irving's position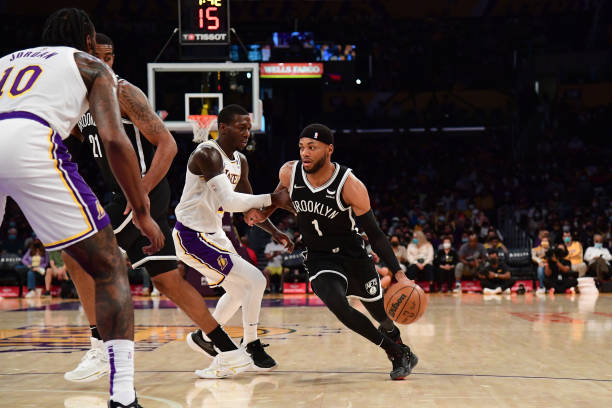 Brooklyn added multiple guards in the offseason, including Spurs' highly-esteemed veteran Patty Mills – who averaged 10.8 points, 2.4 assists and 37.5% from three-point range last year.
Fourth-year guard Bruce Brown will be playing with a chip on his shoulder after enduring a mixed postseason experience, while Japanese-born rookie Cam Thomas – who turns 20 next week – scored 21 points in preseason against the Lakers and impressed during Summer League.
Speaking of playing with a point to prove, sharpshooting guard Joe Harris led the league in regular season three-point percentage (47.5) but was dicey during their playoff run too.
It's not out of the question to see line-ups with Harden and Harris as the backcourt pair, alongside Durant, Blake Griffin and LaMarcus Aldridge or new recruit Paul Millsap.
in any case, Brooklyn are blunted without Irving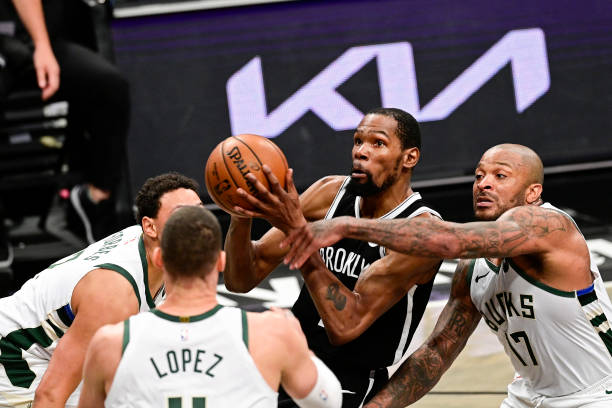 Kyrie's status remains unclear and while Durant said he respects Irving's personal decision, you can't help but feel this ongoing story will only intensify as the season draws closer. They are, as he was quoted as saying by ESPN, anxious to be a whole team and why wouldn't they be?
In last year's playoffs, they were memorably a half shoe-size away from knocking out the eventual champion Milwaukee Bucks in their Eastern Conference semi-final series.
Durant averaged career-highs in points (34.3), rebounds (9.3), steals (1.5) and FGA (23.5) per game in the postseason, as Irving (ankle) and James Harden (hamstring) were on the sidelines.
Harden was acquired in an expensive four-team trade move from Houston, while Irving – who only played 20 regular season games last season – remains among the league's top players despite being an increasingly divisive figure for his controversial views and outspoken beliefs.
The longer this drags on, the worse it'll be for Brooklyn – for continuity as well as maintaining their competitive edge out East as the preemptive favourites this year. As such, it's important they decide a stance to take with Irving and stick with it, as hard as that could be short-term.
Picture source: Getty Images