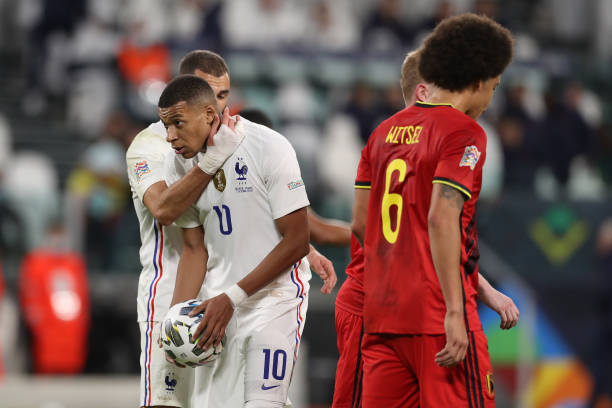 In a week where he addressed the Real Madrid rumours and mother Fayza provided an update on her son's future, Kylian Mbappe produced his best display since May to help propel France into the UEFA Nations League Final, where they play Euro 2020 semi-finalists Spain on Sunday.

de bruyne, carrasco and lukaku dent passive france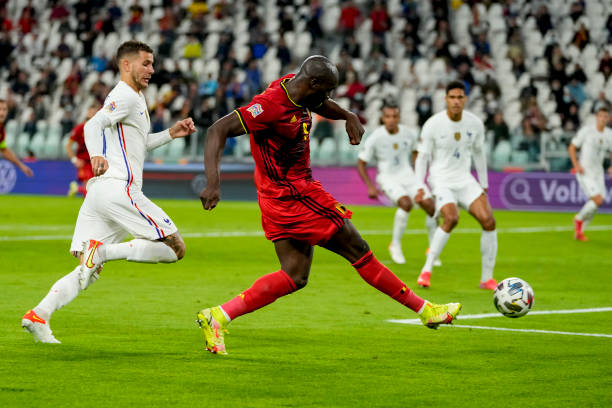 Having watched Manchester City teammate Ferran Torres' showing against Italy on Tuesday, Kevin de Bruyne was also in influential mood and had a pair of first-half assists: first for Yannick Carrasco and then Romelu Lukaku's thunderous effort that flew past Hugo Lloris at his near post.
In a match between two of the world's top four sides per FIFA rankings, things were predictably competitive and tense but Belgium were unmistakably ahead. Considering the way they capitulated spectacularly at this summer's Euros, no-one could've expected France's response.
Les Bleus' seeming non-committal approach to taking risks or displaying much creative urgency in the first-half hurt them with two moments of brilliance, which their captain wanted to rewind.
Lloris, who kept three consecutive Premier League clean sheets to start the season under new management with Nuno, has only managed one for club and country in seven appearances since. Carrasco's effort, wrongfooting him at his near post, ensured that tally increased to eight.
In fairness, it's easy to lay blame at the goalkeeper's feet – no pun intended – when he shifts his weight onto one side and gets outfoxed by the attacker. Bayern fullback Benjamin Pavard wasn't perfect and should've got tighter to the Atletico man as he created a yard of space and let fly.
If not for Lloris, France would've lost. He clawed de Bruyne's goalbound effort away from the post just three minutes in and made important second-half interventions as Belgium roared on.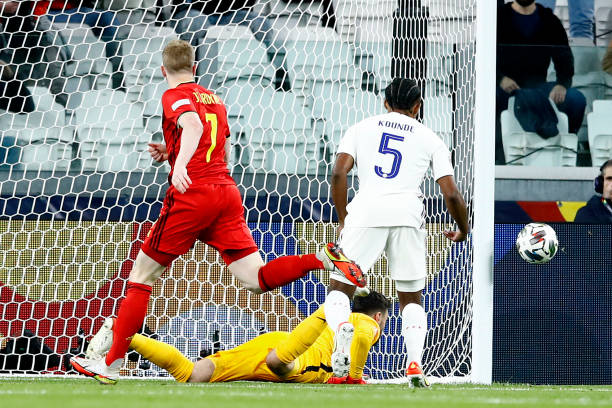 However, it'd be more than a bit harsh to question him for their second goal. Lukaku ended a five-game run without a goal – his longest streak since Manchester United (8, March-April 2019) with precisely the strike that convinced Chelsea to splurge a remarkable amount to re-sign him.
de Bruyne fizzed a low through ball forward, allowing him to roll Pavard's club teammate Lucas Hernandez with a dummy, before side-footing the ball into the roof of the net with aplomb.
They wheeled away to celebrate and didn't know it at the time, but this game was far from over…
Belgium's first-half blitz overshadowed in pulsating second 45
Just like Italy in the week's first semi-final, France were staring at having to overturn a two-goal deficit after half-time but by contrast with the European champions, there was no need for panic.
While Roberto Mancini's men had a numerical disadvantage to consider too, the world champions needed to quicken their passing and apply sustained defensive pressure on Belgium.
Despite high pass completion rates, Adrien Rabiot and Antoine Griezmann were largely ineffective. Manchester United's Paul Pogba was who they needed on the ball in midfield, while Karim Benzema's build-up play and Kylian Mbappe's infectious electricity would do the rest.
That approach was prophetic as they halved the deficit just after the hour mark, with that trident creating the above image – Benzema's ice-cool composure in tight spaces key with three players around him and two more approaching, to curl his effort past club teammate Thibaut Courtois.
Five minutes earlier, Griezmann miscued with the goal gaping at his mercy after Mbappe ghosted past Carrasco and Leicester playmaker Youri Tielemans into the area, firing low across the box.
You couldn't claim the warning signs weren't there either, especially after Pogba headed over from an inswinging Griezmann free-kick while Benzema intently lurked as usual, sensing a shift.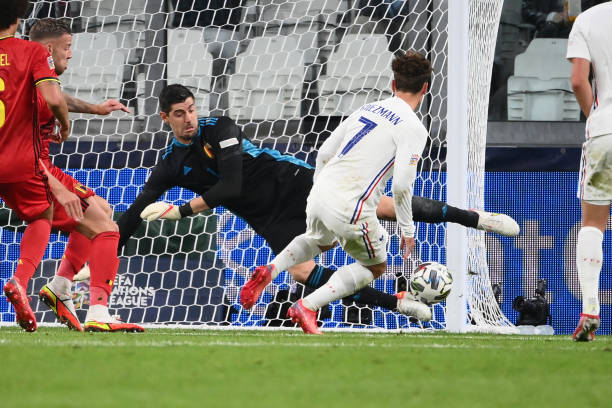 Belgium were being pinned in their own half during sustained periods and eventually, found themselves punished for failing to keep possession the same way Spain did smartly on Tuesday.
After a VAR review and referee Daniel Siebert watching it on the pitchside monitor, Tielemans was penalised for a clumsy foul on Griezmann – who milked the contact but won a penalty.
Mbappe blasted it high and into the corner, out of Courtois' reach, equalising in style. Back on level terms, which way would this enthralling encounter swing next? Both directions.
Lloris made acrobatic stops, denying de Bruyne and Lukaku while Rabiot's replacement Aurelien Tchouameni oozed class off the bench but the Monaco midfielder should've done better to score a minute after his introduction. Instead, Courtois produced a smart point-blank save.
Having spent multiple periods without much action, Lukaku thought he was the matchwinner after Carrasco exposed Pavard again – this time being too high up the pitch – but VAR review ruled he was fractionally offside before the ball was played, having again bypassed Hernandez.
A minute later, Pogba struck the woodwork with a brilliant free-kick that looked destined for the top corner, before Milan fullback Theo Hernandez marked his second France cap with a power strike too hot to handle in the 90th minute as it flew past Courtois' fingertips into the far corner.
With a frenzied comeback complete, France now play Luis Enrique's Spain on Sunday hoping to follow Portugal's footsteps as the newly-crowned Nations League winners this weekend.
---
noise aside, masterful Mbappe lets his football do the talking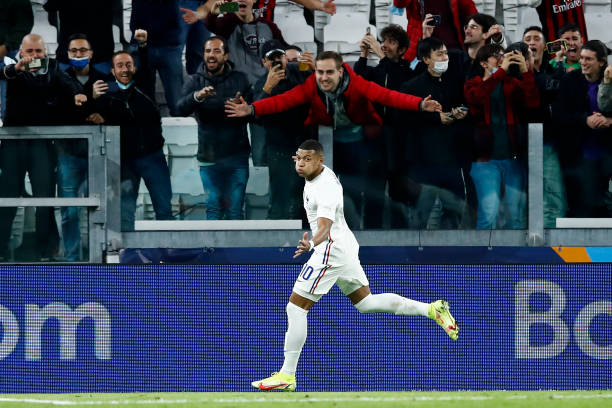 Mbappe, who memorably missed in their Euro last-16 shootout defeat against Switzerland, stepped up here when it would've been understandable if Benzema, Griezmann or Pogba – all spot-kick takers – picked up the ball instead. He wanted the responsibility and made no mistake.
The fallout following their surprise exit, both for those who attacked him personally and others within Didier Deschamps' Euro squad, lingered like a bad smell as the new campaign begun.
It's part of the reason why his mother, Fayza Lamari, has finally felt compelled to speak for the first time about her son's future – both at club level as well as the international scene too.
She is part of the team, like father Wilfried and lawyer Delphine Verheyden, but it was important Kylian – who has endured a mixed start to the season – recaptured his joie de vivre, even with all the pressure that came with Real Madrid's expensive overtures. This showing is a reassuring sign.
"We are in talks with PSG right now [for a contract extension] and it's going well. I even spoke to [sporting director] Leonardo last night [Monday], but will we reach an outcome? One thing is sure: he will give his all right up until the end to win the Champions League. Kylian needs to feel satisfied.

If he's unhappy, he is capable of telling you I'm stopping my career, and he says that to us often, actually. With him, it can all change from one day to the next."

Fayza's comments this week, hitting headlines surrounding Mbappe's PSG future
I've written about Mbappe's contract situation before, but the fact the two sides weren't able to agree terms on an extension in late 2019 or anytime pre-pandemic means the balance of power would always shift his way, whether they were comfortable with that or not.
Deciding to reject Real's summer offers, especially in a depressed market, was a sign of defiance and one they hope doesn't backfire – not least with Lionel Messi in Paris alongside him now.
It's easy to forget he's still only 22, such is his precocious nature. Like his mum said, Kylian is an emotional youngster but one who doesn't rush into making big decisions. He's well-represented, and while many question his motives, her words this week reiterate how little most know him.
It feels like just yesterday, he was wildly celebrating that breakthrough Champions League group stage goal away against Manchester City four years ago. This appearance marked his 50th cap for France, having only made his international debut a month after that finish in their 5-3 defeat.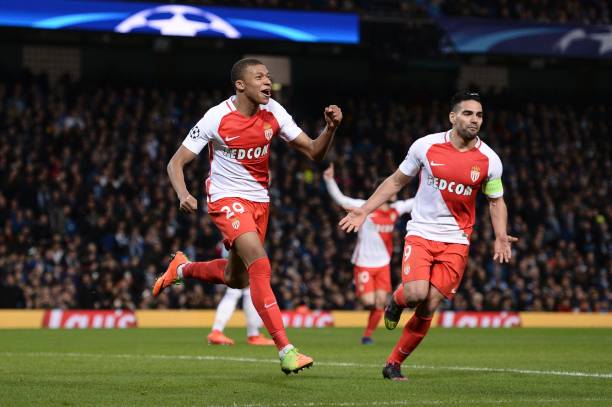 Less than twelve months later, he was crowned France's new king in Russia and plenty has happened since. Instead of constantly overanalysing, perhaps we should all just enjoy the ride.
Picture source: Getty Images