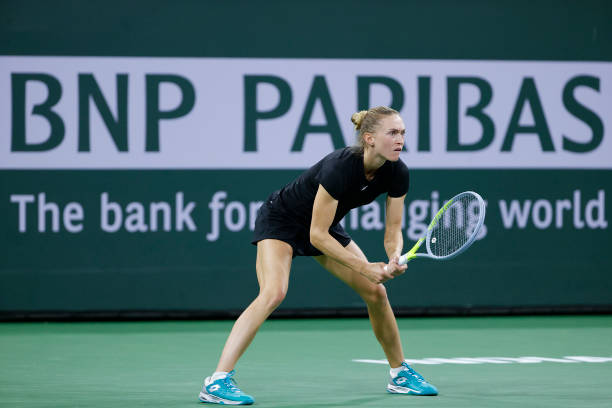 Emma Raducanu's Indian Wells debut lasted just under 90 minutes, losing 6-2, 6-4 against Aliaksandra Sasnovich on her return after winning last month's US Open. The result snaps the British teenager's ten-match winning run, with Sasnovich to play Simona Halep in R3 next.
Raducanu races ahead, but not for long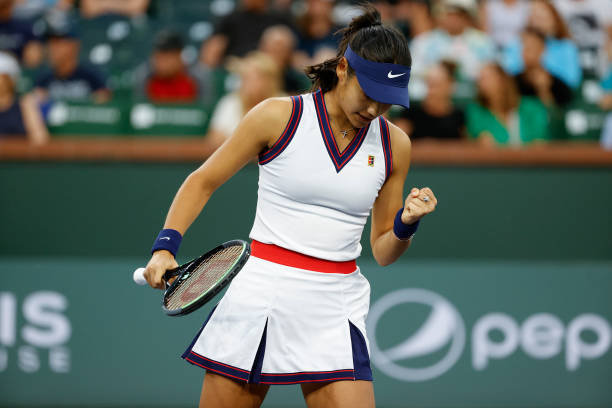 Sasnovich bt. Raducanu [17] 6-2, 6-4
If for whatever reason, you only tuned in for the first six points of this match, you could be forgiven for thinking nothing had changed from that fairytale US Open triumph last month.
Emma Raducanu greeted the crowd with a smile, blasted through her first service game and had an impressive start against a seasoned opponent in Aliaksandra Sasnovich but one whose 2021 form has been poor to say the least. It's fair to say many didn't expect what would unfold next.
Suggestions that the teenager should hone in on making Sasnovich play forehands didn't age well, as the 27-year-old grew in confidence while building up a commanding first set lead before long – having seized the first of three break point opportunities when they were level at 1-1.
What made the sudden shift more startling was that Sasnovich wasn't perfect by any means, but channelled her aggression the right way and produced plenty of resistance with shot defence across all angles, forcing Raducanu to play more strokes and in turn, make more mistakes.
It was almost as though Anne Keothavong goaded Sasnovich into making some of these ridiculous shots on commentary, kissing the lines and chipping away at Raducanu's resolve.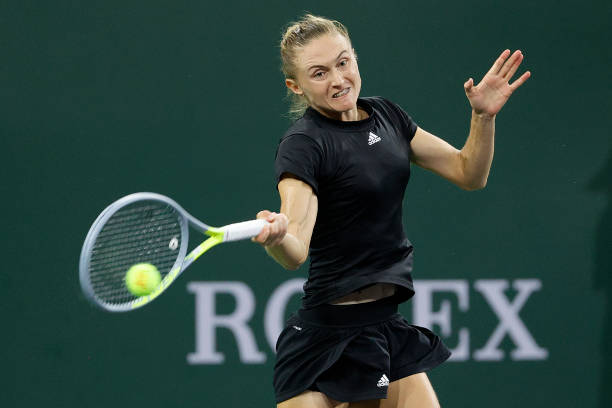 Through four games in set two, they had already played 31 minutes as their tense rally exchanges continued and the balance of power flickered from one side of the net to the next.
Just as Raducanu's resilience looked likely to help her recover and take this into a deciding set, the overeagerness to finish points and overpower Sasnovich saw more errors fly off her racquet.
She felt hard done by, watching the replays helplessly as two close line calls went the Belarusian's way and the world #100 held firm in a tight service hold. Then the teenager responded well, shifting the momentum back her way in a match packed with ebbs and flows.
When you have a ferocious forehand return as good as hers, it can be your secret weapon to dictate rallies during tight moments or accentuate an error-prone day.
That was evident, up 4-3 in set two, as she slammed a return ace but was punished by a passing forehand winner for an unconvincing net approach immediately afterwards.
Sasnovich, who won 13 more total points here, was able to refocus quickly after missing wildly or failing with a drop shot attempt. Raducanu, weighed down by the crowd's expectations and conscious the match still hung in the balance, swung powerfully but only as far as the net.
Her body language was defeatist, as though she knew it was only a matter of time before this scrappy affair would end, serving her fourth double-fault of the match.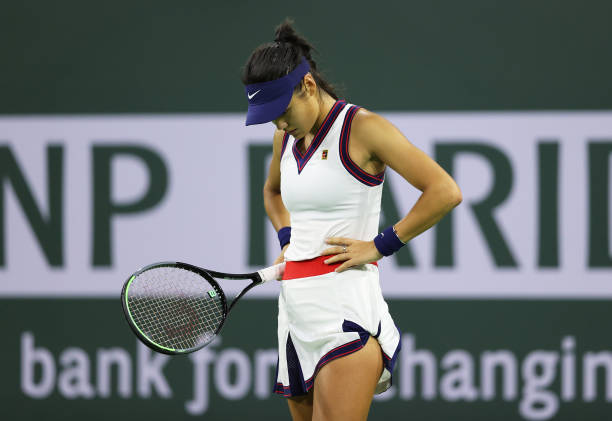 4-4 and down 15-0, Raducanu watched Sasnovich slam a return ace down the line to capitalise on a weak second serve. Then, she overcooked a makeable forehand in the next point, with plenty of court to aim at. Sasnovich had three break points gift-wrapped and took the second.
Raducanu slumped in her chair at the final changeover, looking demonstrative and certainly aware she wasn't playing her best tennis, but also lacking the execution to turn things around.
Turning defence into attack, a deft drop shot winner to end a 13-stroke rally presented Sasnovich with three match points. Raducanu fired a forehand wide to snap her streak and as she trudged off court, Sasnovich soaked up the murmurs she created before answering some questions.
---
What's next for both?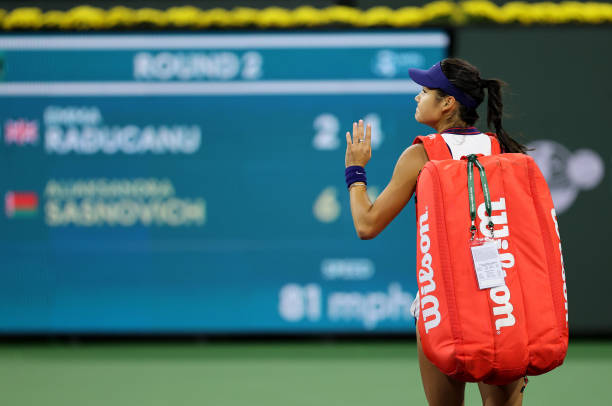 Since losing to Angelique Kerber at Wimbledon, Sasnovich had a 7-7 record in completed competitive matches – including a first-round US Open defeat by Kazakhstan's Elena Rybakina.
Now, she's earned successive straight-set victories and will face Halep hoping to avenge a 6-4, 7-5 defeat from Wimbledon two years ago, where the Romanian ultimately stormed to the title.
"I'm really enjoying it here. I knew I needed to just play my game, Emma just won the US Open, I lost in the first round… [laughs]

It's a little different… I came to enjoy, that's my life. She [Halep] is a great champion, everyone can beat everyone and it'll be interesting so we'll see."

Sasnovich's brief post-match interview on court
The media coverage – especially in the UK – surrounding Raducanu's loss isn't going to be very kind but that feels par for the course considering the dizzying heights she's already reached.
Given how unpredictable the WTA tour is, this isn't an entirely surprising result. It was always going to be interesting to see how Emma responded – hunter to hunted – while lacking match sharpness against someone who likes the big stage, earning multiple top-10 wins previously.
As I said on Wednesday, her section is particularly tricky and although it's always disappointing to lose the way she did here, she should take heart from the incremental improvements made in set two, even if there were missed opportunities to consolidate that advantage down the stretch.
Next on the schedule, she'll play:
WTA 500 Kremlin Cup, Russia – Oct. 18
WTA 250 Transylvania Open, Romania – Oct. 25
WTA 250 Linz Open, Austria* – Nov. 8
If she qualifies for the WTA Finals in Mexico, she'll likely forego the Linz event as they overlap to finish the 2021 season.
She'll drop multiple places in Monday's ranking update after this loss, considering many around her remain in the draw. As for Sasnovich, she's now world no. 91 and right to be bullish about facing Halep, whose struggled with injuries of late. Whether she can win though, is another thing.
Picture source: Getty Images