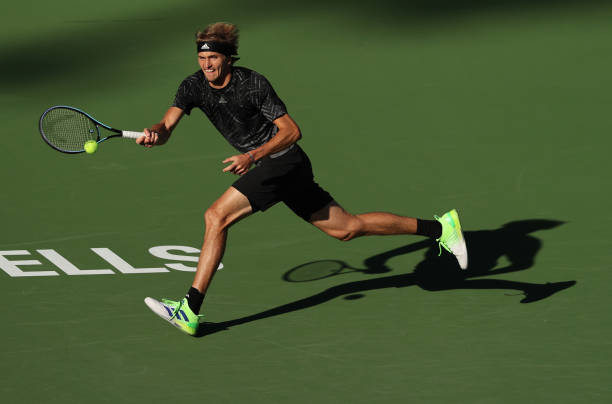 World number four Alexander Zverev fufilled a personal milestone as he finally added Andy Murray to his Big Four collection, beating the former world no. 1 in their fourth and most compelling H2H meeting. Beforehand, America's Shelby Rogers recovered from a set down to outsmart US Open finalist Leylah Fernandez, on a day with surprises at this year's Indian Wells.
Rogers teaches Fernandez a lesson in big point execution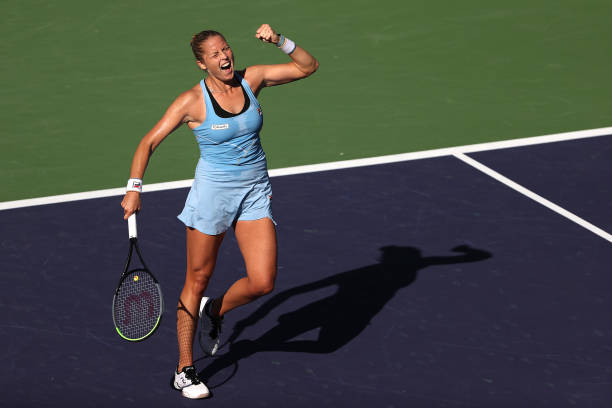 Rogers bt. Fernandez [23] 2-6, 6-1, 7-6
It's testament to Shelby Rogers' fighting spirit and persistence that she finds herself in this year's quarter-finals at Indian Wells. She was out for a year with knee surgery after a first-round exit at this event three years ago, so it feels fitting this result cements her career-best at WTA 1000 level.
After beating Ukraine's Anhelina Kalinina, Slovakian lucky loser Kristina Kucova and Romania's Irina-Camelia Begu, she faced her first seeded opponent in a bullish Leylah Fernandez here.
Fernandez, who won the hearts of many with her own play at Flushing Meadows, had to come back from a set down to outlast Russia's Anastasia Pavlyuchenkova [9] in the previous round.
The US Open finalist was on the front foot and started brilliantly against Rogers too, but the American's experience and guile proved too much in a match lasting two hours 35 minutes.
Fernandez will wish she could replay several points from a frenetic final set, having relinquished control during a second set that quickly evaded her grasp with double-faults aplenty. The 19-year-old saved a match point on her serve and, as the saying goes, fortune favours the brave.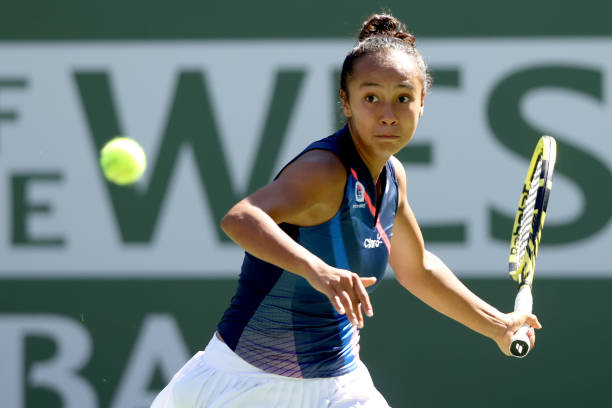 A stroke of luck with a net cord helped her push into a nervy tiebreak but that ice-cool execution evaded when she needed it most. After a 75-minute set with ebbs and flows, there was more left.
Rogers, whose level had increased considerably from the early exchanges, was crunching some great winners but importantly staying calm regardless of what the scoreline read. She knew she'd have a chance, sooner or later, such was the high level and expert shot-making on display.
A questionable Fernandez drop shot presented precisely that at 4-4 in the tiebreak and proved costly for the teenager, as Rogers raced towards the net to smash home a winner.
An overhit forehand return gave the 28-year-old two match points and she didn't hesitate by seizing the first, showing the in-game maturity her 11 years' experience has afforded her.
Up next, tenacious Latvian Jelena Ostapenko [24] awaits after the 2017 Roland Garros champion recovered from a break down in both sets to beat fellow Slam titlist Iga Swiatek [2].
---
eventually, Zverev adds Murray to his Big Four collection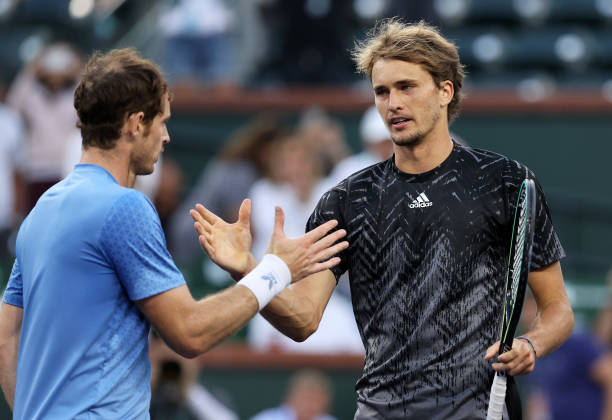 Zverev [3] bt. Murray [WC] 6-4, 7-6
Andy Murray couldn't hide his anger, smashing a racquet and fuming as he trudged off court. He had a three-game lead (3-0) in set one, breathing space (3-1) in set two, and somehow – just like that – his promising week's work among the world's elite in the Californian sun was cruelly over.
It feels disingenuous to describe him as a British wildcard here, knowing all that he has achieved in his illustrious career, but that's the title alongside his name. Alexander Zverev, for what it's worth, knows the 34-year-old's play belies his ranking – one that'll drop to a grisly 172 next week.
He entered this meeting with an 0-3 H2H record against the three-time Grand Slam champion, twice an Olympic gold medallist, and knew Murray would come with bullish energy especially after how his US Open five-set battle against Stefanos Tsitsipas [3] on August 30 unfolded.
Couple that with how he had to evade danger in an eventual three-set win against a spirited Jenson Brooksby showing in R2 on Sunday and, Murray would fancy his chances much more.
After a slow errant start here, longer shot rallies between the pair helped Zverev find his footing to devastating effect. Armed with a powerful striking range, Murray's lead hadn't just evaporated, the German relished making him frequently hustle covering distance aplenty to return his shots.
Already this summer though, Murray has shown his steely resilience and refusal to wane when things aren't going his way. Again that was on display to start set two as Zverev's level had clearly dropped while his aggressive approach worked a treat and suddenly there was an opening.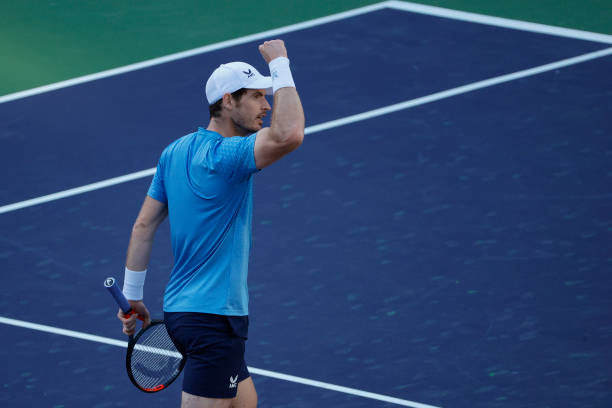 The crowd could sense a momentum shift coming, not least as Zverev's tendency to hit shaky overheads and silly smashes wide of the mark returned at the height of Murray's resurgence.
Zverev hit a pair of inexplicable misses at the net for a man of his quality, though there would be an unexpected reprieve. Murray's rhythm was noticeably skewed after a six-minute break to allow Zverev an opportunity to replace his shoelaces, but not for long.
He kept the world no. 4 on his toes with repeatedly excellent shot defence, almost goading the German to beat him by producing more fantastic shot-making – which felt a risk in itself.
Understandably wary after missing one too many overheads, Zverev consciously left Murray's lob return expecting it would fly over him and go out.
Instead, it was a few metres inside the baseline, so he was suddenly serving to stay in set two – made even worse by the fact Murray committed two double-faults in that very game.
Speaking of double-faults, Murray gifted the German a 6-5 lead as he briefly appeared to be closing in on the finish line. Two more ridiculous smash misses meant a tiebreaker was needed though, with the Brit's movement and defiance proving a frustrating foil across the net.
Just as he looked like he'd implode, the 24-year-old kept calm under pressure. The last point rather typified their 127-minute battle, a breathless exchange at the net.
Zverev's now won 18 of his last 19 competitive matches, only losing a five-set duel to Novak Djokovic last month, but that statistic won't make it easier for Murray to stomach this defeat.
He'll play France's Gael Monfils [14] next for a place in the quarter-finals, after the charismatic 35-year-old won 7-5, 6-2 against two-time Grand Slam finalist Kevin Anderson.
---
Analysis as murray should be encouraged, zverev even more so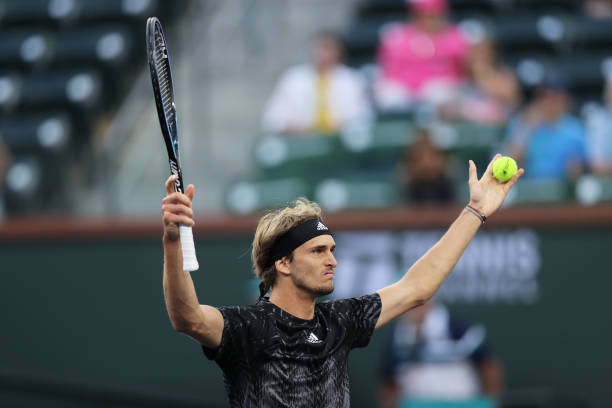 I've long held the belief, as early as 2018, that an in-form Alexander Zverev is the world's best tennis player. The caveat, of course, is that the polarising German has always tended to leave his best performances outside months featuring the year's four Major tournaments – not by choice.
That if he could bottle that second set semis surge in Tokyo against record-hunting Djokovic and play like that all the time, he'd currently be world number one with multiple Slam titles to his name – including the one Dominic Thiem gladly snatched from his grasp 13 months ago.
But see, that's the thing about tennis. There's no space for uncertainties, restrictions or doubts at the very highest level. Zverev, over an hour, can be unstoppable when on song. Force him into deep waters over three or four and well, he will have enough in-game troughs to prove beatable.
That's why there was added attention on his third-round matchup vs. Andy Murray here, who beat Adrian Mannarino and Spanish sensation Carlos Alcaraz to reach R3 of this event for the first time since 2016 – the first and only year he finished as world no. 1 with nine singles titles.
It's no consolation for Murray that he lost, especially having relinquished such a promising situation in both sets, but this experience is another step in the right direction. That is, as far as his ambitions to return to the top table are concerned, even if they still seem a long way away.
Since early March, he's now faced seven of the world's current top 15 players with competitive showings in all of them (despite losing) while training alongside world no. 1 Djokovic too. You can't help but feel eventually these heartbreaking losses will turn to morale-boosting victories.
Rotterdam: Rublev [6] 7-5, 6-2
Queen's: Berrettini [7] 6-3, 6-3
Wimbledon: Shapovalov [14] 6-4, 6-2, 6-2
Cincinnati: Hurkacz [10] 7-6, 6-3 and exact same scoreline in Metz
US Open: Tsitsipas [3] 2-6, 7-6, 3-6, 6-3, 6-4
San Diego: Ruud [9] 7-5, 6-4
Indian Wells: Zverev [4] 6-4, 7-6
Upcoming events that Murray has entered into
European Open (ATP250) Belgium – Oct. 17 – Oct. 24
Vienna Open (ATP500) Austria – Oct. 25 – Oct. 31
Picture source: Getty Images