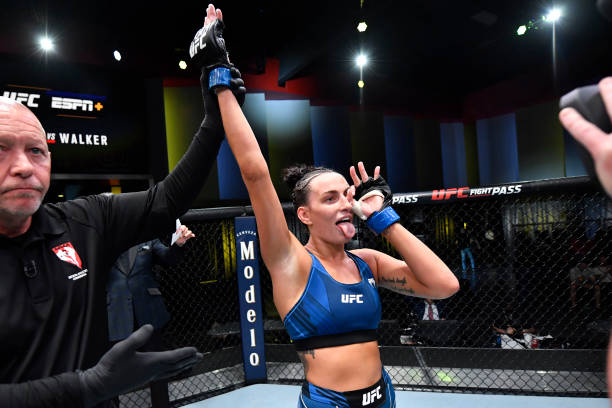 Across the promotion's four female weight classes, only four fighters – including an impressive flyweight still in her debut UFC year – are unbeaten with 3-0 records or better. The conscious decision to reject their fast-track route attempts speak to the 24-year-old's desire for more well-rounded growth with time, something many rising stars before her skipped to their detriment.

O'Neill reveals decision to snub Barber fight offer at UFC 269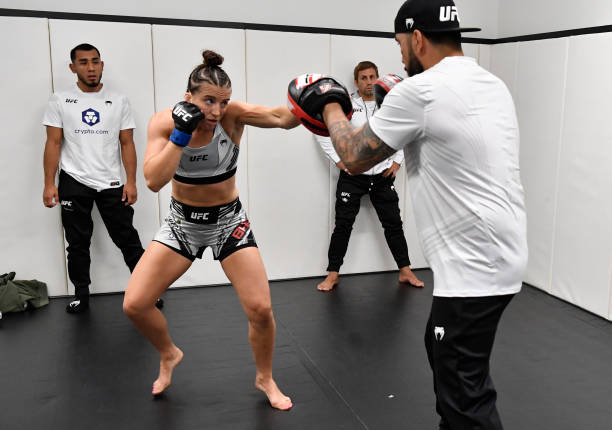 Tatiana Suarez, Tracy Cortez, Karol Rosa and now Casey O'Neill.
There's four female fighters across the four divisions with 3-0 records or better and considerable hype surrounds the latter right now, after her second-round TKO win vs. Antonina Shevchenko on the Santos-Walker card on October 2. She made her UFC debut in February.
O'Neill, who turned 24 last Thursday, is showing the shrewd wisdom that other up-and-coming contenders should heed. Having finished Antonina, with her younger sister and dominant flyweight champion Valentina watching on Octagonside, the storylines almost write themselves.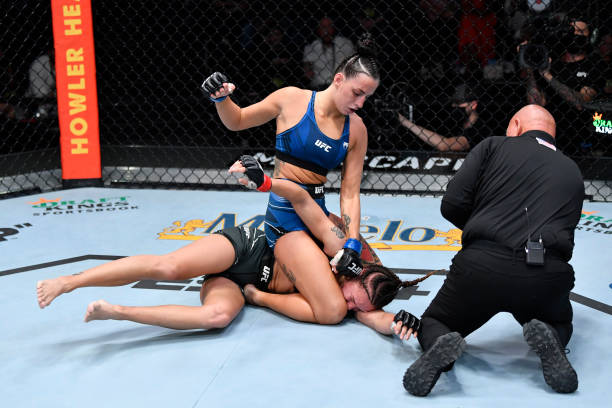 O'Neill was offered the Maycee Barber (#13) fight on Dec. 11 after her most recent win and despite wanting to take it, is aware the matchups will only increase in significance from here.
Barber (9-2, 5 KOs) will instead face Invicta's 22-year-old graduate Erin Blanchfield (7-1, 2 KOs) at the UFC 269 PPV, headlined by two intriguing title fights: Brazilian duo Amanda Nunes and Charles Oliveira defending their belts against Julianna Pena and Dustin Poirier respectively.
"I have to take a little time to refine my skills and be ready for the challenges ahead because every fight is gonna be bigger and bigger from now on.

I said I'd take it [the fight] in February if she wanted to wait, battled with it for a couple of days, but know I need to listen to the smarter people around me.

My coaches and manager were saying, you're being fast-tracked. If we take this one and get another win, we're talking big, big fights after that and you still want to get better and grow, I do. I want to take the long road.

I want to experience everything in this journey so when I get to the top, I can be the next dominant champion. That's where people go wrong – they get fast-tracked by the company and they love it, get pushed a little too fast, run into somebody they're not ready for and get taken out, are never the same again."
A future threat to the throne? Baby steps, but that phrase won't satisfy her. She wants gold. Given the lack of quality depth at 125lbs, the running joke is that a few good wins over ranked opposition can catapult you towards a title shot – and subsequent beating – by Shevchenko.
Recent title challenger Lauren Murphy likened her experience against Valentina as what others would've felt facing Michael Jordan or Khabib Nurmagomedov during their careers.
"She was incredible. It was pretty crazy to be in there with somebody at that level because I've never truly competed with anybody that level before. To be honest, it was pretty cool to be in there with a martial artist of her calibre.

That must be what it's like to go play one-on-one with Jordan, or how guys felt competing with Khabib, because it really was… holy shit, this girl is really on another level."
Shevchenko clinically cleaned out the division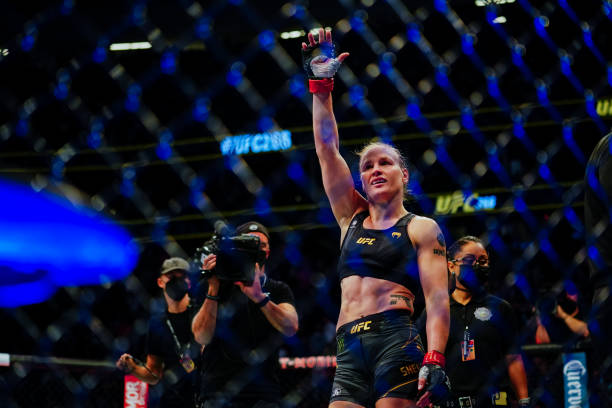 Promising contender Cynthia Calvillo (#5) had her deficiencies ruthlessly exposed, first by Katlyn Chookagian and more recently against Jessica Andrade last month. They have both lost rather convincingly in previous title bouts to Valentina, but appear to rule over the rest of the division.
Viviane Araújo (#7, 10-3) was put to the sword by Chookagian in mid-May, while her Brazilian compatriot Taila Santos (#9, 18-1) will face a stiff test against Scotland's perennial contender in Joanne Calderwood (#6, 15-6) next month (Nov. 20).
In a battle of former title challengers, in #4 ranked Jennifer Maia outworked Jessica Eye (#8) in mid-July but concerns over the 33-year-old's consistency and ability to beat the elite remain.
That's where O'Neill's decision to stay patient and instead focus on improving is important, especially in a division without many true faces who can challenge their dominant champion.
What about the other unbeaten contenders?
Tatiana Suarez (8-1 MMA, 5-0 UFC) – Strawweight talent hasn't been seen since June 2019, having suffered from a series of serious injuries, hopes to eventually go up a weight class to flyweight.
Tracy Cortez (9-1 MMA, 3-0 UFC) – Contender Series graduate inflicted Mariya Agapova's first loss two years ago, was slated to face JJ Aldrich on Aug. 28 but pulled out with an undisclosed injury.
Karol Rosa (15-3, 4-0 UFC) – Brazilian bantamweight ended Bethe Correia's career with a comfortable unanimous decision defeat on Oct. 2 card, is currently ranked #15 at 135lbs.
Luana Carolina (7-2, 2-0 UFC) and Manon Fiorot (7-1, 2-0 UFC) both have a chance to join that highly-esteemed 3-0 club this weekend against Lupita Godinez and Mayra Bueno Silva.
How quickly momentum can shift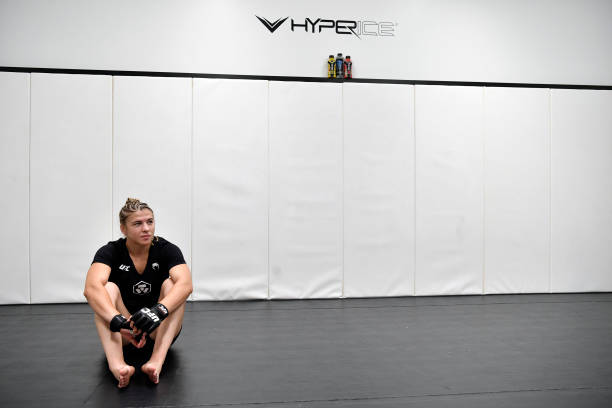 Many people, me included, believe Miranda Maverick (9-3, #15) should be in the 3-0 party too but was robbed during a dubious split decision defeat against Barber this past July.
Importantly, she took it in her stride and vowed to improve – but that instance shows how quickly momentum can stall, especially for fast-rising stars in divisions without much spice.
Alexa Grasso (#10) and the aforementioned Santos feel like the promotion's final hopes for the current women's flyweight crop to catapult up the rankings, but time waits for no-one.
Grasso was scheduled to face Calderwood but withdrew (undisclosed reasons), so now Santos is next up and could conceivably steal her thunder.
You see the same happening at strawweight too, with Carla Esparza's current waiting game and how it felt inevitable Brazilian jiu-jitsu black belt Mackenzie Dern would likely usurp her in the title tilt until Marina Rodriguez had something definitive to say about that last weekend.
O'Neill knows she now has a target on her back with the shiny new #14 ranking alongside her name, serving as motivation to keep moving forward into 2022 and beyond. As she said:
"I'm not looking to burn out early, I want to do this for the rest of my life. It's a marathon, not a sprint – it still hurts a little bit [to turn it down] but I know opportunities will come and they'll be better next year."
Although that refreshing patient approach can be likened to heavyweight rising star Tom Aspinall and others, maybe more prospects – men and women – should take note.
Picture source: Getty Images — quotes via MMAFighting.com