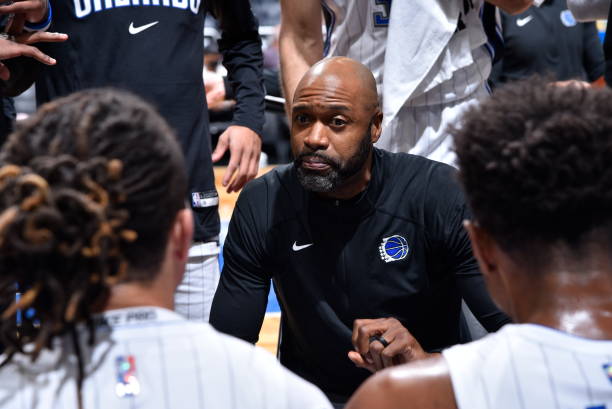 After seven years as an assistant for the Mavericks, overseeing the development of franchise star Luka Doncic and others, first-year head coach Jamahl Mosley is among contrasting surroundings in Orlando this term. Having traded away their best players, there are seemingly no expectations but that doesn't concern him with an ambitious group at his disposal.
Orlando have nothing left to lose but now? plenty to gain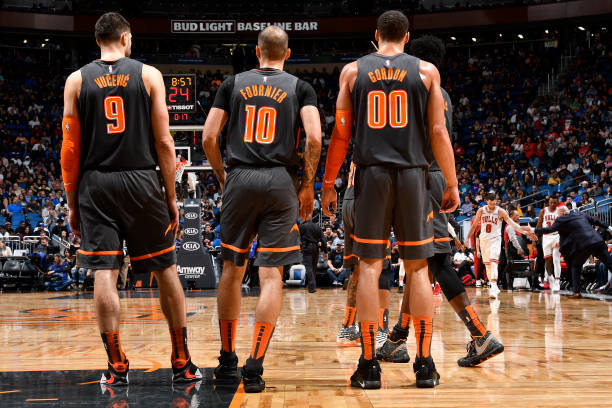 Nikola Vucevic, Evan Fournier and Aaron Gordon.
Over the past season, Orlando's three best players all departed for pastures new. One was traded to the Western Conference mid-season and has already agreed a multiyear extension with a championship-chasing Denver Nuggets team.
Their All-Star big man has formed part of an exciting core group in Chicago, while eyebrows were admittedly raised this summer at the figure of Fournier's four-year, $78m deal to join Tom Thibodeau and co in New York. We'll see how well that move ages.
Onto current matters and as far as Mosley is concerned, his group are unbothered by the outside noise surrounding their prospects.
Quoted by AP's Tim Reynolds in a recent piece, the 44-year-old said:
"The great part of this group is this is one of the most tied-together, push-the-next-man teams I've ever been around. So whatever the noise about us is, I don't think they listen.

I think they block it out. We just have to get better every day. We have to improve mentally, physically, just making sure we're healthy.


Do that, the results always take care of themselves. When we're making those hustle, winning plays, that's what's going to get us over the top."
---
Backcourt boosted with fresh new additions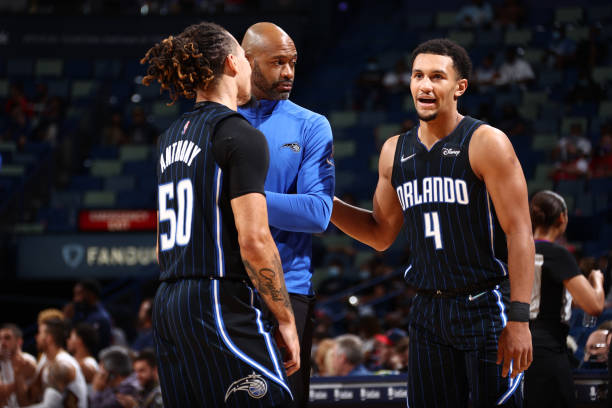 Although Markelle Fultz remains sidelined indefinitely after tearing his ACL just eight regular season games into last season, there's encouragement as far as their backcourt is concerned.
Cole Anthony, who Jack tipped to win ROY honours last term, is expected to improve significantly in his second season from a back-up PG role after enduring troublesome injuries.
Add to that an impressive new teammate in the form of rookie shooting guard Jalen Suggs (Gonzaga, #5 draft pick), things are looking up.
Young center Wendell Carter Jr, one of the Magic's incoming players in the trade sending Vucevic to Chicago, has agreed a fully guaranteed four-year, $50m contract extension in Orlando.
He averaged 11.7 points on 49.3% shooting, alongside 8.8 rebounds and 1.6 assists in 22 regular seasons games among new surroundings last term. The deal, announced this week, could prove a very valuable one if his injury luck improves – having played a career-high 54 games in 20-21.
Recent reports claim Carter has been urged to shoot more threes, while playing alongside Mo Bamba at power forward. Injuries to Jonathan Isaac and Chuma Okeke mean the aforementioned pair are likely to start in next week's season opener vs. the San Antonio Spurs.
After earning 15 years' experience as an assistant – four each in Denver and Cleveland before Dallas – Mosley has worked alongside some great minds in the league but knows how his team play centres around his own decision-making, which will be influenced by player empowerment.
"I've worked with some great coaches and don't have the same style they have, but what I've known is what's worked for me and how I came into this league as understanding that players want to have their voices heard.

Now, obviously there's a standard that needs to be set for how we're going to play and what we do, that's going to come down to my decision-making."
Did you know? Mosley is also one of five coaches making their debuts that have never previously been at the helm this coming season, joining Boston's Ime Udoka, Willie Green in New Orleans, Portland's Chauncey Billups and Wes Unseld Jr with the Washington Wizards.
Picture source: Getty Images — quotes, statistics via AP