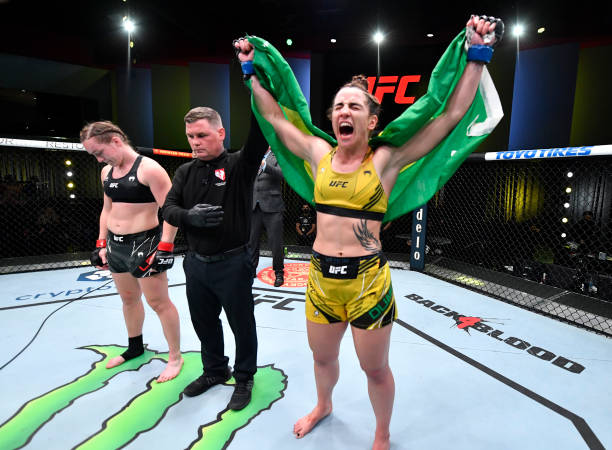 Having recovered from serious injuries, Aspen Ladd's long-awaited UFC return unfolded with little more than a whimper as the #3 bantamweight made her featherweight debut and was thoroughly outworked by Norma Dumont in a main event matchup that felt jarring to watch.

Dumont eases to decision win in her first main event matchup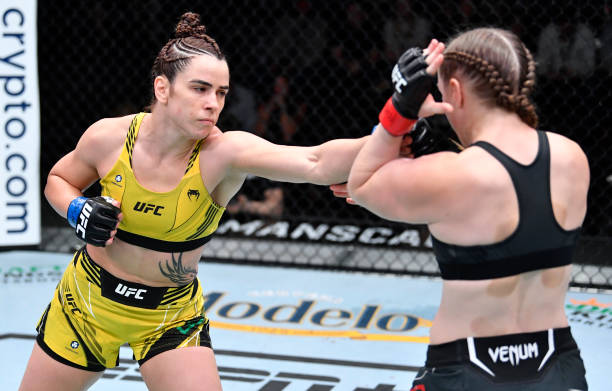 49-46, 49-46, 48-47: Norma Dumont beats Aspen Ladd (#3 BW) via unanimous decision
In a featherweight main event on relatively short-notice, Ladd had a golden opportunity to atone for her weight miss the previous month against Macy Chiasson – a fight that ultimately got cancelled, such were the health concerns resulting from another unsuccessful weight cut.
Instead, this encounter quickly proved tough to watch from the early exchanges and having to witness it for 25 minutes, rather than the usual 15 in a three-round contest, felt cruel.
From her herky-jerky movements with limited output early on, Dumont was more than happy jabbing her at distance. Such was the Brazilian's success that by round two, Ladd's face was already marked up by these persistent jabs.
Although her hands were up in a defensive stance, the head movement – or lack thereof – was clear as she didn't block enough nor let her hands go.
Nothing of note came of their frequent clinches up against the cage and although 145lbs isn't her natural weight class, that didn't excuse this sloppy start.
Her coach-boyfriend Jim West echoed the same sentiment in-between rounds, urging her to pick up the pace and mix it up to give Dumont different looks.
"She's sparring and not tired, that doesn't mean [be] careless," rather summed up a comfortable evening's work for the 31-year-old. Was this really the #3 ranked bantamweight she was facing?
Ladd was hit with one too many punches in round three, instinctively shot for a takedown that was abruptly defended, as the same pattern of events resumed.
They grappled against the cage for a while without much action, Dumont kept her at range where possible while stuffing another single-leg takedown attempt. Among other things, West said fight to win between rounds three and four, but Ladd just looked like a deer in headlights.
After a very brief blitz, she was taken down herself in the fourth but reversed the position well and unloaded some hammer fists to finish that round strong, even if it was debatable whether that activity alone would win her the round – only one judge, Junichiro Kamijo gave her R4.
Dumont, bloodied nose and all, defended more takedowns in R5 and as they clinched against the part of the cage where Ladd's corner were, the bemused looks on their faces said it all.
She ended up winning R5 to make the scores slightly more competitive, but Dumont was so far ahead already she had built up enough of an advantage to coast through the final stages.
Having earned wins over Ashlee Evans-Smith, former title challenger Felicia Spencer and now Ladd, it seems Dumont is next in-line for a shot at featherweight gold – a division without true depth. First though, double-champ Amanda Nunes has business to attend to at 135lbs.
"I know she took it [this fight] on short-notice, she's at 145, has all the strength and power, want her to keep fighting at this weight. That's what we trained for, her strengths are ground and pound, was going to take a lot to take me down."

Dumont on Ladd's featherweight debut and that defiant takedown defence
---
Other results as arlovski wins again, miller makes more history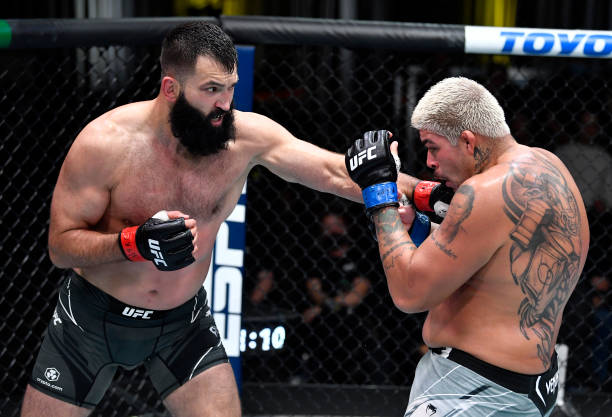 Former heavyweight champion Andrei Arlovski again justified his elite-level gatekeeper status, earning his fourth unanimous decision win post-lockdown in five Octagon appearances since last May, doing enough to outlast Brazil's Carlos Felipe 29-28 on all three judges' scorecards.
Lightweight legend Jim Miller recovered from some early adversity and produced a punch-perfect shot to send Erick Gonzalez flat on the mat, seconds into round two of their 155lb bout.
Fiorot wins in a fun step-up challenge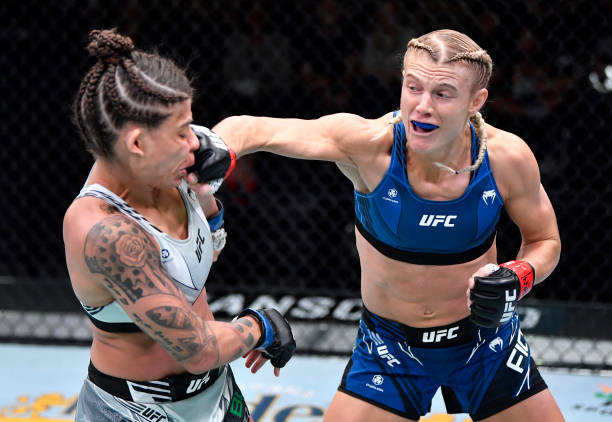 30-26, 30-27, 30-27: Manon Fiorot beats Mayra Bueno Silva via unanimous decision
In a featured showcase bout for women's flyweight prospect Manon Fiorot, she passed her latest test against Brazil's Mayra Bueno Silva but was disappointed not to get the finish.
Having established her kick-heavy stance early on, she was evasive enough to swat away Silva's own attempts at matching her while frequently trying to unload with punch combinations.
Against a clear step-up in opposition, a lot of them were initially blocked. That didn't deter her though, showcasing quick hand speed and constantly on the move to get better striking angles.
She dropped the Brazilian with a thunderous kick, continued countering her beautifully whenever openings arose and while Silva tried feigning that she was okay, got wrestled to the ground by the 31-year-old – who fought off a leg lock in the final seconds of R1.
Fiorot landed furious punch flurries in the second, though Silva's gamesmanship increased as she continued gesturing as if she wasn't hurt – you could clearly see that wasn't the case – though choosing not to invest in the body was increasingly obvious.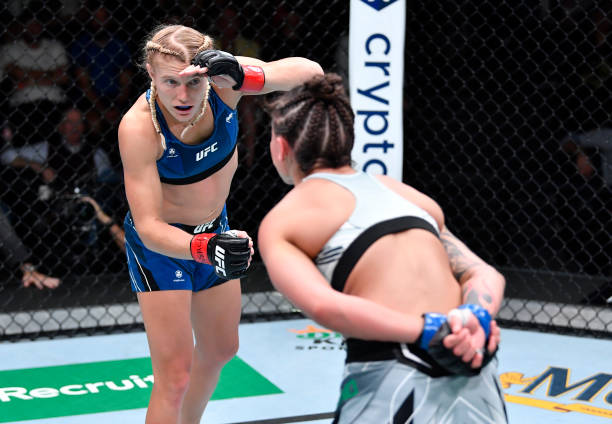 To Bueno Silva's credit, she kept walking Fiorot down despite being continually outstruck at distance and the matchup was more competitive in stages to finish round three but just found herself thoroughly outworked by a prospect who looks promising but needed a fight like this.
In the main card opener, featherweight Nate Landwehr returned to winning ways by producing a third-round submission win via anaconda choke against pre-fight favourite Ludovit Klein:
Beforehand, a five-fight prelim card featured three finishes and two close decisions.
Middleweight Bruno Silva is now 2-0 in the promotion, after scoring a third-round standing TKO victory vs. Andrew Sanchez. On his debut, he blasted compatriot Wellington Turman in June.
In the welterweight division, Danny Roberts earned a disputed split decision win (29-28, 28-29, 30-27) over Ramazan Emeev.
Lupita Godinez made history in the women's flyweight division and produced an admirable display given the circumstances, but ultimately was outpointed on the scorecards (29-28 x 3) vs. Luana Carolina on a night she became the first fighter to compete twice in a seven-day span.
Since losing his UFC debut in a Fight of the Night contest against Heili Alateng two years ago, Mongolian bantamweight Danaa Batgerel has earned three straight first-round stoppages and added his first Performance of the Night bonus blasting Brandon Davis in two minutes:
In the card's opener, women's strawweight Ariane Carnelossi produced the second submission win of her career with a round three rear-naked choke to stop UFC debutant Istela Nunes.
The Brazilian, who celebrates her 29th birthday next month, is now 14-2 and has strung together successive wins since a R3 doctor stoppage defeat by Angela Hill two years ago last month.
She had scheduled bouts against Talia Santos (August 2019) and Mackenzie Dern (April 2020) cancelled in separate weight-classes, but that sort of promotional matchmaking make it clear the brass think highly of her and believe she'd be able to hold her own vs. ranked contenders.
Picture source: Getty Images