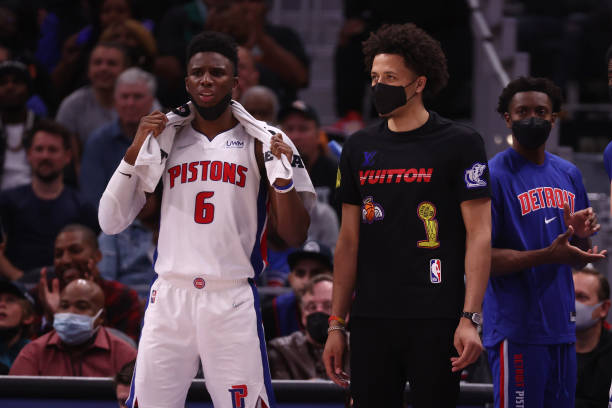 Lonzo Ball's second made three-pointer of the evening, at 6:22 in the fourth quarter, erased Detroit's slender lead – one they jostled for throughout – as Chicago executed plays better down the stretch and earned a 94-88 road win in their season-opener. It reinforced the belief the Pistons desperately need top draft pick Cade Cunningham (ankle sprain) to return and quickly.
Slow-starting Pistons punished in opening day defeat by Bulls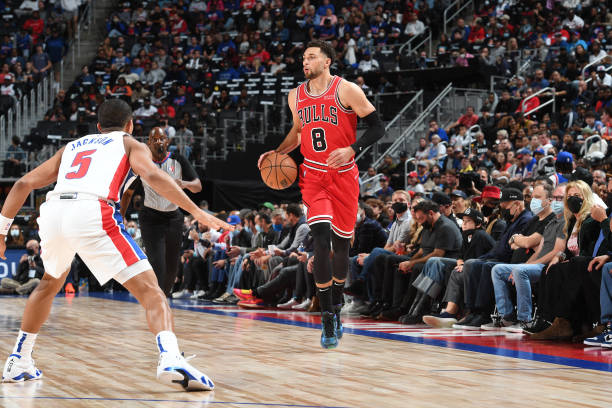 Dwane Casey's Detroit Pistons were noticeably without number one draft pick Cunningham for their season opener at home to the new-look Chicago Bulls, but the slow start and underwhelming finish emphasised what they hope the 20-year-old guard can bolster in attack.
He missed their four-game preseason slate after suffering the injury three weeks ago during their training camp and franchise GM Troy Weaver discussed the No. 1 pick's timeline to return:
"He's pretty much day-to-day, but we need to ramp him up and get some conditioning going, acclimate to going full speed at five-on-five.

Hopefully we'll get him back sooner than later, but I would anticipate hopefully seeing him when we get back off the road."
Detroit's upcoming schedule (away unless bold)
Sun, Oct 24: Chicago
Tue, Oct 26: Atlanta
Fri, Oct 29: Philadelphia
Sun, Oct 31: Orlando
Sun, Oct 31: Brooklyn – second of a back-to-back
The same way LaMelo Ball (2020, #3) and Ja Morant (2019, #2) quickly energised small-market teams in Charlotte and Memphis into intriguing prospects while winning Rookie of the Year honours over the past two years, Detroit are bullish they picked correctly this time around.
French point guard Killian Hayes, picked seventh by the Detroit front office in last year's rescheduled draft, has plenty of potential but has struggled to impress besides brief flashes.
Little under a year later, multiple players picked after him have shone with their respective teams – including Tyrese Haliburton (#12) in Sacramento, who finished third in ROY voting. It doesn't help that Hayes was reduced to just 26 games (18 starts), having suffered a labral tear in his hip.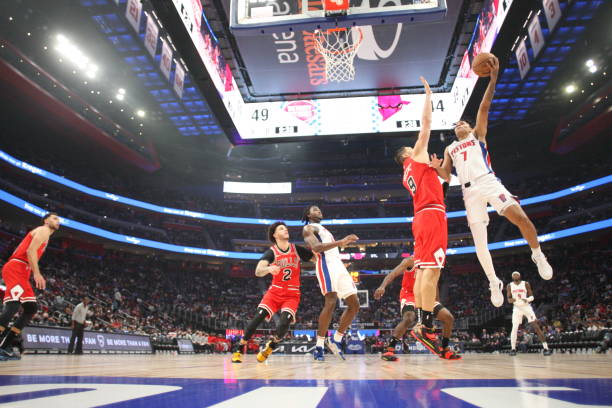 His stats overnight didn't make for good reading either: five rebounds, two assists and turnovers, one personal foul, 0-of-6 shooting and the only scoreless starter in 20 minutes on the court.
Also read: Why Detroit have reasons to be optimistic, after winning the draft lottery
Rough shooting nights and messy box scores are expected over the coming weeks as players acclimatise back up to speed so he'll get better, as will the rest of his teammates. That said, Jerami Grant – shortlisted for Most Improved Player honours last term – can't do it all himself.
Detroit missed seven of their first eight shots to start the game, led by as much as nine in the second and third quarters but LaVine's scoring kept things competitive before the Bulls took over.
"First-game jitters whatever it is, I know we'll shoot better. You can't give them [Chicago] 22 points on turnovers when you're struggling to score."

Dwane Casey's thoughts on a preventable opening night loss
He led the Pistons in scoring with 24 points (8-20, 3-5 from three), alongside six rebounds, two assists, a block and steal. Saddiq Bey and Isaiah Stewart, both drafted last year, also enjoyed decent outings with double-digit scoring alongside new acquisition Kelly Olynyk off the bench.
Picture source: Getty Images — quotes, stats via AP