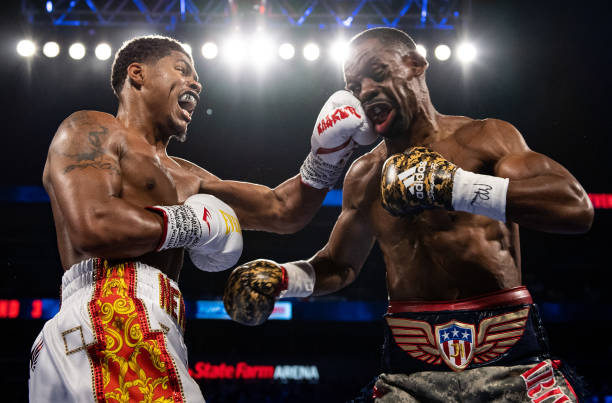 Shakur Stevenson promised this would be his breakout display and it proved precisely that: immediately taking control, showcasing blistering speed while unleashing a different dimension to his repertoire. Once he could smell blood from an increasingly hurt Jamel Herring, his forward pressure intensified to earn a tenth-round TKO victory and the WBO's 130lb belt.

Super Shakur delivers on his promise, now a two-division champ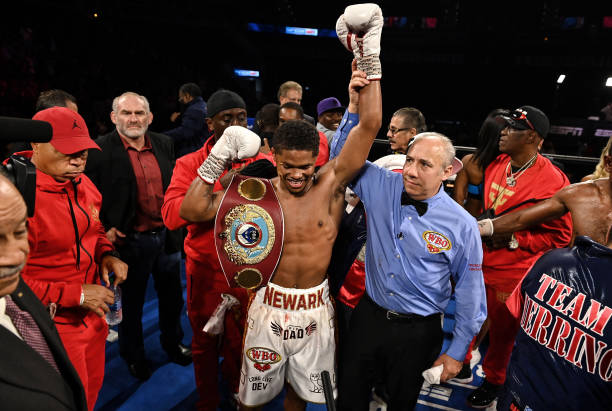 R10, 1:30 – Shakur Stevenson beats Jamel Herring, is new super-featherweight champion
Two years ago this month, Stevenson eased to a unanimous decision win over Joet Gonzalez, capturing the then-vacant WBO featherweight title in his 13th pro fight.
Four fights later, the 24-year-old produced a striking clinic against a former sparring partner and friend in experienced vet Jamel Herring, who couldn't handle his furious punch combos nor sharp skills – despite having the physical advantages making this bout a compelling watch.
Earlier this week, I stressed it was important that Shakur's bravado and whatever heel character he played in the build-up to this fight didn't detract from how he fought once that first bell rung.
Within seconds, you could sense that wouldn't be a problem. He landed 99 power punches in ten-and-a-half rounds and it felt like more, even though the first three rounds were a procession.
Stevenson landed a big left hand, among other things, keeping Herring hesitant with his punch output in R1. The champion's negative body language and sluggish start led to trainer Brian Mcintyre already calling for more urgency – an unsettling sign foreshadowing what was to come.
It felt like Stevenson was throwing whatever punches he wanted at times during the early going, whether generating power through blitz attacks or exposing Herring's initial approach – almost trying to outbox the youngster, who could fight at range all night long and has done so before.
That overly defensive style isn't attractive to watch and in a technical sport where most want to see competitive firefights, Stevenson was labelled boring last time out against Nakathila.
There was no such accusation this time around, as he circled around to former fighter-turned-analyst Timothy Bradley on commentary and thanked him for the criticism afterwards.
Instead of moving plenty and making Herring chase him, Stevenson stood his ground while showing he was in rhythm. Four-punch combos, jabs to the head and body, the third round felt like the beginning of the end at times – such was the boxing on display.
Herring, for what it's worth, roused to make it more competitive in the later rounds, but was never going to win a decision on the judges' scorecards after that alarming start – fighting on the outside and being picked apart by a smaller fighter in stature, landing more impactful punches.
Whenever he threw more than one punch at a time, the 35-year-old left himself open to counterpunching attacks as Stevenson regularly split his high guard and continued probing.
Herring's jab started to flow properly in round five, although he needed to absorb some powerful punch flurries to the head midway through the round to eventually enjoy sustained success.
Investing to the body and making it a rough fight with repeated clinch work felt long overdue, yet just as he arguably scored his first round of the evening, he was badly hurt in the sixth.
An accidental clash of heads briefly buzzed Semper Fi, then Stevenson landed a powerful two-punch combination and pair of stinging right hooks – catching him off-balance with shots he clearly didn't see, judging by his reaction.
Although he took the second one well, you could tell those power punches would eventually add up if he absorbed many more and they weren't in short supply as Stevenson kept pressing.
Through 18 minutes, the challenger landed double Herring's output and despite giving him brief flashes of encouragement by those clinch exchanges, wasn't unprepared to play dirty if need be.
Mark Nelson, who excelled as the referee here, had a busy R7 with sustained clinching. Stevenson landed a nasty hook on the break during one in particular, after he explicitly told them to stop punching, and got a punch below the belt line back towards the round's end.
He was unhappy and briefly stopped punching altogether to let the official know, so the Herring corner could sense vulnerability from Shakur – but still needed to be dragged into deep waters.
Herring charged forward but without implementing his jab very often in R8, so Stevenson was still landing the more noteworthy punches while riding body shots that often came his way, albeit with less sting by comparison.
Bo-Mac encouraged Herring again between rounds, saying Stevenson was slowing down and that he needed to win all of the remaining rounds but that was much easier said than done.
Although you could see him consciously resting at points, he was still doing more than enough in flashes with power combos to win these rounds. That speed differential, combined with Shakur's man strength – as ESPN's Joe Tessitore calls it – meant the end was fast approaching.
Nelson temporarily halted the action early in R10, calling for the ringside doctor to look at Herring's cut above his right eye.
That cut had progressively worsened from a thunderous three-round onslaught early on and unbeknownst to him, the interval intensified Stevenson's output as he knew a finish was near.
The referee saw as much too and rightly stopped any further onslaught midway the round, despite Herring's valiant insistence on continuing in a bout where he was firmly second best.
---
Post-fight comments, what's next?
Stevenson was the smaller man, fought like the bigger one and in doing so, produced a showing that he hopes is the springboard to more success in 2022 and beyond.
It wasn't flawless either, which is scary given how young he still is – sustaining that nasty edge while riding the peaks and troughs against high-level opposition will stand him in good stead.
Just like Herring said in Abu Dhabi six months ago, the two-division champion has his sights set on one man in the super-featherweight division as he looks to unify the titles:
"I want to thank Timothy Bradley, he was criticising me, calling me boring. I wanted [to put on] a fun fight, to show my boxing skills, defence, power and showed everything tonight.

I saw he was bleeding, so with every punch was just looking to attack the cut and make the doctor stop it. It felt amazing, I want to be a superstar. I'm here to last, take my craft very seriously… disciplined, had a strong camp and team, we were in the gym grinding.

There's only one fight left, WBC champion Oscar [Valdez] can't keep ducking, there's nothing else to look forward to in the 130lb division, we need to unify."
Herring was in apologetic mood during his ringside interview but doesn't really have much to be sorry for – perhaps besides a sluggish start that set the tone for a long evening's work against a considerably faster, younger opponent who hit harder and more frequently to boot.
"He's just sharp, slick, his hand-eye coordination is very good. He was the better man tonight, I started slow, had to bite down and show that grit.

I don't know what's next for me, he [Bo-Mac] wants me to go back to the gym, have to start looking out for my family. No-one expected me to get this far…"
Bo-Mac praised Stevenson's team for their gameplan, admitting he didn't expect that display – one where the challenger stood his ground, took the fight to him and applied pressure.
In a division where most of the top men haven't fought one another, it'll be interesting to see where Herring goes from here – assuming he doesn't want to retire just yet. As far as the belts are concerned though, a Stevenson-Valdez unification bout in spring 2022 feels like the right move.
Picture source: Getty Images, stats via ESPN's broadcast