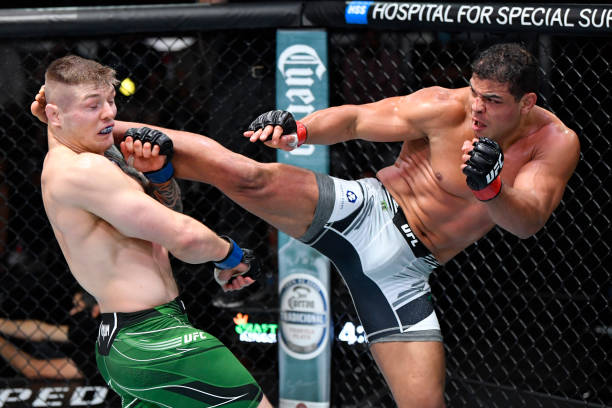 Paulo Costa embraced the heel role, having revealed his inability to make the scheduled 185lb limit during fight week. Despite explosive moments aplenty and a flurry of furious head kicks that would've ended most other nights, he was outworked by a smart Marvin Vettori showing in a highly-anticipated battle between two former middleweight title challengers at 205lbs.

Vettori embraces Costa's venom, importantly emerges victorious
48-46, 48-46, 48-46: Marvin Vettori (#5 MW) beats Paulo Costa (#2) via unanimous decision
Making his long-awaited return after an underwhelming showing against Israel Adesanya last September, Paulo Costa's name was in the headlines for all the wrong reasons during fight week after admitting he wouldn't be able to make the middleweight limit during Friday's weigh-ins.
On a 14-fight card without much in the way of noteworthy names, the fact this main event matchup looked like crumbling didn't bode well. Not least after Holly Holm (injury) and Miesha Tate (COVID-19) withdrew in quick succession, overshadowing a drab event last weekend.
Some cards are naturally more stacked with names and/or champions than others, but Vettori's insistence on fighting Costa – whether that be at 185, a 195lb catchweight or 205 in a different division – banked him credit aplenty with the UFC brass, as Dana White insisted afterwards.
Dana said Costa will fight at light-heavyweight in future and that's unsurprising, given how his physique held up very well and the disparity in their fight night weight figures given post-fight: 220lbs to Vettori's 208. He was certainly in shape, evidenced by how he clearly won round five.
He started the final stanza quickly, breaking down Vettori's body with persistent hard-hitting kicks as the repeated sickening thuds were loud enough for all to hear.
Costa-Vettori, total strikes per round
R1: 35-42
R2: 36-40
R3: 19-47
R4: 32-53
R5: 50-32
Continuing to rip shots to the midsection, both with kicks and punches, Vettori's durability was undeniable but his limited defence was unsettling to watch as Costa stuffed a laboured takedown attempt while looking to inflict more damage, hoping for a finish down on the cards.
Vettori mustered enough energy to clinch against the fence for the final moments, but even knowing how Costa fights, the Italian certainly didn't make this matchup any easier for himself.
He overwhelmed Costa during the bulk of their boxing exchanges here, but the strength differential between them proved a hindrance as far as his wrestling prospects were concerned.
Being able to swerve out of danger the way he did in round two was reassuring but limited head movement and an increasingly low guard meant this nasty headkick would occur too often:
Jason Herzog, the main event referee on this occasion, gave Costa a point deduction after an eyepoke – meaning the Brazilian's hard work in that round would go unrewarded.
Through ten minutes, Vettori had already landed almost more strikes (82) than he did over 25 in his Adesanya rematch four months ago (91). He was content punishing Costa's explosive moments by jabbing him from distance, rather than exchanging haymakers in the pocket.
Costa's decision to go for a guillotine choke in R3 was baffling, not only because they were so sweaty the hold wouldn't last, but he essentially gifted Vettori ground control for the remainder of that round – almost 90 seconds which settled a competitive five-minute period to that point.
Hurried decision-making like that, as well as the aforementioned point deduction, meant the 30-year-old knew he needed a stoppage in the final stanza if he was to earn a comeback victory.
The contrast in their corners before R5 said it all: Costa had men overloading information in his ears, while one was vigorously massaging his arms. Vettori had Kings MMA teammate Beneil Dariush (#3 lightweight) and others telling him to pick his spots, calm down while being smart.
As for Vettori, his granite chin helped him withstand overwhelming moments of pressure which would've broken lesser men while making this an even more exciting firefight. However, that bullish defensive approach won't get the job done against the top two at 185 – alas, he's aware.
With Adesanya-Whittaker 2 expected sometime in early 2022, Derek Brunson vs. Jared Cannonier (UFC 270, January 22) is a title eliminator with the winner set to fight for the belt next.
Having already beaten Jack Hermansson (#6) late last year and now Costa (#2), it's likely the Italian will probably face the Brunson-Cannonier loser while hoping Adesanya is dethroned by one of them in the meanwhile – he's 0-2 against the champion and no-one wants to see a trilogy.
"Fucking hell, he [Costa] hits hard. Good work, another improving experience for me … I have the biggest heart and will but when it goes to the fourth and fifth [rounds], there's no way anyone can keep up with me. I keep wanting to fight the best, I'm not over chasing it, the belt will come."

Vettori's post-fight interview with Michael Bisping, returning to the win column
Picture source: Getty Images