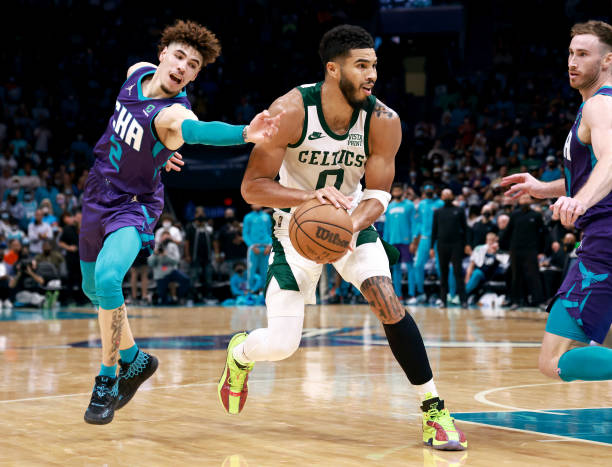 Jayson Tatum had 41 points with eight assists and seven rebounds, while fellow All-Star teammate Jaylen Brown added 30 on 20 shots as the Boston Celtics rallied from a nine-point deficit with 4:30 left to eventually outgun the Charlotte Hornets in overtime – ending their perfect 3-0 start to the new campaign during a frenetic duel packed with multiple lead changes.
in a tricky test, celtics extinguish hornets' flawless start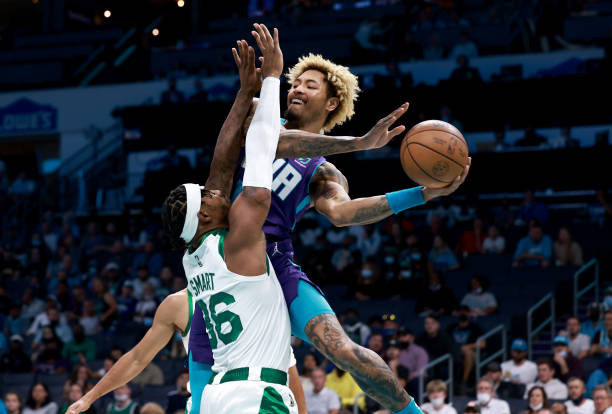 Hornets 129-140 Celtics: Tatum earns ninth 40-point career game
LaMelo Ball, Miles Bridges combine for 50 points, 12 assists
The first six minutes of this Eastern Conference clash foreshadowed what was to come: an enjoyable, exciting and competitive affair between sides in the second of a back-to-back slate hoping to grit out a morale-boosting victory for different reasons. Charlotte were unbeaten.
Meanwhile in their season-opener, Boston suffered a tough 138-134 2OT loss in New York. Jaylen Brown, who recorded a career-high 46 points at Madison Square Garden last week, said he had to make up for a missed breakaway dunk against the Knicks which proved the turning point.
After exchanging assists with Dennis Schroder on three-point shots to push the visitors marginally ahead, it was his powerful one-handed dunk over Miles Bridges, the Hornets' leading scorer with 25 on this occasion, that proved the catalyst for Boston's assertive finish in overtime.
Schroder made all of his four shots from the foul line down the stretch, before Jayson Tatum tied the bow on a hard-fought road win with two further made free-throws. It didn't always seem like a foregone conclusion though, such was the hosts' purposeful start packed with multiple threes.
Free agent signing Kelly Oubre Jr, who finished with 19 points and nine rebounds in a game-high 43 minutes, was perfect from deep at one stage – 15 points on five triples, but it wouldn't last.
He only made five or more once in a game last season during his stint with the Golden State Warriors (7/10 vs. Dallas Mavericks) and is a 32.6% career shooter from distance.
All statistics considered, his general scoring drop-off was too drastic for comfort though on an evening where head coach James Borrego said his players were gassed out down the stretch.
"They [Boston Celtics] are tough, physical and do this to most teams in the half court. We will find ways to get better as we go, trying to do the right thing and this is another process in learning, will help us down the road."

Hornets head coach James Borrego's post-match verdict
Predictably though, last season's Rookie of the Year winner LaMelo Ball was at the forefront of Charlotte's electrifying plays. He made sure everyone got touches but didn't hesitate to pull the trigger from beyond the arc himself, hitting seven triples – one more than matchwinner Tatum.
With Terry Rozier (ankle) again missing alongside PJ Washington (knee), Ish Smith twisted and turned his way into making many impactful plays off the bench. Ball though, was inspiring.
Making brilliant reads through traffic, releasing full court baseball passes to Gordon Hayward to finish after gliding past Marcus Smart before hitting a stepback three, the 20-year-old did plenty.
Tatum produced more. After watching Brown dictate as Boston's lead ballhandler, the two-time All-Star – whose movement appeared hobbled at times – was pressing the action to good effect.
Tough basket after tough basket, the 23-year-old relished the challenge posed of him after an iffy start to the campaign and stepped up to the billing by scoring a myriad of different ways.
Whether going up-and-under at the rim, deep threes, layups, step back jumpers, he pressed the action naturally while showing awareness to facilitate for others: eight assists is his highest tally since April 29 this year, in a 35/8/8 game against none other than the Hornets themselves.
"It just showed that we have some fight in us, some toughness. Whatever was going our way, wasn't going our way, we had to figure it out." – Tatum

"We don't love these overtime games, but it builds toughness mentally while getting in shape and playing through these. We just kept chipping away, jumped it up a little bit and did a few different things trapping wise, sped them up and guys obviously had to make shots on the other end." – Celtics HC Udoka
Robert Williams III recorded his second double-double of the new season, with 16 rebounds and 12 points alongside four assists and three blocks.
Schroder came up big in overtime, while Jabari Parker – another offseason acquisition – shot perfectly in the first-half with 13 points during a game featuring a whopping 28 lead changes.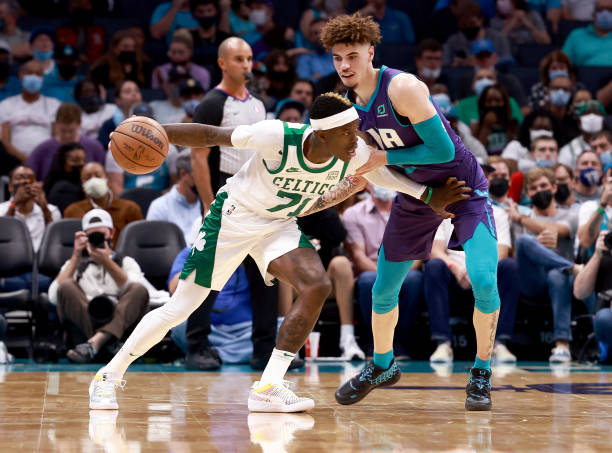 Marcus Smart revealed he almost didn't play at all, having woken up with a migraine – but fought through it and again typically made big plays that rarely show up in the box score afterwards.
Among them was fighting through a screen to deny an inbounds pass to Ball with less than 20 seconds left of regulation, forcing a turnover.
What's next?
Boston host Bradley Beal and the Washington Wizards in the early hours on Thursday (BST), while Charlotte's two-game road trip begins in Orlando around the same time that evening.
Picture source: Getty Images — player, head coach quotes via AP