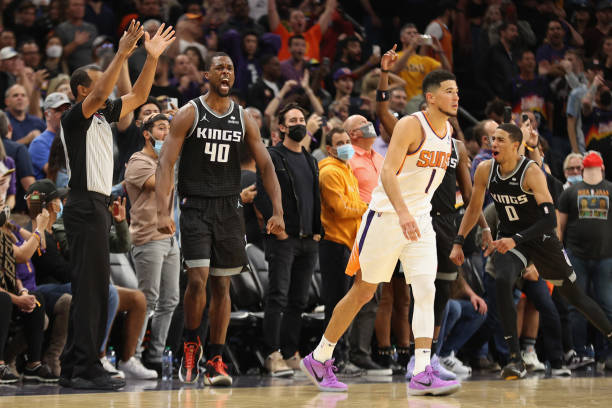 Unbeaten in pre-season but overwhelmed by Stephen Curry and Donovan Mitchell recently, the Sacramento Kings overcame adversity by executing big plays late on to emerge victorious and ice a hotly-contested clash against the reigning Western Conference champion Phoenix Suns.
Kings absorb Suns' late surge with Barnes' buzzer-beater three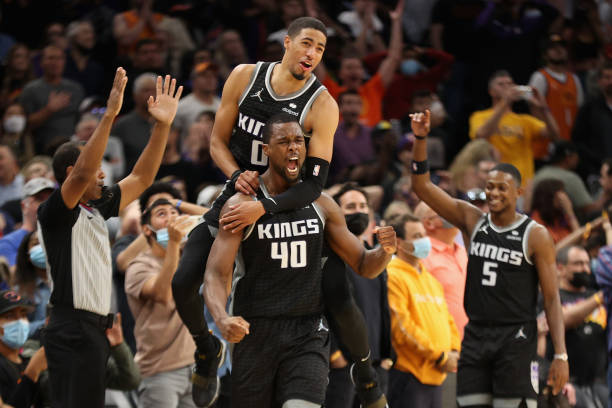 Suns 107-110 Kings: Barnes banishes shooting struggles in style
Booker records first 30-point game of season while Paul wilts
Make no mistake, this was exactly the sort of competitive affair Sacramento would've let slip and relinquished last season. Whether that means they'll end a 15-year playoff hoodoo remains to be seen, but nights like these reinforce their quiet optimism under a divisive coach in Luke Walton.
Remember this? Warriors 117-113 Kings: Haliburton shines, but Dubs edge frenetic finish
Sure, the Suns were worringly cold from behind the arc (27.3%) and their 11-time All-Star point guard Chris Paul endured his worst shooting night since March 2019 (vs. Toronto Raptors), when he was still with the Houston Rockets. Even with that in mind, the Kings weren't perfect either.
Terence Davis was scoreless on seven attempts, including four triples, in 11 minutes. De'Aaron Fox's struggles from deep continued (3/19 so far this season) while Barnes was 0-of-4 from downtown until the final quarter. Importantly, their heads didn't drop – they couldn't afford to.
Having trailed for sustained periods throughout the night, a 17-6 run packed with Buddy Hield's three-point barrage meant they had a six-point advantage to protect by the end of the third.
Phoenix's shooting collectively took a drastic nosedive in that quarter, after big contributions from Deandre Ayton and Devin Booker helped them cruise into half-time with a deserved lead.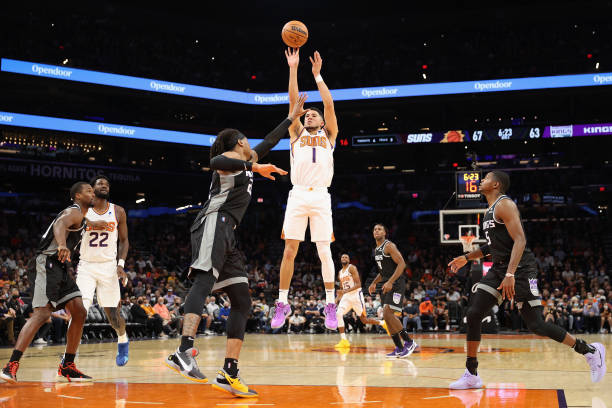 The hosts missed Cam Payne's energy and creative impetus, with the backup guard sidelined with a hamstring strain. Offseason acquisition Elfrid Payton did a good job in his absence logging 10 points and two assists in 13 minutes, but the 27-year-old simply isn't a three-point threat.
Hield's influence key as Kings overturn deficit
Hield, heavily linked with a Lakers trade this offseason, exploded with 26 points in 27 minutes off the bench – hitting seven of his 11 threes, one more than the entire Suns squad did here. They could've used him tonight, relinquishing a 26-point lead to lose 123-115 away in Oklahoma City.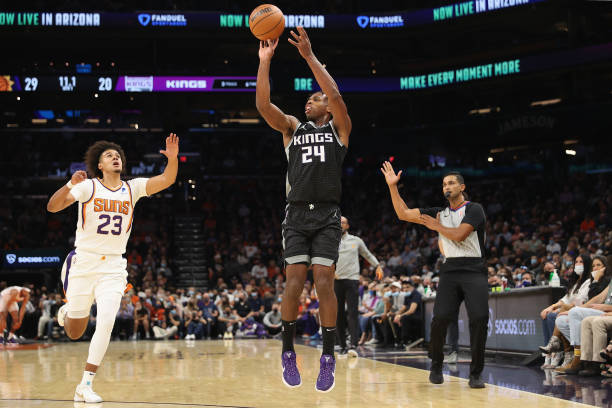 But instead, the Kings are benefiting from a versatile lineup that allows them to manage both Fox and Tyrese Haliburton with highly-rated rookie Davion Mitchell and Hield off the bench.
As evidenced by his 22-point outing against Golden State on Monday, Mitchell will be fine and learn to grow with the topsy-turvy experiences every rookie does. While more single-minded, Hield is dependable and nights like these reinforce why he inked that big extension in 2019.
While euphoric in the moment, it must've felt bittersweet to see Barnes hit a tough three-pointer over the defensively conscious Booker at the buzzer. After all, they really shouldn't have needed to get into that position to win, having led by as many as 13 points before Phoenix's final surge.
Hield's hesitancy, in mid-air, saw an alert Jae Crowder snatch the ball from him and feed it forward to an accelerating Booker on his right. He lobbed it forward to Mikal Bridges, who finished the alley-oop dunk to tie the game at 107 and send the crowd wild with 34 seconds left.
Between that trio, they scored or assisted on all of Phoenix's made field goal attempts in the fourth but their urgency was noticeable especially when down 98-86 with six minutes left.
Crowder made his two threes in the final 2:37, having missed the previous five attempts. Bridges was dependable as ever while All-Star guard Booker took it upon himself to carry them home.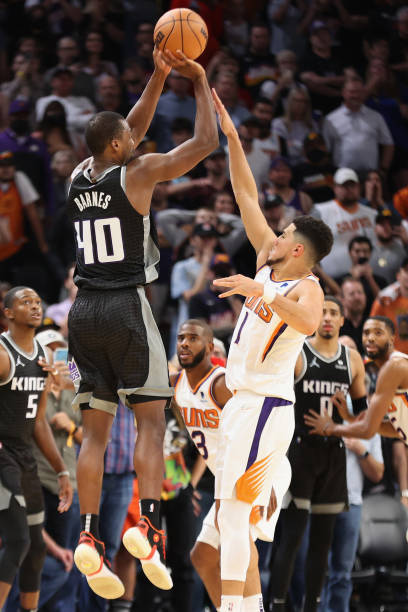 After Barnes missed a driving jumpshot, Booker was well defended by Hield – forcing him into a tricky stepback jumper hitting the side of the rim as Richaun Holmes snatched the rebound.
They called a timeout, Bridges intentionally fouled an onrushing Fox before he got to the rim and the Kings reset for the final possession as Fox prepared his inbounds pass with 1.4 seconds on the clock. Barnes still had plenty to do, not least after failing on his previous effort.
While the Marvin Bagley III situation remains unresolved, Sacramento's ability to grind out tight games like these – something that didn't happen often enough last year – will decide whether they truly surprise critics this coming term.
What's next?
Sacramento's road trip continues in New Orleans on Saturday (1am tip-off BST), before games against Luka Doncic's Dallas Mavericks and the Utah Jazz finishes their four-game away stint.
Phoenix stay home until Nov. 9, where they'll want to avenge this narrow loss in California – next is the Cleveland Cavaliers, who beat the LA Clippers 92-79 elsewhere in the league overnight.
Picture source: Getty Images