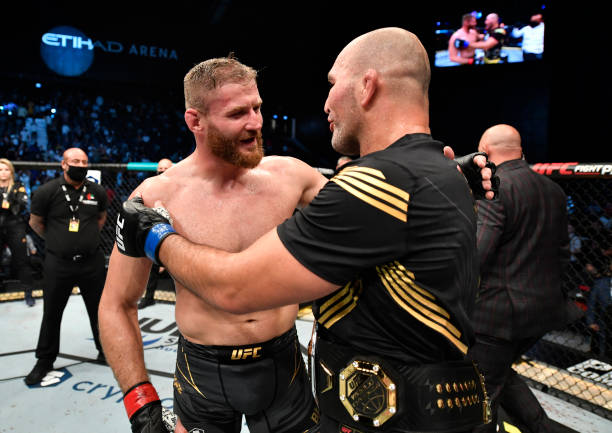 On an evening where multiple divisional contenders' stock rose exponentially, a new champion was crowned. Before then, Petr Yan's slow start vs. Cory Sandhagen didn't deter him from having bantamweight gold wrapped around his waist again, albeit of the interim kind this time. Then Glover Teixeira made history in the main event matchup, submitting Jan Blachowicz with a R2 rear-naked choke to become the new 205lb titleholder at 42 years and two days old.
Teixeira takes care of a flat, frustrating Blachowicz showing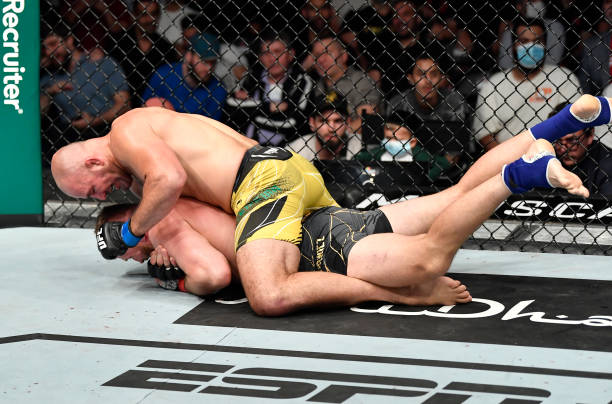 R2, 3:02 – Teixeira submits Blachowicz via rear-naked choke, crowned new LHW champion
In a main event featuring two fighters with 15 career defeats between them, it was the older – and more experienced – of the pair who ultimately prevailed, much to the surprise of many.
Post-fight, Blachowicz said everything went wrong for him but insisted this book isn't closed as far as him in championship contention, so he'll come back stronger in 2022. However, it was the evergreen Brazilian from the blue corner who had his hand raised and made UFC history in style.
"20 years baby, I have no words to describe this moment. I thought about what I was going to say, right now I don't have it, I'm gonna keep breaking the rules.

Don't give up on your dreams, don't let anyone tell you what you can do – believe in yourself and keep going forward.

This is my house, I've been here [in the Octagon] before, I love this. I told you guys [his family] I'm coming home with the belt, promise is done!"
Glover Teixeira started purposefully, securing a high crotch takedown in the first minute and immediately set the tone for what proved a quick evening's work against defending champion Jan Blachowicz. Mutual respect aside, no-one could've foreseen the manner of this finish.
Once they wrestled for position and the Brazilian asserted himself, he made it dirty and rough by implementing the traditional dark arts while logging four minutes' ground control time.
Whether that was pushing his arm across Jan's mouth, leaning on him to further impact the champion's breathing or landing subtle strikes across multiple body parts while in top position, Teixeira had him right where he wanted and there was no poker face from the champ neither.
He was visibly uncomfortable trying, but failing, to escape nor alleviate the Brazilian's pressure.
Blachowicz was being stifled, overwhelmed and blunted with his backside on the mat quicker than he could muster in his first title defence against Israel Adesanya seven months prior.
R2 was a better round in terms of striking success for Blachowicz, understandably keen to keep the fight standing after being dominated for large periods of the opening stanza.
He could string together a few promising punch combinations during their stand-up exchanges at range and displayed improved takedown defence (4/6 stuffed), though Teixeira buzzed him with a beautiful left hook and eventually got the fight back down to the ground once more.
There, he got into full mount after flattening him out with ground and pound strikes, secured the chokehold and seconds later, got a quick tap.
This result makes him the second oldest UFC champion in history behind Randy Couture, the oldest first-time champion in modern promotional history (42y, 2d) and he's not done just yet.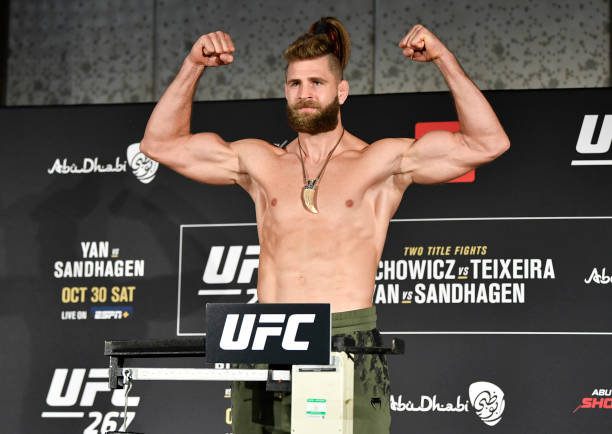 Dominick Reyes' latest conqueror Jiri Prochazka (#2) was watching from the stands, having weighed in beforehand as an alternative had one of the pair been unable to feature.
"Whoever, yeah. He's respected, come down here buddy you're next, see you in May." – Teixeira on the prospect of facing Prochazka in his first title defence
Many counted Teixeira out of the title picture long before this evening. Whether being dominated by Jon Jones seven years ago, or memorable knockout defeats in the years since, Glover refused to let that define the twilight years of his career – they've instead proved his most fruitful.
---
Yan weathers Sandhagen storm, becomes new interim champion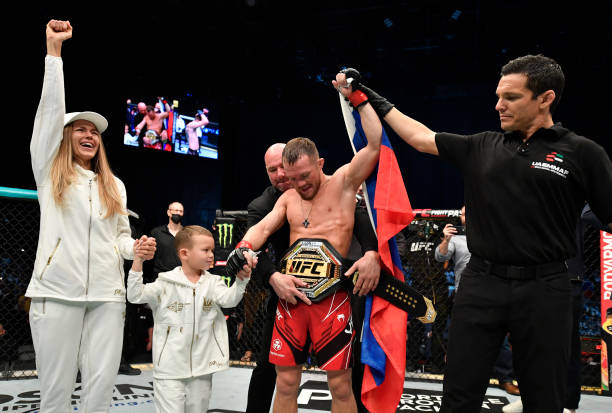 49-46, 49-46, 49-46: Petr Yan defeats Cory Sandhagen via UD, new interim BW champion
"He was a well-deserving opponent, knew his gameplan but ours was to pressure him a lot and beat him to the punch. Everyone knows I'm the real champion, I'll fight anyone – [TJ] Dillashaw or the clown [Aljamain] Sterling."
Petr Yan didn't start quickly, but the former bantamweight champion didn't need to, showcasing ample adjustments and intensifying his attacks on a determined short-notice replacement in Cory Sandhagen to eventually outlast the #3 ranked contender on all three judges' scorecards.
It didn't seem like that would be the case after R1 though. Sandhagen was considerably brighter early on, punishing Yan by incorporating a clear investment to body punches where possible.
He utilised his height and range advantages, handfighting while keeping relative distance and the fight's tempo on his terms. R2 was more back-and-forth, as Yan loaded up on his punches while Sandhagen was content trading bombs in the pocket – much to the crowd's delight.
Importantly, he was displaying the sort of slick movement that had eluded him against Dillashaw last time out, angling off well and building off that brilliant start.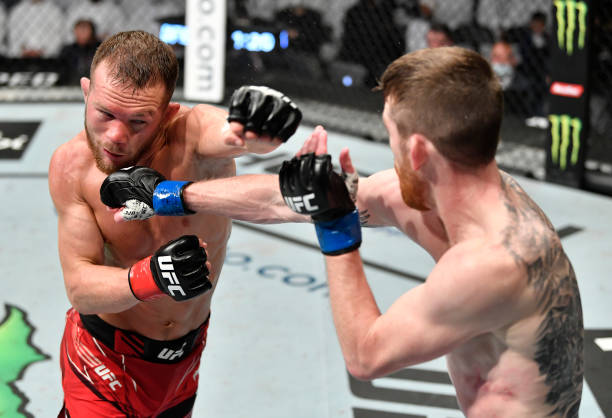 He stumbled the former champion with a stiff jab early in R3 but Yan was already making subtle adjustments to outpoint his adversary as they prepared to go the distance. Although Sandhagen landed more strikes in all but one round – R4 – the Russian made him work harder to hit clean:
A spinning backfist and follow-up left hand knocked Sandhagen down later on in round three, as Yan could sense the tide turning rather definitively.
Some dangerous ground and pound strikes followed up against the fence, before the Sandman responded with a timely reversal as tense moments were eventually averted.
It reinforced how quickly things change, with one sharp movement, in a fight Sandhagen was arguably winning to that point.
Not for much longer, as Yan had clearly found his groove and that spelled danger – just like it did for Aljamain Sterling during their controversial title fight earlier this year.
After being outworked through R4 by the Russian's fast hands and furious forward-thinking intent, Sandhagen secured a brief takedown but as Yan quickly returned to his feet, there was a sense of inevitability about how this would finish.
Why? Yan was landing punch combos he couldn't string together earlier, had the confidence to throw spinning attacks, body shots of his own while stuffing multiple takedowns (5/6) to boot.
"What do I do?", quizzed Sandhagen before R5. Despite taking his corner's advice on board, everything went out the window as he was immediately on the back foot again: Yan forced the action, leaving him to react and counterpunch with the odd acrobatic strike for good measure.
To his credit, he moved a lot and tried being elusive but didn't land enough – despite throwing more – to swing the final round back his way, especially after absorbing a big head kick and more power shots. The urgency he needed to finish stronger by comparison just wasn't there though.
Cory was understandably crestfallen after the scorecards were announced, albeit in a different way to his split decision defeat against a returning former champion three months prior.
Ultimately, it feels like the top divisional contenders aren't worried by his power. Sterling wasn't afraid to get stung before that frenzied first-round finish, while Dillashaw and now Yan have both outpointed him despite landing less total strikes in competitive five-round main events.
Back to the drawing board, it seems.
"He's a hell of a fighter man, was better tonight, I always wanna fight the best in the world, that's what will make me the best mixed martial artist I can be. Next time I fight him, I'll win."
---
Rest of the main card, as Chimaev and Makhachev shine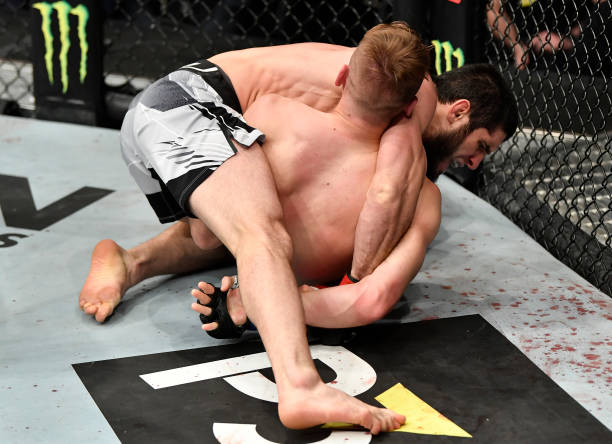 Lightweight contender Islam Makhachev (#5) earned his third victory of 2021 – all by different submissions – with his second-fastest UFC stoppage win against a gamely Dan Hooker (#6), who took this fight on short-notice but was at sea on the ground, lasting just under half a round.
Hooker started patiently but Makhachev set up a double-leg takedown with a right hook, charging at him and making sure to quickly secure a kimura lock – inflicting some nasty torque on the 31-year-old's arm, with the other one trapped in a similarly compromising position.
He asked Dana for a title shot Octagonside, with the promoter audibly responding we'll see.
Post-fight, Daniel Cormier asked why this display should mean he skips the Gaethje/Chandler winner next weekend in line for the next title shot, and he reaffirmed a desire to "take the belt and keep it for many years," something that feels ominous for 2022 if the Russian gets his way.
Statistic: With this manner of victory, Islam becomes the 21st UFC fighter in history with a submission win by four or more techniques (rear-naked choke, armbar, arm triangle and kimura).
"Now I have to talk, nine-fight win streak, this division is a little bit sleep[y], I don't care who it is, I need a title shot. When I take him down, I can finish anywhere… my grappling level is much better than everyone in the division, this is MMA and the ground game? No-one is better.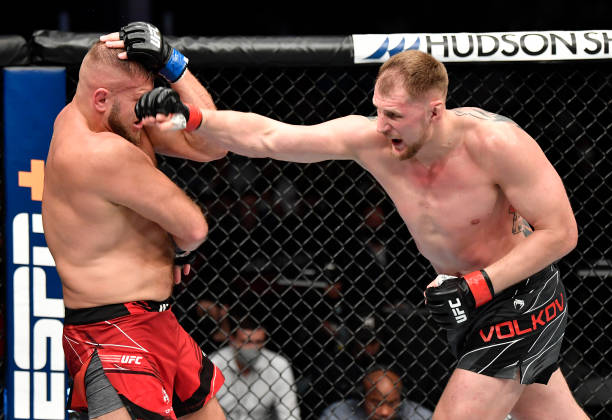 After being thoroughly outworked by now-interim champion Ciryl Gane in late June, heavyweight contender Alexander Volkov (#5) returned to winning ways with a workmanlike display against Marcin Tybura (#8) during a battle of two high-level Europeans in the top-ten.
By doing so, he also snapped the Pole's five-fight winning streak – four of which have come post-lockdown, including successive bonuses with TKO wins against Greg Hardy and Walt Harris.
Drago – entering this matchup at a career-high 263lbs – stuffed an eyewatering 16 takedown attempts while outlanding Tybura 89-73 in terms of total strikes, in what felt like a palate cleanser after the remarkable fanfare which preceeded this at welterweight…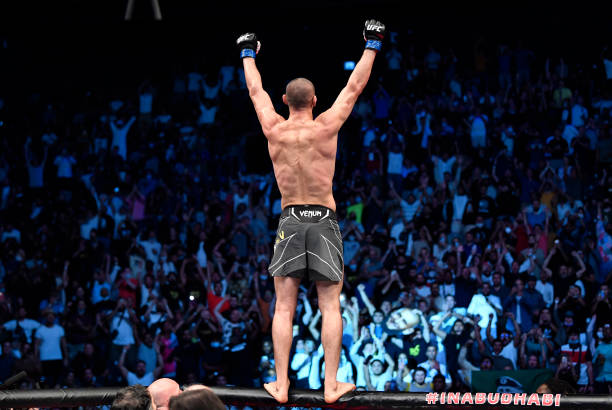 China's Li Jingliang (18-6) was supposed to be the perfect foil for Khamzat Chimaev's rapid UFC rise, a worthy step-up in competition and someone who would finally give the Swedish rising star some resistance after boasting a 196-2 total strike differential in his first three contests.
Well now after another scarily dominant display from the opening horn, that differential stands at 254-2 and many critics are tipping him to fight for welterweight gold at some stage next year.
Freestyle wrestling opponents to the ground is one thing, but the ease and quickness at which he does it is frightening. Immediately shooting for a takedown, he completed a slam and took the Chinese towards Dana – talking to the boss with his hands quite literally full.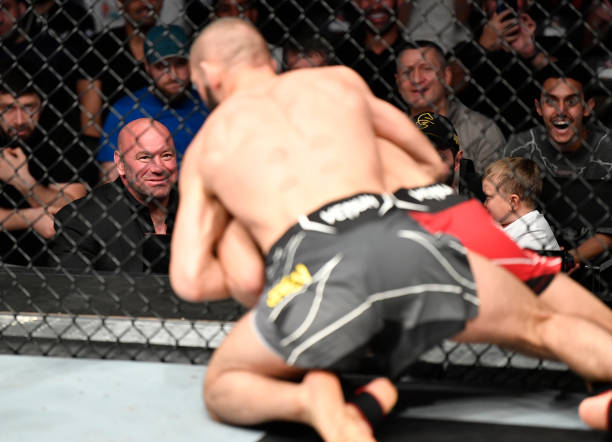 As if searching for ways to assert his dominance further. After softening Jingliang up, landing heavy ground-and-pound while waiting for the right moment to secure a submission, he was credited with three attempts before securing the chin and locking up a rear-naked choke.
Three minutes, 16 seconds. It felt emphatic watching it at the time, but there's a reason why the promotion repeatedly tried to match him up against Leon Edwards (#3).
Jingliang (#11) is his first ranked UFC opponent to date and won't be his last either, as it's likely he'll be pushed to the hills, remarkable given his striking pedigree remains relatively unknown.
His interview with DC said it all, really:
[I'm here with the winner, Khamzat Chimaev…]

"Of course you're with me! We'll kill everybody, I'm at home, I said [telling Dana] I'm the king here, I'm gonna come for everybody – he sleep bro. He was looking at his phone or something, don't do that when I'm fighting."

[Who do you want next?]

Everybody, I'm the champ. Woo!
Elsewhere, Magomed Ankalaev reinforced the belief among many that he's a future light-heavyweight champion in waiting with a comfortable UD win over Volkan Oezdemir.
In the night's featured prelim, Amanda Ribas (#10) returned to winning ways with a close but deserved UD win (29-28, 29-28, 29-28) against Brazilian compatriot Virna Jandiroba (#12), nine months after being stunned by title contender Marina Rodriguez in the same location.
Picture source: Getty Images — fighter quotes via PPV broadcast