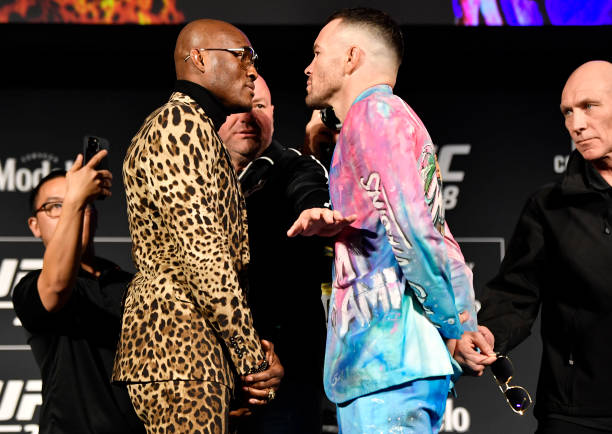 Thursday's promotional press conference was energetic with bad intentions in equal measure, as expected, but UFC welterweight champion Kamaru Usman knows he needs to make clear improvements – just as he did in the rematch with Jorge Masvidal – against an increasingly determined Colby Covington if he's to make the fifth defence of his 170lb strap this weekend.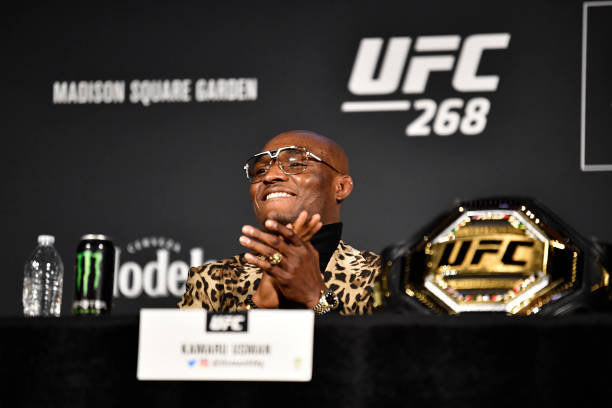 UFC 268: Usman-Covington 2, main card live on Sunday from 2am BST
Making it official: Usman weighed in at 169lbs on Friday, Covington came in at 169.4lbs
Kamaru, unbeaten since May 2013, is on an 18-fight win streak – 14 in the UFC – and was involved in one of the sport's best ever fights, a five-round war with Covington (Dec. 2019)
Covington, one-time interim champion, has only fought once since losing to Usman – recording a fifth-round TKO victory against former titlist Tyron Woodley last September
Chapter one was explosive, a back-and-forth thriller with momentum swings, and there's an expectation the second installment will more gruelling and potentially less exciting as a result.
Usman (34y, 6m) is in the prime of his career. Covington (33y, 9m) isn't that far off in age but inactivity and a spotty resume against top contenders has hurt his credibility. As for the champ…
No-one can touch his unblemished 14-0 UFC record – two more wins will equal Anderson Silva's 16-fight run across two divisions (2006-13). He's still got work to do to surpass Georges St-Pierre, regarded by many as people's greatest of all-time, as far as welterweight title defences (9).
READ: July 2020 – GSP praises Usman, while pouring cold water on comeback chatter
But even still, you could argue there isn't a genuine appetite for him – financially or competitively – to reach those remarkable numbers – having already beaten the top contenders once.
After a first-round submission win over Michael Chiesa in August, Usman's former training partner Vicente Luque (#4) overtook him and Stephen Thompson into the top-5 rankings.
Although he was inserted as the back-up fighter for this title fight, do you believe the Brazilian would manage to beat him after being as honest about previous sparring sessions as this?
On media day earlier this week, Usman revealed an eagerness to focus more on executing his tactics more effectively than what quickly became an emotional fight for both.
"For me, the wrong that I want to right is in that fight, I fought with emotion. As much emotion I was willing to display is what I fought with, which is why I think I got hit quite a bit – but it was fun, I had fun.

That lets you know that I got a little mad man in me too, I don't mind getting hit. I want to make it a little bit more flawless this time around."
Covington landed more significant strikes (143) than Masvidal twice and Gilbert Burns (142) during their respective title opportunities since then.
Many have disregarded Usman emulating Conor McGregor by venturing into a boxing bout with super-middleweight king Canelo Álvarez, also in action this weekend against Caleb Plant.
But it's increasingly clear that Usman, who will make his sixth appearance on pay-per-view this weekend, wants to be reimbursed properly for his services – regardless of who the opponent is.
"Now I'm in the business of PPV, I don't know if I want him [Covington] that far back. Of course, I want to go out there and stop him, but want him to quickly make his way back so I can stop him again for a little bit more money."
Other welterweight prospects are beginning to enter the title picture, including Khamzat Chimaev (10-0 MMA, 4-0 UFC) – who made a serious statement of his ever-increasing intent with a first-round submission win over Li Jingliang on his return last weekend at UFC 267.
"He [Chimaev] has done a tremendous job with the opposition he's been presented with, no shame in that, he's doing great.

I love all the hype that's been there, but let's all be honest – life is not fair. We learn that as kids, some guys get a faster push, some don't. It is what it is."
Although it's clear he has the bigger picture in mind, Usman can't afford to overlook Covington now though, especially as Chaos is feeling energised – having surrounded himself with a new team who have his best interests at heart, something he felt was lacking the first time around.
"Daniel Valverde, my judo and jiu-jitsu coach, my striking coach Cesar Carneiro, my strength-and-conditioning coach Jonathan Lopez, my other coach Charlie Weis.

I have a newfound energy around me, people who genuinely care about me and want to see me win – not just showing up to get paychecks, throw me out there into the fire.

They actually have been developing my skills, we've been growing as a fighter every single day. You're going to see new wrinkles in my game, we've updated the software. I'm going to control-alt-delete Marty on Saturday night."
Only time will tell who comes out victorious in a matchup with bad blood still lingering, 23 months on from their original title duel.
---
UFC 268 BOUTS, AS IT STANDS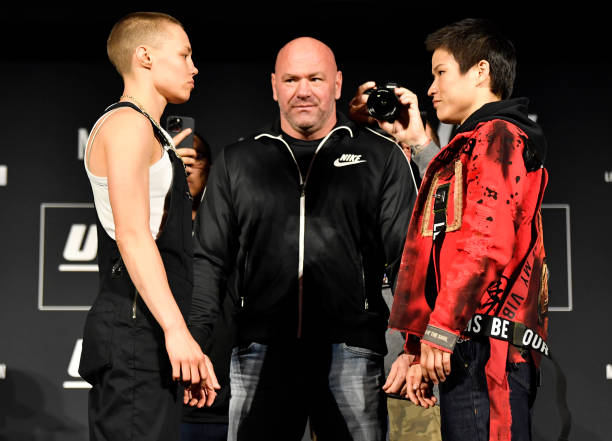 Main card
UFC welterweight title: Kamaru Usman (c) vs Colby Covington (#1)
UFC strawweight title: Rose Namajunas (c) vs Zhang Weili (#1)
Bantamweight: Frankie Edgar (#8) vs Marlon Vera (#13)
Featherweight: Shane Burgos (#14) vs Billy Quarantillo
Lightweight: Justin Gaethje (#2) vs Michael Chandler (#4)
Prelims
Middleweight: Alex Pereira vs Andreas Michailidis
Lightweight: Al Iaquinta vs Bobby Green
Middleweight: Phil Hawes vs Chris Curtis
Middleweight: Edmen Shahbazyan (#11) vs Nassourdine Imavov
Welterweight: Ian Garry vs Jordan Williams
Early prelims
Heavyweight: Gian Villante vs Chris Barnett
Light-heavyweight: Dustin Jacoby vs John Allan
Featherweight: Melsik Baghdasaryan vs Bruno Souza
Flyweight: CJ Vergara vs Ode' Osbourne
Picture source: Getty Images