It wasn't plain sailing from the first bell but didn't need to be as Canelo Álvarez did what he often does – wear on opponents with an ominous sense of inevitability – to knock out his third unbeaten opponent in eleven months, seizing Caleb Plant's IBF title with an eleventh-round flurry and further cementing his boxing legacy by becoming an undisputed champion at 168lbs.
the sport's Pound-for-pound king does it again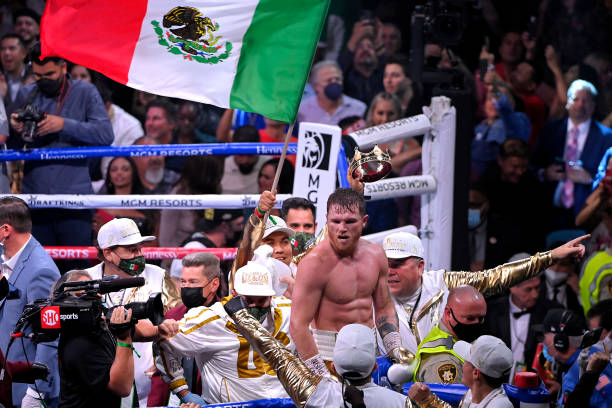 R11, 1:05 – Canelo beats Plant via TKO, retaining his WBA, WBC, WBO titles while clinching IBF strap to become unified super-middleweight champion
The commentators on PBC's broadcast described Plant as Álvarez's best opponent since his two-fight battle with Gennadiy Golovkin dating back two Septembers in 2017-18.
There was plenty of mutual respect shown afterwards between them, extinguishing any bad blood bubbling under the surface ahead of this unification bout during a lengthy exchange which had everyone wishing they could be a fly on the wall listening to their conversation.
See, that's the thing about Canelo.
He can be whizzing power shots just past your head one moment, then disarming you with a loving embrace having just beaten you for millions to marvel at worldwide the next.
While the English media are itching for more of his personality to spill outside the ring, eager for any memeable tidbits in their language, he's blitzed their two world champions post-lockdown and happily added more belts to a long list that feels never-ending and yet an unavoidable truth.
He picked Callum Smith apart over twelve rounds to become a four-weight world champion with WBA and WBC gold in December, leaving the Scouser longing for Christmas time with his family and up a weight class to light-heavyweight in the near-year that has followed.
Then humbled Billy Joe Saunders in May – after easing past an overmatched WBC mandatory in Avni Yildirim – taking another previously unblemished fighter's belt home and targeting more.
Plant had a plan here and stuck to it well through five rounds. He seemed relaxed, was jabbing well enough and utilised feints aplenty to stay elusive as Canelo didn't waste time in trying to cut off the ring, content he could make Sweethands stand-and-exchange punches with him.
Tagged with a few big shots every so often, Plant's inability to maintain that purposeful pace for twelve rounds proved his downfall. But anyone who has studied his career knows there have been questions over his conditioning and durability against top-level competition.
The problem was, the performance drop-off was too drastic and only gifted Canelo confidence he really didn't need. After all, this is the same man who agreed to have this done beforehand:
They exchanged digging body shots in what felt like an increasingly tense tussle, such was Plant's promising start. Once he started to fade, Canelo predictably took charge.
Plant landed more jabs through four rounds (20) than Canelo managed over the whole fight, but those numbers – while surprising – didn't matter. Not least when the Mexican was unleashing considerably more power punches per round and at a much more accurate clip by comparison:
Big left hooks, ever-increasing forward pressure and after being warned for an inadvertent low blow in round five, the referee's stern words appeared to only fire him up further.
Right-hand punches were landing with more sting and frequency in R6, as Plant found himself too comfortable in the pocket and overhand rights were catching him clean too.
Slipping the IBF champion's shots with an ever-increasing low guard, Canelo had clearly found rhythm and began stalking his prey.
A sweeping left hook was the pick of his punches in R7 as he taunted him up against the ropes, almost goading Plant into action – which he wisely didn't oblige – before another telling graphic flashed across the screen.
63-38 was the score, in terms of power punch differential between the pair to this point, as Canelo subtly seized the initiative without needing to land as many big punches in bunches.
Plant finally had his second wind and returned fire as the pressure intensified, although he wasn't throwing shots with much power – instead trying to swat away Canelo's advances.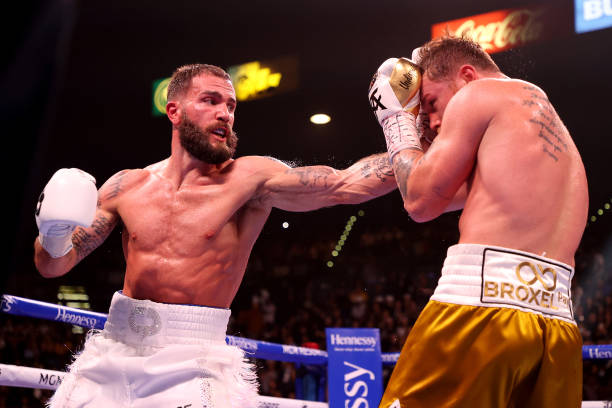 Imposing his own will in R10, he found himself up against the ropes before long and had to absorb more punishment as Canelo connected on more hooks and body shots.
Make no mistake, this was a competitive tussle between two champions. But no-one came to see a decision victory for either man, and while some were already anticipating one-sided judging scorecards, there was no need for them after all.
Canelo landed a two-hook, one uppercut combo which hurt Plant quite suddenly and resulted in the first knockdown just before the midway stage in R11.
The finish was awaiting confirmation and as Plant tried evading him on his haunches, he was met by a right-left-right punch frenzy which flattened the 29-year-old up against the ropes.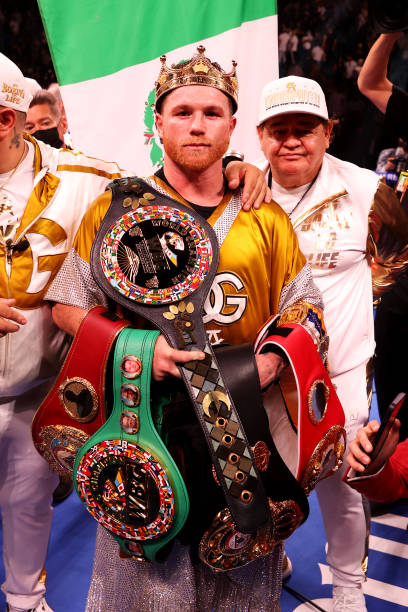 It's that insatiable thirst for more challenges, more belts, further accolades, that justifies his standing as the sport's pound-for-pound king.
In a post-Floyd Mayweather era where most of the best – across all weight divisions – are reticent to risky fights or deliberate too long rather than striking when the iron is hot, Canelo is at a stage of his career where critics pick holes in his opponents even with his admirable activity levels.
Holes no-one else could solve mind, besides the boogeyman blasting them into submission.
His coach, Eddy Reynoso, revealed in late June they are happy to face the likes of Jermall Charlo and David Benavidez in future – while returning to light-heavyweight feels inevitable at some stage, having already knocked out former champion Sergey Kovalev to claim WBO gold at 175lbs in 2019.
Kovalev's Russian compatriots are fierce champions at that weight class, with Dmitry Bivol (WBA) and two-belt titlist Artur Beterbiev (WBC, IBF) holding three of the recognised four titles in a dangerous division featuring rarefied air in regards to moving up and staying at the weight.
Undefeated former two-weight world champion Andre Ward, inducted into the Hall of Fame this past year, is one of few who did it successfully – and was in Plant's camp for this fight.
It's easy to forget Álvarez originally wanted this unification bout to take place in mid-September, so a six-month break between fights is understandable given his activity. Whether much will change, either at 175 or 168 by then to see one clear next opponent for him, remains to be seen.
Picture source: Getty Images