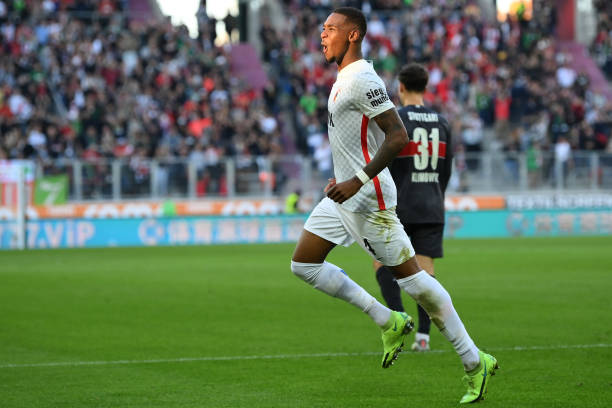 Cast aside too quickly as another teenage wonderkid who swiftly disappeared according to English critics, Reece Oxford's career trajectory has been re-energised by a Bundesliga journey taking him from Borussia Monchengladbach to Augsburg – where his consistent performances earned a new contract extension last week, like most things, that went under-the-radar.
west ham soaring high, but reece oxford should be there too
The thrill and the agony.
After drawing 2-2 away against Genk in Belgium, David Moyes' West Ham won their third straight domestic clash immediately following Europa League exploits – against Liverpool no less – to leapfrog them into third, three points off leaders Chelsea after 11 league games last weekend.
Second-half goals from Pablo Fornals and Kurt Zouma, alongside Alisson's inadvertent own goal four minutes into their topsy-turvy affair in east London set the tone for an edgy finish.
The Reds could've levelled it at the death, but instead Jurgen Klopp was left fuming at officials for contentious decisions as they lost their first league match in eight months. Such is life.
One person who'll be watching the Hammers' impressive progression from afar is Reece Oxford. Wondering what could have been. After all, he was supposed to be their new Rio Ferdinand: a transformative colossus at the back who they could build around for many years to come.
Instead, that mantle has been snatched up by Chelsea's former academy charge Declan Rice – who is a month younger than him and has already racked up 21 England caps and counting.
Also read: Only £100m? No chance: Moyes' defiant Declan Rice stance speaks volumes
Debuting at 16, Oxford marshalled Arsenal's creator-in-chief Mesut Özil on his first Premier League appearance in a surprise 2-0 away win. It couldn't get much better than that, watching himself in disbelief on Match of the Day that night. The drop-off in prominence has been drastic.
He collected his GCSE results less than two weeks later and was tipped for greatness but only ever made two more league starts, in a dizzying spell with seven different managers across five seasons – including three separate loan stints – two in Germany, the latter turning permanent.
Oxford wasn't helped by a managerial merry-go-round
2014-15: Sam Allardyce – Included in matchday squad on six occasions, didn't feature
2015-16: Slaven Bilic – Gave him his PL debut, made 11 appearances (465 minutes)
2016-17: Jaap Stam – Five appearances (200 mins), on-loan at Reading // Bilic (180 mins)
2017-18: Dieter Hecking – Eight apps (539 mins), on-loan at Gladbach // Moyes – three apps (127 mins) at West Ham
2018-19: Manuel Baum (sacked) and Martin Schmidt in Augsburg loan, 595 mins in nine apps
Manuel Pellegrini was West Ham's sexy managerial hire when appointed in May 2018, tasked with bridging the gap between them as a top-half team and one with European ambitions.
Six months after the Chilean's arrival, his matter-of-fact comments surrounding Oxford's long-term future spoke volumes as he discussed the defensive squad depth at his disposal.
"A player who is 19 or 20 must be ready to play in the first -team. If you don't have the space, you must go to another club.

We have in his position a player who I am happy with, Angelo Ogbonna is also on the bench but working very well everyday.

Issa Diop is playing well, and while Rice doesn't play in that position, he can. So, we will see what happens with Reece, whether he stays here, or if it is better for him to go and play for another team."
Little over a year later, Pellegrini was sacked with West Ham facing an unwanted relegation battle and Moyes – who steadied the ship in 2017-18 – made his return. The rest, as they say, is history.
Oxford, predominantly a centre-back, can also operate in defensive midfield – but that versatility only hurt his chances of playing, rather than bolstering them under Pellegrini.
After a productive season-long loan with Gladbach, West Ham were aware they could still recoup a high transfer fee for his services but went about the process the wrong way. Sure, it's easy to say that in hindsight now, though the players they signed in his position weren't exactly faultless.
"I just thought the club was getting bigger every season, spending more money and I just didn't feel like I could fit in and have a chance there really. I see them signing big and experienced players, didn't think there was an opportunity for me.

At my age right now I need to play and kick on, can't just be sitting on the bench or not playing at all. So I had to look at the bigger picture really."
Despite being bought for £8m from Premier League counterparts Southampton, Jose Fonte was sold the very next season. Meanwhile, Fabian Balbuena (Dynamo Moscow, free) and Diop – whose progression has stalled in recent seasons – were bought for a combined £28.5m.
Oxford has gone from strength-to-strength abroad, in a nation where clubs are increasingly targeting English youngsters and looking to shape them in a Jadon Sancho mould.
While Sancho, Jude Bellingham and many others have settled quickly for teams further up the table, Augsburg are third bottom of Germany's top-flight with nine points from their first eleven games and narrowly avoided relegation in consecutive seasons.
Oxford has continuity and earned assurances around his future, but playing for a weaker side – who face more attacks on average – will inflate defensive statistics. Even still, he passes the eye test and there's nothing unsustainable about his performances hinting at a sharp downturn.
As Chris Mayer-Lodge wrote last month, Oxford's defensive statistics speak for themselves:
"He's currently averaging 5.8 clearances, 1.8 aerial challenges won and 3.18 interceptions per 90 minutes.

That latter nugget represents a league high, ahead of crafty veterans such as Borussia Dortmund's Mats Hummels (2.59) and John Brooks at Wolfsburg (2.46)."
Did you know? After going scoreless in competitive action throughout his career to date, Oxford scored three goals during October (Arminia Bielefeld, Bochum in the DFL-Pokal and Stuttgart).
With all of the above in mind, it doesn't feel unreasonable to infer Oxford's contract extension also protects Die Fuggerstädter if they sell him – expecting to recoup considerably more money than West Ham managed.
The player himself has spoken about feeling at home in Augsburg, is aware of the improvements he's made and importantly believes there's much more potential still to fulfill in Germany.
"Reece has become a real key player for us, he's both important for our defence and set-pieces at the other end too, where he's extremely dangerous.

We were already convinced of his potential when we signed him in 2019 – already discussed a new contract after last season finished, and we're really happy Reece has committed himself to FCA."
Considering Gareth Southgate's baffling stance on Fikayo Tomori, flourishing in Milan, it feels premature to start calling for international recognition – even with his pedigree at youth level.
However, it's a step in the right direction that the 22-year-old is quietly rebuilding a reputation many were too quick to rubbish.
Picture source: Getty Images