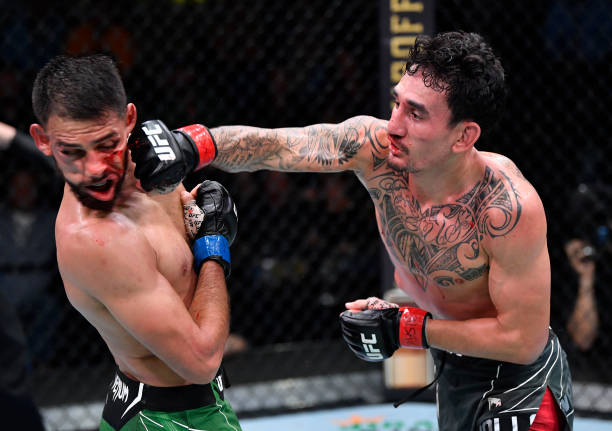 Former UFC featherweight champion Max Holloway (#1) added another victory to his ever-increasing pile in the 145lb division (18) but needed to dig deep, recovering from a shaky start to eventually outstrike the returning Yair Rodriguez (#3) and earn a hard-fought decision win.

Holloway shows championship spirit against fearless Rodriguez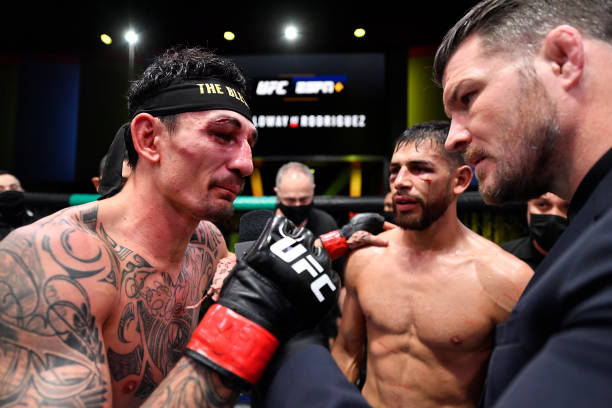 49-46, 48-47, 48-47: Max Holloway (#1) beats Yair Rodriguez (#3) via unanimous decision
In a matchup between two of the top three featherweight contenders, there was plenty of back-and-forth action from the opening horn, illuminating a card with little in the form of fantastic matchups in what proved a predictable hangover from last weekend's electric UFC 268 card.
Rodriguez, ending a 26-month hiatus here, showed no signs of rust and landed various kicks aplenty in the early going as Holloway's legs were peppered with strikes he refused to check.
Whenever he went down, whether a slip or being pushed to the mat, Yair always had a response – dangerous upkicks, staying active and ready to sting Holloway if he came too close for comfort.
More active than the former champion in round one, Holloway landed the more impactful shots – powerful jabs and punch combinations – though his Mexican opponent didn't flinch, instead welcoming their furious exchanges in the pocket and frequently giving as good as he got.
Although it was his most accurate round in terms of significant strike percentage (66%, 38 of 57), Holloway absorbed just one less shot than he landed (37 of 79) while Yair also logged 43 seconds' of control time. As the overwhelming pre-fight favourite, this was too competitive.
Stinging kicks chipped away at Holloway's resolve in round two and while Max targeted the body with punches, establishing his forward pressure was key in another difficult round to score.
As expected, he would occasionally get caught for doing so, but needed to assert himself and the rhythm was truly flowing – 58 of 110 significant strikes landed – willing to exchange bombs if it gave him an opportunity to impose his will on a fight with more than 800 total strikes thrown.
Considering his experience in championship fights, it shouldn't be surprising that rounds three and four was where Holloway took charge. He backed Yair up against the cage and landed a flying knee, before pouncing on a mistake to find himself in mount and a commanding position.
He tried to secure an arm-triangle submission, landing slicing elbows and hammer fists to soften Yair's defences up. Had he completed the manoevure, it would've been his first submission win in six years, but Rodriguez held firm and rallied to avoid what felt like an ominous 10-8 round.
Furious punch flurries and a brief takedown of his own helped steady the sinking ship, though Holloway timed an explosive double-leg perfectly to finish R3 on top. Back-and-forth continued.
Both landed big shots to start R4 but again, Holloway threatened a submission – this time a standing guillotine choke – utilising the fence to his advantage before sliding into full mount.
Thudding strikes landed against Rodriguez's head, turtled up and trying to defend, before eventually finding some respite as the fight returned to the feet.
More knees landed, as well as the aforementioned jab, before an unexpected period of rest after Yair was inadvertently poked with a thumb in the eye.
It helped briefly give him more snap in his punches once more, reinforcing the gritty toughness and endurance to fight through adversity – even though it was becoming increasingly clear he had been overtaken in a marathon race that made for compelling viewing throughout.
His coaches echoed that sentiment, stressing a need to finish things in round five and abandon the gameplan – much like his comeback win over the Korean Zombie three years ago this month.
Unsurprisingly, he began with a fiery approach but Holloway was unfazed, trying to break him down with pit-pat punches and more jabs. Yair's acrobatic kick backfired drastically, suddenly finding himself on the ground with half-a-round for Max to work with in top position once more.
However, a slick reversal saw him try for a choke of his own – plenty of fight IQ was on display as the former champion sensed danger and quickly positioned himself close to the fence while recovering, eating a nasty knee too as the fight returned to a stand-up affair again.
Holloway had to weather the storm as Rodriguez continued pressing him, but did more than enough to earn a UD victory – his first since beating Frankie Edgar at UFC 240 in July 2019.
---
Analysis as Holloway's latest risk pays off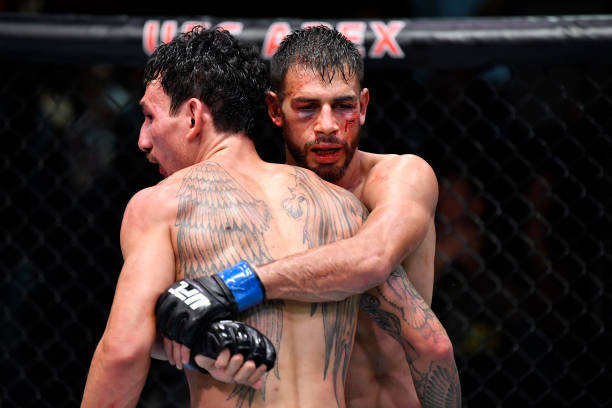 Considering his situation, Max didn't need to accept this matchup. Most would've waited for the green light to sign for a trilogy with Alexander Volkanovski, which has only intensified with time – especially after sustaining an undisclosed injury, so their original July 17 date was scratched.
But not him. The reason why he's so fiercely adored across the company, and in turn worldwide with millions of fans watching him shine, is an energetic attitude somewhat difficult to describe.
"UFC told me I could wait my ass, but get guys like Yair, he's a beast. It's alright, his boxing was pretty good – moving like a boxer then turning elbows, that's illegal in boxing! He's a fricking beast, that's why I wanted to fight him."

On what he wants next in 2022: "I've got a win over the 155lb champion [Charles Oliveira], we've got Alex, I'm on the shortlist for Conor McGregor, tell him hit my line, we ready whenever. To be the best, you gotta beat the best and the best is Blessed [his nickname] – they can come after me, let's get it!"

Holloway's fiery promo after logging another five-round battle
Statistic: With this latest victory, Holloway is now tied with former champion Jose Aldo on 18 WEC/UFC featherweight victories – the most of all-time. Aldo, a three-time former FW titlist, has since moved down to the bantamweight division and lost twice in 2017 against Holloway.
It's endearing but rightly bullish. If nothing else, his showing against Calvin Kattar in January said all it needed to, channelling a feeling of disrespect the right way and earning even more praise for doing so. While doing so, it's alienated others – like divisional champion Volkanovski.
That's natural, while opening up opportunities for other avenues – like a Conor McGregor rematch in 2022, once the former two-division champion fully recovers from his broken foot.
https://twitter.com/TheNotoriousMMA/status/1459670489304076290
While his fighting style naturally attracts danger, you can't take your eyes off it. He's been involved in several wars over his 29-fight career and yet, doesn't turn 30 for another month and is only now starting to hit his prime years. Given his pedigree, that in itself is a scary prospect.
Just like the situation at 185lbs, displays over the past six weeks by the champ and former champion solidify the claim they're in their own tier, as far as the 145lb division is concerned.
It might not be a bad thing to let Holloway do his thing against other opponents – allow Volk an opportunity to continue racking up title defences – before building up the trilogy even further.
As is always the case in sports, there's always risks involved when you go against the script to pursue personal matchups – especially for championship level fighters – but as lightweight contender Dustin Poirier has shown already this year, the pay-off is worth the sacrifice.
---
Rest of main card, prelim results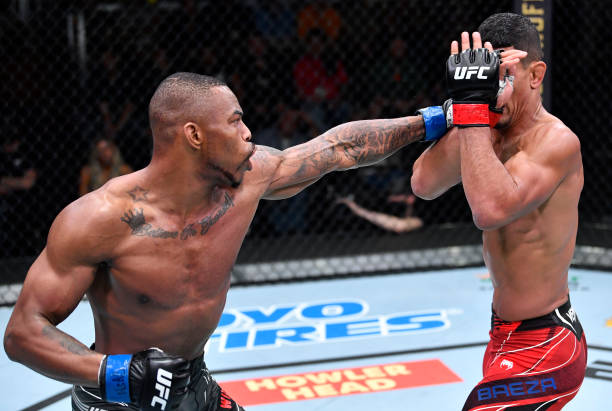 Rest of main card
Heavyweight: Marcos Rogerio de Lima bt. Ben Rothwell via R1 TKO (punches)
Women's Featherweight: Felicia Spencer bt. Leah Letson via R3 TKO (punches
Welterweight: Khaos Williams bt. Miguel Baeza via R3 TKO (punches)
Bantamweight: Song Yadong bt. Julio Arce via R2 TKO (head kick, punches)
Prelims
Catchweight (157.5lbs): Joel Álvarez bt. Thiago Mosies via R1 TKO (elbows, punches)
Women's Flyweight: Andrea Lee bt. Cynthia Calvillo via R2 TKO (corner stoppage)
Featherweight: Sean Woodson bt. Collin Anglin via R1 TKO (body punches)
Catchweight (128.5lbs): Cortney Casey bt. Liana Jojua via UD (30-27 x 3)
Lightweight: Rafael Alves bt. Marc Diakiese via R1 submission (guillotine choke)
Light-heavyweight: Da Un Jung bt. Kennedy Nzechukwu via R1 KO (elbows)
Picture source: Getty Images